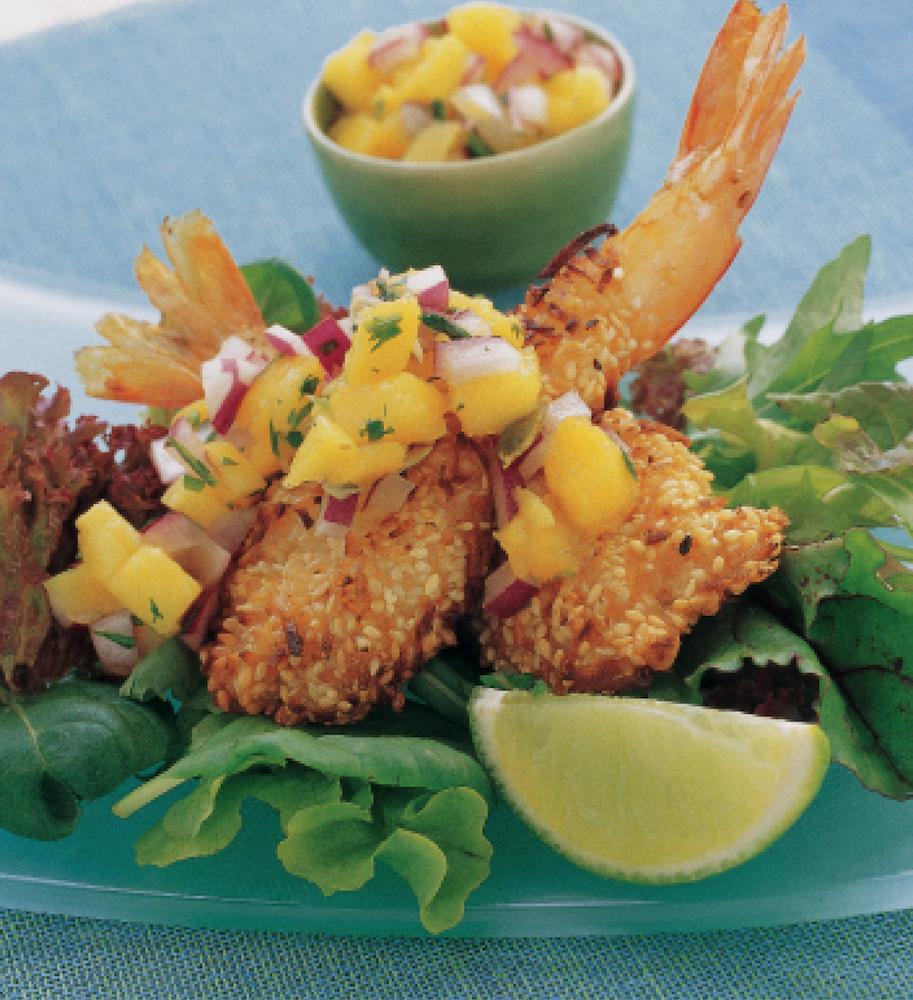 The Australian Heritage Cookbook celebrates all that is wonderful about Australian food and wine. This beautifully illustrated book caters for every occasion, from spontaneous entertaining and family cooking to extravagant dinner parties.
The ubiquitous lamingtons are there, of course, in a chapter titled Country Cooking, but you'll also find an interesting Bacon-Wrapped Meatloaf, a wonderful Honey Pork Roast and numerous meat, vegetable and seafood ideas. These Sesame Coconut King Prawns with Mango Salsa, from a chapter titled Let's Go Tropical, look impressive and are quick to prepare.
The finest mango variety
Mango salsa is our favourite accompaniment for seafood, and what a wonderful feast of mangoes we've been enjoying this past summer. Kensington Prides are, in my humble opinion, the finest of all mango varieties, and the quality this year has been superb.
Prawns also feature in the chapter titled Bounty From The Oceans, Rivers and Streams, which like the chapter From The Plains, Paddocks and Pastures highlights the abundance of natural good food we Aussies are blessed with.
Reflecting on the contributions that so many cultures have brought to our shores, the chapter How Other Cultures Have Influenced Australia has recipes for duck pancakes, Thai chicken curry, Hungarian goulash soup, lamb korma and Pizza di Napoli, among others.
Most of the recipes in the Australian Heritage Cookbook can be made in a short time with minimum ingredients. As the recipes are interspersed with some lovely landscape photography, the book would also be a perfect gift for overseas friends.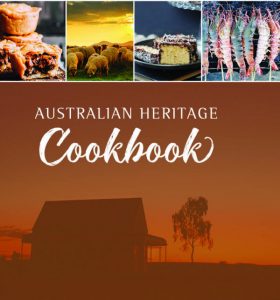 ---
Buy your copy of the Australian Heritage Cookbook from Book Depository now, with free delivery worldwide
---
Sesame Coconut King Prawns with Mango Salsa
Serves 4
12 raw king prawns, shelled and deveined, tails left intact
salt and freshly ground black pepper flour for dusting
1 egg, beaten
1 cup sesame seeds
1 cup coconut threads
1 mango, peeled and finely diced
½ small red onion, finely diced
2 tablespoons chopped coriander leaves
juice of 1 lime
2 tablespoons butter or olive oil
assorted greens of your choice
Butterfly the prawns then dust with salt, pepper and flour. Dip in egg, allowing the excess to run off, then dredge in a mixture of sesame seeds and coconut. Set aside.
Mix the mango, onion, coriander and lime juice in a bowl and season to taste.
Heat the butter or olive oil in a frying pan, add the king prawns and fry over a high heat for 1 to 2 minutes each side until golden.
To serve, arrange some greens on each plate and top with 3 cooked prawns and a generous spoonful of the mango salsa.
Recipes and photos from the Australian Heritage Cookbook. Published by New Holland Publishers and reproduced with the publisher's permission.
This story originally appeared in PS News online.