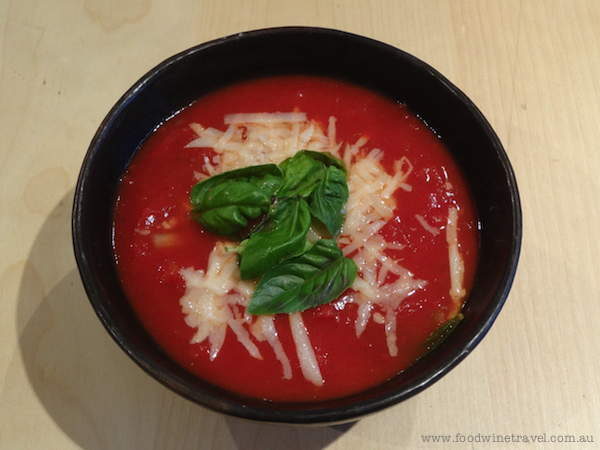 There's something very nurturing about feeding a convalescing loved one. Our household was thrown into disarray a few weeks ago when Maurie became very unwell and unexpectedly had to undergo surgery. After a long week in hospital, he was sent home to recover and yours truly had to swing into action making nourishing soups to help him get his appetite back.
How bad is hospital food? Really bad, I have to say. After a week of 'nil by mouth', what was he offered for his first meal? Sandwiches with leafy greens to get stuck in his throat, tubs of processed fruit, sweet yoghurt and an unappetizing pumpkin soup.
ACT Health is currently conducting a survey aimed at making a greater choice of healthy food available at Canberra Hospital, but it stresses that food provided to patients is not included. I think they've got it all wrong.
I actually think the food at the hospital's Café Hoz is pretty good – I popped in there a few times for yummy sandwiches and nicely grilled fish. It's the patients' food that they need to pay more attention to. Hey, ACT Health, is anyone listening?
So, back to my mission to get Maurie back on his feet. We had my own take on pumpkin soup, which with a dollop of coconut milk and a few seasonings left the hospital soup for dead. We moved onto slightly stronger flavours with Vietnamese pho, and I harvested basil and thyme from the garden to make a beautiful tomato soup. Unfortunately our tomatoes are finished now, but the canned Italian tomatoes I used were packed with flavour.
To all those following his progress, Maurie is well now and his appetite has returned. What are your thoughts on hospital food?
CHRISTINE'S TOMATO SOUP
Serves 4 to 6
1 onion, chopped
3 x 400g tins good-quality diced tomatoes
500 ml vegetable stock
½ bunch of basil
2 tsp fresh thyme
½ tsp smoked paprika
salt and pepper to taste
Saute onion, add tomatoes including juice. Add all other ingredients and simmer gently.
Serve with grated parmesan and some fresh basil leaves on top.