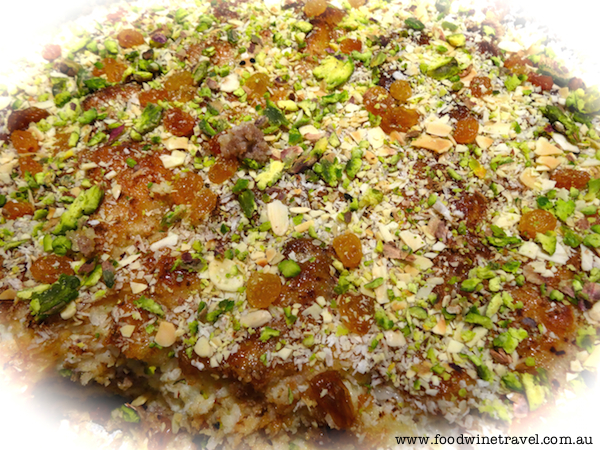 The sun was just beginning to set when we arrived at the Petra Marriott, a hotel that is stunningly situated across the valley from the ancient city. It had been a lifelong dream to visit Petra, in Jordan, and as I sat on the deck of the Marriott Hotel watching the sun go down over the mountains hiding this treasure that I was going to be seeing in just a few hours time, life seemed pretty sweet. Nearly as sweet as Um Ali in fact!
Popular in Jordan and elsewhere in the Middle East, this very yummy dessert is a bit like bread and butter pudding. I had it several times during my week in Jordan but the best was at the Petra Marriott, and when I later wrote to the hotel's director of operations, Zovinar Mananian, asking for the recipe, she kindly sent it to me (along with a friendly tongue-in-cheek comment: "Hope the above will help your readers lose some calories").
Forget the calories and try this recipe for yourself.
UM ALI
Ingredients:
15 pieces of toasted bread or croissants, shredded or cut very small
1 litre milk
300 grams sugar
Few drops of vanilla essence or rose water
Mixed nuts (pistachio, raisins, coconuts, split almond etc) – quantity optional
Cinnamon powder
Whipped cream
Nuts for topping
Method:
Heat the milk and sugar with vanilla or a few drops of rose water. Mix the shredded and cut-to-small pieces of croissant with all nuts and cinnamon powder. Add the milk to the croissant mixture. Top with whipped cream and some nuts. Bake in a moderate oven for 5 to 8 minutes until it is brownish on top.
Recipe courtesy of Petra Marriott Hotel, Jordan.