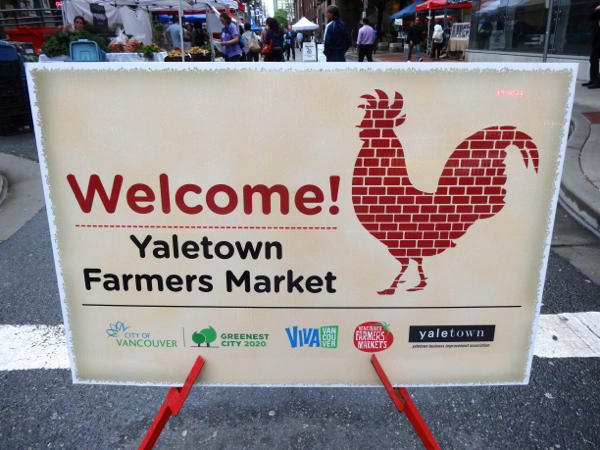 Yaletown is where Vancouver's hipsters hang out, especially if they want to dine at one of the many trendy restaurants or buy food from gourmet produce stores like the fabulous Urban Fare. Every Thursday afternoon a small Farmers Market is held on Mainland Street, just where you alight from Yaletown Roundhouse Skytrain station.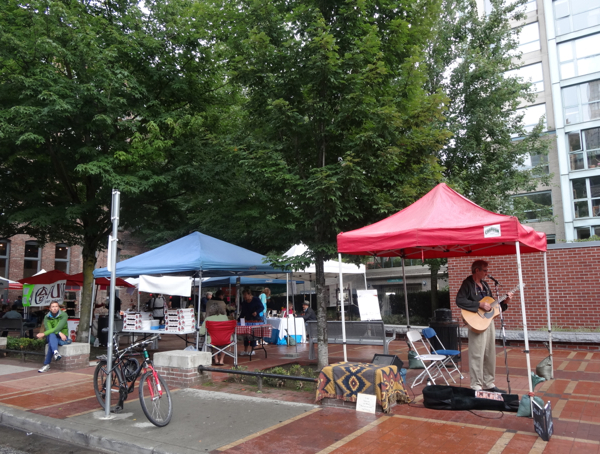 A guitarist was playing when we arrived, and even though there was a light drizzle of rain, the stallholders were cheerful and upbeat. We found stalls selling local honey, jams, locally made Koko Monk chocolates, heirloom tomatoes, sweet peppers, organic strawberries, pies from The Pie Hole, and fresh produce from Langley Organic Growers and other farms.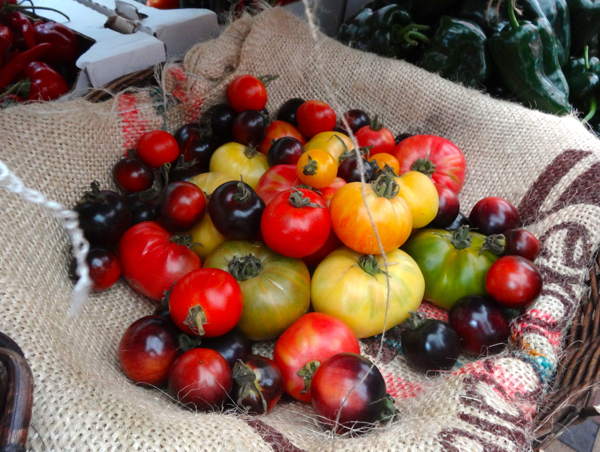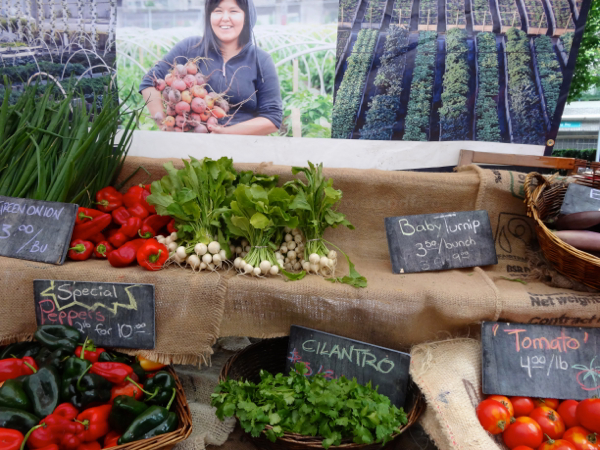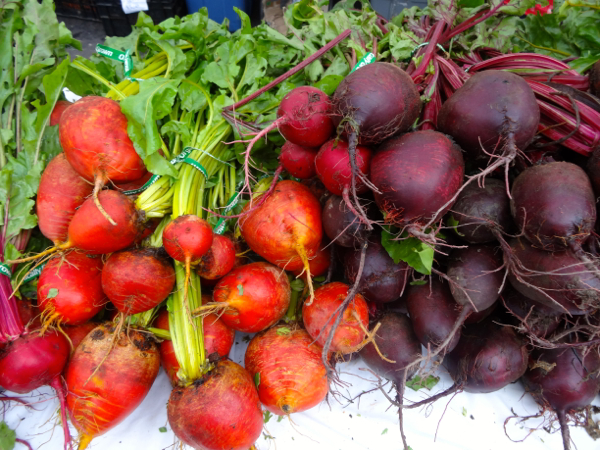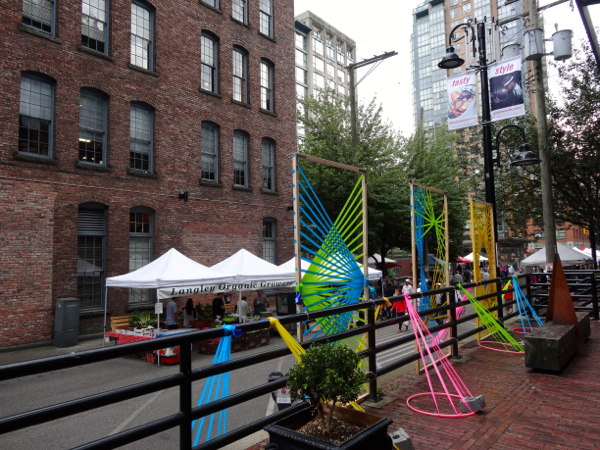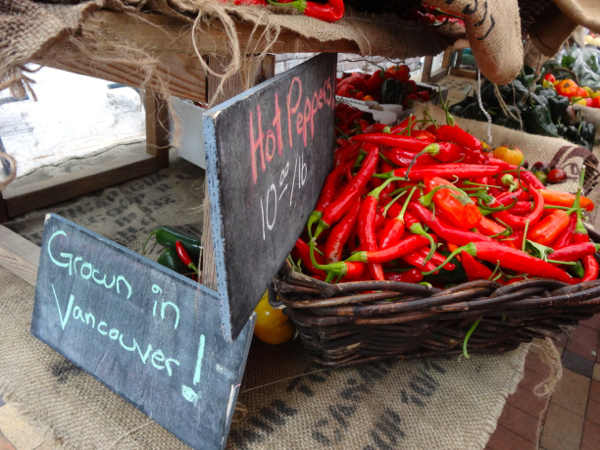 One of the stalls was run by Sole Food Street Farms who grow their produce in wooden crates on a vast urban lot near False Creek.   Some of the stallholders were offering tastings, including Seed & Grain Paté, which makes an unusual and moreish vegetarian paté, and Trudy Ann's Bombay Masala Chai, sourced directly from a personal contact in India so it is very fresh. We loved Jenny Burgesse's Geek Sweets, a delicious assortment of cupcakes including an outrageously good "Snickers" one (chocolate cupcake filled with caramel and peanut butter frosting).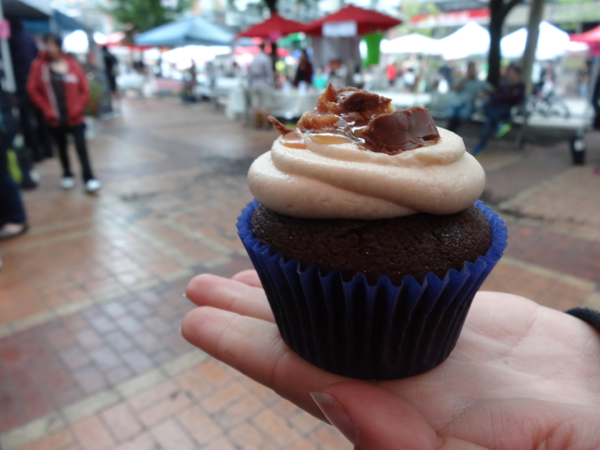 We joined the long queue at The Breadline stall to buy chilli cornbread, hazelnut and fig loaf, a baguette and pudgie pie (filled with caramelized onion, goats cheese and potato). Their breads are made with organic flour and include other lines such as Nutella brioche, cranberry ginger raisin bread and lavender rosemary bread.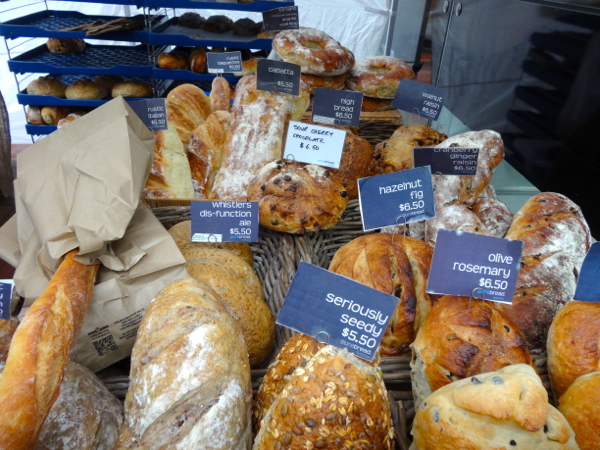 Some of the stalls were selling fresh meat and BeerBrats was selling its handcrafted sausages.  These are made from sustainably raised meats from local farms, and they also contain handcrafted beer – a clever addition!
Where? Yaletown Farmers Market Mainland Street, Yaletown Vancouver, BC, Canada
When? Every Thursday 12 noon – 4pm until December 19.