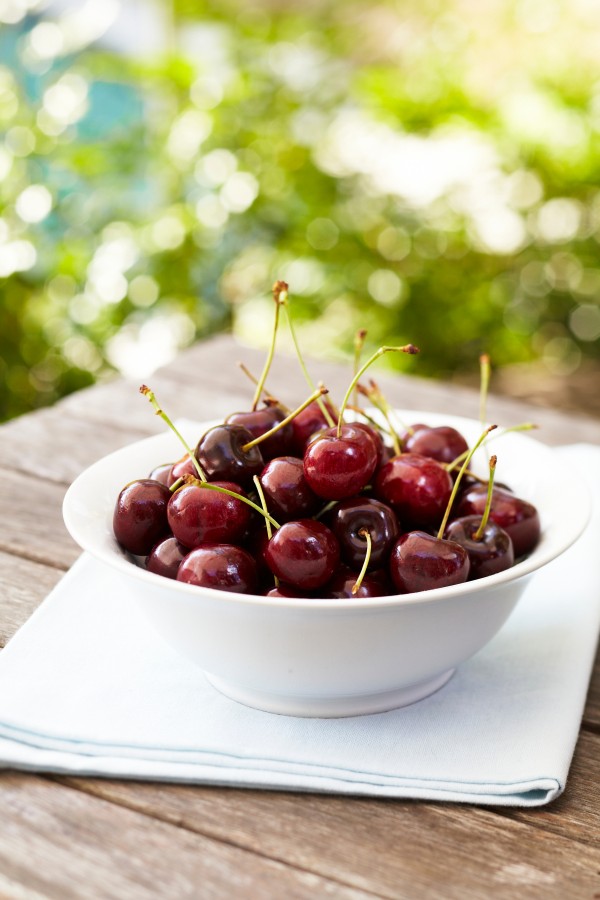 The Australian cherry season is short but sweet … from November to February (or thereabouts). Supply peaks in December and isn't that just great for those of us who think it wouldn't be Christmas without cherries on the table?
They're a great summer snack, they make a beautiful edible Christmas gift and – if you can bear to put some aside – they can be used in both savoury and sweet dishes.
CHERRY QUINOA SALAD WITH LAMB
Serves 4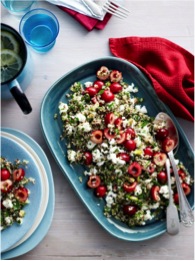 INGREDIENTS
1 cup tri-colour or white quinoa, rinsed and drained
1/3 cup (80ml) olive oil
6 lamb tenderloin fillets
1/4 cup (60ml) lemon juice
1½ cups pitted fresh cherries, halved
3 spring onions, thinly sliced
½ cup finely chopped parsley
¼ cup finely chopped mint
½ cup toasted pistachios, coarsely chopped
200g Greek feta
3 cups water
METHOD
Combine water and quinoa in a saucepan and bring to the boil. Reduce heat to a simmer, cover and cook for 15 minutes or until grains are tender. Drain, then transfer to a large bowl and set aside to cool.
Lightly coat the lamb fillets in 2 tablespoons oil; season well with salt and freshly ground pepper. Heat chargrill pan over high heat then cook lamb for 6 minutes turning or until cooked to your liking.
Transfer to a plate and cover loosely with foil. Set aside to rest for 5 minutes.
Meanwhile, whisk remaining oil and lemon juice until combined, then add to the quinoa and toss to coat. Add remaining ingredients to bowl and toss well to combine. Slice lamb and serve on top of salad.
*For a vegetarian option, omit lamb and replace with zucchini.
VERY CHERRY TRIFLE
Makes 6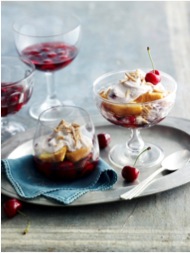 INGREDIENTS
1 tablespoon Kirsch
2 tablespoons cherry jam
⅓ cup icing sugar
250g mascarpone
250g Greek yoghurt
6 x 3cm slices butter cake
¼ cup toasted slivered almonds
6 whole cherries, to garnish
Sour cherry jelly:
3 sheets titanium gelatine leaf
600ml sour cherry juice
METHOD
Bring sour cherry juice to a simmer in a small saucepan over medium heat.
Soak gelatine leaves in cold water for 5 minutes until soft. Squeeze out any excess water and add to sour cherry juice, stirring until gelatine has dissolved.
Evenly divide mixture into large individual glasses (about 500ml in capacity) and distribute cherries amongst the glasses too. Place in fridge for 3 hours or until set.
Stir Kirsch, jam and icing sugar into mascarpone and yoghurt until combined. Cut butter cake slices into 3 fingers and place on top of jelly. Spoon over mascarpone mixture, sprinkle with almonds and garnish with cherries.
Recipes and photos courtesy of www.australiancherries.com.au
More recipes: Cherry Sangria; Black Forest Cupcakes; White Chocolate Cherry Panna Cotta; Cherry Chutney; Cherry Bircher Muesli; Life Is A Bowl Of Cherries.