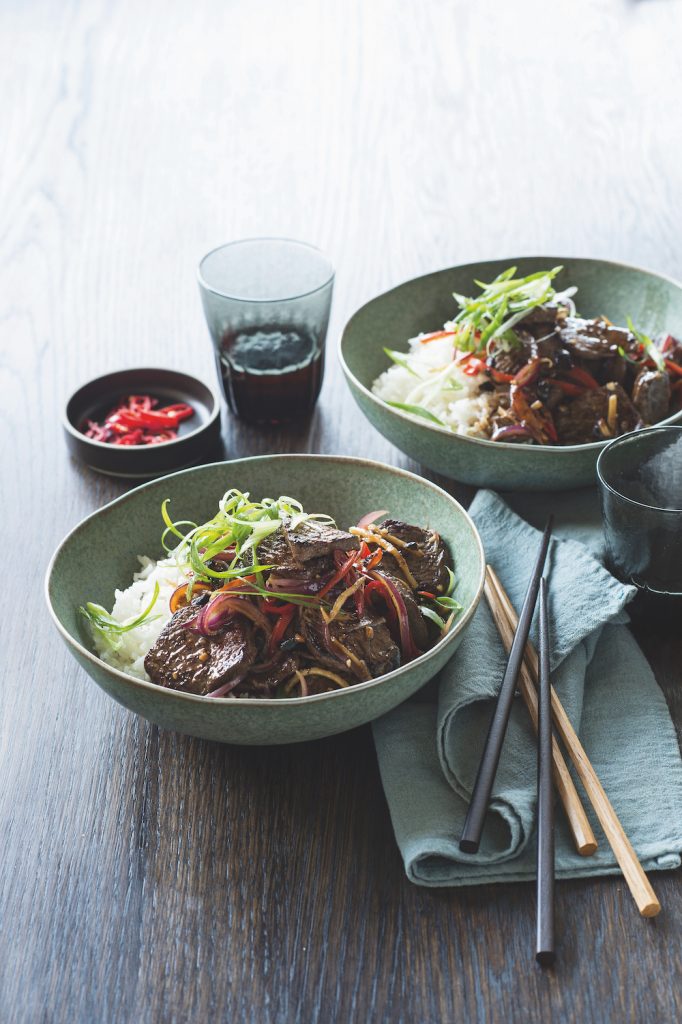 "You hold the right book in your hands. Learning from it will be delicious." That was the forward that Anthony Bourdain wrote for Meat: The Ultimate Companion shortly before he died. Bourdain was a close friend of Anthony Puharich, a fifth-generation butcher and author (along with co-author Libby Travers) of this landmark book. Published by Murdoch Books, it is undoubtedly the most comprehensive work on meat to have ever been published in Australia, if not the world.
There could be none better qualified to write it than Puharich, who is a wholesaler of meat to many of Australia's finest restaurants, and a co-owner of Victor Churchill, the "Bulgari of butcheries" in Sydney's Woollahra. Bourdain described Victor Churchill as a "temple of meat" and "the single most beautiful butcher shop I've ever seen … It is perhaps the most famous and certainly the most envied shop of its kind in the world."
"White-coated butchers break down primal cuts in a refrigerated glass cutting room," he wrote. "Old-school charcuterie of many wonderful kinds beckons like jewels from a display case. Another case contains fat slabs of rib eyes and sirloin and boutique cuts of boutique breeds of pampered animals. Chickens turn slowly on a magnificently restored rotisserie, filling the room with a smell that both comforts and compels."
Sydney's best butcher
Anyone who appreciates good meat will find the Victor Churchill shop in Woollahra to be the "wonderland" that Bourdain described it as. Having created the perfect space to cut meat, Puharich has applied the same attention to detail in his book.
Meat walks readers through the topic from the eyes of the farmer, the butcher and the best cooks to help with questions that people might want to ask before they buy their meat. This ambitious project covers the history of every major animal rasied for meat, international breed maps, cut diagrams and descriptions, as well as illustrated butchery techniques and expert advice on selecting, storing and cooking all kinds of meat.
More than 110 recipes showcase the major cuts and draw on cuisines and chefs from around the world. Lavishly photographed and illustrated, the book is a celebration of farmers, butchers and cooks, and the traditions and techniques that will help you make the most of each cut you buy, from the virtues of a rump compared to that of a sirloin, how to make use of off-cuts and leftovers, and simple ways to render your own lard.
Long held ideas such as "primary" and "secondary" cuts are debunked, with each and every cut applied to its own delicious recipe. Although high-profile chefs have contributed recipes, all the dishes are designed to be cooked at home.
Puharich would like to see more people eating kangaroo, a lean meat that is full of nutritional goodness. Because it is free-range, it is also free of antibiotics, growth hormones and chemical additives. The recipe here is from Sydney chef Kylie Kwong, who has long fought to bring more of Australia's native produce to her restaurant and our tables.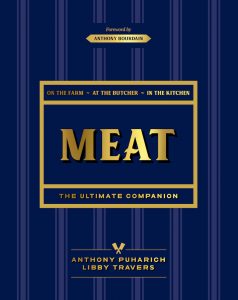 ---
Buy your copy of Meat: The Ultimate Companion from Book Depository now, with free delivery worldwide
---
Kangaroo Fillet With Black Bean And Chilli Sauce
Serves 4 with steamed rice; 6 as part of a banquet.
600 g (1 lb 5 oz) kangaroo striploin, cut into 1 cm (½ inch) slices
80 ml (3½ fl oz/ 1/3 cup) vegetable oil
3 tablespoons finely sliced spring onions (scallions)
Marinade:
2 tablespoons Shaoxing wine or dry sherry
1 teaspoon sea salt
1 teaspoon white sugar
Black bean and chilli sauce:
½ red capsicum (pepper)
1 small red onion, thinly sliced
3 tablespoons julienne of fresh ginger
3 garlic cloves, finely chopped
1 tablespoon salted black beans
2 tablespoons Shaoxing wine or dry sherry
1 tablespoon white sugar
2 to 3 tablespoons light soy sauce
1 tablespoon malt vinegar
½ teaspoon sesame oil
2 large red chillies, sliced diagonally
Combine the kangaroo with all of the marinade ingredients in a large bowl, cover, and set aside in the refrigerator to marinate for 30 minutes.
Heat half the oil in a hot wok until surface seems to shimmer slightly. Add half the marinated kangaroo and stir-fry for 30 seconds. Remove from wok with a slotted spoon and set aside. Add the remaining kangaroo and stir-fry for 30 seconds then remove from wok and set aside.
Meanwhile, make the black bean and chilli sauce. Remove seeds and membranes from capsicum, cut into fine slices and set aside. Add remaining oil to hot wok. Add onion, ginger, garlic and black beans and stir-fry over a high heat for 30 seconds, stirring constantly to ensure the black beans do not burn.
Return kangaroo to the wok with wine or sherry and stir-fry for 30 seconds. Add sugar, soy sauce, vinegar and sesame oil and stir-fry for a further minute. Lastly, add chilli and reserved capsicum and stir-fry for a further 30 seconds.
To serve, arrange kangaroo on a platter and garnish with spring onions.
Images and recipes from Meat: The Ultimate Companion by Anthony Puharich and Libby Travers. Photography by Alan Benson (with exception of images pages 6 & 11, which are by Paul Gosney). Published by Murdoch Books and used with the publisher's permission.
This story originally appeared in PS News online.