It wouldn't be Christmas in the Southern Hemisphere without a bowl of cherries on the table.
Here are some tips on what to look out for when buying them:
Sweet cherries should have firm, but not hard flesh.
Sour cherries should be medium-firm.
The darker the colour, the sweeter the cherry.
Cherries with stems will last longer than those without.
It's best to store cherries unwashed in a plastic bag in the fridge, then take them out and leave them on the kitchen bench for a few hours before you eat them, as they're a lot more flavoursome at room temperature.
The following recipes were created by the test kitchen team at Coles. The Cherry Truffles make an indulgent festive treat or you could package them up as a lovely gift.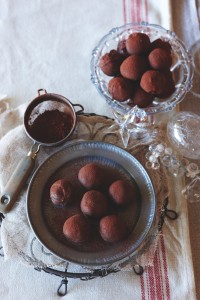 CHERRY TRUFFLES
375g Choc Milk Melts
375g sweetened condensed milk
50g  butter, chopped
200g Choc Ripple biscuits, crushed
100g red glace cherries, chopped
3 x 200 g packets Premium Dark Cooking Chocolate, melted
Cocoa powder, for dusting
Combine Melts with condensed milk and butter in a medium heatproof bowl. Place over a saucepan of simmering water over low heat (make sure the bowl doesn't touch the water). Stir for 4–5 mins or until mixture is melted and smooth. Cool.
Add crushed biscuits and cherries. Stir to combine. Refrigerate for 1 hour until firm. Roll heaped teaspoons of the mixture into balls and refrigerate for 20 minutes.
Dip each truffle into the melted chocolate then place on a tray lined with baking paper to set. When chocolate is set, dust with cocoa powder to serve.
Tip: Dip the truffles in 2 or 3 batches of melted chocolate, as the chocolate will start to harden. Or place the chocolate (in a heatproof bowl) back over a saucepan of simmering water to melt if it is becoming too firm to dip. A glass or stainless steel bowl works well. Having cool hands makes rolling the truffles easier.
Note: Australian standard measures are used in all recipes: 1 cup = 250ml, 1 tablespoon = 20ml, 1 teaspoon= 5ml.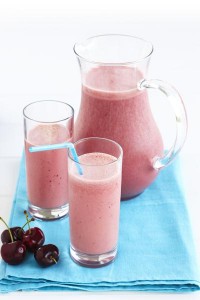 CHERRY BREAKFAST SMOOTHIES
2 cups cherries, pitted
1 cup vanilla yoghurt
1 litre orange juice
8 Ice cubes
Place half the cherries, yoghurt and juice into a blender with 4 ice cubes and blend until smooth. Pour into glasses or serving jug and repeat with remaining ingredients.
Recipes and photos courtesy of Coles.
More recipes: Cherry Sangria; Black Forest Cupcakes; White Chocolate Cherry Panna Cotta; Cherry Chutney; Cherry Bircher Muesli; A Table Full Of Cherries.