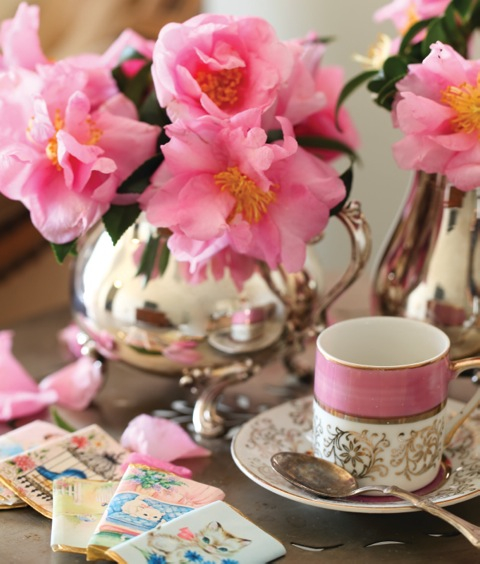 "In my work as an interior stylist for magazines, I always arrive to shoots with buckets full of fresh blooms. Flowers really do make a big difference, they add life and beauty to even the simplest room."    – Tahn Scoon
Don't you envy people who can create beautiful spaces with seemingly consummate ease?
Tahn Scoon is an interior stylist – in Brisbane, I gather from her blog. She hosts decorating and design workshops and her work regularly appears in design magazines.
Quite simply, she knows how to make anything look good! Whether it's a strategically placed vase of flowers, an old wooden chair, chandelier lights hung over a kitchen bench, or cushions scattered on a sofa, she creates settings to drool over.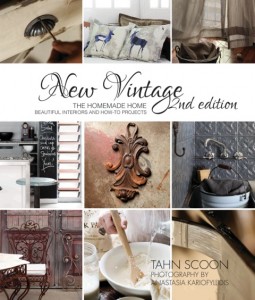 The second edition of her book, New Vintage: The Homemade Home, is both a practical guide to decorating and, with gorgeous photography by Anastasia Kariofyllidis, a book that inspires you to live more beautifully.
Among the how-to topics are: choosing the right white for your walls, making an upholstered linen bed head, re-vamping an old kitchen chair and how to successfully introduce vintage pieces into your home.
Tahn offers some great suggestions for updating kitchens and bathrooms on a budget.
She gives step-by-step instructions for restoring old furniture, including junk finds. Her suggestions are eco-friendly and there are some great recipes for making your own household cleaners. I'm definitely going to try her vinegar, baking soda and tea tree oil floor cleaner.
Tahn is passionate about kitchen gardens and suggests that you can establish one with as little as a square metre of space. There's a small section on growing your own vegies and also a handful of recipes, including this one for Pesto, which I'm reproducing with the kind permission of New Holland publishers.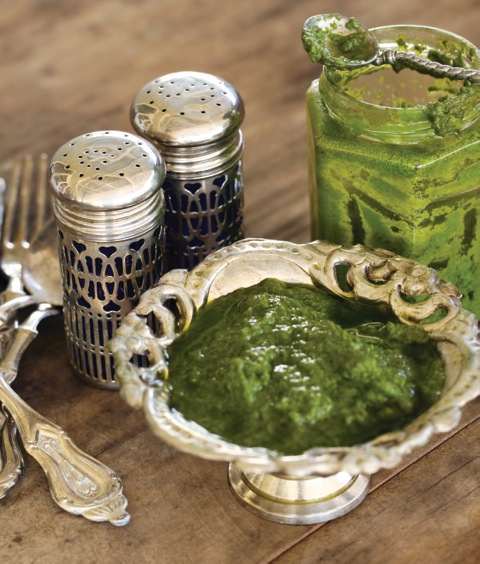 PESTO RECIPE
A bunch of basil or rocket (about two cups)
1/3 of a cup of macadamia nuts
1/3 of a cup of grated parmesan
3 cloves of garlic, roughly chopped
1 cup of extra virgin olive oil
If you have a food processor, simply add all the ingredients except for the olive oil, which you drizzle in slowly with the motor running.
However, if you want to make pesto with a blender, I find you need to use more olive oil. Pour three quarters of the cup of oil in before you turn on the blender (otherwise it won't want to go at all)—then drizzle in the final quarter of the cup once the motor is running.
Pesto is, of course, fabulous with pasta, but it's also good on bread or as a dip. Store any leftover pesto in a jar in the fridge, and add a layer of olive oil to the top of the pesto to help preserve it.
TIP: It's more traditional to add pine nuts to pesto, but I love to use Australian macadamia nuts instead. Locally sourced nuts will also be fresher, which is quite important, as nuts tend to go rancid fairly quickly. As does olive oil, so again, choose local over imported.