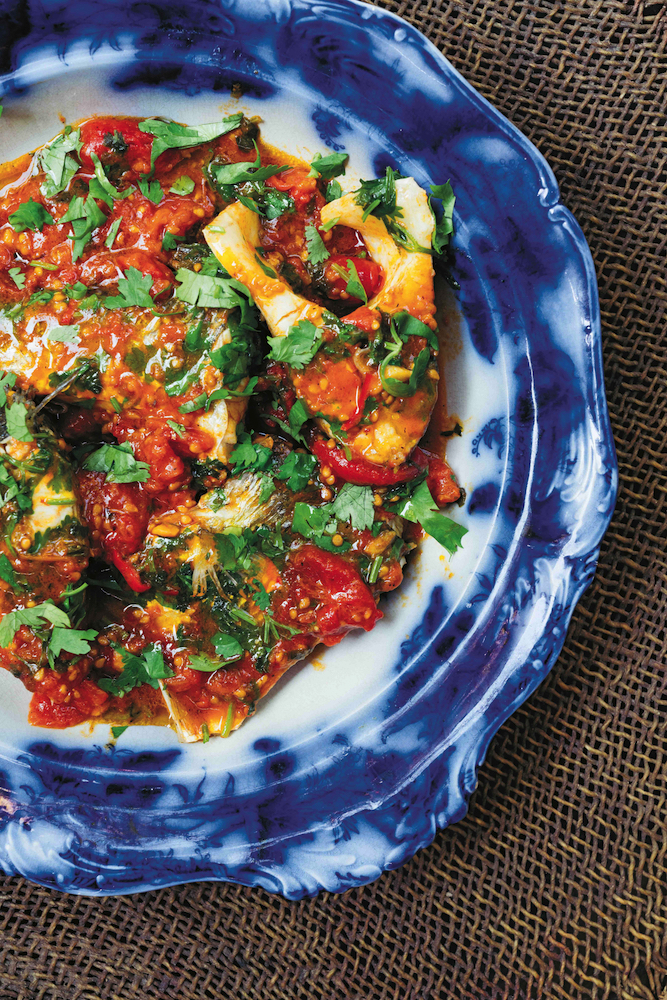 Haya Molcho has become a household name in Austria for the special brand of Levantine cuisine she serves at Neni, her restaurant in Vienna's wonderful Naschmarkt. Founded in 2009 by the indefatigable Molcho and her sons, Neni has become the go-to restaurant in Vienna for eclectic Israeli and Middle Eastern food.
Although I loved the Naschmarkt during my visit to Vienna, I haven't had the opportunity to dine at Neni (yet!), nor have I visited Tel Aviv, the subject of an impressive book with recipes from Haya Molcho and Neni chef, Elihay Biran. But Tel Aviv: Food. People. Stories. published by Murdoch Books, has captured the spirit of this cosmopolitan city and its melting pot of cultures, religions and culinary traditions in such a way that I feel like I know it well.
Haya Molcho and her family take readers on a journey to meet Tel Aviv's chefs and story-tellers, from restaurateurs and foodies to spice merchants, fishermen and urban foragers. The stories are interspersed with recipes encountered along the way, as well as recipes popularised at Neni.
Neni restaurant, Vienna
Born in Tel Aviv, Molcho is a woman who loves to cook and to travel. She travelled extensively as a child and later as an adult, developing her unique culinary style – typically Israeli, yet also international – along the way.
After settling in Vienna with her husband, mime artist Samy Molcho, she opened Neni before going on to open more Neni restaurants in Berlin, Hamburg, Munich, Cologne, Zurich, Amsterdam, Mallorca and Paris, as well as a cooking school and product lines.
In Tel Aviv, Molcho revisits the recipes of her home town, re-creating the flavours of her childhood: knafeh, green shakshuka, sarma, Israeli paella, pickled lemons and more. She thinks of Israeli food as a world kitchen, because of the way in which it brings together the scents and spices of Palestine with flavours and techniques brought by immigrants from Eastern Europe and around the Mediterranean.
The fish in the recipe here can be replaced with prawns, calamari or octopus. Good accompaniments are tahini and sourdough bread, which can be dunked in the delectable sauce.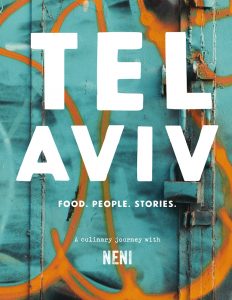 ---
Buy your copy of Tel Aviv: Food. People. Stories. from Book Depository now, with free delivery worldwide
---
Recipe for Chraime
For 4 people as a main dish
600 g (1 lb 5 oz) fresh tomatoes (in winter, use grape tomatoes; in summer various kinds are suitable)
Sea salt
3 red pointed peppers
1 acri sivri (cayenne) pepper
3 garlic cloves
100 ml (3½ fl oz) olive oil, plus extra for drizzling
400 g (14 oz) can peeled tomatoes
800 g to 1 kg (about 2 lb) branzino in one piece, or another kind of white filleted fish
7 sprigs coriander (cilantro)
Cut out the stems of the fresh tomatoes and make a criss-cross incision in the skin on the opposite end. Bring salted water (1 teaspoon salt per litre/35 fl oz water) to the boil in a saucepan, add the tomatoes and blanch for 1 minute. Immediately immerse the tomatoes in iced water, pull off the skin and quarter the skinned tomatoes.
De-seed the two kinds of peppers and dice. Peel and finely chop the garlic. Put a large ovenproof saucepan over very high heat on the stove, briefly heat a small amount of olive oil in it, add the peppers and sauté briefly. Add the garlic and sauté along with the peppers for several seconds, then add the fresh and canned tomatoes and heat. Pour in the remaining olive oil and season with salt. Simmer, uncovered, for 20 minutes over medium heat. Season with salt to taste.
Preheat the oven grill to 260°C (500°F). Cut branzino into slices, season with salt lightly and add to the sauce. Cook under the hot grill for about 10 minutes. Pluck the coriander leaves from the stems and coarsely chop. Remove the pan from the oven, drizzle the fish with olive oil and garnish with coriander. Serve hot.
Recipe and images from Tel Aviv: Food. People. Stories., by Haya Molcho and Elihay Biran. Published by Murdoch Books and used with the publisher's permission.
This story originally appeared in PS News online.