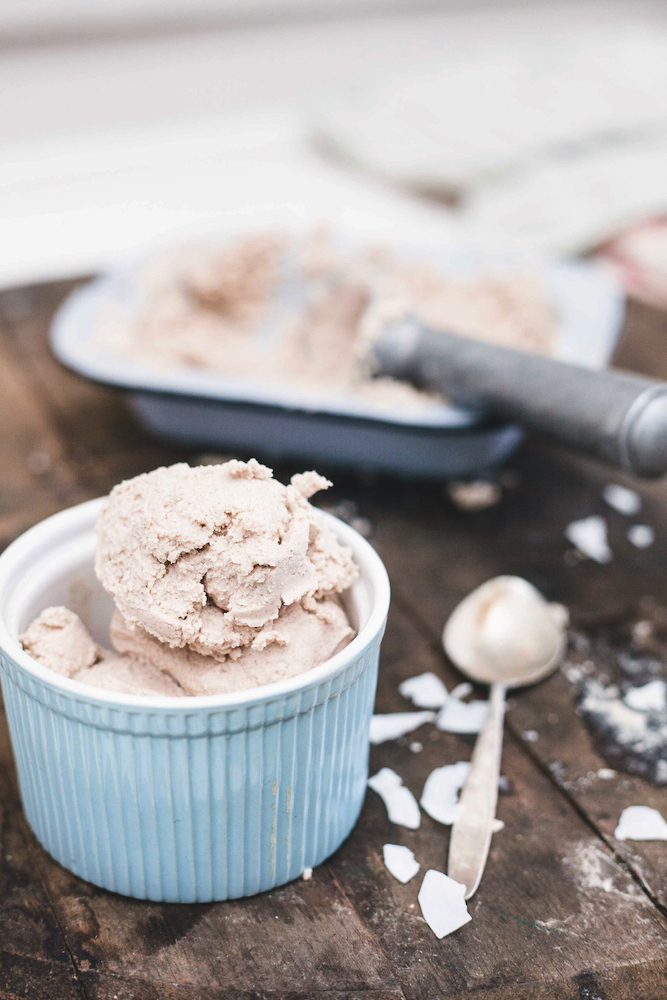 LCHF could just as easily read JERF. Lost? Well, what it means is that a Low Carb Healthy Fat diet simply equates to Just Eat Real Food. And as Steph Lowe, author of Low Carb Healthy Fat Nutrition points out, real food comes out of the ground, off a tree or from an animal.
LCHF is not a diet, it's a lifestyle, says Lowe, a Melbourne sports nutritionist and founder of The Natural Nutritionist. Lowe works with everyone from elite athletes to school students and corporates, educating them about the importance of real food for productivity and performance.
Lowe demonstrates in the book how a Low Carb Healthy Fat lifestyle has positive flow-on effects including satiety, mood stability, appetite control, mental clarity, improved inflammatory markers and weight loss.
She outlines research from the past five decades that has led to a shift away from the high-carbohydrate low-fat message of the past, producing compelling reasons for why it is sugar rather than fat that is to blame for chronic diseases such as obesity, diabetes, heart disease and cancer reaching epidemic proportions.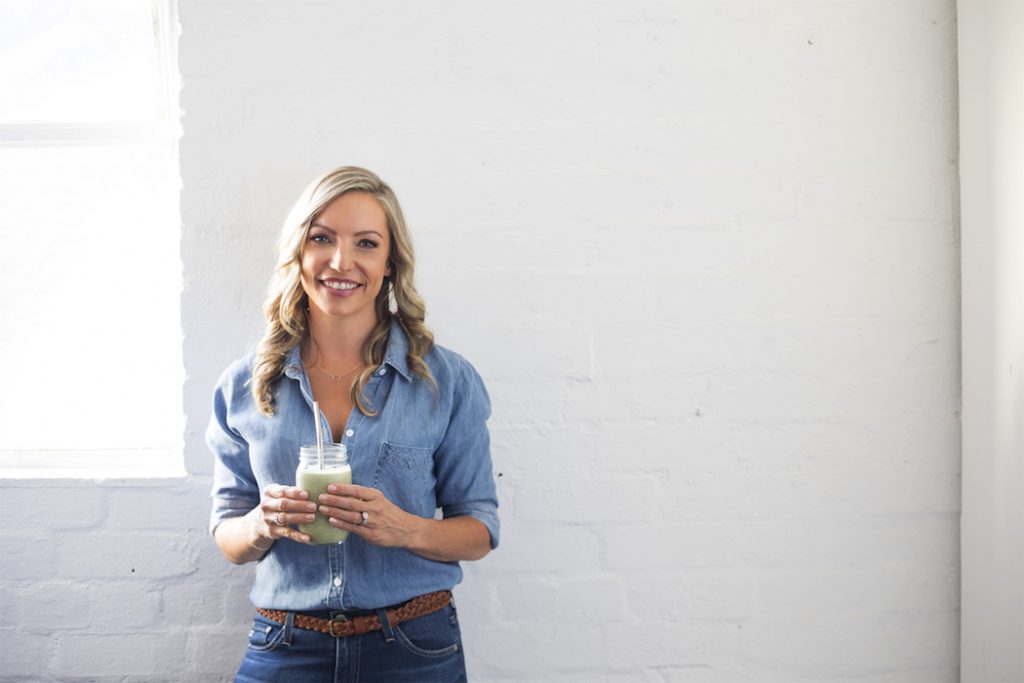 Her take on it accords with much of the rationale behind the increasingly popular keto diet, though she has chosen not to use the word "ketogenic" in her book because, she says, "there seems to be a current division and confusion as to the exact definition of what a ketogenic diet". In any case, she says, if tailored appropriately, LCHF can be a way of life for everybody.
Following on from the nutritional advice Lowe presents in Low Carb Healthy Fat Nutrition, she offers four 14-day eating plans tailored to fat loss, diabetes management, fasting and endurance. The bulk of the book consists of recipes that accord with the Low Carb Healthy Fat lifestyle. Most are pretty straightforward and can be produced without making huge changes to ingredients that you most likely already have in the pantry.
This Shepherd's Pie is one of Lowe's staple recipes. It's topped with a pumpkin mash which, although similar in colour to sweet potato, is surprisingly less starchy but just as delicious. In other words, small changes that can make a big difference.
The icecream is a simple and versatile treat, requiring just five ingredients and five minutes of prep time.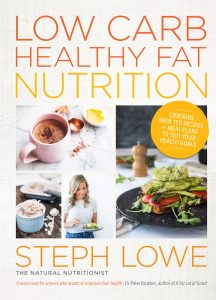 ---
Buy your copy of Low Carb Healthy Fat Nutrition from Book Depository now, with free delivery worldwide
---
Shepherd's Pie With Pumpkin Mash
Serves 4
1 tablespoon cold-pressed extra-virgin coconut oil
2 garlic cloves, chopped
600g grass-fed beef mince
400g tomato passata (100% tomatoes)
2 tablespoons tomato paste (no salt added)
1 teaspoon chilli flakes
1 teaspoon cinnamon
1 teaspoon nutmeg
sea salt and pepper, to taste
1 carrot, grated
1 zucchini, grated
Preheat the oven to 220°C. Heat oil in a large frypan over medium heat and sauté garlic until golden brown. Add mince and cook for 15 minutes, stirring to remove any lumps. Stir in tomato passata, tomato paste and spices, season and cook over low heat until the excess liquid evaporates. While the mince mixture is cooking, make the pumpkin mash (see below).
Stir the grated carrot and zucchini into the mince mixture and transfer to an 18cm baking dish, spreading until level. Gently spoon the pumpkin mash over the top and press firmly until even. Bake for 20 minutes, then finish under the grill so the top is crispy and brown. Serve with a side of salad.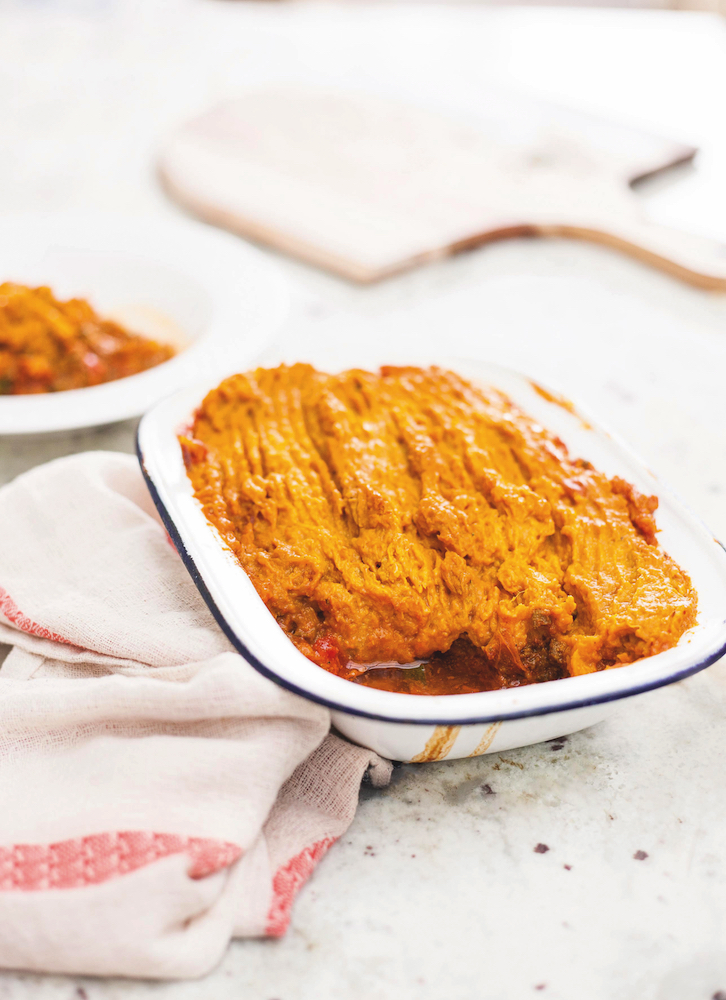 Pumpkin Mash
400g pumpkin, diced
2 tablespoons grass-fed butter
1 tablespoon unsweetened almond milk
Sea salt, to taste
Bring a small saucepan of water to the boil. Place pumpkin in a colander or steamer basket, cover with a lid and steam for 4 to 5 minutes. Remove from the colander or steamer basket and return to the drained saucepan. Mash the pumpkin with butter and almond milk and season well with salt.
Recipe For Super-Easy Coconut Icecream
Serves 4
400ml coconut cream
¼ cup coconut butter
1 teaspoon cinnamon
1 teaspoon stevia
1 tablespoon organic rice malt syrup
Place all the ingredients in a high-powered blender and start blending on low, gradually increasing to high. Blend until creamy. Make sure you don't blend on high for too long, as this acts as a heating function.
Pour into a shallow dish and freeze for 2 hours. Serve into bowls using a large icecream scoop. Keep leftovers well-sealed in the freezer and use within a few days.
Recipes and photos from Low Carb Healthy Fat Nutrition by Steph Lowe. Published by Hachette Australia and reproduced with the publisher's permission.
This story originally appeared in PS News online.