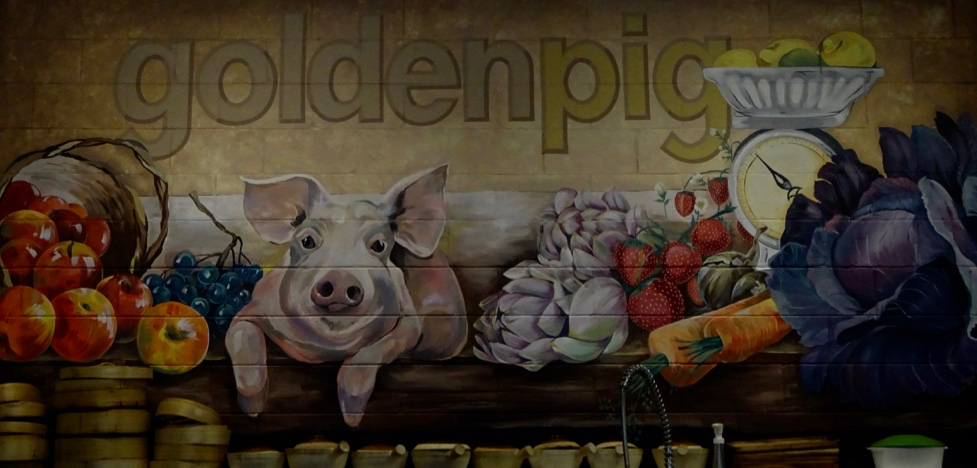 Katrina Ryan has worked at some of Australia' s finest restaurants, and has been a personal chef to Nicole Kidman and Tom Cruise, but it's her current venture, Brisbane's Golden Pig Food & Wine School, that she considers her finest production to date.
Katrina began her cooking career at Neil Perry's Blue Water Grill at Bondi Beach in Sydney in 1987 and followed it up with a five-year stint at Perry's Rockpool restaurant. Three of those years were as head chef, overseeing apprentices such as Kylie Kwong, who was already beginning to make her mark.
After the arrival of children, Katrina helped her husband Mark with the operation of their Sydney restaurants, The Pig And The Olive, in Potts Point and Cremorne, before a sea change in 2000 saw the family relocate to Noosa.
Katrina spent the next 12 years creating and teaching hands-on Asian-inspired cooking classes at Spirit House Cooking School in Yandina, not far from Noosa, and during her time there, she co-authored the beautiful Spirit House book, Hot Plate, published by New Holland.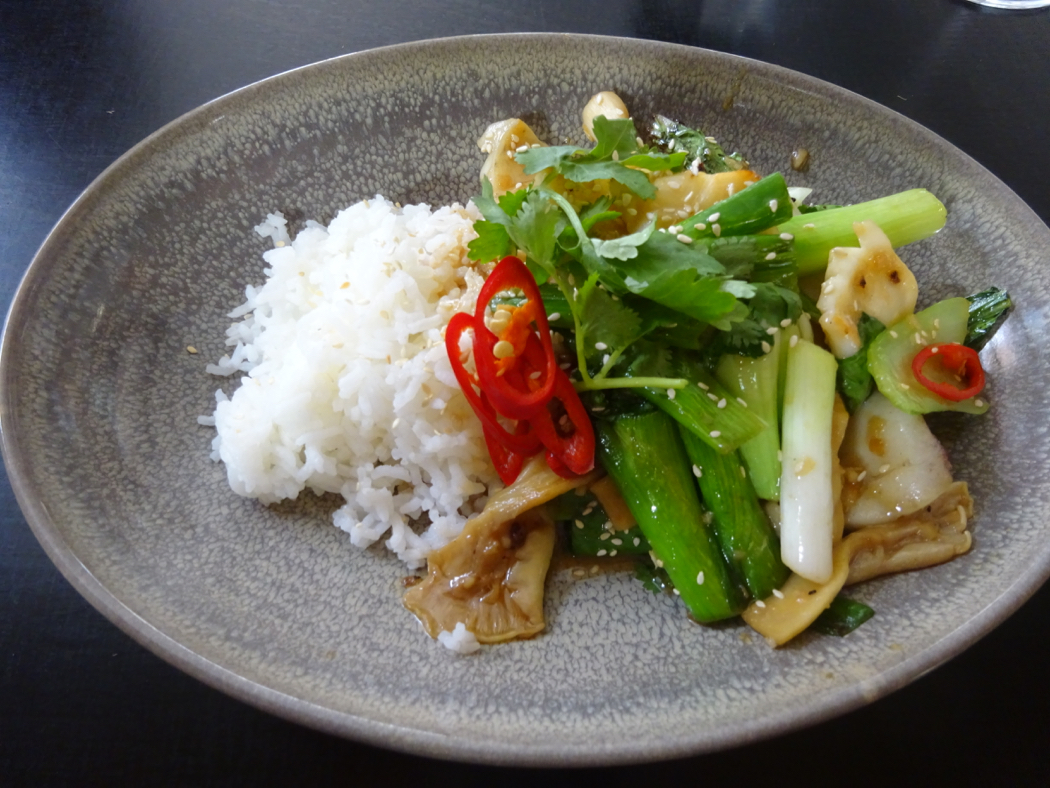 She's run food tours overseas, been a member of the Slow Food movement, and is passionate about supporting small-scale food producers and using food that is produced in a sustainable manner.
She and her building designer husband, Mark, moved to Brisbane in late 2012 and opened the Golden Pig Food & Wine School in the riverside suburb of Newstead.
This lively and vibrant space in a former warehouse – with casual sofas, tables and chairs, a wall of greenery and a barbecue area – operates as a licensed café on weekdays and switches to cooking classes, demonstrations and corporate events on evenings and weekends.
The venture provides her with a platform to share her skills and pursue her passion in all areas of food, drink and education. She runs an engaging program of four-hour, hands-on cooking classes, with themes such as French bistro, Asian masterclass, and Beer, Birds, Beef & BBQ, just to name a few.
The school also hosts demonstration workshops and other food, wine and beer events. There are classes for individuals as well as corporate events and specific evenings set aside for wine and beer workshops.
Katrina's food style is seasonally driven and celebrates fresh, simple and tasty signature dishes, such as Tea smoked salmon salad with fresh figs, and Black beluga lentil salad with fried chorizo. The salad recipe she has provided here is a beautiful one for winter and is great by itself or as a side with roasted meat, chicken or fish.
ROASTED PUMPKIN WITH MUSHROOMS, FENNEL, TAHINI SAUCE, PEPITAS AND GREEN CHILLI OIL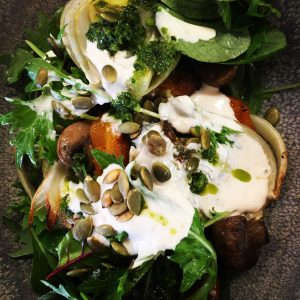 ½ jap pumpkin, peeled and cut into wedges about 1.5cm thick
1 tsp toasted and ground cumin seed
Extra virgin olive oil, sea salt and pepper
2 heads fennel, sliced into 1cm thick slices (keep some fronds for garnish)
50g butter
Extra virgin olive oil, sea salt and pepper
500g button mushrooms, cut in half or quarters if large
6 thyme sprigs
2 cloves garlic, peeled and sliced
Extra virgin olive oil, sea salt and pepper
Heat the oven to 190 C. Toss the pumpkin in a bowl with olive oil, salt, pepper and ground cumin and place on a large baking tray. Bake for about 30 minutes until browned and tender. You may need to turn them once.
At the same time, place the fennel slices on a baking tray and roast with oil, butter, salt and pepper until well caramelised, about 30 minutes.
Turn the oven up to 210 C. Toss the mushrooms with olive oil, thyme, garlic, salt and pepper, and roast and for about 20 minutes.
For the Dressing:
1 clove garlic
1 teaspoon sea salt
125ml tahini
2 tablespoons lemon juice
½ cup cold water (approx)
Make the dressing by grinding the garlic with the sea salt in a mortar and pestle. Mix in (with a whisk) tahini, lemon juice and water to make a smooth sauce.
For the Green Chilli Oil:
2 large green chillies, seeded
½ cup coriander leaves
1 teaspoon toasted and ground cumin seed
1 teaspoon toasted and ground fennel seeds
1 teaspoon sea salt
¼ cup extra virgin olive oil
Spread the tahini sauce on a platter and place the vegetables on top. Drizzle with more sauce and some green chilli oil, made from blending, green chilli, coriander leaves, ground toasted fennel seeds with salt and olive oil. Garnish with fennel sprigs.
Recipe courtesy of The Golden Pig, Newstead, Brisbane.
This post was originally published in PS News online.