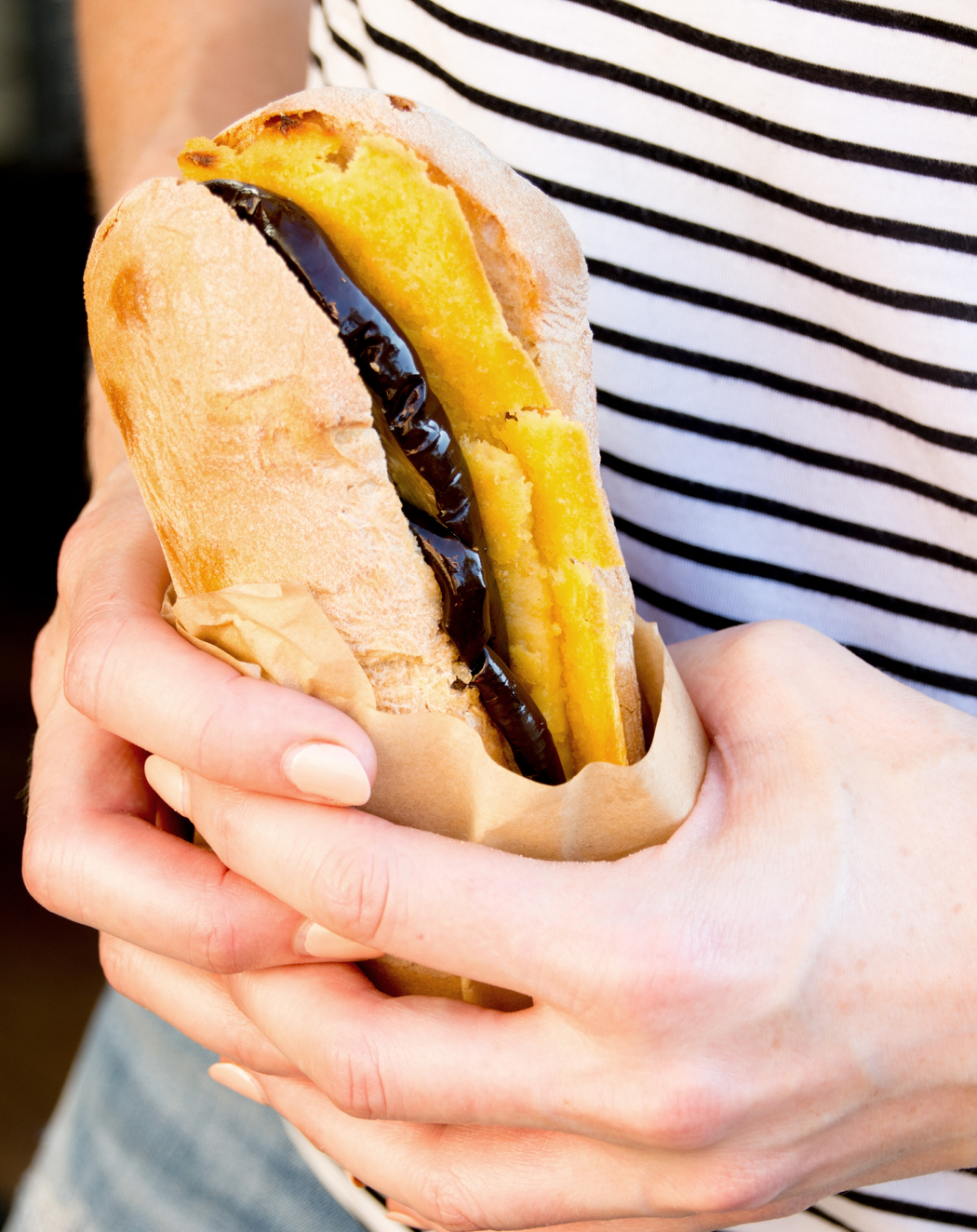 I've had the good fortune to spend a considerable amount of time in Italy over the past few years. One of the things I've gleaned from traipsing around a lot of Roman ruins is that street food is not new in Italy. It's been around since at least the eruption of Mt Vesuvius in 79AD. We know that because evidence was found at Pompeii of wine and hot food being sold from terracotta pots.
In the late 1800s, Italian food writer Carlo Valli wrote that the Italian piazza was not only the place to meet and exchange news, it was the cultural and trade centre of the town, with the sellers of street food at its heart. They even had special names, like il ranaiolo, for the folk who caught and sold frogs, and il brustolinaio, for the folk who prepared and sold roasted salted pepitas (pumpkin seeds), a kind of precursor to popcorn.
These are some of the observations Paola Bacchia makes in her lovely book, Italian Street Food, published by Smith Street Books. The daughter of Italian migrants who arrived in Australia in the 1950s from the north east of Italy, Melbourne-based Paolo has a popular food blog called Italy On My Mind.
The blog recounts family memories and their connections to food, and Paola is hoping that the book will similarly inspire people to explore their own memories of food and family, and to cook the simple Italian food that she loves.
"My parents showed me how food and shared meals could tell the story of their lives, of their values, and of the places that made them who they are," she says. "Through recipes and photos, I hope to tell the story of my family and of our culture, which is expressed in food and the way it is grown, prepared and then eaten at a shared table."
Recipes from the back streets of Italy
Paola has sourced 85 delicious recipes from the back streets of Italy, the little known gems hidden behind town squares, away from touristy restaurants. She shows readers how to make authentic arancini, polpettine, stuffed cuttlefish, cannoli and fritters, along with favourites such as porchetta rolls, Venetian-style sweet and sour sardines, Nonna's little meatballs in a roll, and the savoury pancake recipe featured here.
Served on a French-style baguette with a slice of grilled eggplant, it comes from Livorno, in the north-west of Italy. The name stems from five lire (the currency of Italy before entry into the European Union) for the cecina and five lire for the bread. It is served with a splash of olive oil and a good grind of black pepper.
Those who love gelato (who doesn't?) can perfect their skills with Italian flavours such as lemon and basil, affogato and aperol, orange, and a delicious pear and rosewater combination.
Readers with Italian heritage will appreciate this book for its recipes of beloved dishes or twists on dishes they are familiar with, while others will enjoy it for its rich insight into traditional artisan Italian food.
**Buy Italian Street Food from Book Depository, with free delivery worldwide.
Food Wine Travel gets a small commission on purchases through this link but it doesn't cost you any extra.
CINQUE e CINQUE
(Chickpea pancake with eggplant)
Serves 4
1 medium eggplant (aubergine), cut into 8 slices lengthways, about 3–4 mm (1/4 inch) thick
1½ teaspoons salt
olive oil, for drizzling
1 garlic clove, thinly sliced
pinch of chilli flakes
100g (3½ oz) chickpea flour (besan)
30 ml (1 fl oz) grapeseed or peanut oil
4 small baguettes or ciabatta-style rolls, halved
Place the eggplant in a colander over a sink and rub in 1 teaspoon of the salt. Cover with kitchen towel and leave to drain for 1 hour.
Preheat the oven to 200°C (400°F). Pat the eggplant slices dry and transfer to a baking tray. Drizzle over a little olive oil and bake for 10–15 minutes, turning them over halfway and adding a bit more olive oil to the surface of each eggplant slice. Remove from the oven when the edges start to crisp, but the centre of each slice is still tender.
Layer the eggplant slices in a ceramic dish and scatter over the garlic and chilli. Drizzle with a bit more oil and set aside to marinate and soak up the garlic flavour.
Place the chickpea flour in a large bowl and add 300 ml (10 fl oz) water. Whisk for a good 5 minutes to get rid of all the lumps – the mixture will froth up quite a bit. Set aside for 20 minutes or until all the froth floats to the top. Skim the froth from the surface, leaving behind a very liquidy dough. Add 20 ml of the oil and the remaining salt and stir with a wooden spoon.
Preheat your grill (broiler) to high. Coat a cast iron pan with the remaining oil and pour in the liquid dough until it is 1.5–2 mm (1/16 in) thick. Place under the grill and cook for 7–8 minutes, watching so that it does not burn. The cecina is cooked when it is crisp and golden on top but still soft in the centre.
Cut the cecina into four pieces and place in the baguettes or rolls with a couple of slices of eggplant and a good grinding of black pepper. Ideally, the cecina should still be warm when served.
Recipe and images from Italian Street Food, by Paola Bacchia, published by Smith Street Books and reproduced with permission of Simon & Schuster.
This story originally appeared in PS News online.