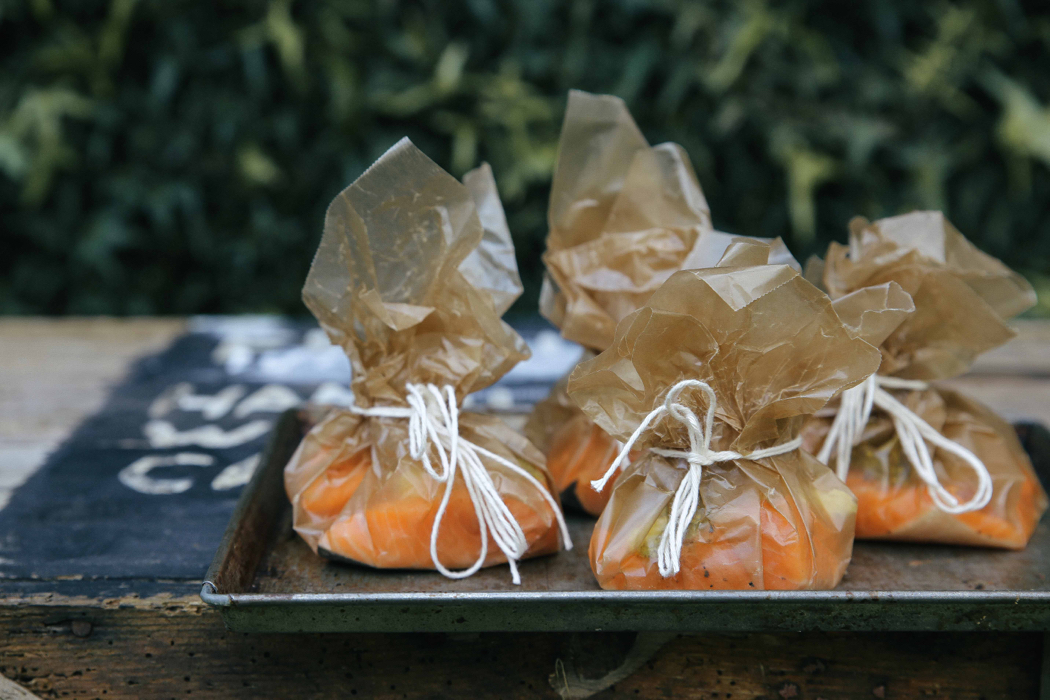 My Family Table is the second book from New Zealand food blogger, Eleanor Ozich. Published by Murdoch Books, it is full of simple, healthy, wholefood meals that the whole family will enjoy and thrive on. Ozich co-runs a wholefood eatery in Auckland called Mondays, and she writes a lovey blog called Petite Kitchen. Her first book, My Petite Kitchen Cookbook, sold more than 30,000 copies in Australia and New Zealand, a remarkable achievement in our small market down under.
Ozich's passion for wholefoods began when her daughter Izabella developed a troublesome skin condition. By eliminating processed foods and adopting a simple, wholesome diet, not only did her daughter's condition improve but the wellbeing of the whole family improved as well.
What's not to love about Baked salmon parcels with herb & lemon zest butter, Slow-cooked lamb shanks with cinnamon & orange zest, or Creamy garlic and thyme chicken with cauliflower couscous (so in vogue).
Healthy chicken nuggets
Ozich's favourite recipe in the book is Crispy almond-coated chicken roasted with artichokes and lemon, described as "melt-in-the-mouth goodness with a sensational sticky, sweet and salty sauce". Also on the almond-coated chicken theme, and perfect for littlies, are the Crispy almond-coated chicken nuggets with a tomato sauce that is naturally sweetened with medjool dates.
There are some delicious dessert ideas too. Mango and banana soft-serve is a magically sweet and creamy concoction containing nothing but mango and banana, while the almond date crust of the raw fig tart is a terrific gluten-free alternative to pastry.
These Baked salmon parcels with herb & lemon zest butter are one of Ozich's favourite ways of cooking fish. Baking the salmon in parcels keeps in all the moisture and allows the gorgeous flavours and juices to mingle. Serve it with potato salad and a green salad for a quick, easy supper.
Buy this book from Book Depository.
Buy this book from Amazon.
BAKED SALMON PARCELS WITH A HERB & LEMON ZEST BUTTER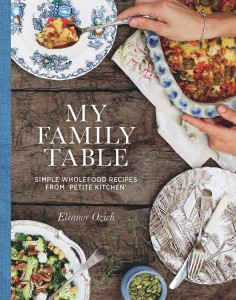 Serves 4-6
4 salmon fillets, sliced in half
2 lemons, each sliced into 4 rounds
For the herb butter:
250 g (9 oz) organic butter, at room temperature
a handful of fresh thyme, parsley or oregano leaves, thinly sliced
zest of 1 large lemon
Combine the herb butter ingredients in a small bowl. Using the back of a spoon, mix until soft and creamy.
Spoon the butter onto a 30 cm (12 inch) square of baking paper. Roll the paper up into a round bon bon or Christmas-cracker shape, and twist the ends to secure. Pop into the fridge or freezer for about 30 minutes to set.
Meanwhile, preheat the oven to 180°C (350°F).
To prepare the salmon parcels, cut out eight squares of baking paper, each about 25 cm (10 inches) wide. Have some kitchen twine ready for tying up the parcels.
Place a piece of salmon on each piece of baking paper. Top each piece with a slice of lemon.
Remove the herb butter from the fridge or freezer, and cut off eight round slices. Place one on each salmon portion and sprinkle with a little sea salt and freshly ground black pepper. Bring the edges of the baking paper to the top, and secure with twine.
Bake for 12 minutes, or until the salmon is cooked to your liking. Serve the salmon in the parcels, for diners to unwrap at the table.
Recipe and images from My Family Table by Eleanor Ozich. Published by Murdoch Books and reproduced with permission of Murdoch Books.
This post was originally published in PS News online.