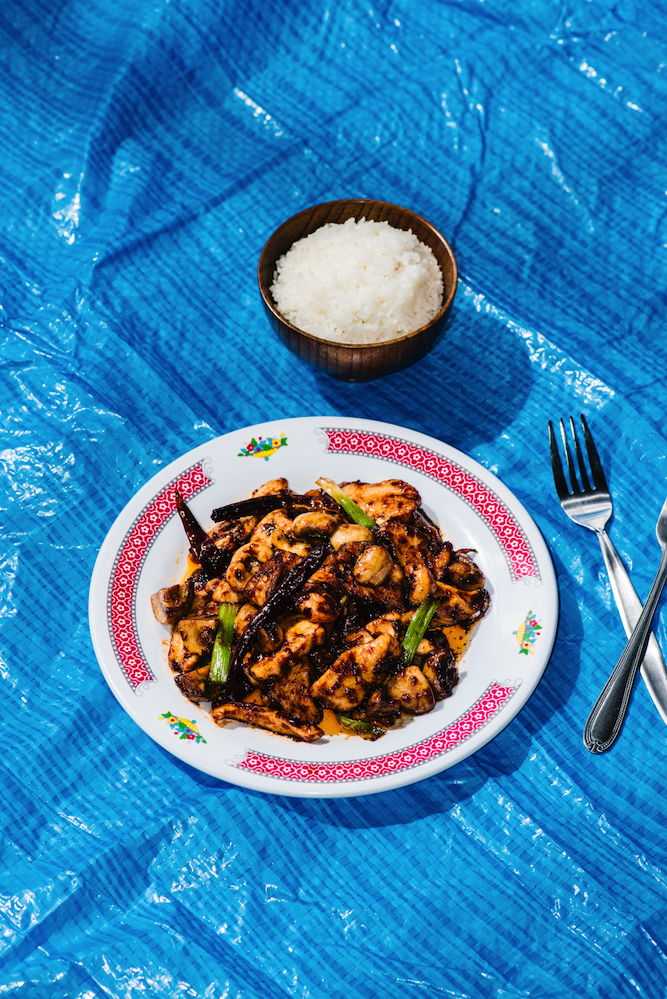 Food is truly the heart of Bangkok and its people. Even daily conversation reflects the importance of food and eating to Thai people: it's more common for locals to greet each other with 'Have you eaten yet?' than simply asking how someone is. Cooking isn't just done behind closed doors, in the kitchens of houses and restaurants. Much of the best Thai food is cooked, served and eaten on the streets.
Sareen Rojanametin and Jean Thamthanakorn have included all their favourite street food in Bangkok Local, published by Smith Street Books. The authors spent their childhoods in Bangkok and recently returned to live there after running a Melbourne restaurant, Nora, with a Thai-inspired menu. Their personal recollections and intimate knowledge of the Bangkok street food scene come through strongly in this bright and colourful book, which has lots of evocative photos both of street scenes and the wonderful food.
Bangkok In A Day
Like its predecessor in the Local Series, Tokyo Local, this one follows one culinary day broken into three sections: Early, Mid and Late, starting with breakfast dishes like Rice Porridge and Egg Sausage Soup, moving through lunchtime dishes such as Pineapple Fried Rice, Papaya Salad and Stir-Fried Pork with Ginger, and finishing up with evening meals like Pad Thai with Prawns and the Deep-fried Chicken with Cashew Nuts featured here.
The authors look at the history and influences on Thai cooking – it's hard to imagine that chilli, for example, was introduced by the Portuguese in the 16th century. Although the history of this Deep-fried Chicken dish is unclear, there are similarities to Sichuan kung pao chicken, and it's possible that it was introduced to Thailand by Chinese migrants and adjusted to suit local tastes.
All of the recipes are introduced with interesting little asides that make this a great book for anyone who has spent time in Bangkok and fallen in love with the food.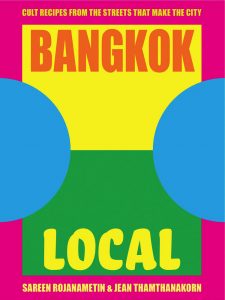 ---
Buy your copy of Bangkok Local from Book Depository now, with free delivery worldwide
---
Recipe For Deep-Fried Chicken With Cashew Nuts
Serves 4
250ml (8½ fl oz/1 cup) vegetable oil, for deep-frying
2 chicken breasts, cut into 5mm (¼ in) thick slices
150g (5½ oz/1 cup) plain (all-purpose) flour
6 dried long red chillies
2 tablespoons chopped garlic cloves
115g (4 oz/¾ cup) roasted cashew nuts
90g (3oz/1 cup) button mushrooms, quartered
2 tablespoons julienned ginger
2 spring onions (scallions), cut into 5cm (2in) lengths
125ml (4 fl oz/½ cup) Chicken stock
1½ tablespoons nam prik pao (Thai chilli paste)
1 tablespoon dark soy sauce
1 tablespoon oyster sauce
1 tablespoon Shaoxing rice wine
1½ teaspoons caster (superfine) sugar
Steamed jasmine rice, to serve
Heat the oil in a wok or a deep heavy-based frying pan over medium heat until a cube of bread dropped into the oil browns in 20 seconds – approximately 180°C (350°F). Dredge the chicken in the flour and fry for 5 minutes, until golden all over but only par-cooked. Remove from the oil with a slotted spoon and set aside to drain on paper towel.
Using the sesame oil, deep-fry the dried chillies until they crisp up and darken, about 1 minute. Remove from the oil with a slotted spoon and set aside to drain on paper towel.
Discard all but 3 tablespoons of the oil and return the wok to the heat. Stir-fry the garlic until golden and fragrant, then add the cashew nuts, fried chillies, mushrooms, ginger and spring onion. Stir-fry for 2 to 3 minutes, pour in the stock to deglaze the pan, then add the remaining ingredients except the rice. Increase the heat to high and stir-fry for a further 2 minutes before adding the chicken and stirring for 15 seconds. Remove from the heat and serve with steamed jasmine rice.
Extracted from Bangkok Local by Sareen Rojanametin & Jean Thamthanakorn, Published by Smith Street Books and used with the publisher's permission. RRP AU$39.99. Photography © Alana Dimou, Design © Evi O Studio, Styling © Nat Turnbull.
This story originally appeared in PS News online.