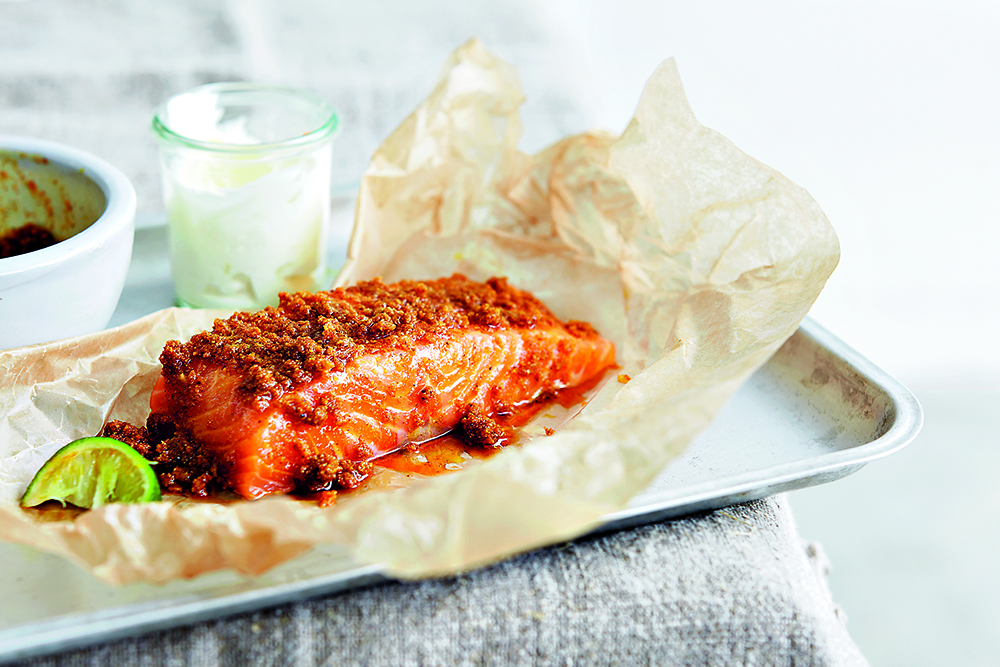 Cooking Indian food can be somewhat intimidating such is the complexity of dishes and the long list of ingredients needed to achieve the best results. This gorgeous new book from Murdoch Books, Indian Made Easy, is therefore like a breath of fresh air. Anglo-Indian author Amandip Uppal has not only a love of food but clearly also an eye for design, as the book is peppered with stylish graphics and stunning photography.
Making the book even more appealing is the way the recipes have been tailored to busy lives. Quick, uncomplicated recipes for old favourites such as Butter Chicken and Lamb Kofta are complemented by fresh salads such as Avocado, sweetcorn, chilli and coriander salad; wonderful relishes and chutneys; tempting vegetarian dishes and slowly simmered curries.
Sauce for any fish
Masala roasted lamb looks divine, while this simple Baked salmon dish with crème fraiche and coconut is flavoursome yet delicate. The crème fraîche, lime juice and coconut together form a delicious and light sauce, and will work well with any fish, either fillets or whole.
This is an inspiring book that will take you on a delicious spice journey, and reassure you that Indian cooking doesn't need to be unnecessarily complicated. Special features guide the reader through making paneer, yoghurt and flatbreads, and there is a wealth of information on stocking the pantry, must-have spices and alternative ingredients.
**Buy Indian Made Easy from Book Depository.
Food Wine Travel gets a small commission on purchases through this link but it doesn't cost you any extra.
BAKED SALMON WITH CRÈME FRAÎCHE AND COCONUT
Serves 2
Preparation Time: 15 minutes
Cooking Time: minutes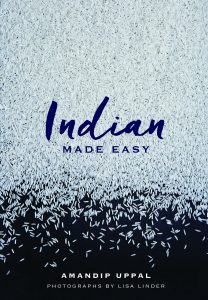 FRESH
1 quantity Spiced Coconut and Crème Fraîche Marinade (see below)
2 salmon fillets
¼ wedge of lime
PANTRY/LARDER
2 large sheets (A4-sized) baking paper
Preheat the oven to 180°C/350°F/Gas 4.
Rub the marinade equally into the 2 pieces of salmon. Place one salmon fillet on each baking paper square, then squeeze lime juice over each fish and finish off by sprinkling 2–3 teaspoons water over each fillet.
Bring up the sides of the paper and pinch together, then seal the edges tightly to form a loose parcel. Place both salmon parcels on a baking tray and cook in the oven for 12 to 15 minutes depending on the thickness of your fillet.
Note: Open the parcels very carefully as the steam that will escape will be very hot. Any leftovers can be made into mouth-watering fishcakes.
SPICED COCONUT AND CRÈME FRAÎCHE
Serves 2–3
Preparation Time: 10–15 minutes
FRESH
1½ garlic cloves
2 tablespoons crème fraîche
SPICES
½ teaspoon garam masala
¼ teaspoon ground turmeric
1 teaspoon chilli powder
¼ teaspoon ground black pepper
¼ teaspoon ground cumin
PANTRY/LARDER
¼ teaspoon salt, or to taste
1½ tablespoons coconut
milk powder
1½ tablespoons oil
Begin by pounding the garlic and salt together using a mortar and pestle. Next, add all the spices and coconut milk powder to the crushed garlic and salt paste and pound together gently. Slowly drizzle in the oil, and stir in until the marinade comes together and makes a thick paste.
Finally, stir in the crème fraîche and use immediately. Alternatively, omit the crème fraîche and pour into a sterilised jar, seal with a tight-fitting lid and refrigerate. Use within 2 days. Stir in the crème fraîche when ready to use.
Recipes and images from Indian Made Easy, by Amandip Uppal, photography by Lisa Linder, published by Murdoch Books and reproduced with permission of Murdoch Books.
This post was originally published in PS News online.