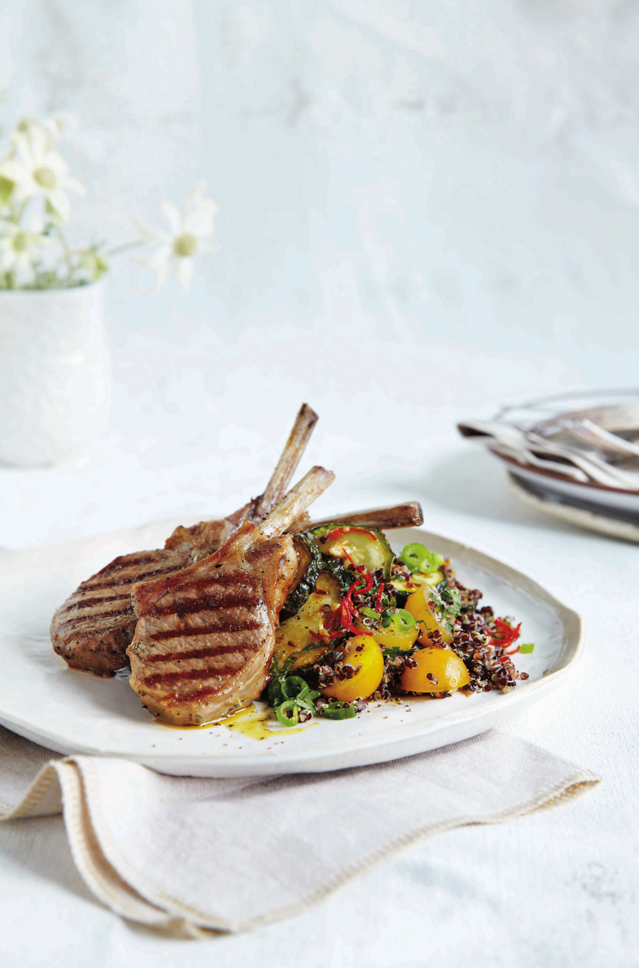 Michele Cranston's idea for A Simple Table was that it should include food that is simple and pared back but still bursting with colour and flavour.
The author has been cooking and styling food for 25 years and has written 12 cookbooks in the marie claire series. She is renowned for her fresh, uncomplicated food – contemporary recipes that use accessible and interesting ingredients in clever combinations.
Now the Food Editor at Large at the Australian Women's Weekly, Cranston celebrates simple, everyday experiences in A Simple Table, published by Murdoch Books. She has divided the book into chapters such as Two Bowls, Four Plates, One Pot, Weekend Platters, On The Side, Pretty Spoons, and Teacups and Cake Plates – a novel approach that makes it a bit more interesting than the usual Entrees, Mains and Desserts that most cookbooks feature.
Recipes for all occasions
Two Bowls is about the meals you make when you are home alone or just cooking for two; Four Plates is about family food; One Pot means cooking everything together in one dish; Weekend Platters are for entertaining family and friends on weekends; On The Side are favourite side dishes; Pretty Spoons are sinful spoonfuls of creamy desserts; and Teacups and Cake Plates is devoted to the simple joy of afternoon tea and home-baked cakes.
In all, there are more than 100 recipes based around the occasions when people gather to eat. There are no culinary gymnastics, no sous vide, no liquid nitrogen and no mention of 'diet' – just simple, fabulous recipes for every day and for every occasion.
The recipe here could be used with any red meat. If using beef instead of lamb, swap the mint for basil.
**Buy A Simple Table from Book Depository.
**Buy A Simple Table from Amazon
.
Food Wine Travel gets a small commission on purchases through these links but it doesn't cost you any extra.
LAMB CUTLETS WITH ZUCCHINI AND BLACK QUINOA SALAD
Serves 4
12 lamb cutlets or lamb chops.
1 tablespoon olive oil.
½ teaspoon finely chopped rosemary
100 g (½ cup) black quinoa
60 ml (¼ cup) extra virgin olive oil
2 long red chillies, seeded and thinly sliced
2 garlic cloves, minced
400 g (14 oz) zucchini, thickly sliced on the diagonal
1 tablespoon lemon juice
12 mint leaves, finely chopped
2 spring onions, thinly sliced
200 g (7oz /1 punnet) yellow cherry tomatoes, halved
Place the lamb cutlets on a tray. Rub the olive oil over the cutlets and then sprinkle with the rosemary.
Put the quinoa in a saucepan with 250 ml (9 fl oz/1 cup) water and bring to the boil. Cover with the lid, then reduce the heat to low and simmer for 10 minutes. Remove the pan from the heat and set aside, with the lid still on, and allow the grains to gently steam for 4–5 minutes.
Meanwhile, heat the extra virgin olive oil in a non-stick frying pan over medium heat. Add the chilli and garlic and cook for 1 minute before adding the zucchini. Sauté for 8–10 minutes, or until the zucchini begins to soften and turns golden brown. Remove from the heat.
Transfer the cooked quinoa to a salad bowl and add the zucchini, lemon juice, mint, spring onion and tomatoes. Season generously with sea salt and freshly ground black pepper and stir to combine.
Preheat a barbecue grill or chargrill pan to medium–high. Cook the cutlets for 2–3 minutes on each side, or until cooked to your liking. Transfer to a warm serving plate and season with sea salt. Cover with foil and rest for a few minutes. Serve the lamb cutlets with the zucchini and quinoa salad.
Recipe and images from A Simple Table by Michele Cranston. Published by Murdoch Books and reproduced with permission of Murdoch Books.
This post was originally published in PS News online.