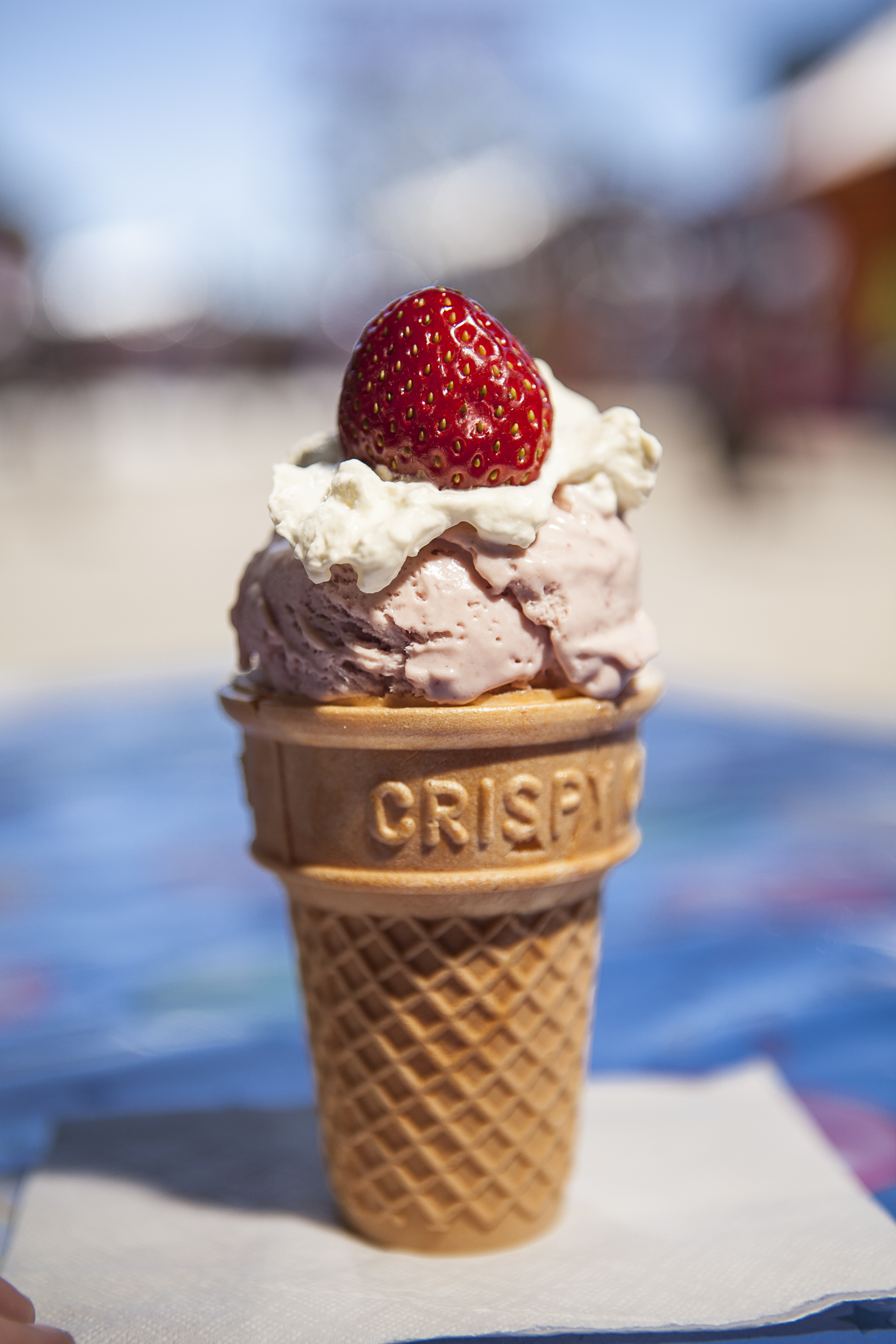 The Royal Queensland Show, or Ekka as it is affectionately known, kicks off in Brisbane tomorrow. As well as all the entertainment on offer, there's much to interest foodies, with everything from fine dining to delectable strawberry icecreams that we just can't get enough of. Here's a guide to some of the food experiences on offer:
Fine Dining
Ekka's fine dining restaurant, Royal Queensland Steakhouse, features some of Australia's finest steaks, wines and cheeses from the Royal Queensland Food and Wine Show. You could be feasting on Mooloolaba king prawns, Beef carpaccio with truffle oil, Wagyu beef with shiraz jus, or Vanilla bean cheesecake with salted caramel ice-cream. We tasted some Tasmanian Royal lamb at the launch of Ekka and this juicy lamb was quite possibly the most flavoursome lamb I've tasted.
A Smorgasbord of Produce
Who doesn't love a freebie? The Woolworths Fresh Food Pavilion has more than 70 vendors offering produce, much of it local, to taste or buy. These include award-winning Kingaroy Cheeses, the popular Bagel Boys creations, Queensland wines, Nitrogenie ice-creams, handmade cupcakes from the Cupcake Parlour, and Earth Oven Wood Fired Pizzas. There's even a Seafood and Wine Bar with sensational oysters and ocean king prawns. Go around once and if you're still hungry, go around a second time before the tastings finish each day at 7.30pm.
Fresh Food Showcase
A key exhibit in the Fresh Food Pavilion, Woolworths Fresh Food Showcase offers samples from its produce, meat, bakery, seafood, deli and chilled food departments. Kids can join in free cooking classes and craft activities, while mums and dads get to enjoy Jamie Oliver inspired recipe demonstrations or have a chat to local growers. Sampling is from 9am to 7.30pm daily.
Cooking Stage
The Food and Wine Show stage, in the Fresh Food Pavilion, is full of tips and tricks for home cooks and aspiring chefs. Hosted by Brisbane chef Dominique Rizzo, it showcases the champions of the Royal Queensland Food and Wine Show including cheese, meat, beer, wine, cider and other products.
The Australian Meat Industry Council will talk about different cuts of pork and lamb, and show you how to make the perfect sausages and rissoles, while JBS Australia will show how to break down a carcass. And definitely one not to be missed … the Queensland Country Women's Association will be sharing their baking secrets.
Country Women's Association
There's a lot to be said for tradition. Few would disagree that the CWA ladies make the best cakes, pastries and scones. This year they'll be taking their country hospitality a step further by adding meat pies to the menu, in the old school eatery under the John MacDonald Stand.
Satisfy Your Thirst
A day traiping around Ekka calls for a glass of bubbles, doesn't it? Queensland winery, Sirromet, will be offering its wines in the Sirromet Sparkling Lounge, in Gourmet Plaza. Alternatively, taste some Barossa deliciousness at Pepperjack Bar, on the upper level of the Royal International Convention Centre.
Food on the Run
There'll be street eats from all over the globe in Gourmet Plaza including Big Tony's Italian Street Food, Let's do Yum Cha, SpanThai, German Sausage Hut, Kwan Bros and new this year, the Royal Queensland Food and Wine Show stall serving gourmet beef rolls.
And what would a show be without Dagwood dogs, doughnuts, potato slinkys, German sausages, American-inspired pulled pork rolls and kebabs? Not that any of these will be passing through my lips … but you get the drift.
Eat for Charity: Strawberry Sundaes
I'd heard a lot about Ekka's amazing strawberry icecream sundaes but it wasn't until I tasted them at the launch that I understood what all the fuss was about.
One of the most iconic Ekka treats, they are unbelievably delicious and creamy, with a genuine strawberry flavour of real fruit. They're made with quality locally sourced ingredients including Lick gourmet ice cream, strawberries from Wamuran, cream from Queensland dairies and crunchy wafer cones.
Best of all is that with every bite you take, you know you are helping to fund valuable research by the Prince Charles Hospital Foundation. Volunteers have been producing these for the past 27 years and this year they expect to sell more than 145,000 sundaes. This could be the best $5 you've ever spent!
Fact File:
2015 Royal Queensland Show
When? August 7-16.
Where? Brisbane Showgrounds
600 Gregory Terrace,
Bowen Hills Qld Australia
www.ekka.com.au