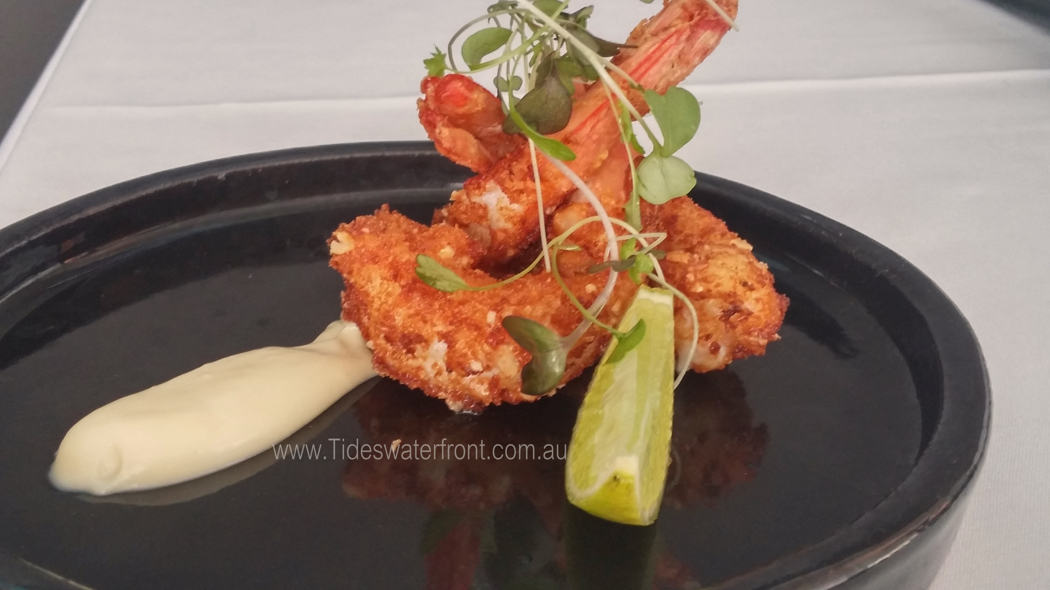 We tasted these delicious nut-crumbed Mooloolaba prawns at Tides, a lovely waterfront restaurant at Caloundra on Queensland's Sunshine Coast. Owner/chef Michael Mulhearn kindly agreed to share his recipe.
NUT CRUMBED PRAWNS
INGREDIENTS
16 fresh green prawns, shelled and deveined
200g skinless hazelnuts
200g macadamia nuts
200g desiccated coconut
200g pistachio nuts
200g oats
200g Panko breadcrumbs
Egg wash
Flour
Grapeseed oil
METHOD
Preheat oven to 180 degrees C. In a large saucepan or deep fryer, preheat grapeseed oil to 165 degrees C.
Process hazelnut, macadamia and pistachio nuts in blender to a medium rough chop. Toast all nuts lightly in oven at 180 degrees C for 5 minutes. Mix toasted nuts, breadcrumbs and oats together in a large bowl.
Toss prawns in flour, then egg wash, then nut crumb. Repeat with egg wash and a second coat of the nut crumb.
Cook prawns for 2 minutes or till desired colour is achieved – in grape seed oil. Finish in oven till cooked through – will depend on thickness of prawns.
Serve with garlic aioli or your favourite accompaniment and fresh lime.