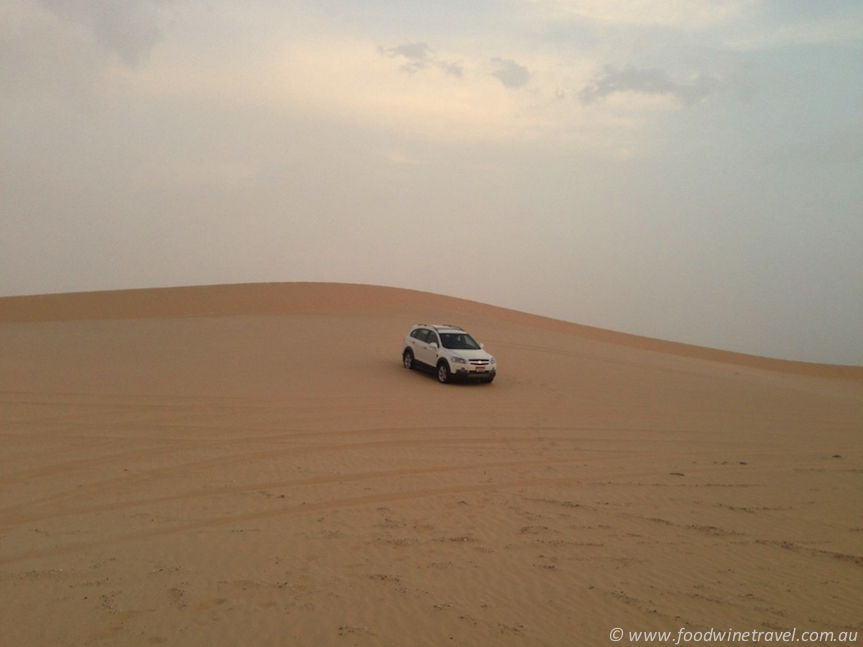 While on a quick trip to France recently, we decided to break up the long journey home with a stopover in Abu Dhabi, UAE. With only two nights to spare, I initially thought my stay would involve relaxing by the pool at the luxurious Sheraton Corinche Resort and indulging in a spot of shopping at one of Abu Dhabi's spectacular malls.
However my other half had other plans and I found myself ticking another adventure off my bucket list –we were off on a desert safari. At 4pm we were greeted in the hotel lobby by our enthusiastic driver who escorted us to a massive FWD to begin the first part of the safari – dune bashing!
Dune bashing would have to be one of the most hair-raising and exciting experiences ever and as the FWD teetered precariously over the edges of massive sand dunes I found myself not knowing whether to laugh in enjoyment or hold on for dear life. Our driver seemed to enjoy the experience even more than us and found any opportunity to go off road and climb the towering dunes.
After all this excitement it was time for some rest and relaxation and as the sun set behind the dunes it was time for dinner. We were driven to a beautiful desert oasis, carefully designed and set up by the tour company to replicate an Arabian village, brimming with palm trees, Persian carpets and shisha pipes. As we entered, we were offered traditional Arabic coffee and dried dates to sample and the features and amenities of the oasis were explained to us.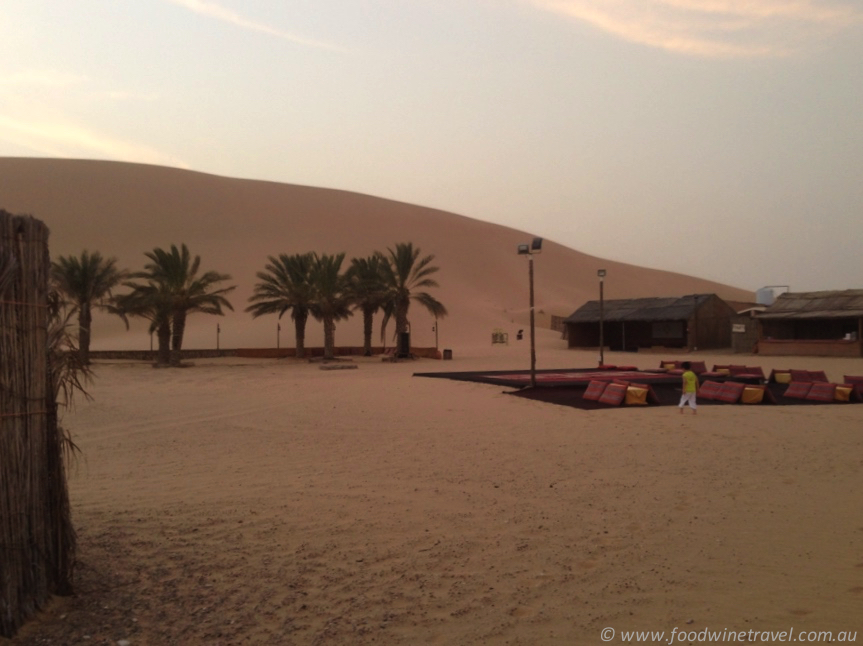 I was amazed at all the activities that were on offer and couldn't decide what to do first – was I going to take a ride on a camel or test my skills dune boarding? There was also an opportunity to try on traditional clothing and costumes and take photographs, however in 40+ degree heat, these costumes only lasted about two minutes before I started melting.
A traditional Arabic barbeque was served including an array of succulent meat kebabs, vegetarian and lentil stews, fresh salads seasoned with herbs and spices and finished off with an assortment of fresh fruit. There were no tables and chairs; instead, we feasted under the stars, cross-legged on lush Persian carpets and enjoyed the spectacular entertainment of a colourful belly dancer.
Before the night was over, the tour company had one last surprise for us and before I knew it we had been plunged in to darkness with nothing to see except for the magical illumination of the moon and stars above. As we gazed into the night sky, there was nothing but silence, and after several minutes of deep reflection the silence finally broke as many of the guests on the tour shared their travel stories and adventures.
A desert safari is a must for anyone visiting Abu Dhabi or Dubai, and the memories I have from my tiny snapshot of Arabic culture has definitely inspired me to continue my exploration of all things Arabian and start planning my next adventure to the Middle East.
Fact File:
Suncity Tours – Dubai and Abu Dhabi
www.suncitydubai.com