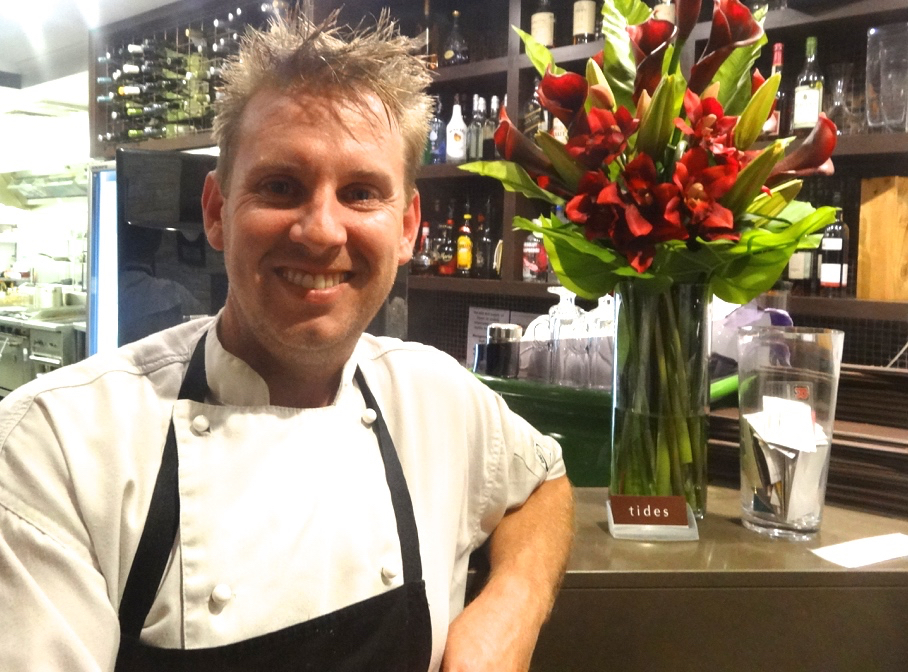 Tides has a beautiful waterfront location at Caloundra on Queensland's Sunshine Coast. The weather on the night we dine is about as far from beautiful as you can get, but we're cosy at our table on the veranda and our experience is warm, thanks to the polished service from our waitress Morgan and the scrumptious food coming from the kitchen.
Michael Mulhearn opened Tides in 2008 and initially began working front of house, till he decided that the kitchen was his true calling. He thrives on creating new dishes, from simple classic flavours to more intricate and challenging dishes. If you look at the photos of his dishes on the restaurant's website, you'll see that some of them are works of art. But we love seafood and when we're dining by the sea, there's only one menu that jumps out at us and it's the seafood one.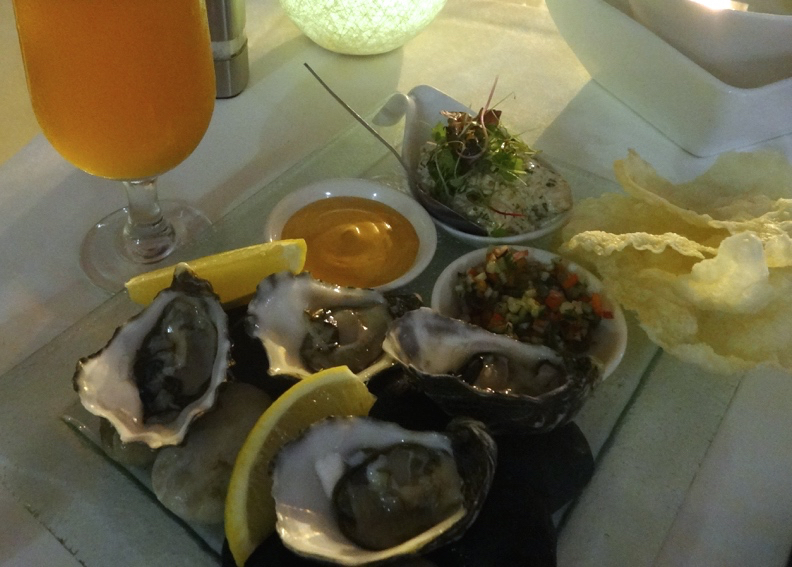 The set seafood menu of cold and hot dishes with matching wines kicks off with four exquisite Coffin Bay oysters, held in place by stones on a glass platter. There's a remoulade made from fennel, crab and celeriac alongside, a Little Creatures Pale Ale for him and Jim Barry Riesling for me, both good matches with their citrus and floral notes.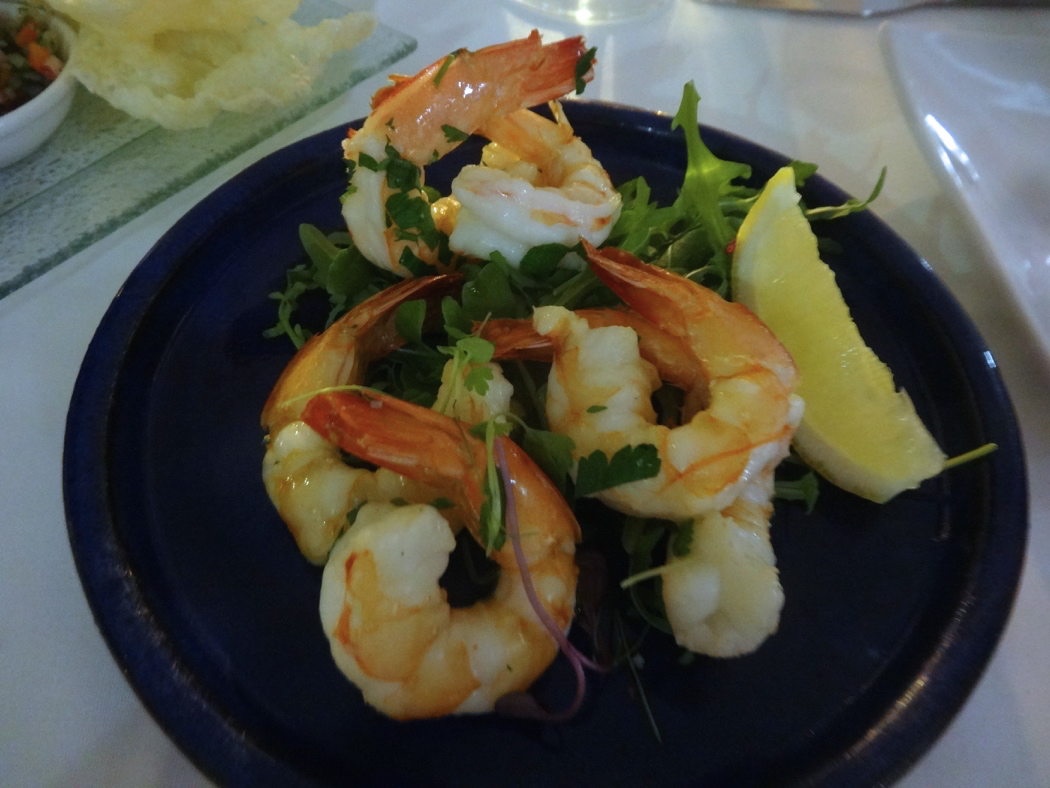 Next comes a plate of chilled prawns, a bowl of mussels in tomato, white wine and dill butter, and then an enormous platter of cooked seafood which is complemented beautifully by a glass of Omrah Chardonnay.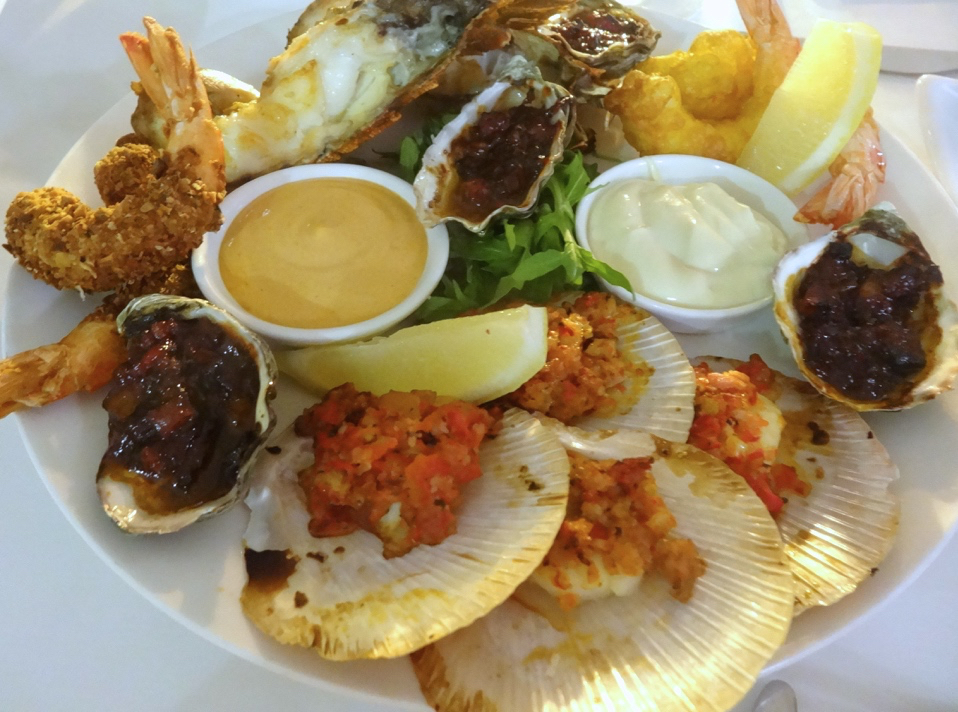 The platter is resplendent with Oysters Kilpatrick; Moreton Bay bugs; scallops topped with tomato, parmesan and bacon (a lovely flavour combination); and Mooloolaba prawns done two ways. Both are delicious, one in a saffron batter, the other in a nut crumb. Michael kindly agreed to share his recipe for the Nut Crumbed Prawns.
But that's not the end of it. There's also a beautiful snapper dish with side dishes of prawn salad, truffled chips, rocket salad and artichokes with seeded mustard.
And there's still room for dessert – a shared slice of lemon curd tart with dollops of blueberry coulis, soft meringue and a scattering of blueberries and raspberries.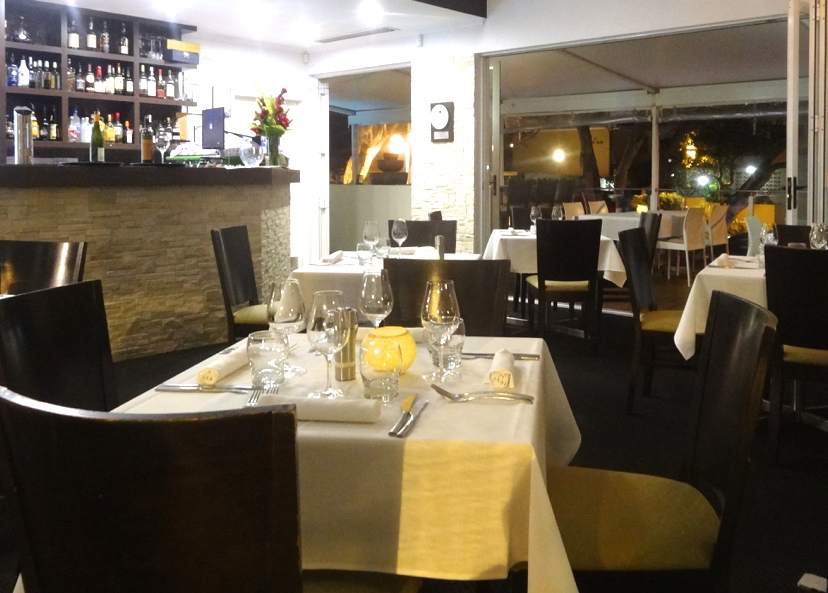 Everything about our experience at Tides is first class. The tables are neatly laid out with crisp white cloths, there are fresh flowers on the bar and although we are dining on the balcony, there's plastic to keep out the elements and heaters to keep us warm. On a chilly, stormy evening, that's very welcome indeed.
Tides Restaurant serves as Rumba Resort's premium wedding and functions venue. We dined there as guests of Tides, while we were staying at Rumba Resort.
Fact File:
Tides Restaurant
Upstairs @ cnr Minchinton Street & Esplanade,
Caloundra Qld Australia
Tel: +61 7 5438 2304
www.tideswaterfront.com.au