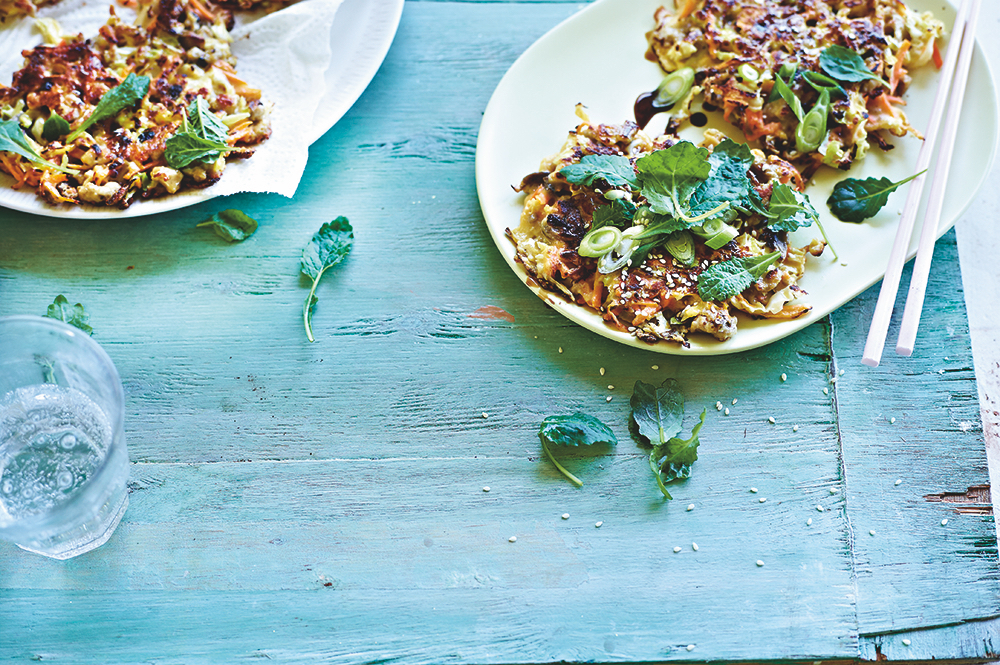 "Eating a healthy diet based on whole foods doesn't mean depriving yourself, counting calories or restricting enjoyment," says Chrissy Freer. "It means eating well and loving it." In her latest book, Real Delicious, published by Murdoch Books, Freer sets out to show that whole foods are delicious foods.
A nutritionist and food writer who has developed a signature style of delicious recipes with a nutritional focus, Freer says good nutrition is a result of overall food intake, not from individual 'superfoods' or from excluding particular food groups.
"I am highly sceptical of any philosophy that eliminates entire food groups, demonises certain foods or consists of drinking all your meals," she says. "The one thing all fad diets have in common is that they don't work over the long term."
The best way to improve diet
The author of two previous books, Supergrains and Superlegumes, Freer says the single most important way to improve diet is to eat less processed food and more wholefoods.
She makes it easy with recipes such as Grilled Pork with Broad Bean, Pea and Apple Salad; Miso Beef with Wok-Tossed Shiitakes and Asian Greens; Baked Sweet Potatoes stuffed with Spinach, Feta and Pepitas; and her delicious Japanese Pancakes recipe, reproduced here.
Filled with shredded vegetables, minced lean chicken and protein-packed eggs, this version of a Japanese pancake makes a nutritious and filling lunch or light dinner. In Japan it's traditionally served with mayonnaise, but Freer prefers to skip this in favour of a little sweet soy sauce and some salad leaves.
**Buy Real Delicious from Book Depository.
Food Wine Travel gets a small commission on purchases through this link but it doesn't cost you any extra.
JAPANESE PANCAKES WITH MUSHROOMS AND CHICKEN
Preparation time: 20 minutes
Cooking time: 35 minutes
Makes 8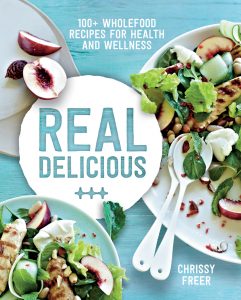 75 g (2¾ oz/½ cup) wholemeal spelt flour or plain (all-purpose) flour
3 eggs
1½ tablespoons peanut or macadamia oil
200 g (7 oz) minced (ground) chicken or pork
150 g (5½ oz) mushrooms, finely chopped
2 teaspoons finely grated ginger
1 garlic clove, crushed
130 g (4½ oz/1¾ cups) shredded savoy cabbage
1 large carrot, coarsely grated
Sweet soy sauce, for drizzling
2 teaspoons sesame seeds, lightly toasted
Sliced spring onions (scallions), to serve
Baby kale leaves, to serve
Whisk together the flour, eggs and 80 ml (2½ fl oz/ 1/3 cup) cold water until smooth. Season with sea salt and freshly ground black pepper.
Heat 2 teaspoons of the oil in a large non-stick frying pan. Add the chicken and cook, breaking it up with a wooden spoon, for 5 minutes or until browned. Add the mushrooms, ginger and garlic and cook, stirring, for 3 minutes or until golden. Leave to cool completely.
Stir the chicken mixture, cabbage and carrot into the egg batter. Heat half the remaining oil in a large non-stick frying pan over medium–high heat. Ladle ½ cup of batter per pancake into the pan and spread out to 1 cm (½ inch) thick. Cook for 3 minutes each side or until golden. Transfer to a plate and keep warm while you cook the rest, adding a little more oil when necessary.
Serve the pancakes drizzled with a little sweet soy sauce and scattered with the sesame seeds, spring onions and kale leaves.
Recipes and images from Real Delicious, by Chrissy Feer, published by Murdoch Books and reproduced with permission of Murdoch Books.
This post was originally published in PS News online.