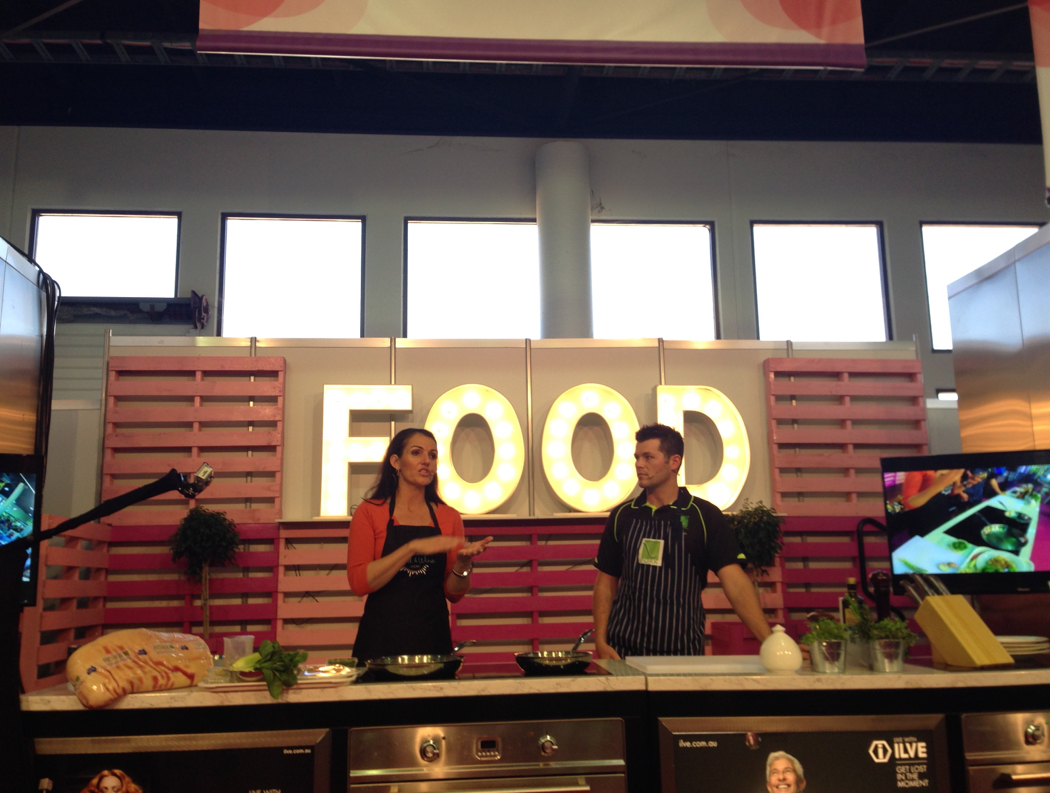 Murray Valley Pork is a premium range of pork available from butchers and restaurants around Australia. Owned by Rivalea Australia, it is grown on a network of farms in the Riverina region of New South Wales and northern Victoria.
We sampled some of this tender, juicy pork on our visit to Ekka, where it featured in one of the cooking demonstrations on the Royal Queensland Food and Wine Show stage, hosted by Brisbane chef Dominique Rizzo. We sampled this slow-braised pork belly dish and enjoyed it so much that we're sharing the recipe here.
SLOW BRAISED SPICED PORK BELLY WITH ROAST PUMPKIN, GREEN BEANS AND GINGER SOY DRESSING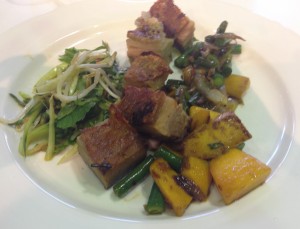 PORK BELLY
1 kg pork belly, skin on
1 large pinch of sea salt
½ cinnamon stick
5 cloves
2 star anise
1 teaspoon fennel seeds
BRAISING STOCK
1 litre chicken stock
3 tablespoons Shaoxing wine
3 tablespoons miso paste
12 garlic cloves, roughly chopped
3 bird's eye chillies, deseeded, roughly chopped
DIPPING SAUCE
½ cup kecap manis
½ cup light soy sauce
½ cup malt vinegar
1 tablespoon sesame oil
1 teaspoon chilli paste
2 cm piece fresh ginger, peeled and finely grated
Coriander leaves
METHOD
Preheat the oven to 100 degrees C.
To make the spice mix, toast the ingredients in a dry frying pan for 5-10 minutes or until fragrant. Leave to cool then place in a spice grinder or mortar and grind to a powder.
To make the braising stock, whisk the chicken stock, wine and miso paste together in a jug, then add the remaining ingredients.
Use a very sharp knife to score the skin of the pork belly in parallel lines, about 1 cm apart. Rub the spice mix and sea salt into the skin, working it well into the incisions. Lift the pork belly into a deep roasting tray that is just large enough to contain it snugly. Pour in enough of the braising stock to come just below the skin, so the meat is submerged (make sure all the aromatics are evenly distributed around the pork).
Cook, covered, overnight until tender, cover with baking paper and set in the fridge until firm. Cut into portions and season with spice mix, return to a hot oven of 200 degrees C to heat for about 20 to 30 minutes. Combine the dressing ingredients and arrange the pork on top of the roasted pumpkin and green beans. Drizzle the dressing over and top with coriander, then serve.
You might like to also check out the Royal Queensland Food & Wine Show results.