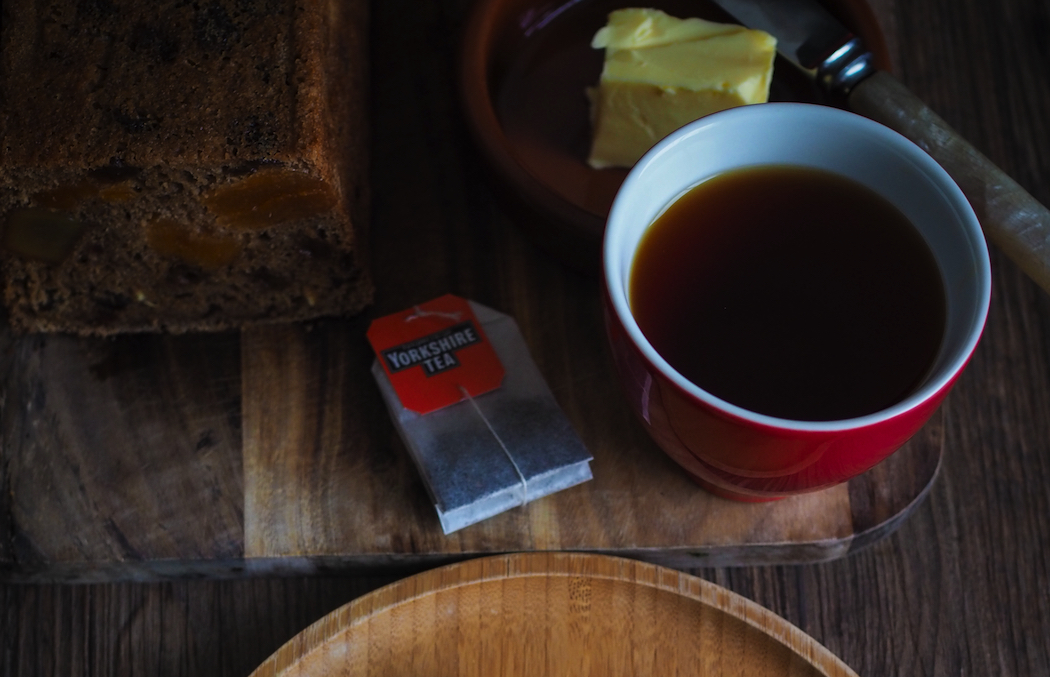 If you want the perfect cuppa, just ask Will Dixon: he knows exactly how to make a great cup of tea. Will is an expert buyer for Yorkshire Tea, the UK's best-selling tea brand which is fast becoming an Aussie favourite too. Here are his top tips for how to make a great cup of tea.
Will says the water should be boiled to 100 degrees Celsius for black tea; slightly lower for green and white.
"Pour (the boiling water) directly onto the teabag so the teabag opens up," he tells me on a Zoom call from Harrogate, a spa town in North Yorkshire, England, where Yorkshire Tea is produced.
"Give it a little stir to make sure the teabag opens up. We recommend a good 4 to 5 minutes of steeping the teabag. If you like your tea lighter, feel free to take the bag out sooner."
Will, who likes to take his tea with a little bit of milk but no sugar, is full of facts and figures on a drink that is second only to water in worldwide popularity.
A survey of 1000 Aussies conducted by Yorkshire Tea last September revealed that 12% of Australians take sugar in their tea, 5% take it with honey, 52% take it with milk, 2% with soy or almond milk, and 1% with oat milk. In the UK, the trend is much the same.
So, the perennial question, should you pour the milk in before the tea or after? Most Australians are tiffy – tea in first – not miffy, says Will, who declares himself to be tiffy.
Milk in first is an archaic tradition, harking back to the time when "milk was added first to help protect the crockery. You put milk in the bottom otherwise you would have been pouring boiling water onto the fine bone china."
Will prefers to see the colour of the tea infusion and then add milk till he achieves the colour he likes.
According to the survey, 88% of people enjoy a cup of tea more when they're drinking it from their favourite mug. Will says the mug should be white inside. "If you have a very dark mug, it's hard to gauge the strength of the tea. You taste with your eyes as well as your mouth."
Surprisingly, 15% of Australians still like to use a cup and saucer. "(It) sounds strange but it's like dressing up to go out for a meal … you enjoy it more if you're dressing up."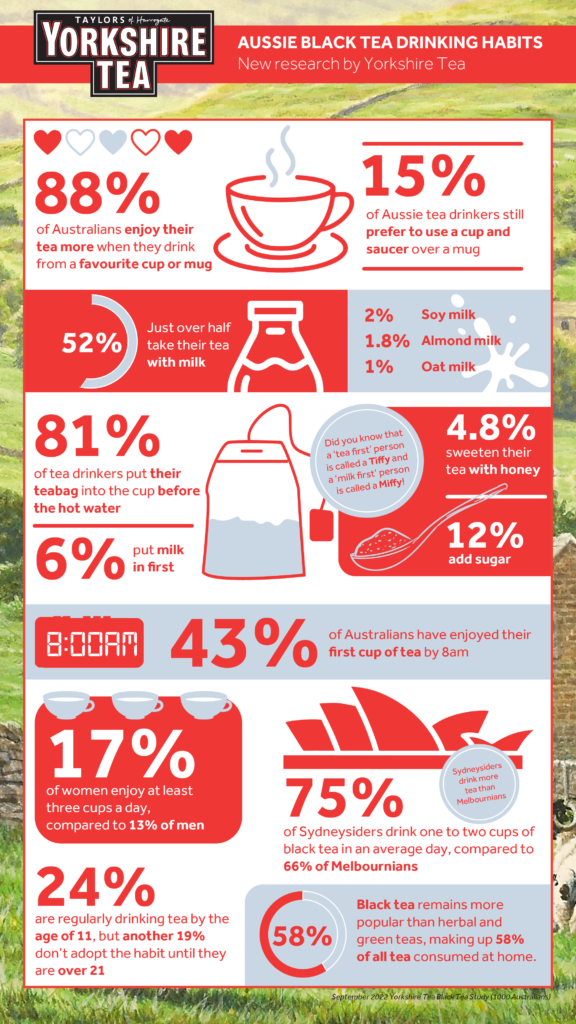 Kate Halloran, Yorkshire Tea's innovation manager, adds a few tips of her own. Having been in the industry for more than 25 years, her top tip is that you should use freshly drawn water every time you boil the jug or kettle.
"Only boil the water you need; you never reboil your kettle," says Kate. "When you run your tap, the water is aerated. When you boil the water, the oxygen dissipates and if you re-boil it, there's not enough oxygen left and you'll end up with a flat brew. Nobody wants a flat brew. It doesn't taste as brisk or bright. It's not fun. So don't do it. Your tea will thank you for it."
Kate's second tip was to make sure the tea bag is flat in the cup. (Who would have thought?)
"If it's not, the hot water is not going to hit the tea all at the same time so you're not going to get the same brew," she says. "Never put the milk in first if you're making tea in a bag in a mug. You need your water to be 100 degrees. If your milk is poured in first, it's going to lower that temperature and it might not be a flat brew but it'll be a sad brew."
Kate is the brains behind two new specialty teas that are making their way to Australian shores this month. One is a Biscuit tea, the other Toast and Jam flavoured. So how did these delicious and intriguing brews come about?
"One day I thought wouldn't it be great to have your sweet or dessert in your cup of tea. I took that insight of one and asked people what they thought and nobody really understood the idea, which I always think is good if no-one understands it because it means it's truly, truly new."
After experimenting with a lot of different flavours, Kate ended up with what is now Biscuit brew, a blend of East African and Assam tea and a biscuit flavour somewhat like an Arnott's Scotch Finger. The African teas (from Rwanda and Kenya) are bright, adding briskness and colour, while the Assam adds body. Bound to appeal to all those who enjoy biscuits with their tea – that's a lot of folk apparently – the Biscuit brew has malty, oaty notes and is perfect for those who want a hint of sweetness in their tea without adding sugar.
"The Tea and Toast flavour came about because everybody likes toast, everybody likes jam, so we thought what better things to put together than toast and jam. Biscuit tea I kind of invented for that after-lunch lull – (when you're) needing something sweet but not really wanting to have something sweet. Some of our customers drink it all day long."
Both teas have been well accepted in the UK, according to Kate. "There's often an expectation with flavoured teas that you can use any old tea. We wanted to make sure that this product was authentic, that it has the great taste and quality of Yorkshire Tea but that you could taste the flavours as well.
"One of the main challenges with my job is to make sure you can taste the flavour that we're saying the tea delivers, whether it's Biscuit or Toast and Jam, but also you've got that lovely tea flavour coming through as well. You almost want to have a little party together in your cup."
Party in a cup … what a lovely thought that is!
During the English summer, Kate made milk iced lollies with these two speciality teas, by mixing cold brew versions of the teas with condensed milk and freezing them. I can't wait to try that when the weather is warmer. For now, as the days get colder, I can't think of anything nicer than snuggling up on the couch with a warm blanket, a cup of tea and a delicious treat like this Fruit Tea Loaf.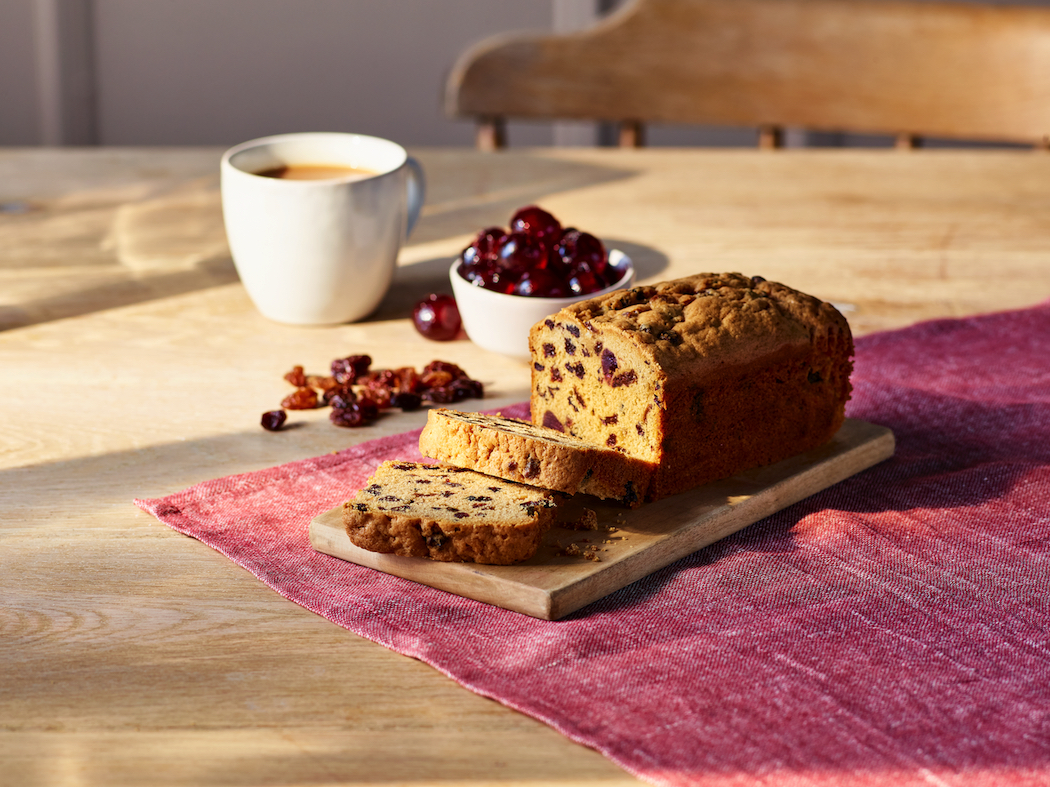 Yorkshire Gold Tea Loaf
Makes 8 slices
3 Yorkshire Gold tea bags
30g sultanas
15g raisins
15g currants
10g dark glace cherries, chopped
60g butter, softened, plus a little extra for greasing
85g light brown sugar
1 medium egg, beaten
100g plain flour
¼ tsp bicarbonate of soda
¼ tsp mixed spice
Make a small pot of tea using 3 Yorkshire Gold tea bags and 250ml boiling water. Leave to brew for 10 minutes. Place the dried fruit in a bowl, pour over the tea and leave to soak for at least 1 hour. Drain and reserve the liquid.
Preheat the oven to 180 deg C, gas mark 4. Grease and line the base of a 450g loaf tin (approximately 17x10x8cm) with baking paper. Cream together the butter and sugar until pale and fluffy. Gradually add the egg, whisking all the time until well combined.
In a separate bowl, sift together the flour, bicarbonate of soda, mixed spice and a pinch of salt. Fold the dry ingredients into the creamed mixture but don't over mix.
Fold in the dried fruit and 4 tablespoons (60ml) of the reserved Yorkshire Gold tea. Spoon the mixture into the prepared tin and bake in the oven for 45 minutes or until a skewer inserted in the centre of the loaf comes out clean. Remove from the tin and allow to cool.
This is not a sponsored post but Yorkshire Tea did send us a selection of their teas to try.
Are you a 'Miffy' (milk in first) or a 'Tiffy' (tea in first)? Check out this post to see what the experts say, and to see some delicious cocktail recipes featuring Yorkshire Tea.