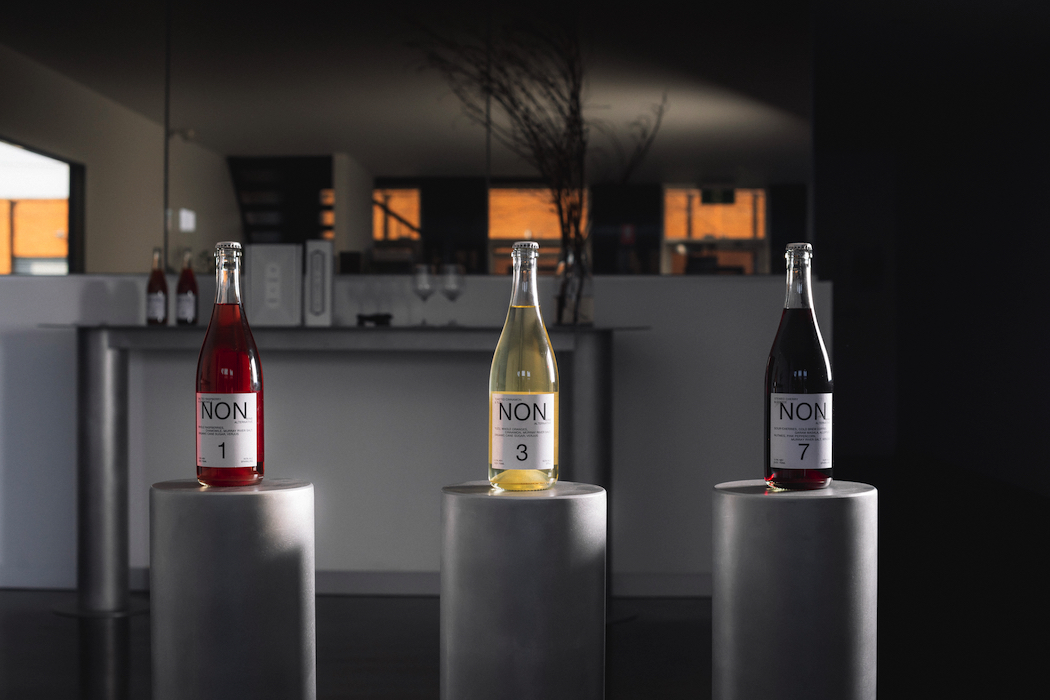 Aaron Trotman is a bold guy. The founder of NON, a brand that is revolutionising the non-alcoholic drinks industry, Aaron is what you might call a serial entrepreneur.
He's also a keen foodie and he's on a mission to create the perfect alternative to wine, non-alcoholic drinks that sit as comfortably alongside a dish in a fine dining restaurant as it does on a picnic with your partner. NON 2, a blend of caramelised pear and kombu, has been on the menu at top Sydney restaurant, Quay, pretty much ever since NON was founded in 2019.
Now, Aaron has opened NONHQ, in the outer Melbourne suburb of Cheltenham where the drinks are created and produced. He describes it as the world's first non-alcoholic cellar door and while that might be a big call, there's no doubt that it's a trail-blazing showpiece for these exceptional non-alcoholic drinks.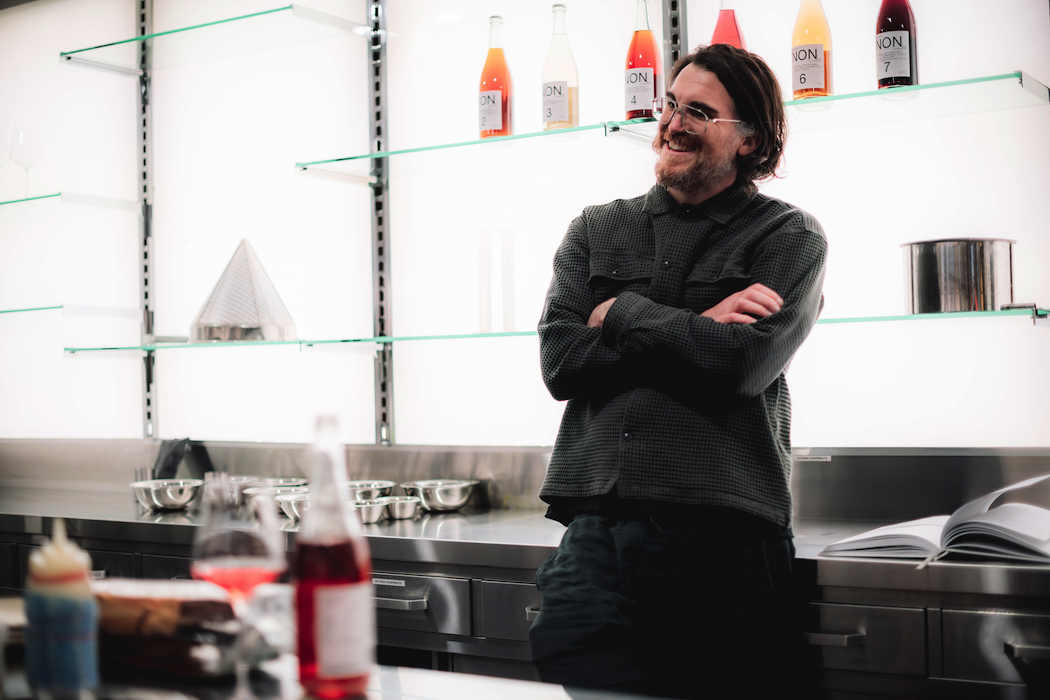 The inspiration for NON came when Aaron and his now wife, Miranda, were eating their way through Europe and discovered sophisticated non-alcohol pairings that blew them away. With degustation meals at Michelin-star restaurants, Miranda, a non-drinker, would choose the "temperance pairings" created in-house by sommeliers and chefs.
On return to Melbourne, they looked for similar offerings but couldn't find them in hatted restaurants, nor in bottles to enjoy at home. So, Aaron got cracking, driven to create a drink with a similar DNA to those they had enjoyed abroad, building flavour from the ground up using ingredients that would be found in a 5-star kitchen.
Today, NON leads the way in the non-alcoholic beverage industry, producing seven different flavour combinations, simply named 1 to 7. The product is stocked at Dan Murphy's and other bottle shops and served at some of the country's leading restaurants. As well as the caramelised pear and kombu blend, you'll find interesting flavour combinations such as salted raspberry and chamomile (NON 1), toasted cinnamon and yuzu (NON 3) and stewed cherry and coffee (NON 7).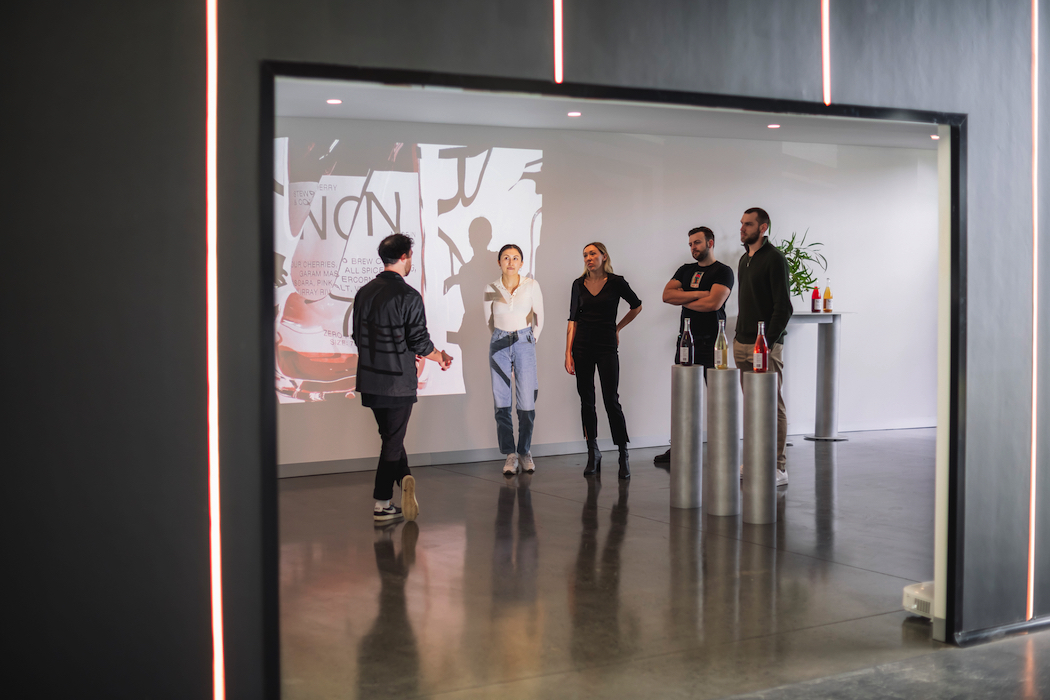 I must admit that until I was invited into the kitchen at NONHQ where all the innovation happens, I had no idea about the amount of creativity and work that goes into crafting these drinks. On learning that no alcohol goes into them at all, you might think (as I did), 'wouldn't that just be a softdrink?' Well, no …
Nor are they alcoholic drinks with the alcohol stripped away, as a growing number of wines are. (Those drinks start with a wine and have the alcohol removed, generally by a process of reverse osmosis.)
NON is created using real ingredients that are blended using the sort of techniques you would find in a fine-dining kitchen. As Aaron puts it, NON "cooks the flavour in – not strips the flavour out". It's a meticulous, laborious and expensive process, and furthermore, it's a helluva job just to stop the fruit from fermenting (which would create alcohol).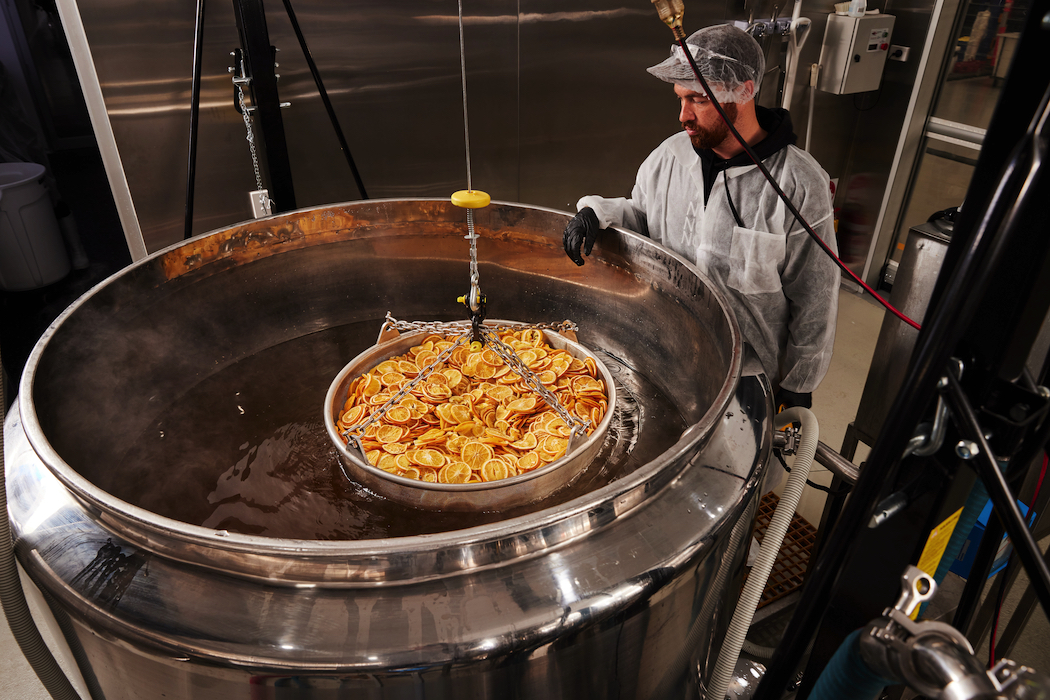 Without alcohol, it's an intricate balancing act to achieve the key notes of fruit, tannin, salinity and acid that are found in wine and that enable wine to complement food. Aaron is aiming to achieve those same notes.
He admits that NON is difficult to categorise, but he sees this as the future of the beverage industry, landing somewhere between the experience of wine and the exhilaration of a fine-dining dish. Although NON looks like wine and is intended to be served in a wine glass, he is not trying to mimic anything that already exists.
"We solve the problem for non-alcoholic wine occasions in an interesting and unique way," he says. "The flavour is built from the ground up. The ingredients are the highlighted heroes, creating a look and feel often seen in fine dining menus."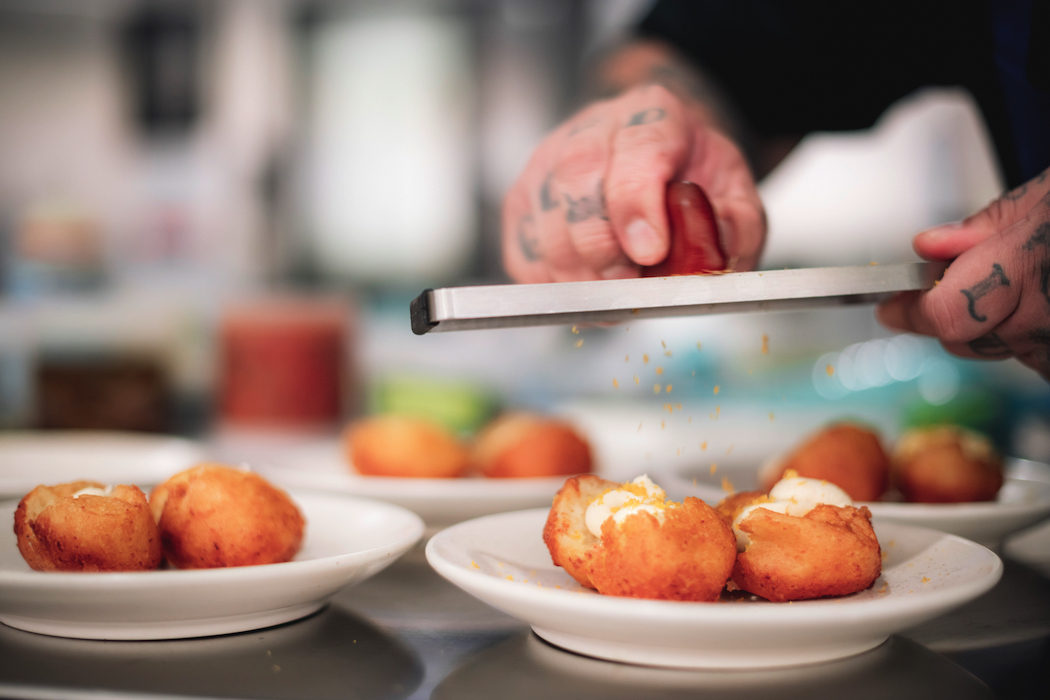 NON sources the fruit and other ingredients from Australian farmers and suppliers, though occasionally from international suppliers if quality and availability dictates. Aaron's right-hand man in the kitchen, Nick Cozens, demonstrated to our small media group how they draw on a range of culinary techniques to create their magic.
Aaron sees himself as the architect and Nick as the builder in this process. "We conduct up to 50 — sometimes 80 – trials," Aaron says of the iterations it takes before they come up with a product they are satisfied with.
Their first step is to think of ingredients that will be interesting together and that will challenge people's expectations. From there, they choose the cooking techniques. Ingredients might be roasted, stewed, steeped, cured or dehydrated, depending on which produces the most flavour and the desired nuances.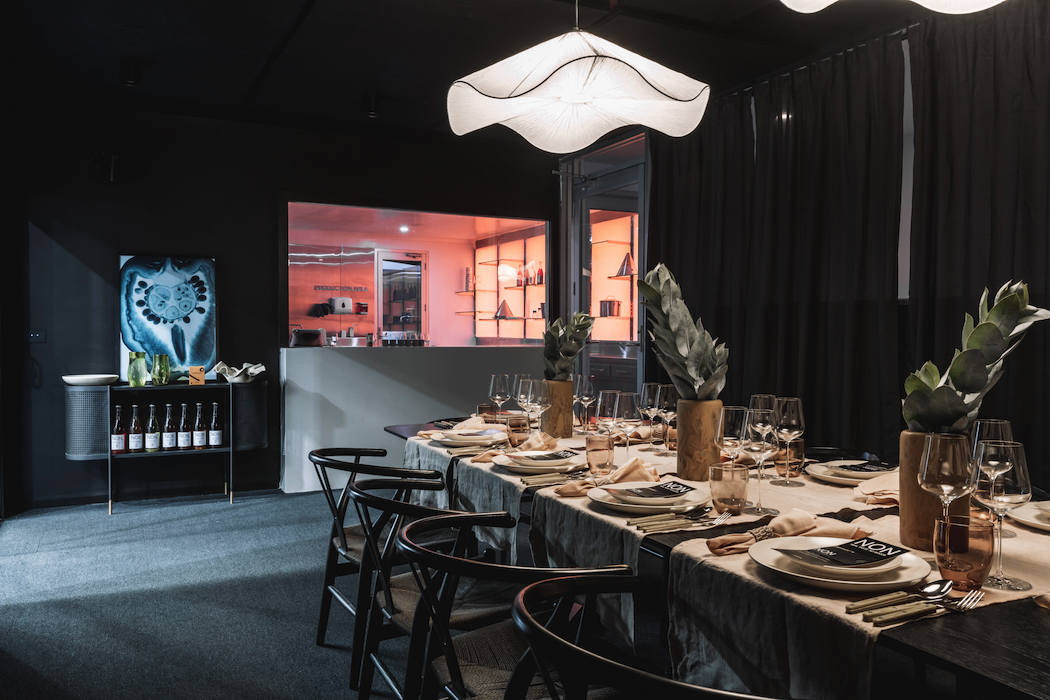 Every ingredient is individually processed, and it's all done in house in a surprisingly small but spotless production kitchen right next to the cellar door tasting room. The final ingredient is always verjus, the unfermented juice of unripened grapes, which provides body, balance and acidity and makes the flavours pop.
The process can be experienced first-hand in tours that NONHQ is operating on the first Friday of every month. The one-hour tours, for up to 10 people, take guests on a sensory journey as they explore the flavour profiles of the different drinks. The tours cost $50 and include a tasting, with cheese and charcuterie, along with a bottle of NON to take home (worth $30).
Food-pairing options are also available, elevating the experience to another level. Our media group had a taste of this in a specially curated menu served at a gorgeous long table in the NONHQ tasting room. Chef Joel Baylon, of Collingwood wine bar, The Moon, plated seven small dishes that complemented the seven NON drinks beautifully.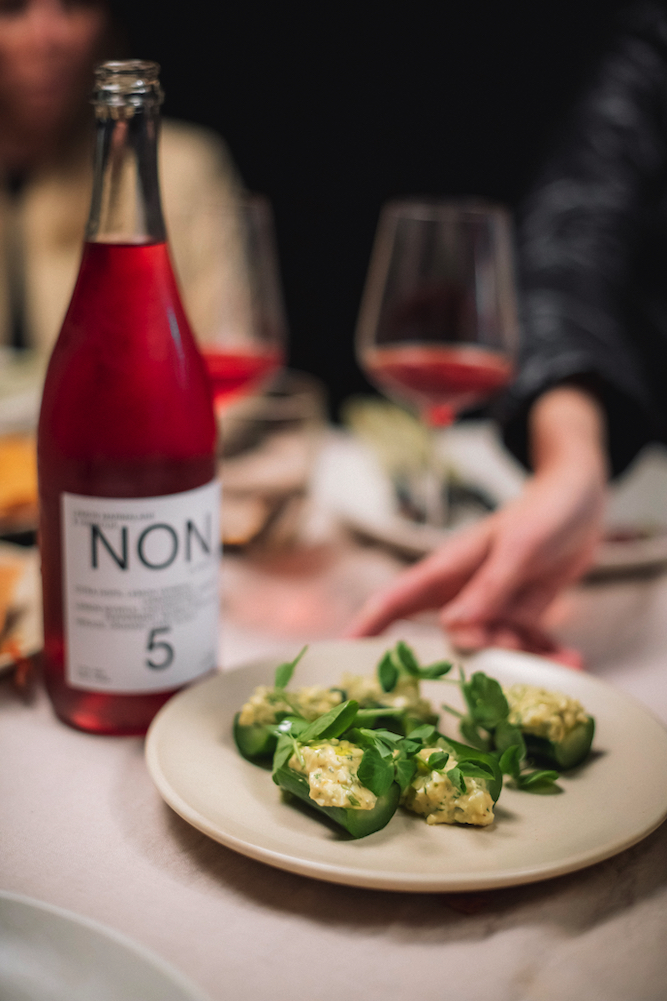 Each dish was exquisite, making it hard to single out a favourite, but among the highlights were Joel's take on a cinnamon donut, made from potato and topped with cod roe, which went down a treat alongside NON 3 (toasted cinnamon and yuzu). Another great match was cucumber gribiche with NON 5 (lemon marmalade and hibiscus). It was amazing to see how a dish of confit tomato and buratta really softened the flavour of NON 6 (tomato water and basil), changing the palate just like a fine wine responds to a perfectly complemented food pairing.
Aaron is thrilled to see his vision for the NONHQ cellar door come to life after a challenging two-year design and construction journey. In this stylish, minimalist, creative space, it was a pleasure to see how you could enjoy a first-class meal with first-class drinks and walk away completely sober. There's no question the non-alcoholic drinks sector is booming, but none seem to be redefining the wine experience in quite the same way NON is.
If you go:
Where? NONHQ, 79 Taunton Drive, Cheltenham VIC 3192, Australia
When? Tours are on the first Friday of every month, 9am – 4pm.
To book: www.non.world
Food Wine Travel was hosted on this visit to Melbourne to experience NONHQ. This post is not sponsored content, however, and all opinions expressed are my own.