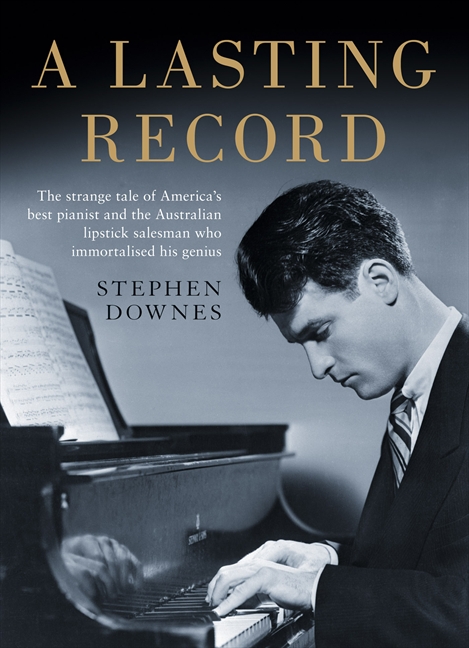 A Lasting Record. By Stephen Downes. Published by HarperCollins.
Everyone remembers who was killed in that plane crash 'the day the music died'. You probably also remember other musicians who died in plane crashes, such as Otis Redding, Patsy Cline and Ricky Nelson, to name a few. But who remembers William Kapell?
In October 1953, at a time when he was hailed as 'the greatest pianistic talent since Horowitz', Kapell, and everyone else on the plane that was returning to San Francisco from Australia, was killed as the aircraft ploughed into a foggy mountain ridge.
Had he lived, there is no doubt that considering his enormous and still developing talent, we would be much more familiar with his name today, particularly considering his connections with Australia.
The most remarkable thing about this book is that the author, Stephen Downes, has pieced together some very strange coincidences and events that would have made it contrived and absolutely unbelievable if it were a work of fiction. He provides an insightful portrait of Kapell and a fascinating account of his two concert tours in Australia.
The other portrait in the book is that of Roy Preston, an unassuming World War II veteran, who by day worked at Myer in Melbourne, but in his spare time recorded concert performances broadcast by the ABC, using what was then state of the art recording equipment. In an amazing set of circumstances, it was Preston's recordings that finally provided the world with some of Kepell's finest performances.
This book is enriched by Stephen Downes' own musical interest and understanding, some very detailed research and the personal connections that he made with Kapell's widow and family, as well as Roy Preston's family, friends and associates.
There are many intriguing threads to this story and Downes weaves them together in a way that makes you wonder at the phenomenon of chance in our lives. Before he left Australia for the last time, Kapell seemed to be almost forecasting his own demise and in a bizarre piece of irony his last performance was Chopin's Funeral March sonata.
At the age of 31, William Kapell joined the ranks of 'those who died too young', but the Australian connection has preserved and revitalised his legacy.
A Lasting Record is available through Fishpond with free postage anywhere in Australia.