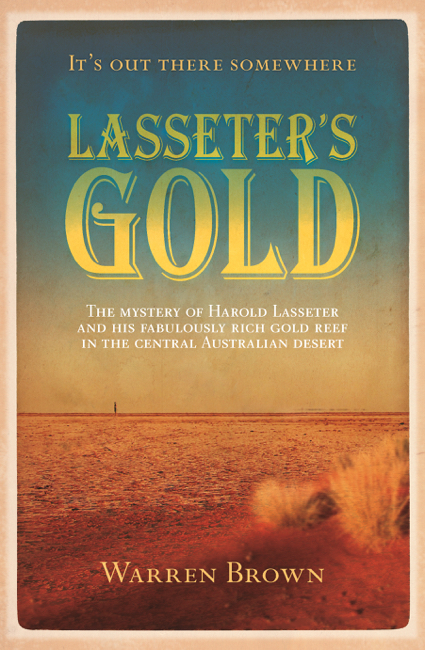 Lasseter's Gold. By Warren Brown. Published by Hachette Australia.
In 1940's wartime Britain, MI5 apprehended a Nazi agent and saboteur by the name of Albert Paul Johns, who had Australian citizenship. This mysterious person was in fact the last European to supposedly see Harold Lasseter alive. The true circumstances of their hostile last days together will probably never be known and there is some irony in the fact that both Johns and Lasseter had backgrounds shrouded in mystery, deception, criminality and adventurous bravado.
The story of Lasseter's lost gold reef is one of the most intriguing in Australia's history. It demonstrates all the ignoble characteristics in man which have been exhibited in the lust after, and the rush for gold in this country. The story has been told before, most notably by Ion Idriess in his 1931 Lasseter's Last Ride, written shortly after the failed expedition. His account was partly fictionalised but remained a gigantic bestseller for a long time and was probably what made the story familiar to most Australians. My father had a copy which I also read when I was young.
Lasseter's strange behaviour
Warren Brown's book pulls together a very complicated story using the first-hand accounts of Fred Blakeley, the expedition's indecisive leader and Errol Coote, the pilot who did everything to undermine Blakeley's leadership. He also draws on many other accounts and evidence, some of which has only come to light in 2015. This makes Brown's book the most comprehensive and revealing so far, as well as the most readable. I was intrigued with the strange behaviour of Lasseter and the larger than life characters who set up the expedition, the Aborigines and Bushmen who wandered across its path and those who tried to rescue the ill-prepared and ill-fated venture.
I thoroughly recommend this book to anyone who loves to explore (for gold or truth) and is fascinated by some of the quirky aspects of Australian history. No doubt for many readers Warren Brown will rekindle the debate and the mystery surrounding Lasseter. Is there really a gold reef out there somewhere? Did Lasseter perish in the desert or did he survive and secretly live out his life in America? These questions may never be answered but in the meantime Brown, a lover of adventure and the Outback, throws more light on them than anyone has previously.