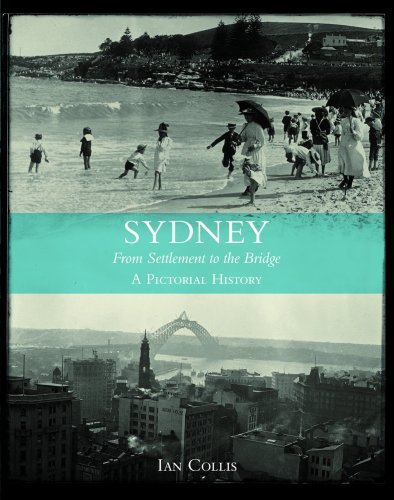 Sydney: From Settlement to the Bridge. A Pictorial History. By Ian Collis. Published by New Holland.
The picture shows the George Street Markets in 1870 and an array of stalls selling fruit and vegetables and all kinds of produce including caged birds.  A young man stands in the left foreground posing for the camera, something people often did in those days when a camera turned up.  He stands with his right thumb tucked into his fob and his left hand in the pocket of his three-piece suit, topped off with a bowler hat and an almost defiant expression that says "here I am and this is my patch".
On the opposite page we see the outside of the market building in a colonial style that we can easily recognise from early Australia. Parts of the original market buildings were designed by Francis Greenway. Thirty years later in 1900 another picture shows the exact same site now occupied by the Queen Victoria Building, a magnificent example of Romanesque Revival architecture designed by George McRae.
Horse-drawn carts fill the streets and one of them spraying water from a gigantic barrel marked number 16 is obviously part of the Sydney Municipal Council's street-cleaning efforts.  Street cleaning has changed these days and the horse-drawn carts are history now.  The QVB however is living history and still magnificent.
If a picture paints a thousand words, then this 368-page book is more like a series of encyclopaedias and in what these pictures tell us about the history, people and buildings of Sydney, it really is encyclopaedic.
Sydney was, and is, a growing city and Ian Collis chronicles the growth and development with an extensive range of drawings, paintings and photographs, many of which have never been published previously.  These are not photographs that will be very familiar to you and there are many that will hold you in fascination and make you feel you want to know more about the story behind the topsy-like growth of Sydney.
One of the highlights of this book is a series of photos taken in Sydney during the Federation celebrations when the amazing sum of £20,000 decorated the streets and provided parades and entertainment in various locations for an enthusiastic population.  I couldn't help but wonder at the size of the crowds that turned out for every public event.
The book takes us up to the opening of the Harbour Bridge and Collis has put together a collection of photographs on the construction and opening of the bridge that is almost unrivalled in any other publication.  His last chapter in the book is a collection of Harbour Bridge souvenirs and mementos.  This was an international event and everyone got in on the act.
C. J. Dennis "dipped his lid" to the bridge and Hutton's, the pineapple, bacon and ham people, said "Don't argue! This bridge was designed by J.C Hutton".  Ironically a harbour bridge was first proposed by Francis Greenway in 1815 and if Macquarie had remained as Governor of New South Wales, perhaps it would have happened sooner.
Ian Collis is better known as a writer on sports history but is also an enthusiastic collector of photographs of early Australia.  If you have an interest in early Australia or you are a Sydneysider, this book should be on your coffee table.
Sydney: From Settlement to the Bridge is available through Fishpond with free postage anywhere in Australia.