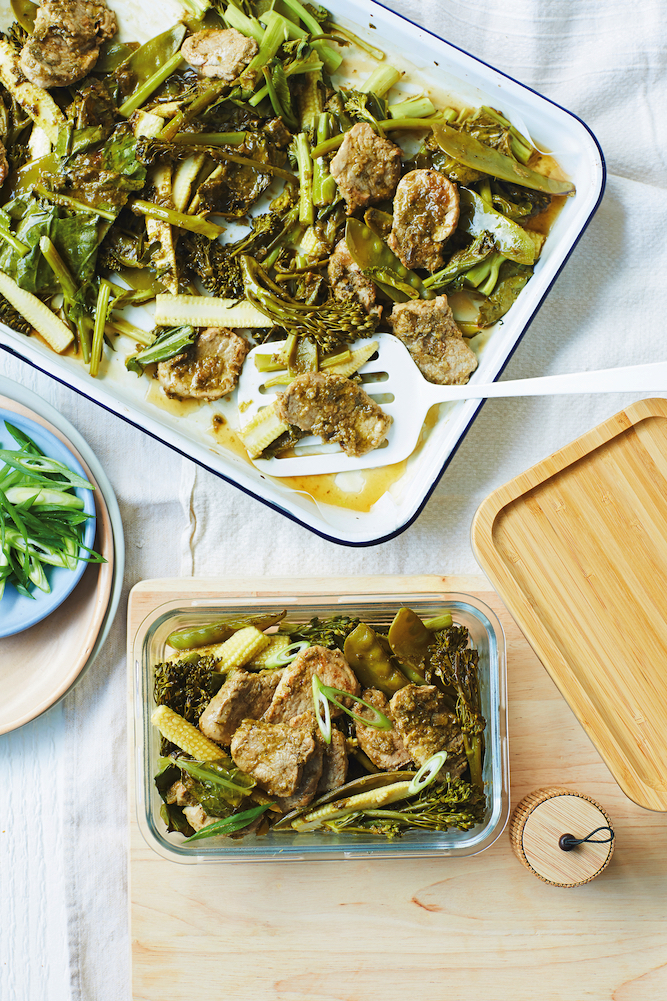 I've only just begun to discover the joys of using a thermo cooker. It had been on my radar for a long time after attending a Thermomix demonstration years ago and being super-impressed by all the things it did – grinding, chopping, blending, kneading, mixing, and cooking at a low heat with ease. The idea of doing away with a whole lot of other kitchen gadgets was very appealing.
It's only in the last few weeks that I've finally got my thermo cooker and, I have to confess, it's not the real deal. It's a considerably less expensive Aldi device that has many of the same functions and seems to get good reviews, according to the research I did before buying it. I'm still getting the hang of it and am not quite ready to get rid of my other appliances yet, but it looks promising.
The recipes in Tracey Pattison's The Great Thermo Meal Prep Cookbook work with any thermo device and are designed to take the stress out of putting a meal on the table every night when you're working and/or have a family.
The idea behind the book is to prep ahead, making spice blends and marinades that can be used as a base for dishes, creating snacks and lunchbox fillers, and batch-cooking meals that can be stored in the fridge and freezer. The Chinese Spice Pork recipe here serves 16 so it can be divided into four meals serving four.
Pattison's focus is on affordable, simply prepared and seasonal food inspired by a wide range of cuisines, from Moroccan chicken and couscous, to French-roasted salmon and potatoes, Thai prawn stir-fry, Italian balsamic chicken tray bake, and Indian chickpea-stuffed sweet potatoes.
She provides an eight-week menu plan complete with shopping lists and Sunday prep guide, so you can have weeknight dinners sorted from just a little bit of effort on the weekend. Prepping ahead can save time and money (because there's less food wastage), and Pattison shows how you can really put your thermo device to work to make weeknight cooking a breeze.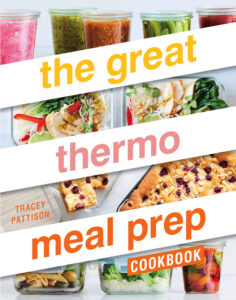 ---
Buy your copy of The Great Thermo Meal Prep Cookbook from Book Depository now (free delivery worldwide).
Buy your copy of The Great Thermo Meal Prep Cookbook from Australian-owned Booktopia.
---
Chinese spice pork
Serves 16 (4 x 4-serve meals)
4 red onions, thinly sliced
125 ml (4 fl oz/½ cup) macadamia oil
2.5 kg (5 lb 8 oz) pork fillet, trimmed and thinly sliced
1 full quantity Chinese spice paste (see below)
250 ml (9 fl oz/1 cup) chicken stock
4 bunches broccolini, trimmed and halved crossways
2 bunches Chinese broccoli (gai larn), trimmed, then cut into 4 cm (1½ inch) lengths
500 g (1 lb 2 oz) baby corn, halved lengthways
1 kg (2 lb 4 oz) snow peas (mangetout), trimmed
rice, thin egg noodles or hokkien (egg) noodles, to serve
1. Preheat the oven to 200°C (400°F)/180°C (350°F) fan-forced.
2. Add the onion to the mixer bowl, measuring cup in. Chop for 5 sec/speed 7. Scrape down the side of the bowl. Chop for 3 sec/speed 5. Scrape down the side of the bowl. No need to clean the bowl.
3. Preheat a large wok over high heat. Place the onion mixture, oil and pork in a large bowl, tossing well to combine and coat evenly.
4. Stir-fry the pork, in 10 batches, for 2 minutes each until almost cooked and light golden. Transfer each batch of pork to a large heatproof bowl and reheat the wok until hot before browning the next batch.
5. Meanwhile, add the spice paste and stock to the mixer bowl, measuring cup in. Cook for 10 min/100°C/speed 1.
6. Divide the broccolini, Chinese broccoli, baby corn, snow peas and pork evenly among two large, deep roasting tins lined with baking paper. Evenly pour over the paste mixture. Cover the tins with a piece of baking paper, then doubled sheets of foil.
7. Bake in the oven for 15 minutes. Remove from the oven. Stand, covered, for 15 minutes. Divide the mixture evenly among four airtight containers to store.
8. Serve with rice, thin egg noodles or hokkien (egg) noodles.
Chinese Spice Paste
Makes 2 cups (4 x 4-serve meals)
6 garlic cloves
7cm piece fresh ginger, peeled and cut into 4
12 spring onions, cut into 4cm lengths
2 tablespoons Chinese spice blend (cinnamon, star anise, cloves, fennel seeds, Szechuan peppercorns)
125ml soy sauce
2 teaspoons sesame oil
60ml macadamia oil
Add the garlic, ginger, spring onion and spice blend to the mixer bowl, measuring cup in. Chop for 10 sec/speed 9 and repeat the chopping (scraping the side of the bowl down each time) until a paste forms. Add the soy sauce and sesame oil to the mixer bowl, measuring cup removed. Mix for 1 min/speed 4, while slowly pouring in the oil until completely blended.
Recipes and images from The Great Thermo Meal Prep Cookbook by Tracey Pattison. Published by Murdoch Books and reproduced with the publisher's permission.
This story originally appeared in PS News.