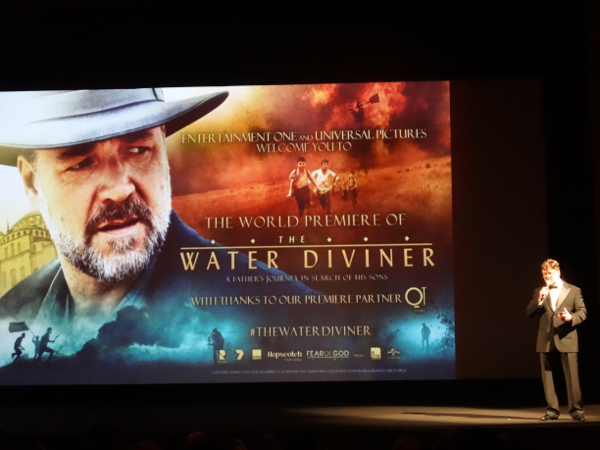 The Water Diviner, directed by Russell Crowe.
For anyone who may have had relatives in the First World War or for those who have read accounts of the battles, you will know that some very strange and unimaginable things happened. There was also a terrible aftermath to that war with some 60,000 Australians killed and about 170,000 wounded. With the loss of three sons at Gallipoli and then his wife, who could no longer live with her grief, farmer Joshua Connor sets off for Turkey to keep a promise to his wife to bring them home and bury them in consecrated ground. The script by Andrew Knight and Andrew Anastasios is based on the true story of a man who actually did just that in 1919 when the War Graves Commission had just been formed and had enlisted the help of the Turkish Army to find and rebury the fallen in marked graves.
However Connor (played by Russell Crowe) is no ordinary farmer. He has the animal instinct and intuition to find water and it is those skills that he hopes will help him find his sons in the parched earth and devastation of Gallipoli. What he finds in Turkey is an intransigent British administration, a Turkish widow who cannot admit to her young son that his father is never coming back from what the Turks call the battle of Cannakkale, as well as a country desperately resisting the grab for its territories and fighting to re-establish itself as a sovereign nation.
A Turkish view of Gallipoli
This is probably the first Australian film about Gallipoli that has had any focus on the Turkish perspective and attempted to portray the political events and turmoil in Turkey following the war. There is a stark reminder of the Turkish sacrifice to repel the invader in an exchange between Lt-Col. Cyril Hughes (played by Jai Courtney) and Major Hasan (played by Yilmaz Erdogan), when Hughes says "We had 2,000 casualties at Lone Pine" and Hasan glibly replies, "The Turks had 7,000".
The movie was shot in both Australia and Turkey and for anyone who has been to Istanbul you'll recognize scenes in the Blue Mosque and the Basilica Cistern. The cinematography by Andrew Lesnie, who won an Academy Award for his work on Lord of the Rings, is vivid and evocative with some iconic images, both Australian and Turkish. The battle scenes are chilling and brutal but Crowe has said that this is still a movie that kids should see because it doesn't glorify war. The scene where the brothers and many of their comrades lie wounded and dying in no man's land is testament to Crowe's claim that this is an anti-war film. It has an M rating for mature themes and violence.
An international and Australian cast should ensure plenty of appeal overseas. The Water Diviner was due to premiere in Turkey on December 5 and considering the focus and the inclusion of two Turkish actors, Yilmaz Erdogan and Cem Yilmaz in leading roles as Gallipoli veterans fighting for Turkish independence, it should do well there. Olga Kurylenko plays the widow Ayshe with Jai Courtney as Lt-Col Hughes and a strong supporting cast in Jacqueline Mackenzie, Ryan Corr, Daniel Wyllie, Steve Bastroni, Damon Herriman and Megan Gale.
Russell Crowe's directorial debut
Some commentators have suggested that this could be the film that breaks the drought for Australian cinema. I suspect it will take more than one movie to do that, but what Russell Crowe may have done in his debut as director is exactly what his character in the movie did: start a groundswell that will hopefully open the flood gates. With a release due for Australia on December 26 and the 100th anniversary of Gallipoli in 2015, The Water Diviner will surely be a "must see" movie for Australian audiences this summer. It's due for release in the USA on April 24 and considering Russell Crowe's success there, it should also do well with American audiences.
There is a certain sadness about this movie, as indeed there is about the story of Gallipoli itself. That sadness is shared by both Turkey and Australia and has given rise to a bond between the countries. Crowe has said that as Australians we have not perhaps given enough recognition to the Turkish sacrifice and their generous accommodation of our commemoration activities; this movie is one way of doing it. Nowhere is that Turkish sentiment and generosity exemplified more than in the words of Mustafa Kemal Ataturk, the Turkish hero of Gallipoli and founder of the modern Turkish Republic, in a letter to Anzac mothers in 1934. His words are now engraved on the memorial at Anzac Cove:
"Those heroes that shed their blood and lost their lives… You are now lying in the soil of a friendly country. Therefore rest in peace. There is no difference between the Johnnies and the Mehmets to us where they lie side by side now here in this country of ours… you, the mothers, who sent their sons from faraway countries wipe away your tears; your sons are now lying in our bosom and are in peace. After having lost their lives on this land they have become our sons as well."
Sadly, as in the story of The Water Diviner, many Australian mothers were dead before they could get comfort from these words.
Related Post: The Water Diviner world premiere.