Sinners, Saints & Settlers. A Journey through Irish Australia.  By Richard Reid & Brendon Kelson. Published by National Museum of Australia Press, $39.95.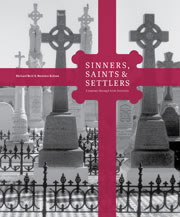 At the time of Federation, more than a quarter of the Australian population were Irish or of Irish descent and their contribution to the history and development of this country is truly significant, if not, at times, remarkable.
This book tells the story of that contribution and the legacy of the "children of St Patrick" with more than 50 tales of convicts, immigrants, squatters, explorers, soldiers, inventors and church men and women and the places and events which they influenced.
Today, a lot of the Irish influence has blended into the fabric of Australian cultural, social and political life but Reid and Kelson give new life to the people, places and events that many of us may have some knowledge of but don't perhaps know a lot about.
There are also some little known gems here, such as the story of Mary Lee and the South Australian Women's Suffrage League, who obtained the vote first for women in South Australia and led the way for national suffrage at Federation, along with the story of Martin Cash, convict and bushranger, whose exploits would be hard to believe if they weren't true.
In times gone by, like other lovers of Australian folk music, I'd sung along to the Bushwhacker's version of "Flash Jack from Gundagai" and never really known what the line "I've pinked'em with the Wolsleys" actually meant, until I read this book. The Wolsleys are mechanical fleece removers invented by Frederick Wolsley, originally from Dublin, in the 1880s, to replace hand shears and which revolutionised the wool industry.
Ironically at this time of year, with the spring racing carnival capturing attention and wallets, very few people would have heard of the jockey Tommy Corrigan. Yet in 1894, his was the biggest funeral colonial Melbourne had ever seen, with the Argus newspaper describing him as "a merry-hearted little Irishman" and a "public favourite".
That favouritism no doubt stemmed from the fact that about 60% of the time he either won or ran a place. As a national favourite Corrigan was even immortalised in a poem by Banjo Patterson.
Reid and Kelson also add a new dimension to some better known stories, such as those of Ned Kelly, Paddy Hannan and the Eureka Stockade. Brendon Kelson's photographs bring many of the stories to life and will surely inspire readers to visit places such as the Shamrock Hotel in Bendigo, St Patrick's Cathedral in Melbourne, Koroit in Victoria and Galong Castle in NSW.
Sinners, Saints & Settlers is a comprehensive review of Australia's connection with Ireland and the Irish up to the 1920s. In his forward, former Prime Minister Kevin Rudd acknowledges both the Government of Ireland and the National Museum of Australia for their support.