Now, I have to tell you I am not a cricket fan, have never watched a game of cricket, have never picked up a cricket bat. If this makes me unAustralian, I can hopefully redeem myself by declaring that I do know who Sir Donald Bradman was.
And after visiting the International Cricket Hall of Fame in Bowral, I'm happy to report that I now know a whole lot more about this legendary Australian and the sport in which he excelled.
I am, apparently, just the sort of person curator, David Wells, wants to welcome into the museum that has been his baby for the past nine years.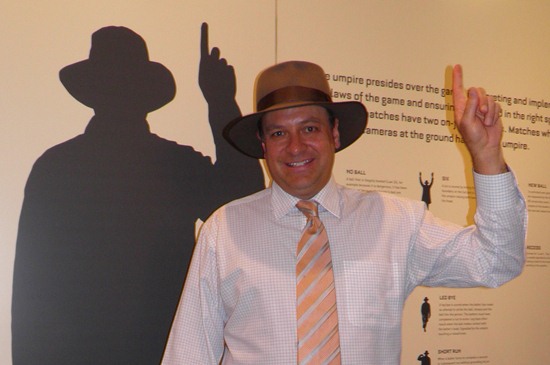 "We know our cricket people will come here regardless but our objective is to get people in here who don't know anything about cricket," said David, who is disappointed when he sees couples pull up outside the museum and the men head inside while the women drive off to do something else. "Essentially we are telling a story about humanity and life. Cricket is a story about life."
The museum has two objectives, he says: one is to look at what cricket is and the other to explain why it is so important to so many millions of people.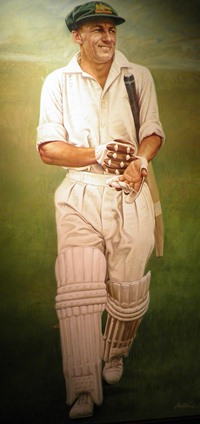 It is also, of course, the story of the late Sir Donald Bradman, who came to Bowral at the age of two and learnt to play cricket by hitting a ball against a water tank in the backyard of the family home in Shepherd Street, a skill that helped him become one of the world's greatest sportsmen.
Many years ago, when I was still a rookie journalist, I made the mistake of writing in an article that Bradman was born in Bowral.
This was pre-Internet but nevertheless the bush telegraph worked quickly for the good folk of Cootamundra were quick to point out that Bradman was in fact born in their little central west NSW town in 1908. The small private hospital in which he was born is now the Bradman Birthplace Museum.
But, as David points out – and please dear Cootamundra folk, don't take offence at this – there was very good reason why Bradman was dubbed "The boy from Bowral".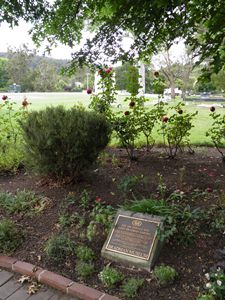 The town was deep in his consciousness – he had memories of lighting gas lamps in the street, of catching eels behind where the museum now stands, of meeting his future wife, Jessie Menzies, there.
They were married for more than 60 years and Sir Donald reputedly decided when he was 12 years old that he was going to marry her.
"This was where he learnt to play cricket and this is where he and his wife asked to have their ashes scattered," said David, looking out over the rose garden created in their memory and over the oval where Bradman honed his cricketing skills.
 "The place has a spiritual element as well as a physically beautiful element and the scholarly element that is going on inside."
The International Cricket Hall of Fame and Bradman Oval are owned by the Bradman Foundation, a non-profit Trust which gets capital grants from Federal and State Governments but has no recurrent funding.
The Hall of Fame is built on the site of the former Bradman Museum, the original section now housing Stumps Café, run by chef Robin Murray, who also has the restaurant at nearby Centennial Vineyards.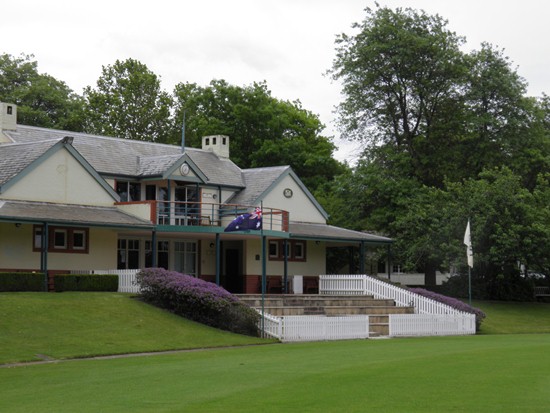 The new complex, opened in November 2010, has a gallery dedicated to Bradman but has expanded considerably from the original concept, with interactive displays, archive footage and historical items that tell the stories of the international cricketing community and the passion of the people behind the sport.
A self-confessed cricket tragic, David Wells reels off a surprising number of facts and figures about the sport. "I'm a museum person by training but I'm also a cricket person. I played cricket all my life until my body rebelled."
What David doesn't know about cricket isn't worth knowing. So I'm in good hands when he and Tourism Development Manager, Shannon O'Connor, guide me through the complex and its priceless pieces such as Sir Donald's first cricket bat and his baggy green caps.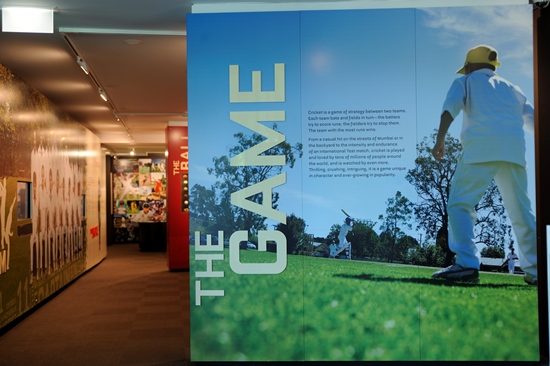 First stop is The Game with its wall mural of players  including, says David, "elite players, disabled players, children, and it's multi-ethnic … just to give the tapestry of the game". There are large touch-screens for viewing batting strokes and bowling techniques, and a touch table where you can work out how the whole game operates (clearly designed for people like me).
Next up is The Origins gallery which traces the history of cricket from the 14th century through to the late 20th century, including the story of Bodyline. So that's what the term "bodyline" refers to … judging by people's reactions to the short film clip screened in the little theatrette, I'm not the only one needing some education in this department.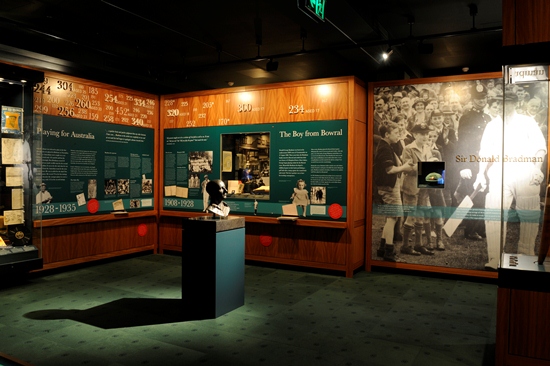 This leads into the newly opened Bradman Gallery, which not only features all sorts of whiz-bang technology but also showcases items from the Bradman Museum that have never been on display.
Particularly fascinating are the copies of letters that Bradman wrote – he was a prolific writer who sometimes received 500 letters a day and was extremely diligent in answering them all.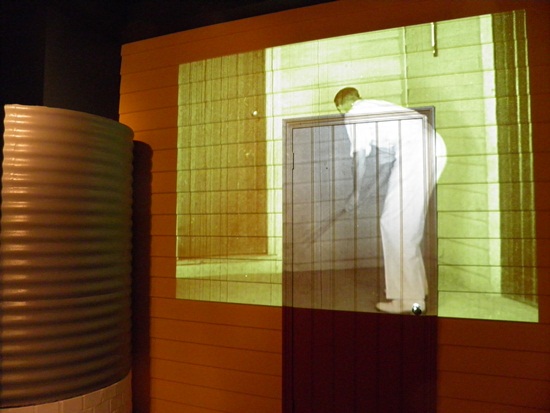 There's also a replica of the tank stand that Bradman learnt to hit a ball on, and if you want to walk in the great man's footsteps, you can pick up a bat and ball and have a go.
The Theatre is screening highlights of the 1977 Centenary Test as we pass by it and a display on World Series Cricket to a huge gallery called Cricket Through the Eras.
It has five huge screens as well as touch screens and historical timelines that tell the story of cricket against a backdrop of world events.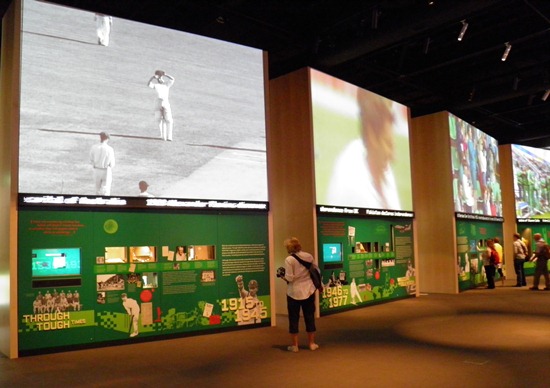 And, finally, there is Greats of the Game, where you can spot your favourite player.
Outside, we pay homage to Bradman at his life-size statue in the courtyard and stop to smell the roses in the beautiful little garden where his and Lady Bradman's ashes were scattered.
For $400 and a $25 yearly maintenance fee, aficionados can have their name put on a crest on the white picket fence here, rubbing shoulders (so to speak) with Bradman's crest.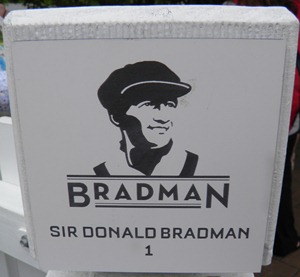 The Foundation has a lot more plans for the Hall of Fame yet – a new gallery called World of Cricket will open in January with a huge globe projected on the wall and an interactive website to which people can contribute.
There'll also be a signature wall for visiting cricket dignitaries and VIPs. Although Ricky Ponting is a global ambassador for the Hall of Fame, David says they haven't been "rolling out the players" because they've been too busy organising the exhibitions.
Still, he says, occasionally there'll be word from the counter staff that someone famous like Steve Waugh has popped in unannounced.
"We get people from cricket-playing countries, almost on a pilgrimage," said David. "The Indians and the English are the most scholarly visitors we get; the Indians can get very emotional. Even though Bradman never went there (to India), he was revered there."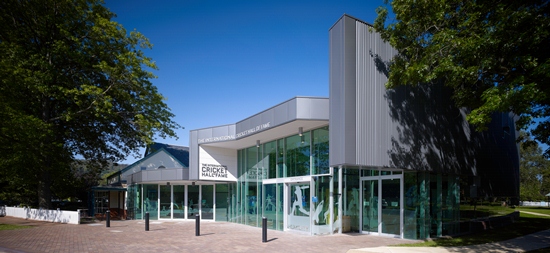 Fact file:
The International Cricket Hall of Fame is in St Jude Street, Bowral, NSW, off the F5 Freeway (Hume Highway) halfway between Sydney and Canberra. +61 2 4862 1247; www.internationalcrickethall.com
Open 10am – 5pm every day except Christmas Day and Good Friday.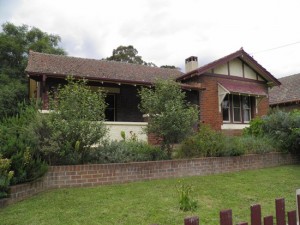 Pick up the Bradman's Bowral  brochure which points out places of interest around town.
The 1.7km walk takes about 45 minutes and goes past the privately owned home at 52 Shepherd Street where Bradman lived from 1911 to 1924, and the house at 20 Glebe Street (right) where he lived from 1924 to 1928.