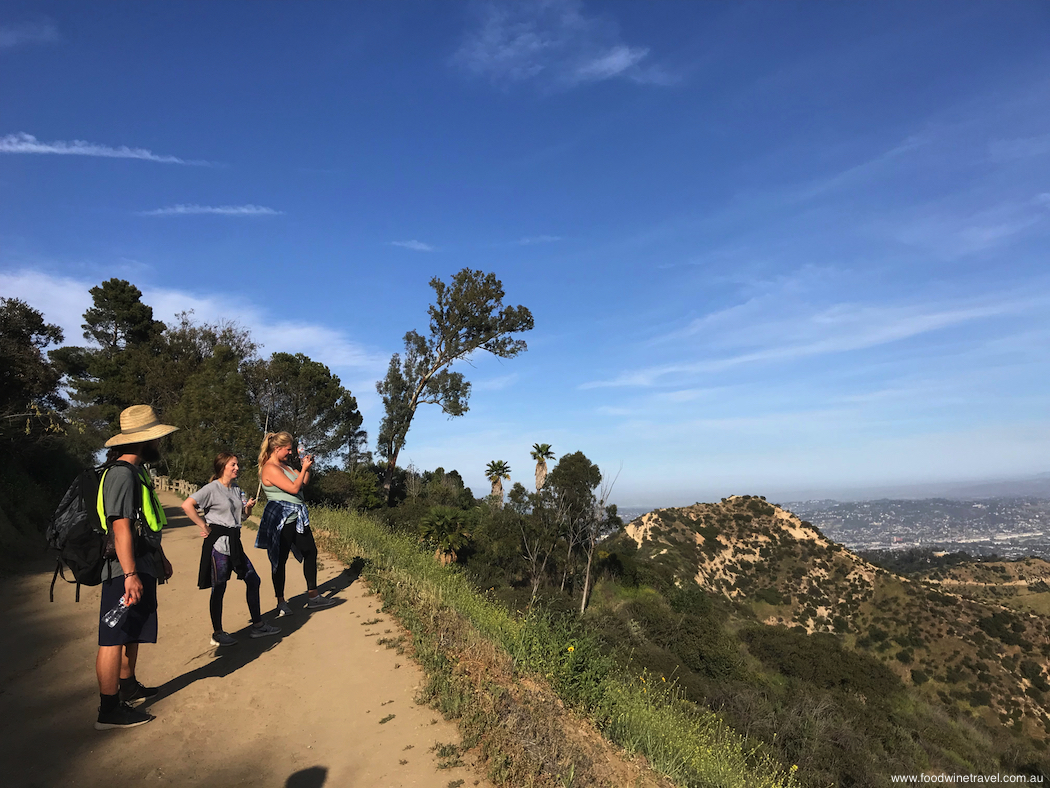 The Mt. Hollywood Trail in Los Angeles' Griffith Park is what you'd call moderately challenging. It's a well-kept trail and quite gradual as you climb to the summit, 1625 feet or 495m above sea level. Still, it's enough to get the blood pumping, especially if you're as unfit as me. When I see our guide, Andrew, striding up the trail with ease, I can't help thinking that he looks like a mountain goat. And when I hear that he has already done the trail earlier in the day, I feel even more embarrassed about my lack of fitness.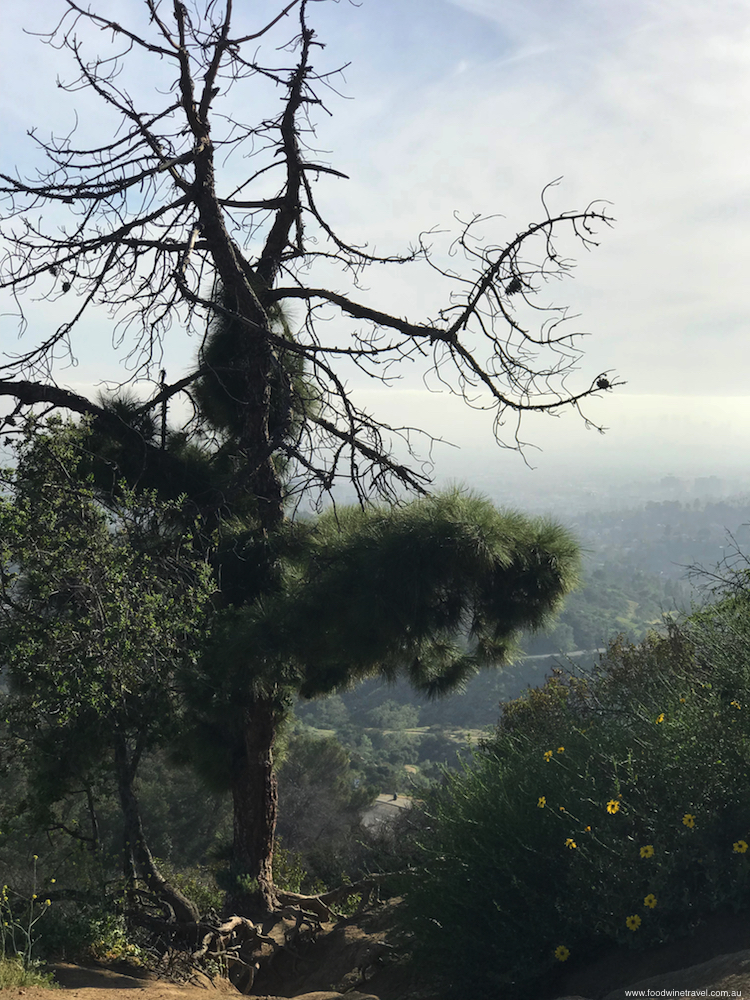 Not that Andrew has done anything to make me feel this way. In fact, he's been incredibly patient and encouraging, cheerfully telling stories to the four walkers in our group, giving all of us time to catch our breath and enjoy this tract of wilderness that is the heart and lungs of Los Angeles. His stories are informative and entertaining, adding a completely different dimension to our stay in West Hollywood, which until this point has been all about shopping, restaurants, and the magical world of movies.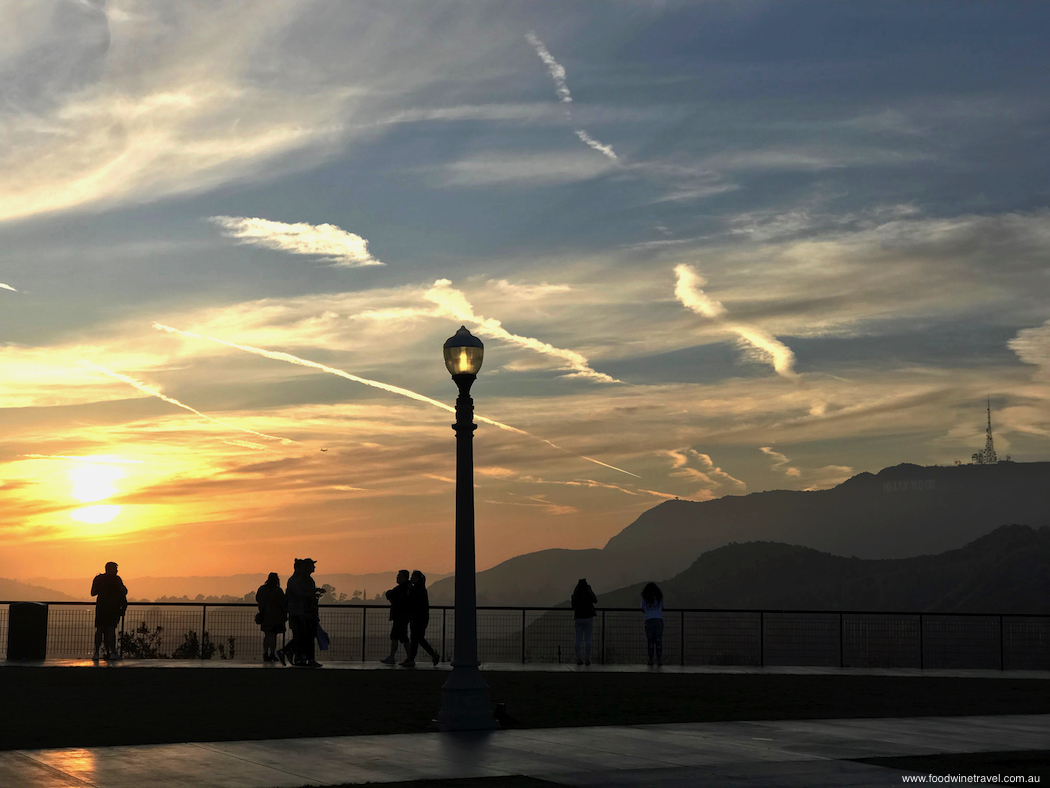 Andrew is leading our Sunset Hike on behalf of Bikes and Hikes LA, whose guided biking and hiking tours allow guests to experience Los Angeles in an eco-friendly, health-conscious way. Apart from the stunning panoramic vistas – which Andrew can identify like the back of his hand, having lived here all his life – it's just a great way of enjoying the outdoors and some peaceful respite from the fast pace of L.A.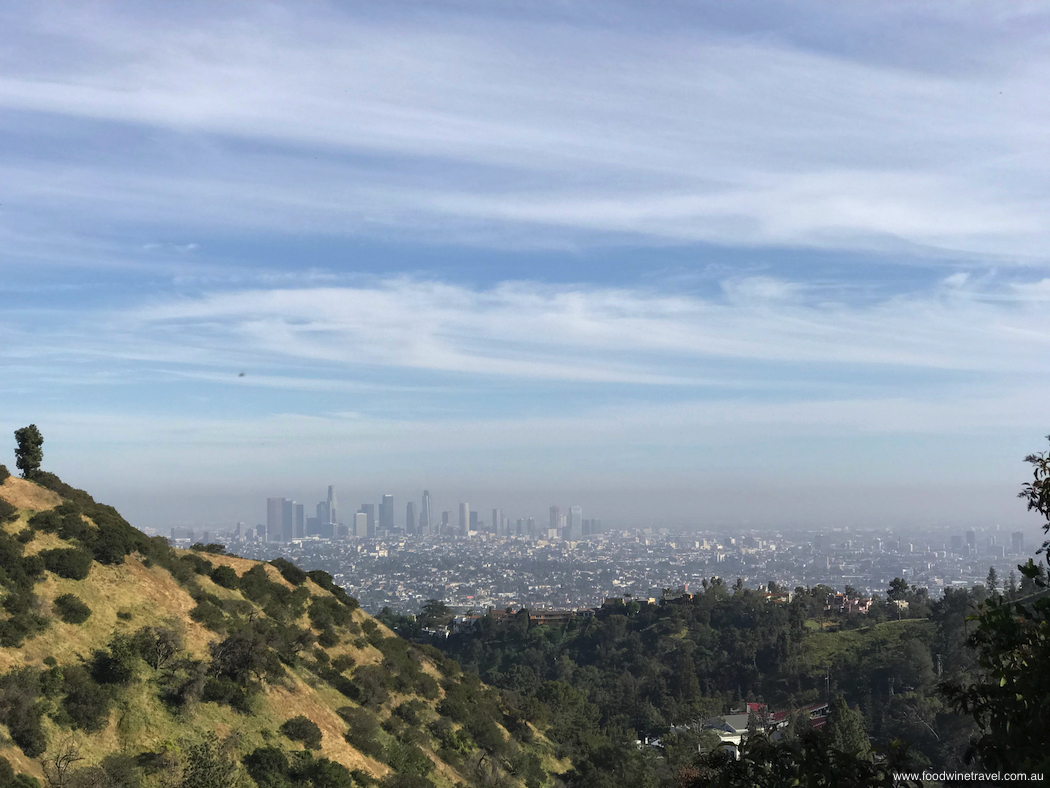 Griffith Park extends for about 6.5 square miles and is one of the largest municipal parks in North America. Listed as Historic Cultural Monument #942, it is by far the largest historic landmark in the City of Los Angeles. Part of the eastern Santa Monica Mountains, its canyons are criss-crossed with more than 70 miles of hiking and equestrian trails. The views these trails offer of the Los Angeles basin are unparalleled. That, coupled with the city's famously sunny weather, make the park a great place to go hiking in.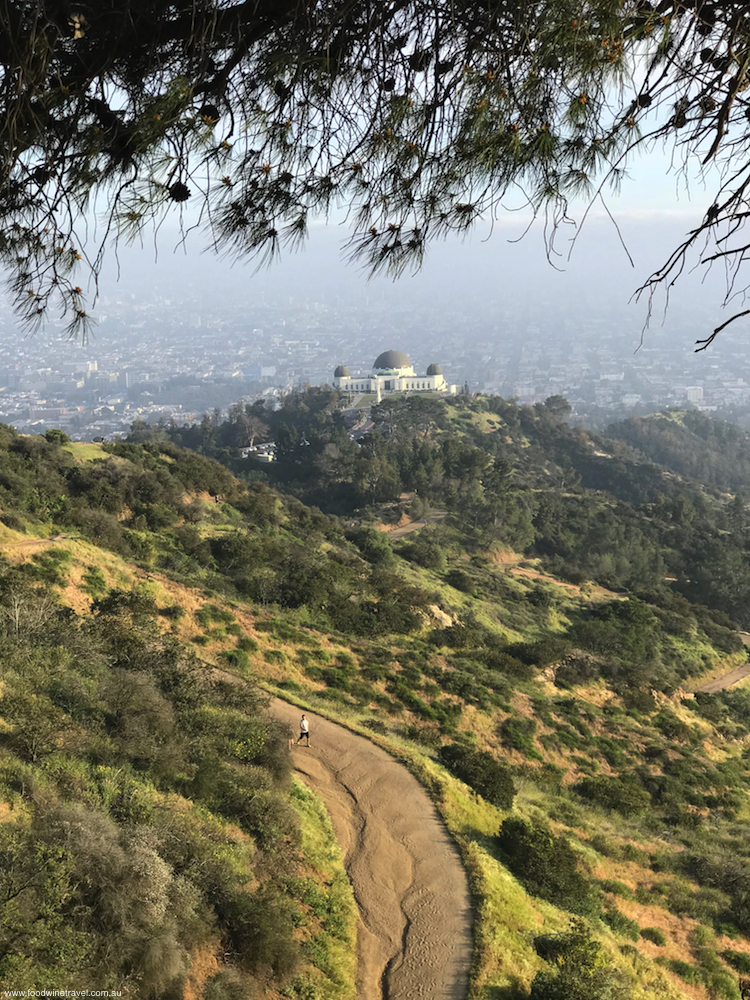 Bikes and Hikes LA offers its Hollywood Hills Griffith Hike twice a day, one at 10am and the other, the one we did, timed to catch the sunset. The tour begins at the Greek Theater box office and is scheduled to take about 2½ hours, although our 4.30pm tour didn't get us to the Griffith Park Observatory till after 7.30pm, no doubt my lack of fitness accounting for the more relaxed pace. It was probably a good thing, though, as in late April the sun was only just beginning to set at that time.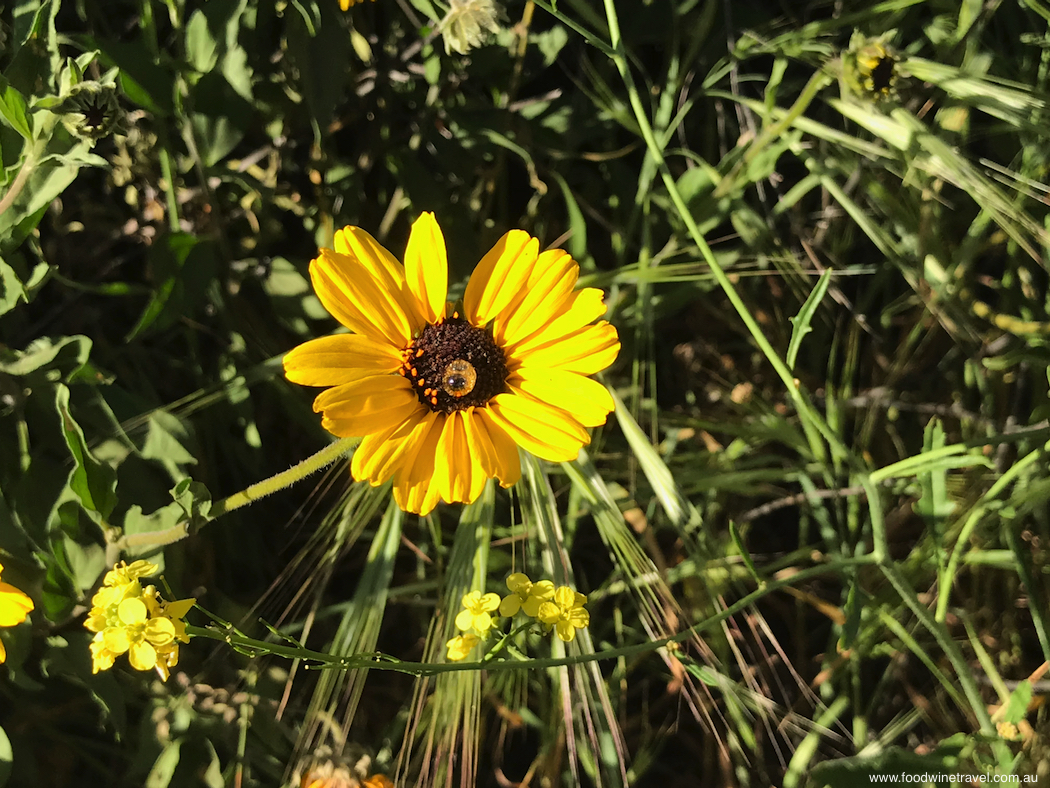 We climbed 245 metres or 800 feet during our walk, setting off through a bird sanctuary. The park is an important stopover for migrating birds, and ornithologists have identified more than 200 species of birds in the park. Immediately we see some of the remnants of a devastating wildfire that ripped through the park in 2007. Bright yellow wildflowers line the path taking us to our first vantage point with its awesome view of downtown L.A. filtered by a light haze. I wonder if it is ever completely clear?  As we turn the corner, the views are even more sweeping, taking in the entire valley north and east of the city.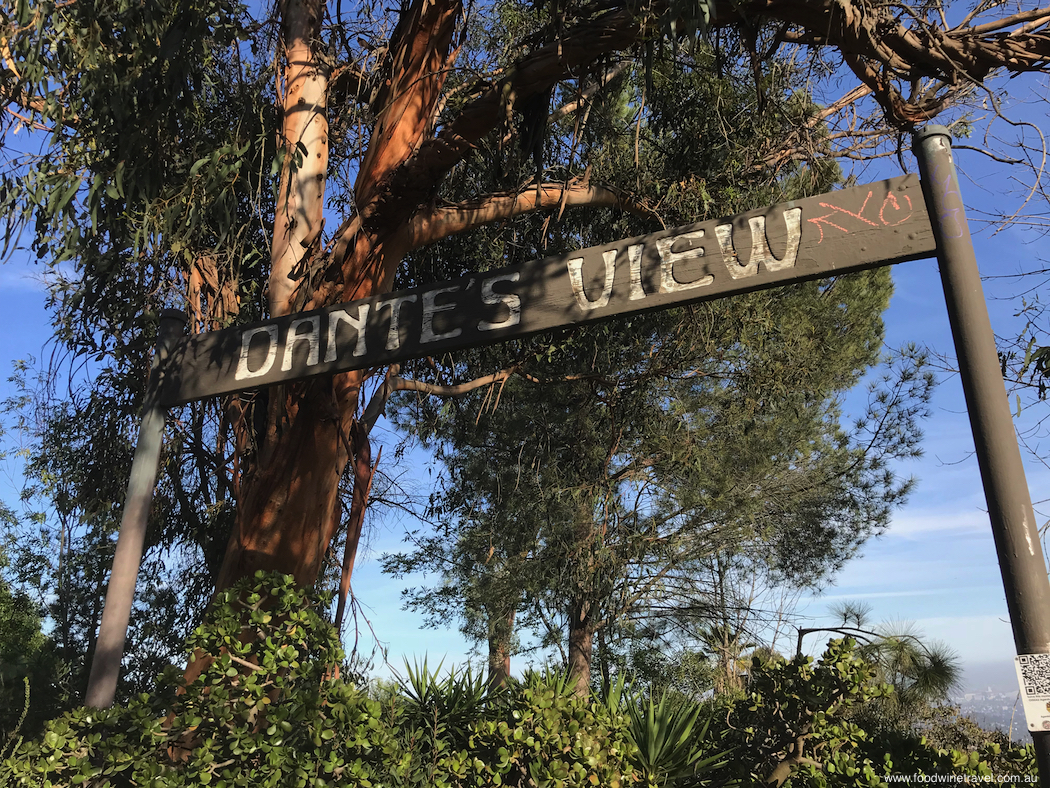 Dante's View is a terraced community garden with shady benches on which to relax and take in views of the city. With three quarters of the garden severely ravaged by the 2007 fire, the Friends of Griffith Park have been hard at work planting and nurturing native plants. Their efforts have paid off as this is a really beautiful oasis, named for Dante Orgaolini, a Brazilian journalist and artist. He came to the U.S. in 1926 and began planting the garden in the early 1960s.

A little further on, the Mt. Hollywood summit has fantastic views all around, including of the famous Hollywood sign just below the ridgeline of neighbouring Mt. Lee. The sign is off limits but there are some trails that can take you above and behind the 45-feet-tall aluminium letters.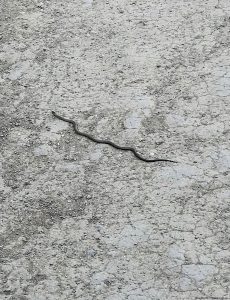 Over 150 plant species have been recorded in Griffith Park, and it is home to numerous animals, birds, insects, lizards and snakes.
One sign cautions us not to leave the path because there is a danger of encountering rattlesnakes.
Coyotes, mule deer, skunks and mountain lions have apparently been spotted, but we see very little wildlife, just a baby snake and an impressively large bird. Was it an eagle?
Along the way, Andrew points out some of the native vegetation, including the coastal sage that grows in profusion.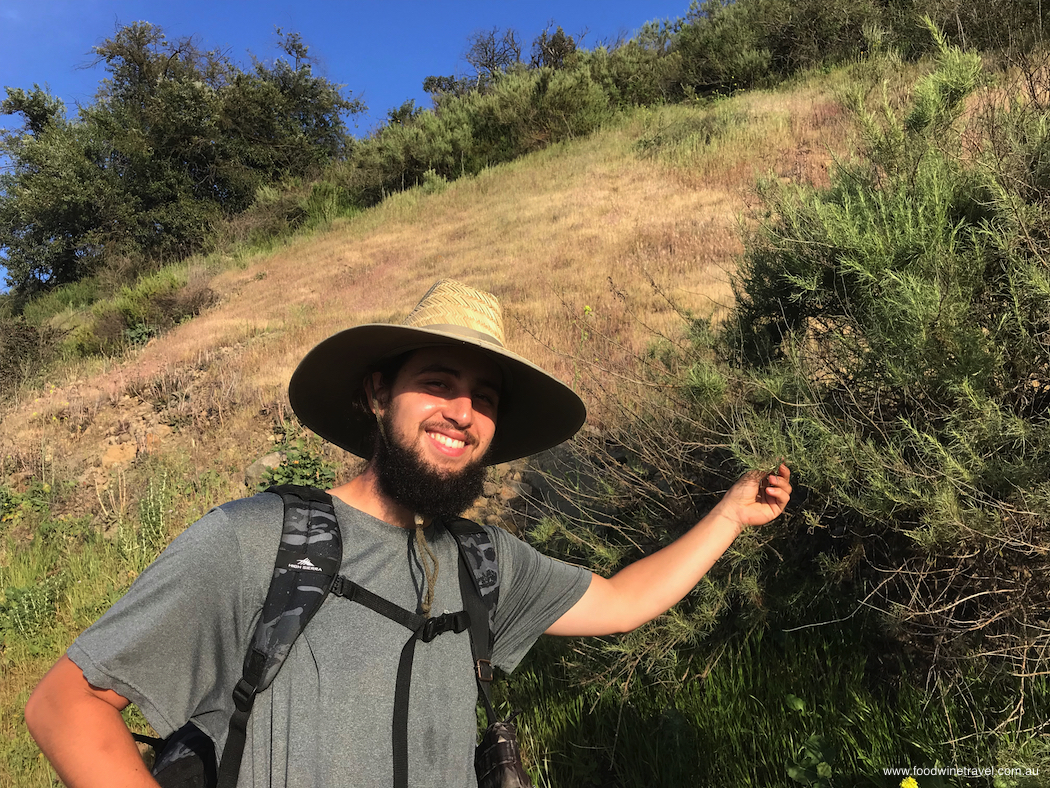 As the trail takes us over a road tunnel used in Back To The Future 2 and Who Framed Roger Rabbit, the talk turns to movies and how many celebrities Andrew has seen (not many, it turns out). He also gives us a potted history of Los Angeles and how the park came to be given to the city.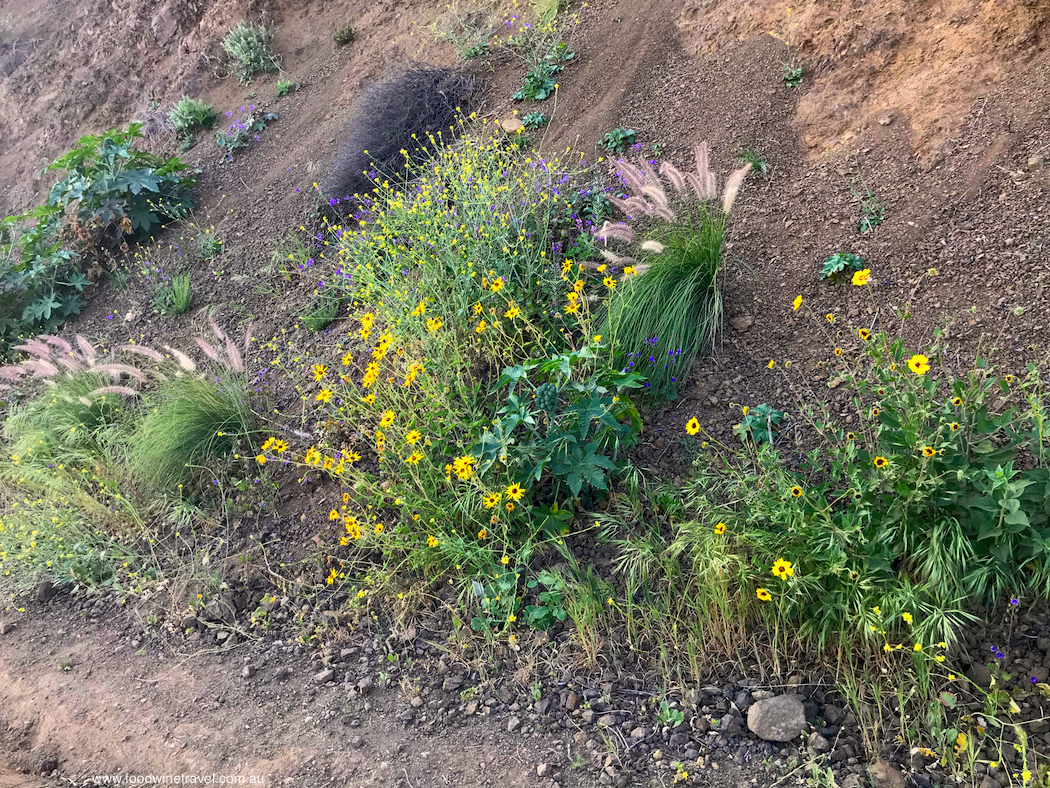 The park is on one of the first land grants made in California, Rancho Los Feliz, which the Spanish granted to Corporal Jose Vicente Feliz in return for his military service. It passed to his daughter-in-law and in 1852, after California was ceded to the United States, she filed a claim with the Public Land Commission. In 1863, it fell into the hands of lawyer Antonio F. Coronel, and as Andrew tells it, the deal was somewhat dodgy. Andrew's version is a lot more colourful than the version on Wikipedia 🙂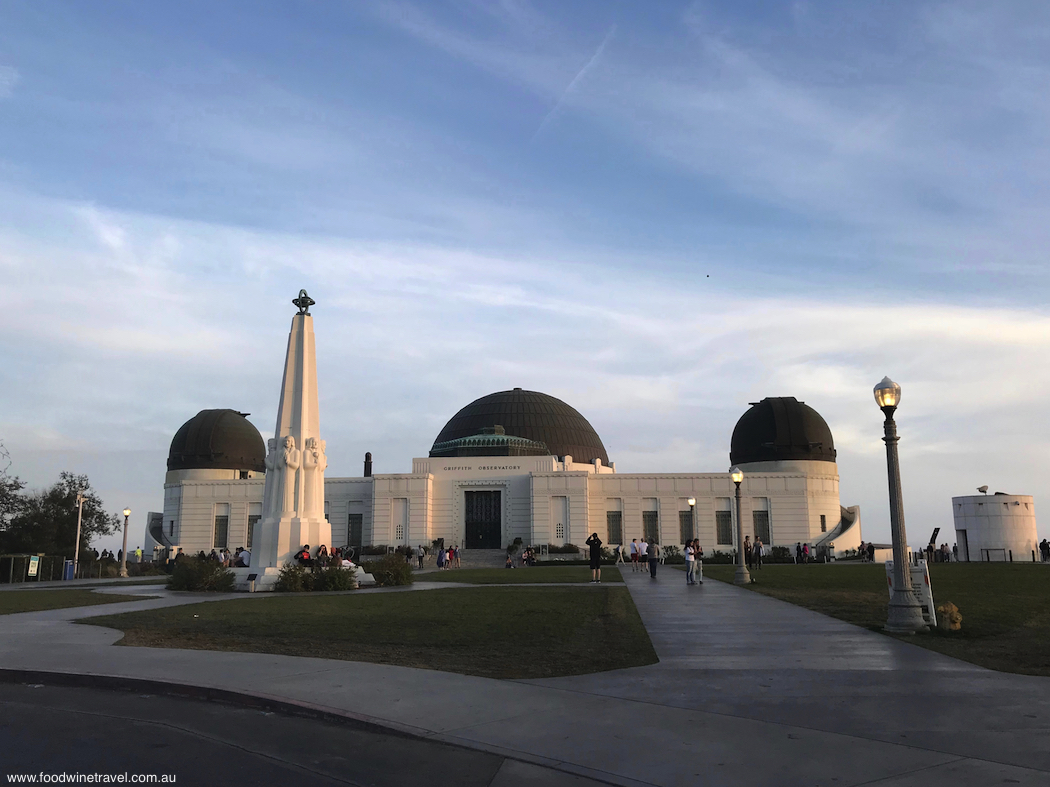 The land then passed through a few other hands until 1882 when 4,071 acres was acquired by Colonel Griffith Jenkins Griffith, who had made his fortune in the California gold rush. In 1896, Colonel Griffith donated 3,015 acres, nearly half of the original rancho, to the City of Los Angeles for use as a park: "It must be made a place of recreation and rest for the masses, a resort for the rank and file, for the plain people," he dictated. The official line praises Griffith for his civic mindedness – his gift plus further donations allowed the Greek Theatre to be built in 1930 and the Griffith Observatory in 1935. Less is said of Griffith shooting his wife in the face in 1903 but Andrew gives us all the juicy bits and I've had a lot of fun reading up on it since, particularly this post on Ghosts in Griffith Park.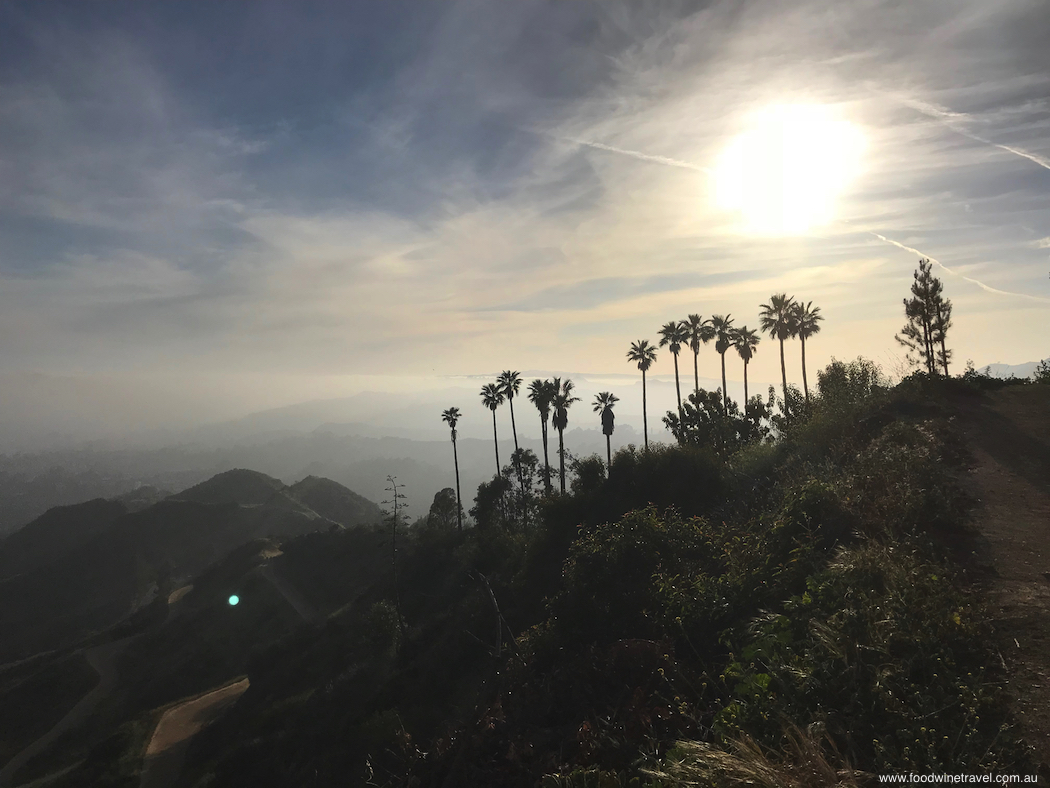 Towards the end of the hike, we come to a cooling grove of pine trees called the Berlin Forest. It commemorates the sister-city relationship which Berlin and Los Angeles have enjoyed since 1967. According to a plaque at the entrance to the forest, the pine trees are emblematic of "the stability, strength and fortitude shared by the people of the United States and Germany". From here there's a beautiful view of the Hollywood sign framed by pine boughs.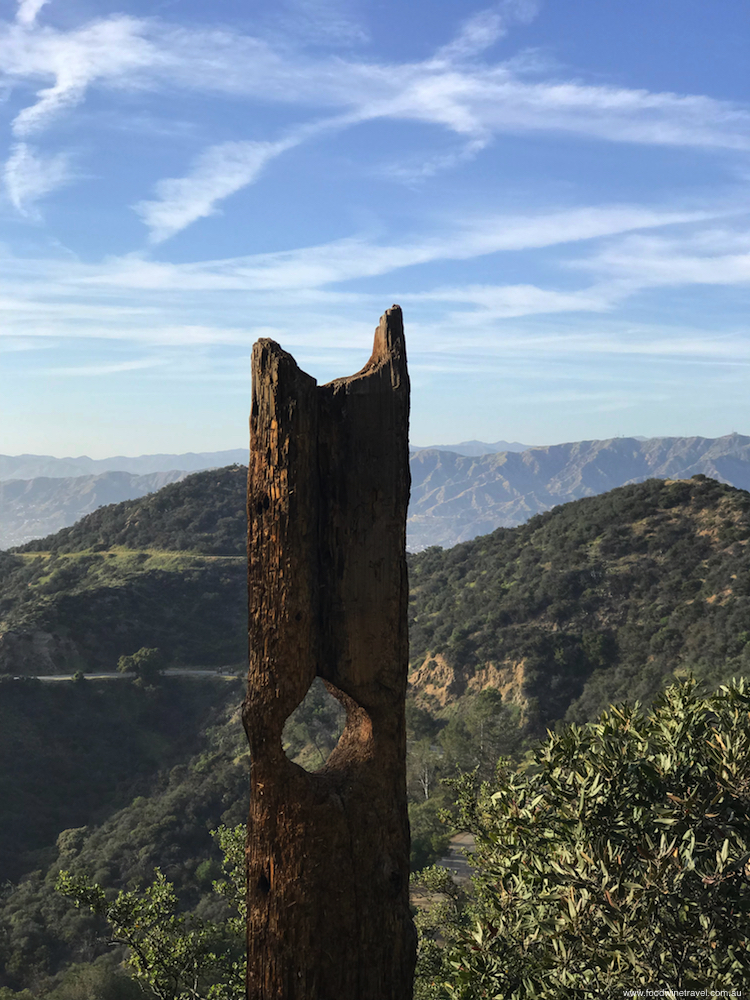 Also catching our eye is the "George Harrison tree", a shrubby yew pine, chosen because it is said to withstand ice, drought and above all beetles. Yes, beetles. A Canary Island pine planted here in 2002, shortly after Harrison's death, ironically succumbed to a beetle infestation in 2014. This new one was planted in 2015 on what would have been the late Beatle's 72nd birthday.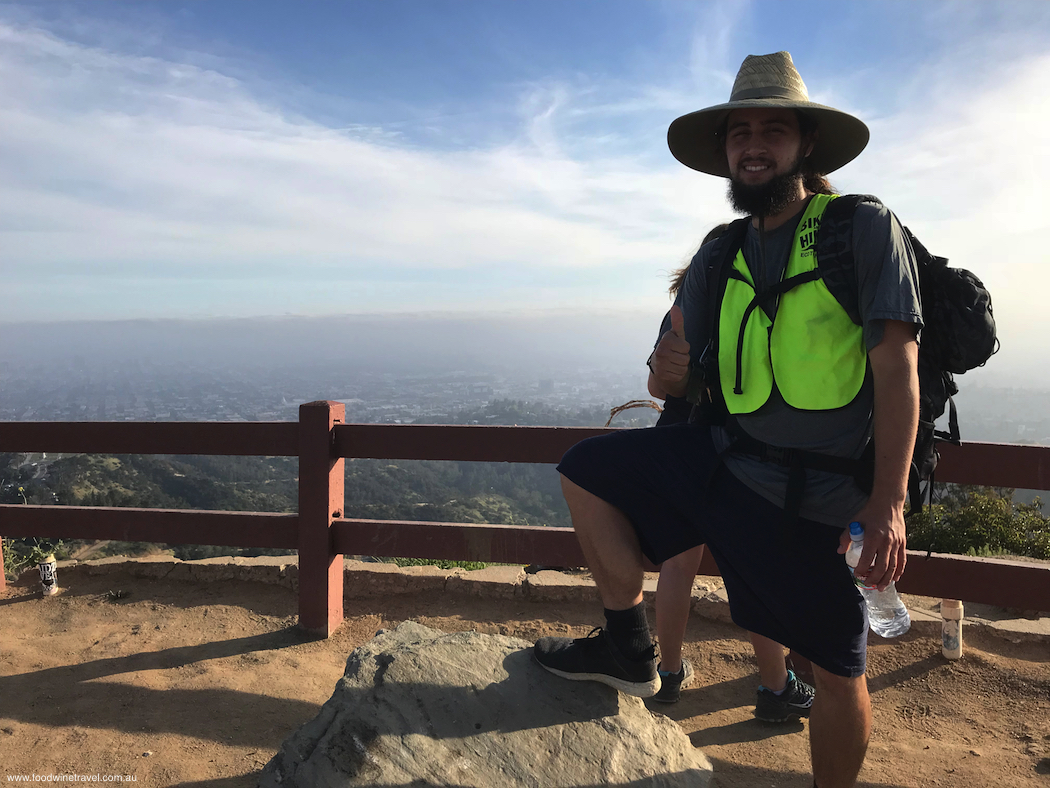 The hike ends in the parking lot of Griffith Observatory just as the sun is going down. The Art Deco-style Observatory is a Los Angeles icon, featuring prominently in the classic movie, Rebel Without a Cause. It is one of southern California's most popular attractions; admission is free. A million people are milling around the carpark as we pull up a spot and watch the sun dip behind the mountain with the Hollywood sign. It's still hazy but there's something about a sunset that makes a place special, isn't there?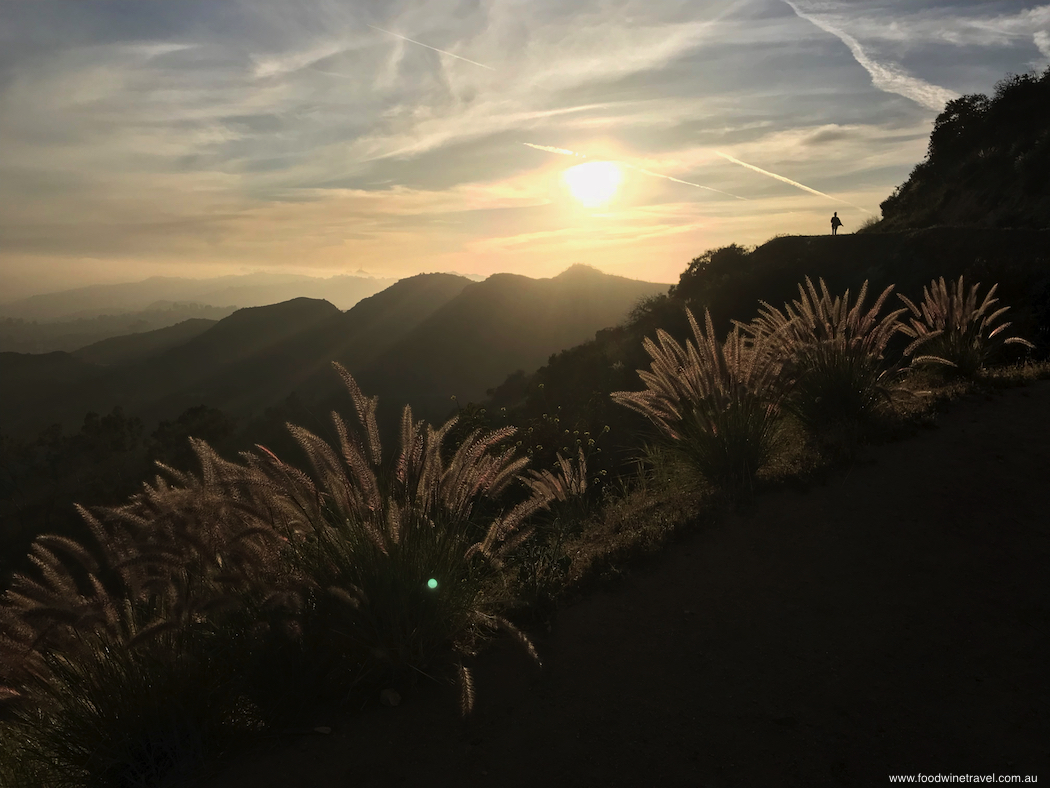 If you go:
Hollywood Hills Griffith Hike
Bikes and Hikes LA
(323) 796-8555
[email protected]
www.bikesandhikesla.com
The easiest and cheapest way to travel between Hollywood and Griffith Park is by taking the DASH Observatory bus from the Vermont/Sunset Metro Red Line station.
With thanks to Visit West Hollywood and Bikes and Hikes LA for hosting Christine and Alise on the Sunset Hike, and special thanks to Andrew for being such an awesome guide.