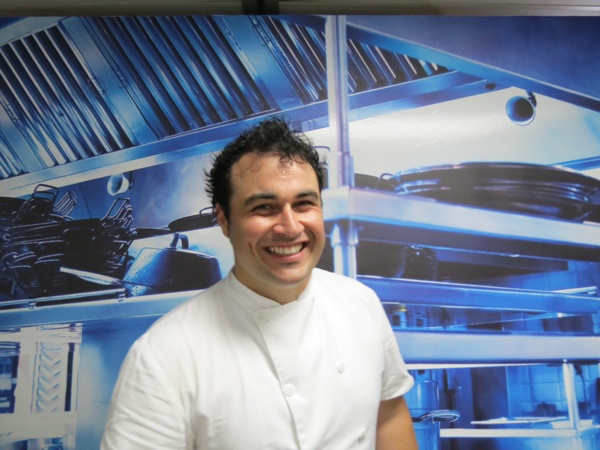 This utterly gorgeous man is Miguel Maestre, a Spanish chef who has made Sydney his home. He's the food host of The Living Room on Channel 10, a program I confess to never having watched.
I was briefly introduced to Miguel one day when he was working for Tony Bilson at the Number One Wine Bar at Circular Quay, and I've dipped into his book Spanish Cooking (a book I was very happy to raid from my daughter's shelf). He has also authored Miguel's Tapas.
Miguel is one of those people whose whole face lights up when he talks about food. He raises his eyebrows and breaks into a smile with a gorgeous dimple. Added to that is his charming Spanish accent and typically Gallic tendency to bring everything back to love and passion, and well, let's just say he had all the women (and a few men) at MasterChef Live eating out of the palm of his hand.
It's been a big weekend in Sydney for foodies, what with the Crave Sydney International Food Festival chefs' showcase events and MasterChefLive happening at the same time. I'm not sure it was a good idea to schedule the two for the same weekend, as it must have had an impact on attendances, but for those of us from out of town, the timing worked out well.
And so there I was on Friday watching Miguel making salmon gravlax, using fantastic fresh Tasmanian salmon and marinating it in salt, sugar, lime juice, lemon rind and fresh dill (blended together in a food processor till an amost pesto consistency).
"Food processor is the hardest English word for me to say," he says, playing up to the Private MasterChef class participants who are being plied with shot glasses of tomato and prawn gazpacho, and spoonfuls of seafood with mango salsa.
Miguel suggests that the salmon be marinaded for three to four hours, and says it will keep that way for 15 days. You could serve it on bagels, do a salmon wrap or salad, or put it through pasta. "This is a restaurant technique that everyone can do," he says. "It's a marvellous miracle to be cooking without heat."
A woman asks a question about parsley sprinkled on the gladwrap he is using to roll the salmon and as Miguel suggests she must be the only person listening, he gives her a kiss. Not unexpectedly, everyone now has a question for Q & A.
Asked what his favourite ingredient is, he purrs and says, "My favourite ingredient is love." But then he calls for "less cha cha and more chop chop" as he sprinkles olive oil and sea salt on the fish, remarking almost apologetically that it is like sex on a plate.
While it would be difficult for anyone to compete with Miguel's smouldering good looks and charm, dozens of other celebrities were also on hand at MasterChef Live to woo the crowd.
Maggie Beer (pictured below) made a beautiful dessert from dried apriots cooked in a verjus syrup, and I sat in on a fun presentation by former MasterChef contestants Hayden Quinn and Kumar Pereira. Others who did cooking demos throughout the day included Alvin Quah (also pictured), now an ambassador for the Ayam brand (love their products!), and Amina Elshafei.
There were lots of opportunities to sample products – new ones and old favourites – including luscious blueberries and blueberry condiments, wonderful Turkish Delight from NutRoasters, Himalayan salt slabs, smoked garlic, Olsson's Gourmet Sea Salt, and Wild Beverages' premium sparkling drinks.