Brisbane International Airport is to get a new Qantas lounge, and according to the carrier, the design will take inspiration from "the natural beauty of Queensland".
Set to welcome its first guests in October, the multi-million dollar Qantas International Premium Lounge will combine First and Business. The concept of a single Premium Lounge follows the same design and service philosophy already in place in Qantas's Hong Kong and Singapore lounges.
Qantas says the lounge will have 25 per cent more space to relax, work and dine in. Guests will enjoy seasonal menus by Qantas chef Neil Perry and a bar serving Rockpool-designed cocktails. (Have a look at our post on Qantas's superb winter menu.) All-day barista coffee by Vittoria will be introduced.
Qantas spokesman Philip Capps says the lounge will deliver a new benchmark in premium travel from Brisbane. Queensland, he says, is an important market for the carrier, with direct daily services to Tokyo introduced last year, and increased seasonal services to New Zealand.
The Qantas lounges at Brisbane Domestic are also set for a complete redesign in coming months. The lounge precinct at Domestic will have a new Business Lounge and refreshed Qantas Club, including a new valet experience.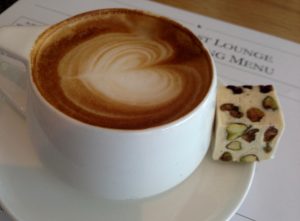 Qantas surveys have shown lounge customers want good food, wine and coffee, and as such, the new International Premium Lounge will have an all-day barista service for the first time, while the new domestic precinct will continue its all-day barista service and introduce a communal coffee bar.
The International First and Business Lounges have closed while the refurbishment takes place, with eligible guests being offered complimentary access to the Plaza Premium Lounge or vouchers to redeem at food outlets in the International terminal.