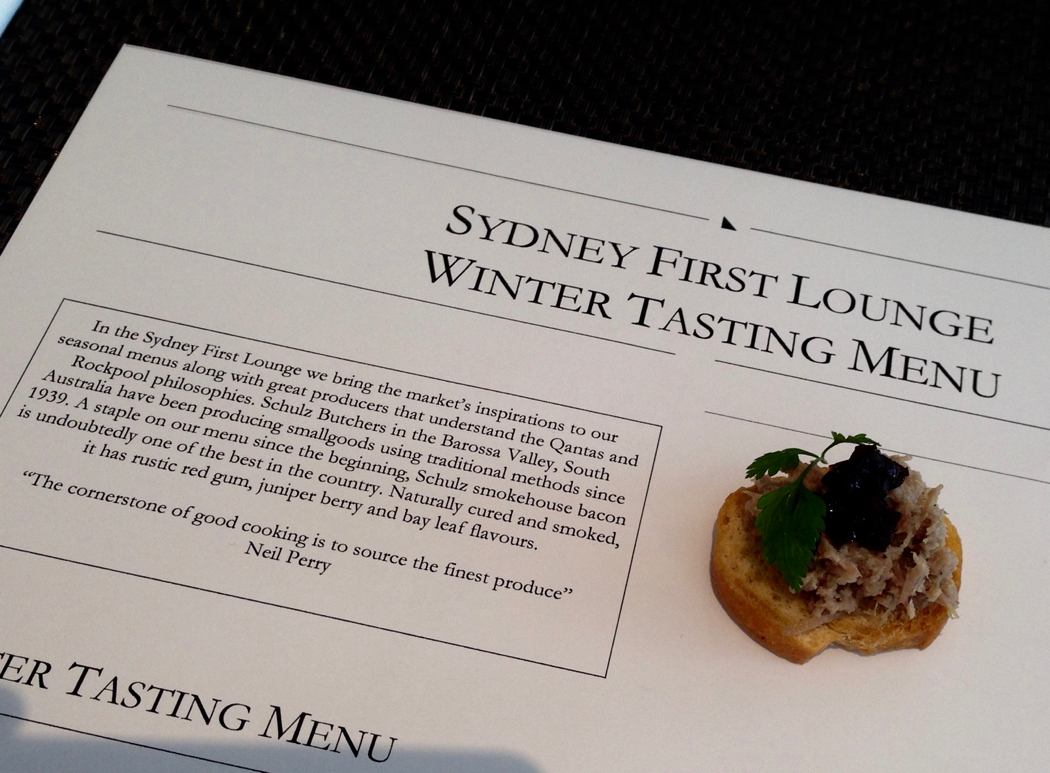 What sort of food is served at the pointy end of the plane? No idea? Never mind, the Food Wine Travel team doesn't get to sit there very often either. What I can tell you is that on Qantas flights this winter, those lucky ducks up the front are dining on Confit of ocean trout, Prawn oil pasta with crab meat and slow-roasted cherry tomatoes, Pavlova with fig and raspberry, and other exquisite dishes.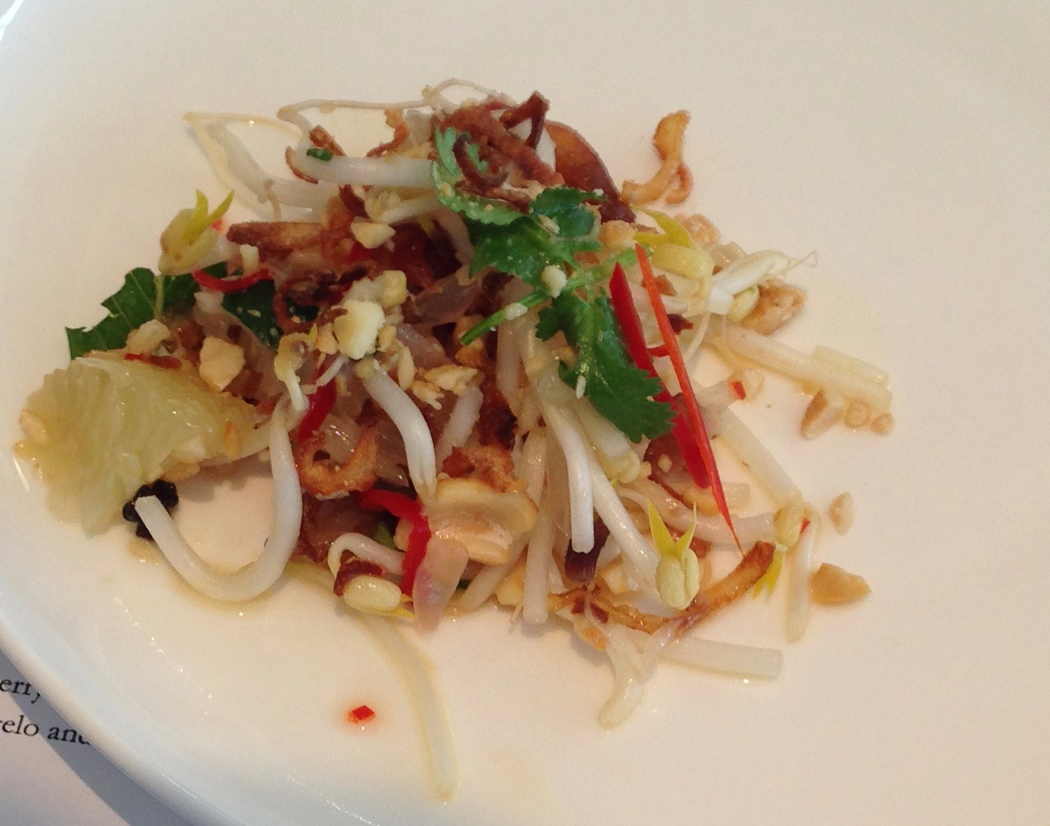 Sounds good, doesn't it? Well, yes it is – I can tell you that on good authority after joining a select group to taste a sampler of dishes from Qantas winter menus. The tasting was held at the Sydney First Lounge and included a selection of dishes from the Qantas First Lounge and the First and Business inflight menus.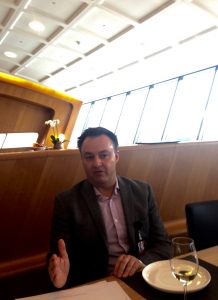 Roger Barstow, from the Rockpool Consulting team, was on hand to introduce the dishes and offer an insight into the logistics of Qantas catering – their chefs work on more than 300 menus for International First and Business at any one time, and they have to deal with caterers around the world who are responsible for implementing their menus. It takes around 11 months to develop a new menu, and there's a new menu for every season.
"We write in the region of 1000 recipes a year," says Barstow. ""It's challenging but it's a great job."
The smooch fest with Neil Perry and the Rockpool Group has been going for 19 years, and in many ways it has revolutionized the inflight dining experience. Dishes are served with fresh produce that is cooked and blanched inflight, not simply reheated as many airlines do.
Perry says their investment has helped hundreds of small Australian producers grow, develop and find new markets. Schulz smokehouse bacon has been a staple on their menus since the beginning. This Barossa Valley company produces naturally cured and smoked bacon using the same traditional methods it has been using since 1939.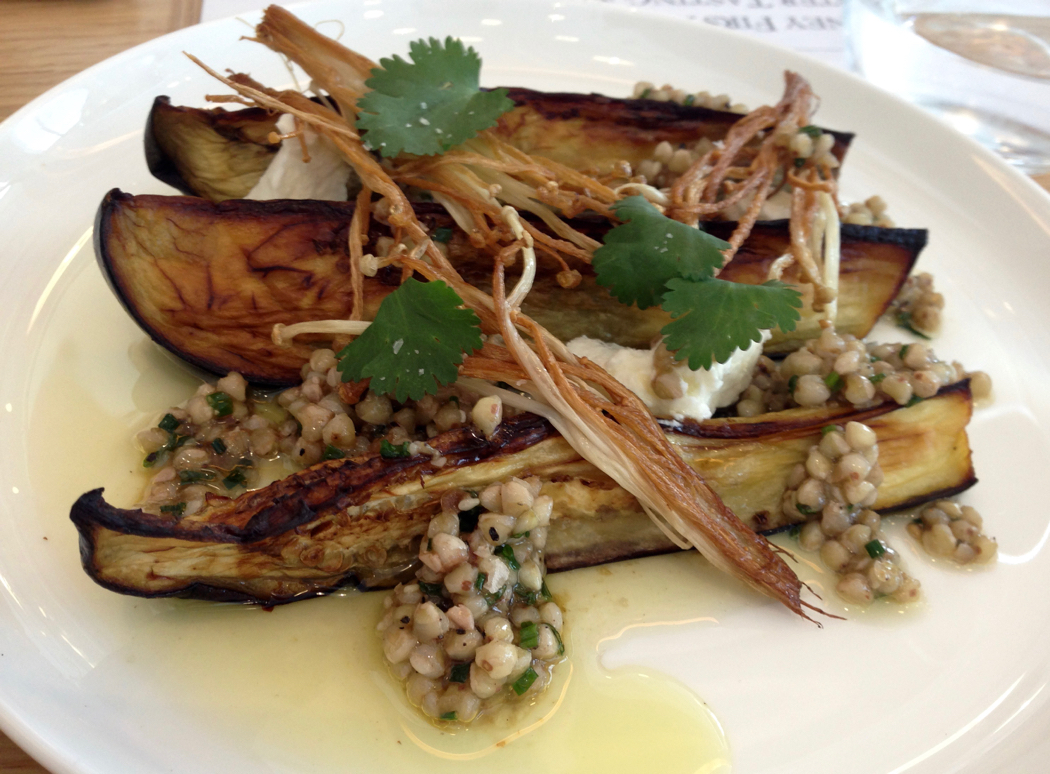 One of the new dishes on the First menu is a Rockpool Bar & Grill-style scotch fillet from Nolan Meats, served with classic sides including celeriac and potato gratin, and horseradish relish. Nolan is a family-owned business that dry-ages its steak for 28 days to tenderise the meat and concentrate the flavour.
Qantas is also serving my favourite Aussie butter, Pepe Saya. It serves more than 500,000 Pepe Saya butters each year, an awesome achievement for this small Sydney manufacturer.
Qantas has also collaborated with the Urban Beehive and Hank's Jam to install 10 beehives on its Mascot campus so that it can produce its own honey. As I wrote in a separate post about this remarkable operation, First lounge guests can enjoy the honey with buttermilk pancakes and ricotta. They can also have a 'Honey, Bee Home Soon' cocktail, made with the honey and Chivas Regal whisky.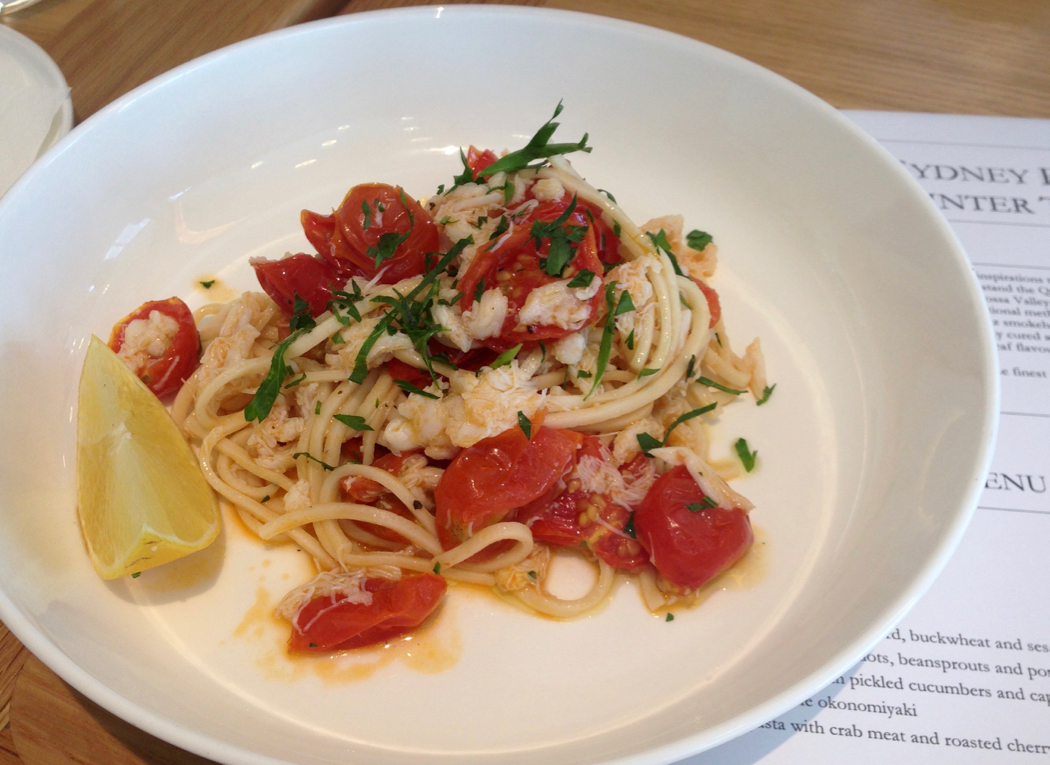 I was super impressed with the wine selections we were served at the tasting, including Eden Road's The Long Road Tumbarumba Chardonnay, Brokenwood's Indigo Vineyard Pinot Noir, Vasse Felix's Cabernet Sauvignon and Heggies' Botrytis Riesling.
Qantas brought in a new team of sommeliers and mixologists from the Rockpool Group last year to up its inflight beverage offerings. The sommeliers select from 1200 wines and Champagnes that they blind taste over four days each year, and they also provide recommendations for wine in the lounges.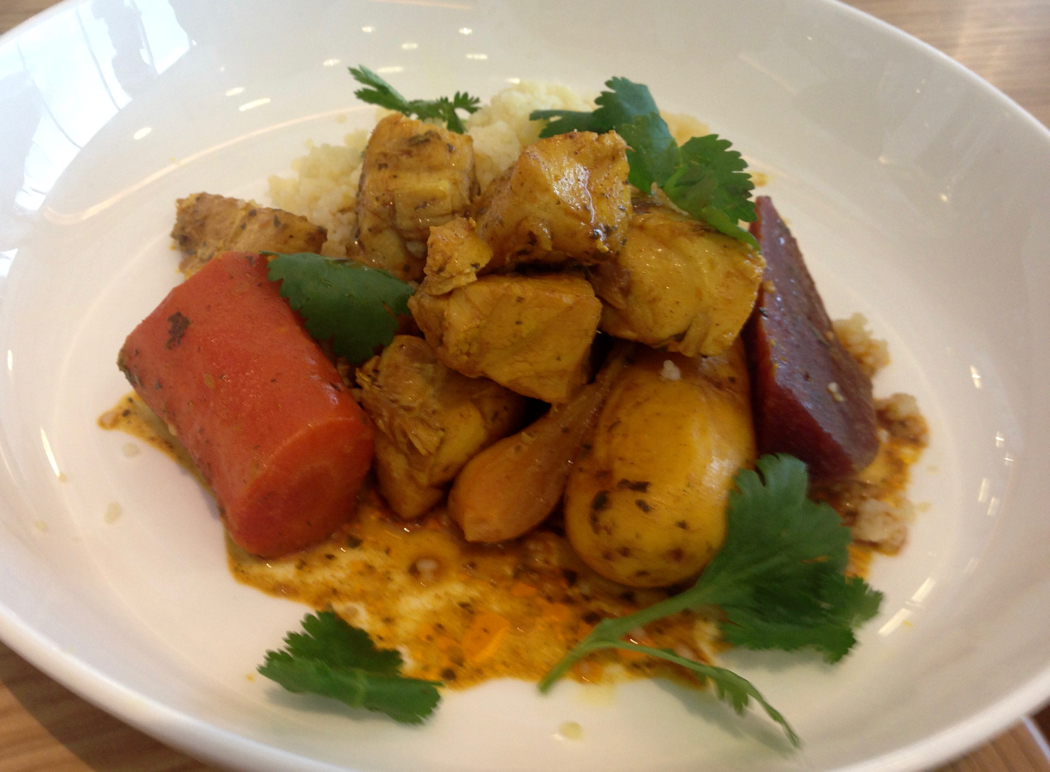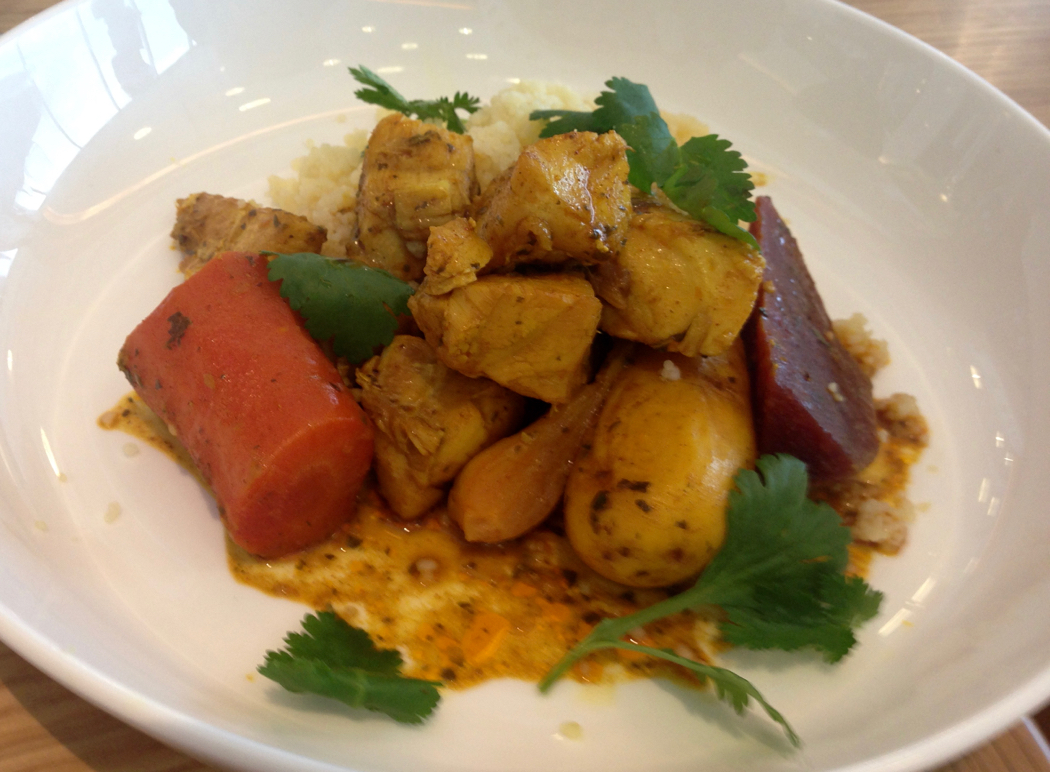 Barstow says that while inflight food is more comfort food, "in the lounge we can be a lot more flamboyant because we have live cooking stations." A long-time favourite of First class customers is the signature Rockpool steak sandwich. It has been on the menu for 19 years and Emirates is now offering it as well.
Despite this penchant for the classics, Qantas is "forever trying to push the boundaries a little bit," says Barstow.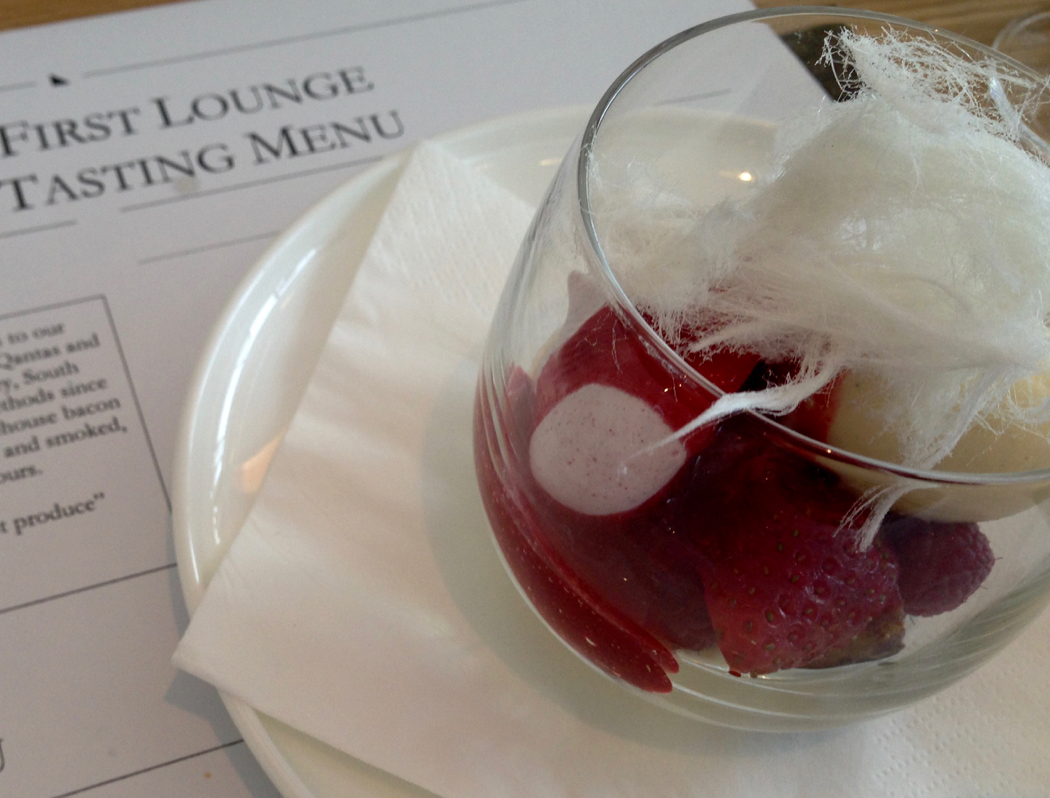 Its lounge entrées include Sticky pork salad with shallots, beansprouts, pomelo and pork that has been braised in master stock for 4 hours. I loved the wedges of grilled eggplant with goats curd, buckwheat, sesame vinaigrette and Enoki mushrooms.
Canapés of duck rillettes with beetroot jam, and the entrée of ocean trout confit cooked at an ever so low temperature are as impressive as one might expect. Moving on to mains, Braised venison with chestnuts, and Lemon grilled spatchcock with rosemary roast potatoes, are proof that Business class passengers are doing just fine too.
Duck slow-roasted with treviso and balsamic vinegar carries the perfect balance of bitterness and sweetness, while a Fish tagine from Perry's Food I Love is slowly cooked with chermoula spice.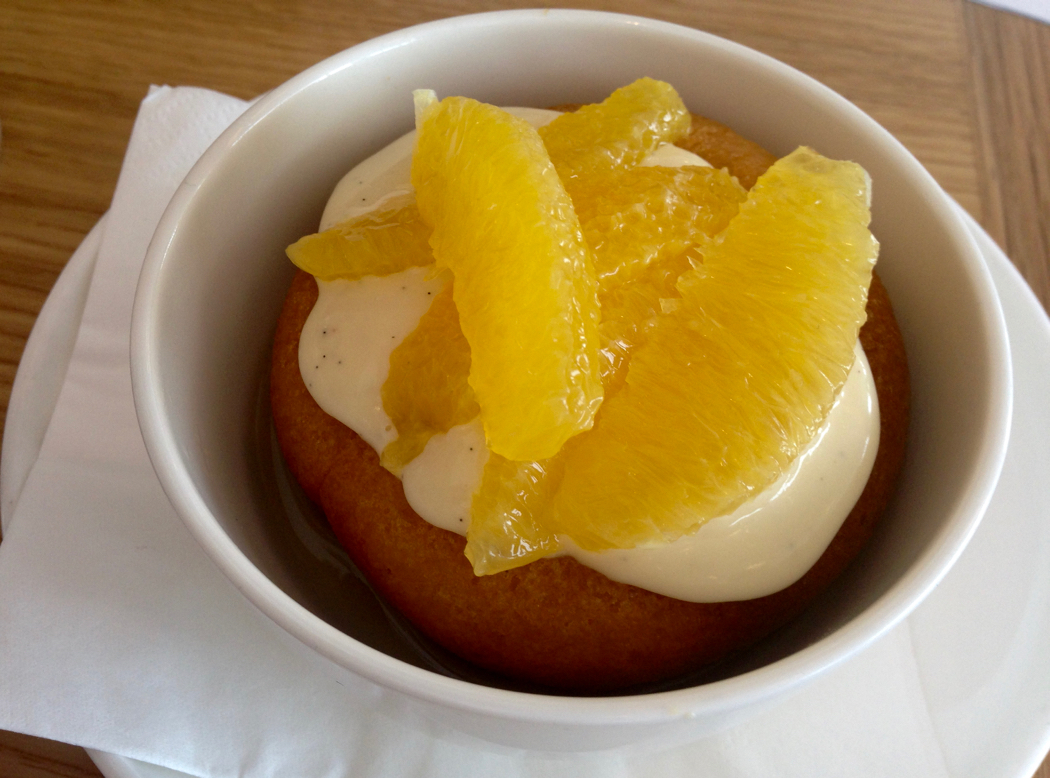 Let's not forget dessert, with splendid offerings such as Kaffir lime and vanilla baba, the aforementioned pavlova, and Bread and butter pudding like you have never seen it before – with warm chocolate ganache oozing out from layers of brioche. Truly melt in the mouth.
I've long been under the impression that the flavour of food changes inflight, but Barstow says the problem is not so much altitude as humidity levels. "Some aircrafts are very dry and that dries out the tastebuds," he says. "We just make sure the food is packed with flavour and tastes great."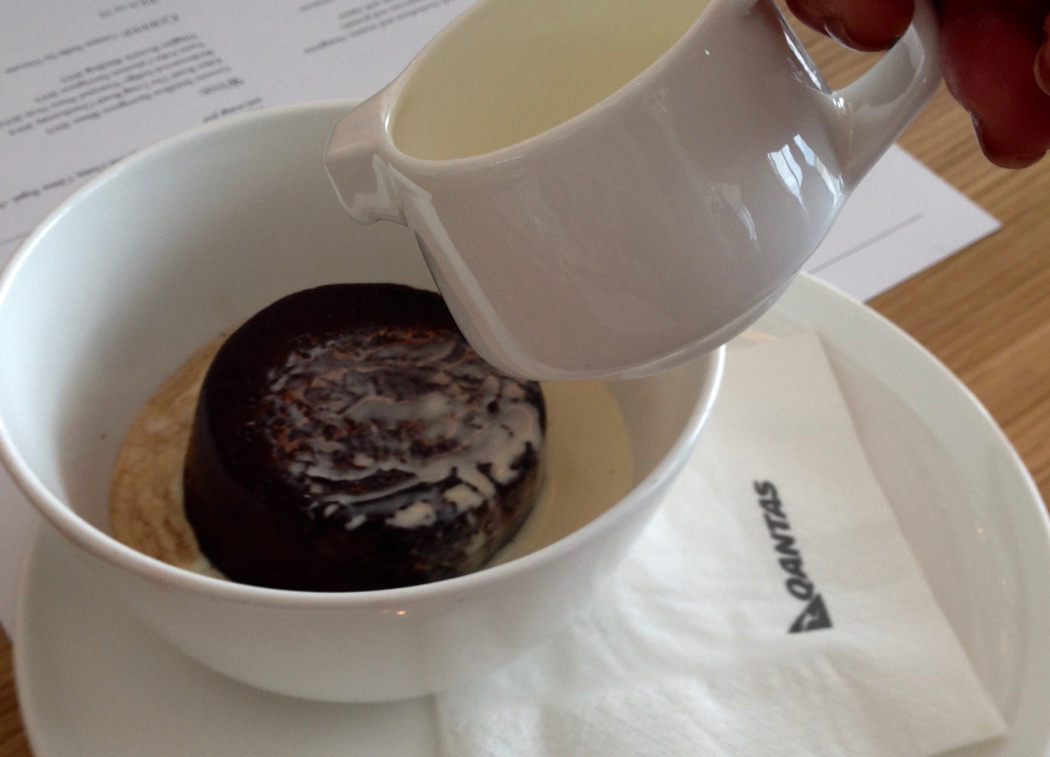 With thanks to Qantas for flying me to Sydney for this fabulous tasting.
A new Qantas International Premium Lounge is currently under development at Brisbane International Airport. You can read all about those exciting plans in a separate post.