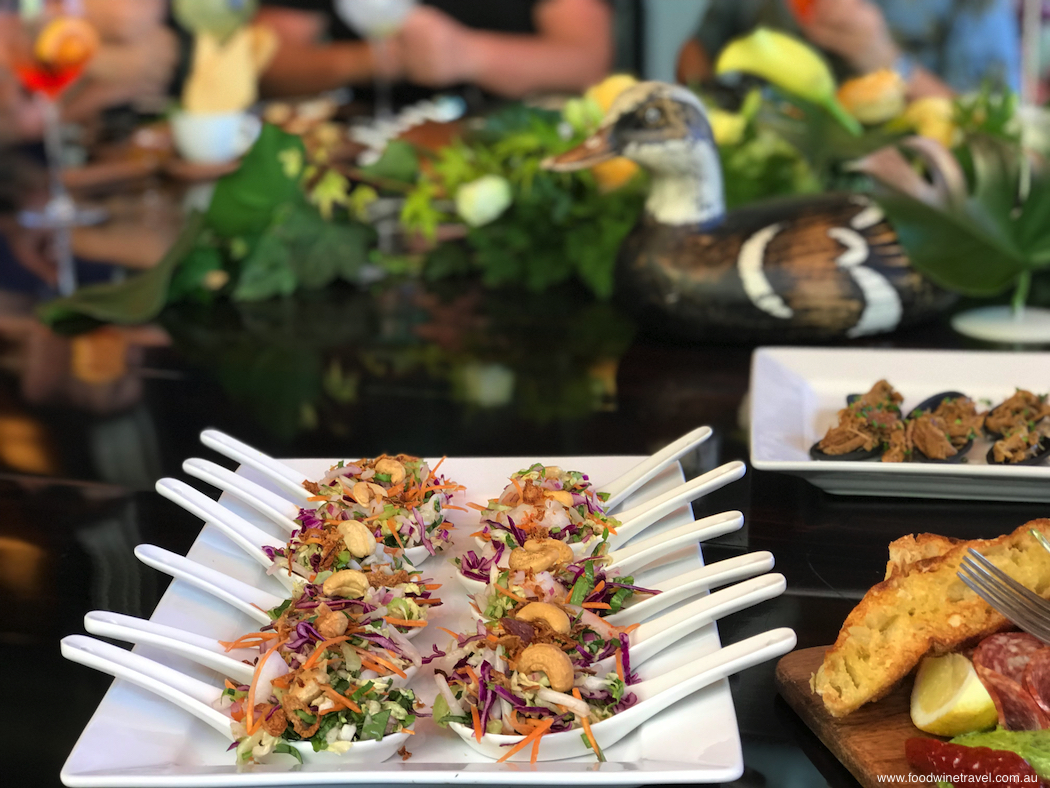 I think I've found my new favourite drink. It's a Limoncello Spritz, made just like an Aperol Spritz with Prosecco and soda water, but with Limoncello instead of the Aperol. Yum! This refreshing cocktail has summer written all over it, and was the perfect welcome at Esco, one of the newer restaurants at Queensland's Sanctuary Cove.
We were there for a progressive lunch hosted by four Sanctuary Cove restaurants, designed to give us a taste of The Marine Village, which if you haven't been already is definitely worth a visit. Located at the northern tip of the Gold Coast, it has some very smart shops and restaurants clustered around a marina full of very expensive looking boats.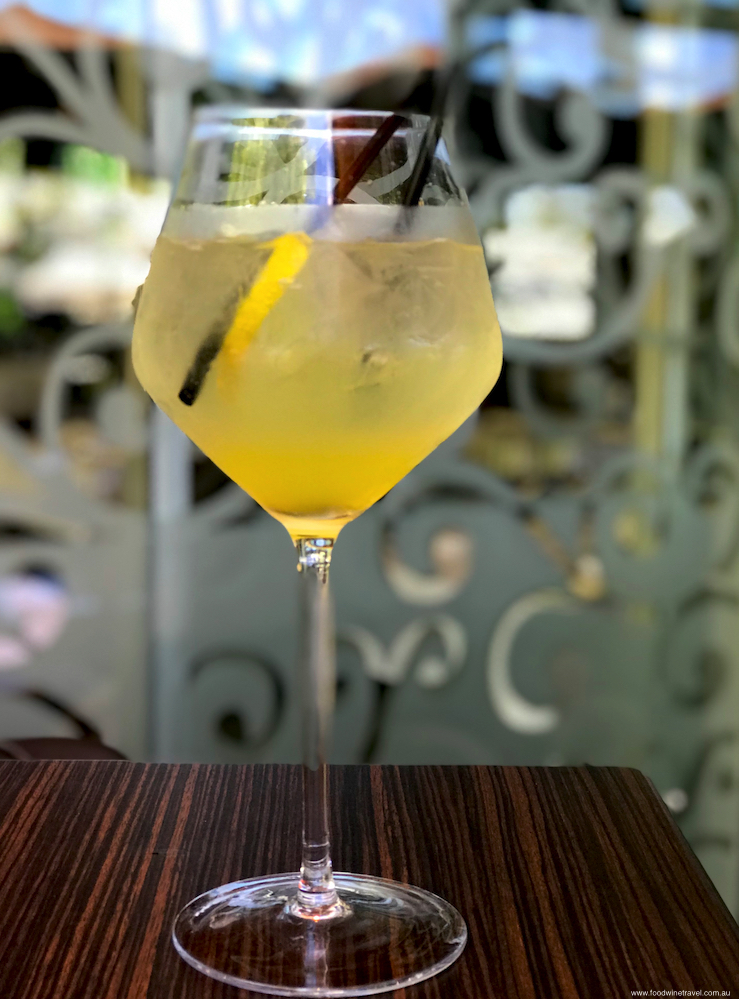 Our culinary journey began with drinks and canapes at Esco, followed by dumplings and other Asian bites at Dragon Cove, beef at Black Angus, and dessert and coffee at Artichoke.
Esco is a recent addition to popular Sanctuary Cove restaurant, Ioesco, and has a great breakfast and light lunch menu (or "after 11 options" as they are described on the menu). The restaurant uses local produce wherever possible, and apart from being totally in love with the cocktails – Aperol Spritz for Maurie and Limoncello Spritz for me – we were very impressed with the eclectic array of small bites.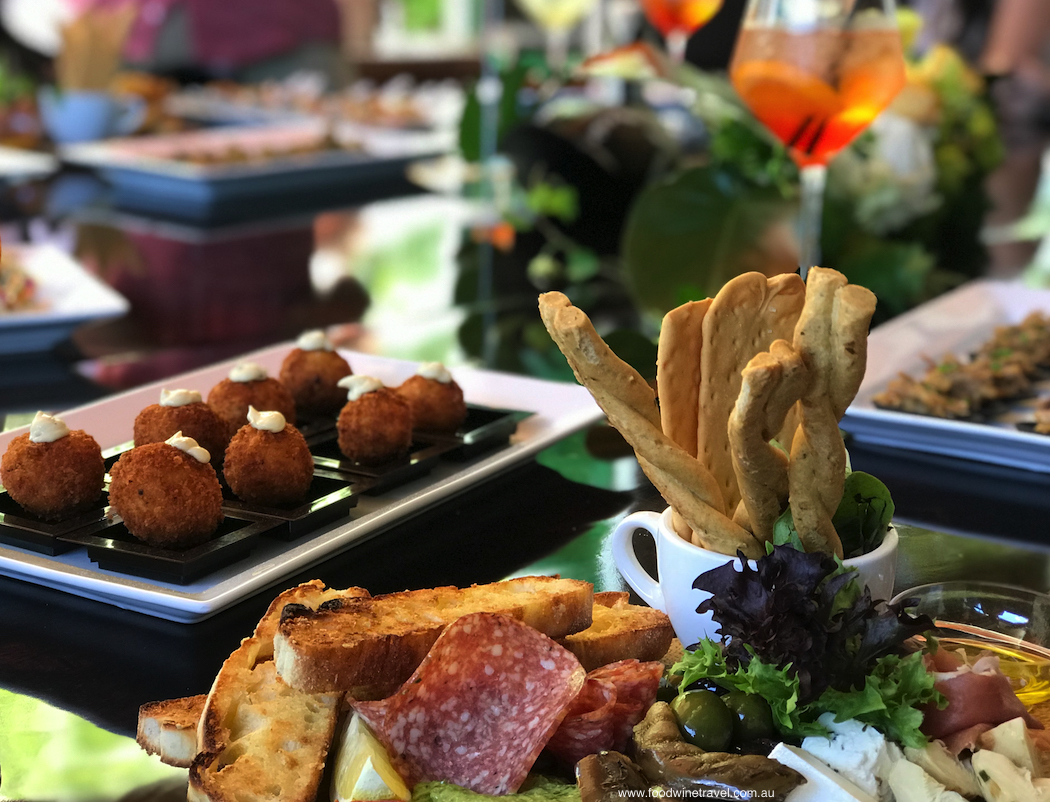 It would be hard to choose a favourite but the pumpkin arancini balls are definitely something you'd hop in the car and drive a long distance for. We also tasted an Asian-style grilled prawn and cashew appetiser served on individual spoons with fresh green herbs and a tangy lime chill dressing.
One interesting appetiser was the shredded duck which looked like it was served on stones, till someone mentioned you could actually eat the "stones". They were charcoal coloured with a texture a bit like prawn crackers. The charcuterie and antipasto boards were excellent too.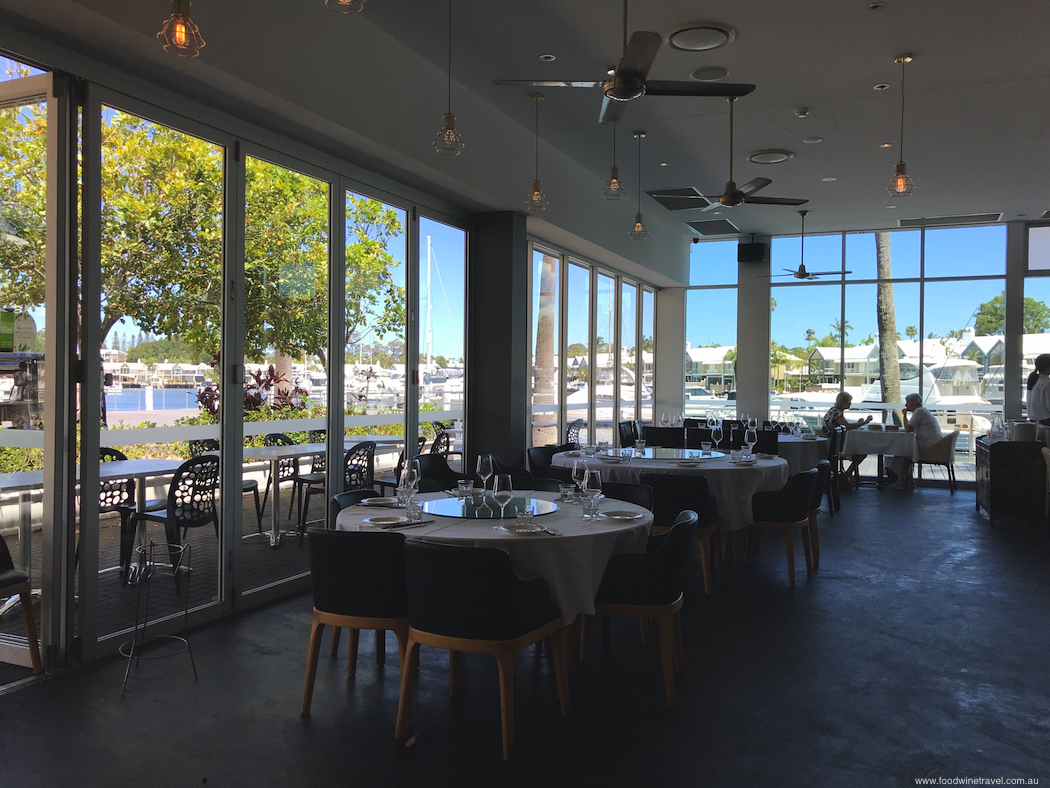 Dragon Cove is a spacious restaurant with floor-to-ceiling windows overlooking the marina. Towards the back of the restaurant, the walls are bright red with some booth seating and large circular tables for group dining.
The restaurant serves authentic Chinese dishes and the chef's specialty is Peking Duck, cooked fresh and carved at the table.
With more restaurants to visit still, we feasted on smaller dishes such as lightly battered whitebait, barbecued pork buns, steamed pork and prawn wontons with spicy vinaigrette, and Dragon Cove's signature steamed dim sum topped with prawn and fish roe.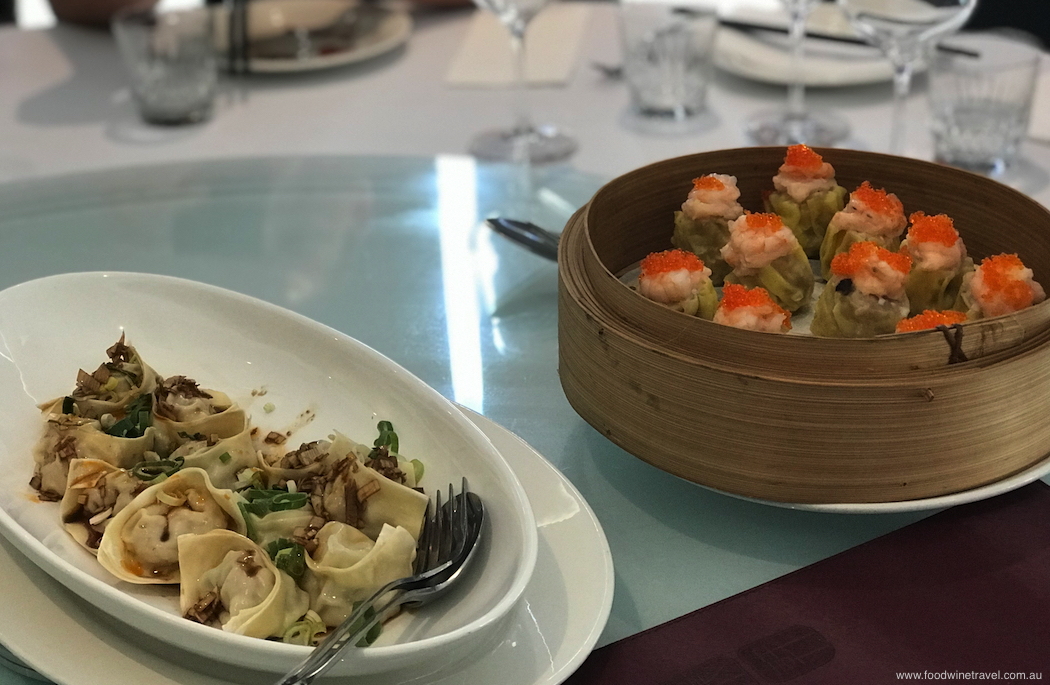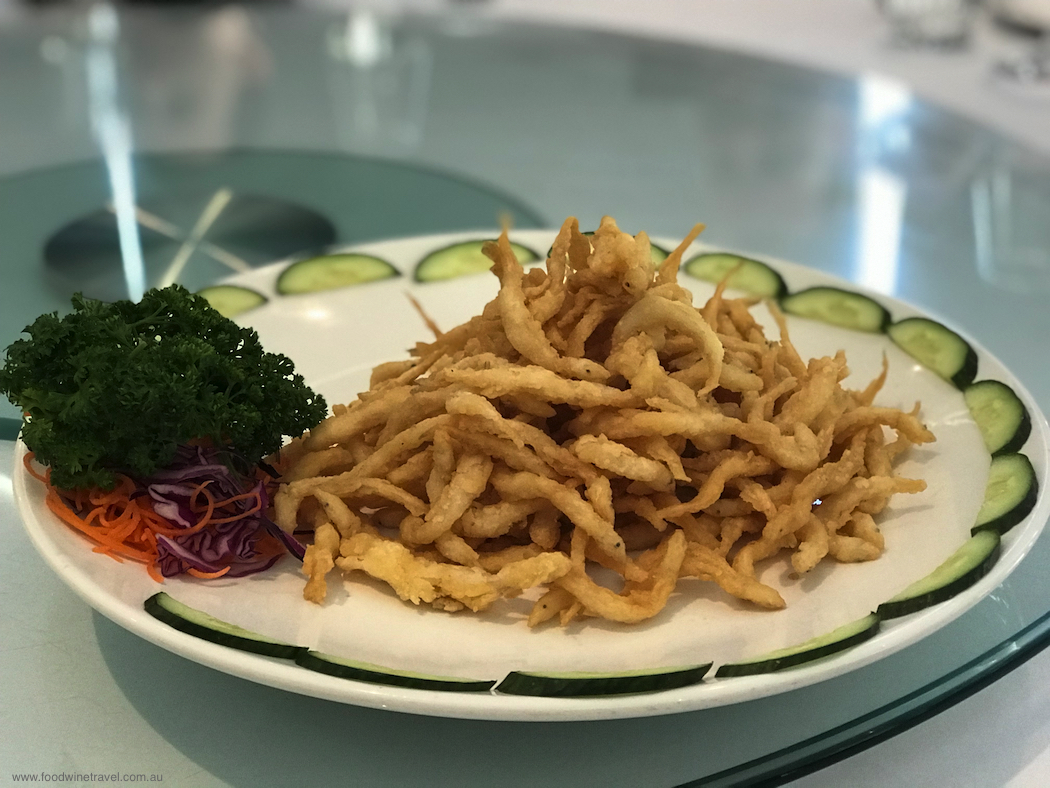 By now we were waddling our way to Black Angus Bar & Grill, where a glass of red went down nicely with the Wagyu tataki, served in a very eye-catching presentation with pretty-in-pink pickled ginger and watermelon radish. The steak, from Queensland's Macquarie Downs, has a marble score of 8 to 9 and was served rare, making it incredibly buttery and tender.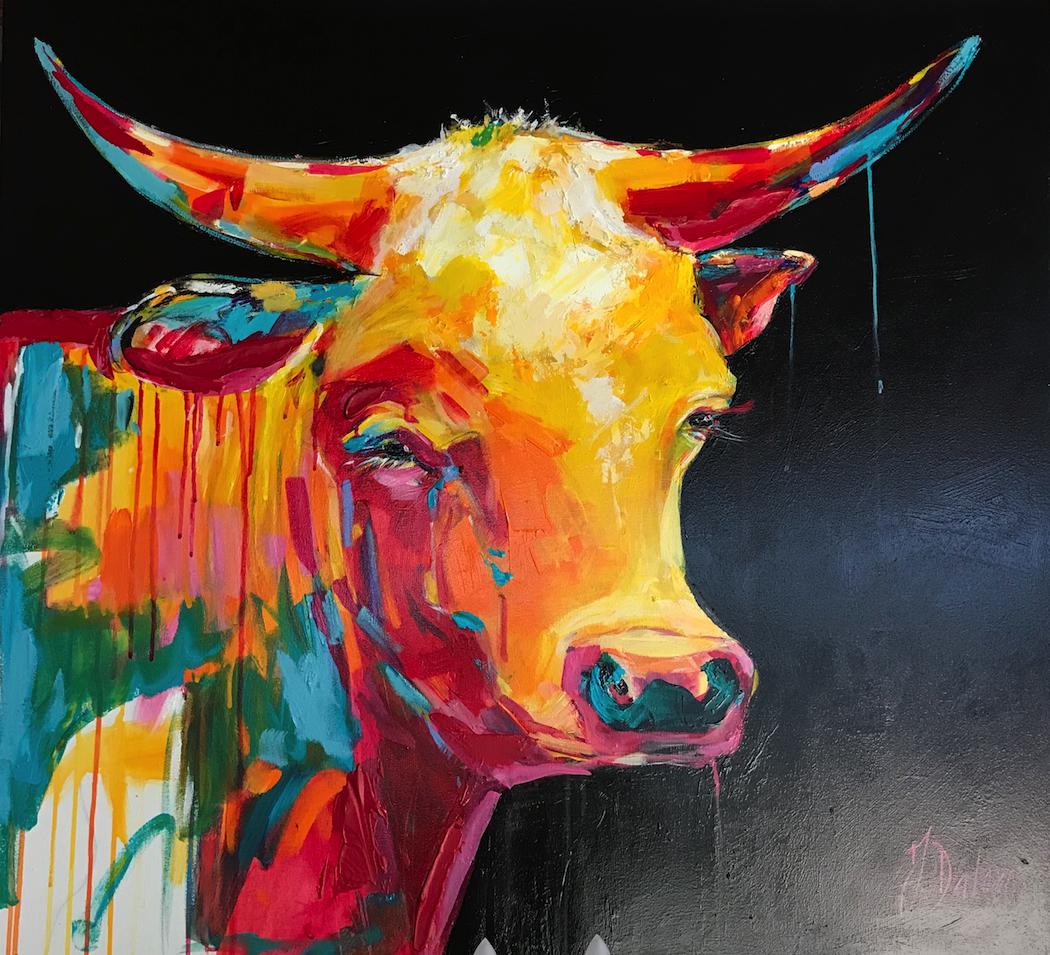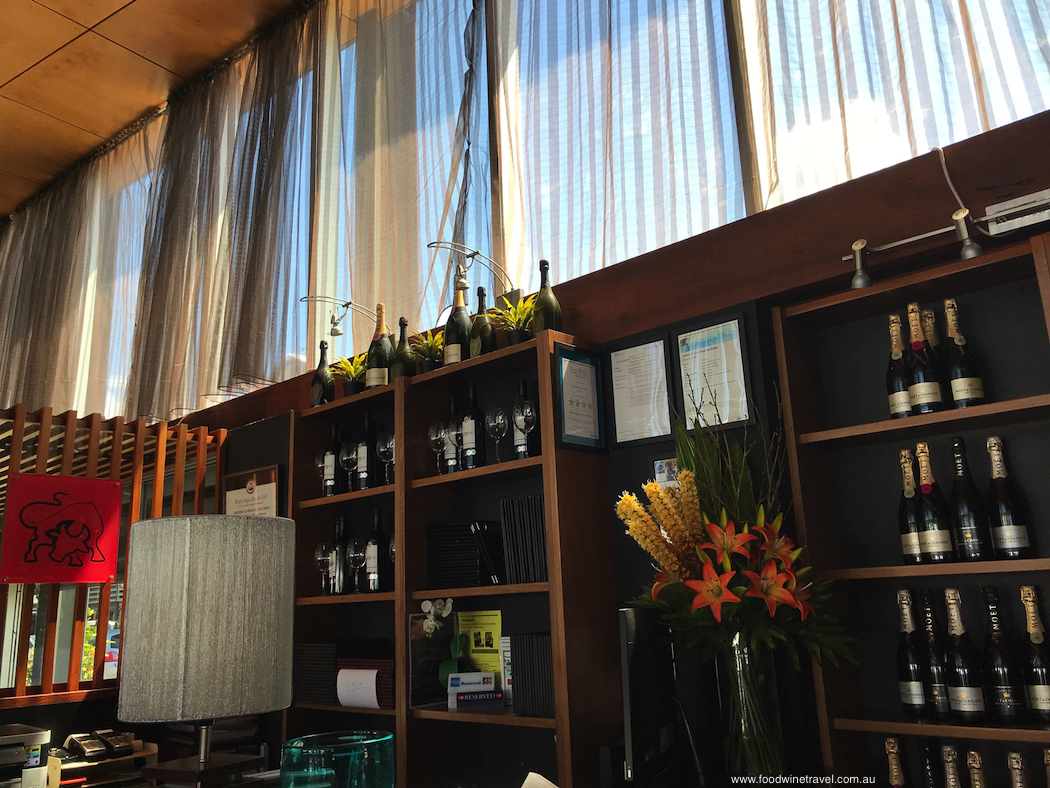 Macquarie Wagyu is exported worldwide and is one of a couple of premium beef brands on the menu at Black Angus. Awarded Grand Champion at the Australian Wagyu Association Branded Beef Competition, it was described by a panel of chefs and judges as "spectacular molten bliss! Very tender, good earthy caramel rich buttery flavours … crumbly in the mouth".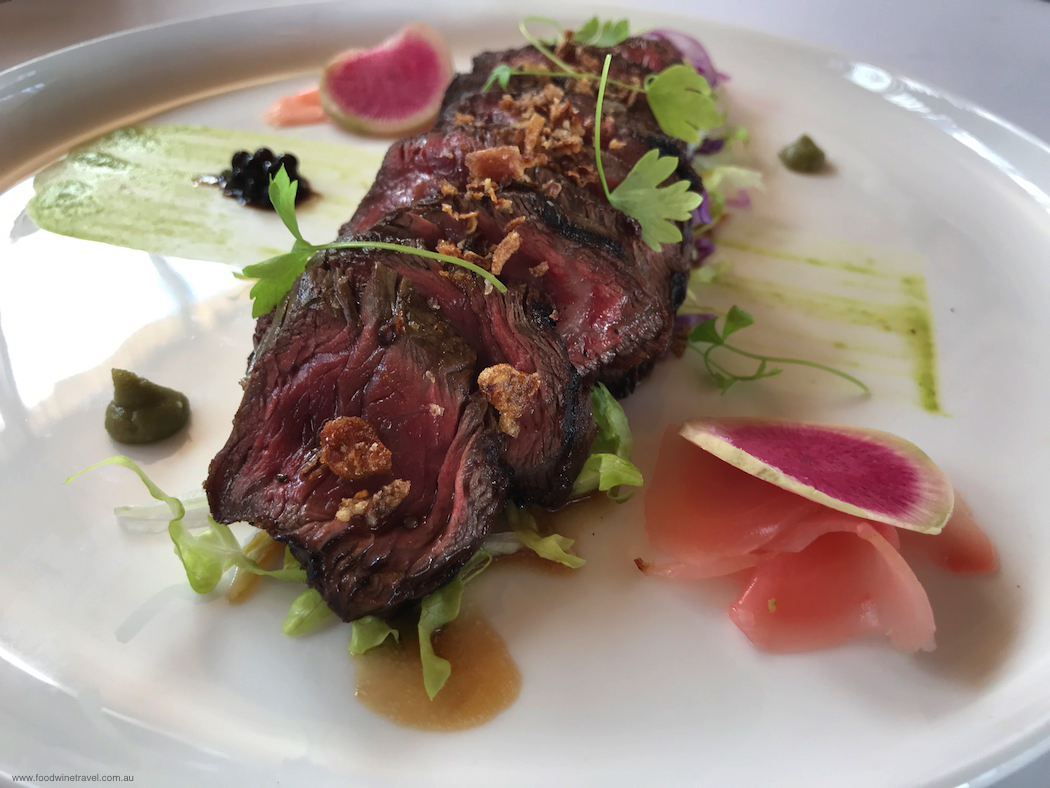 Black Angus serves chargrill steaks but it also offers hot rock cooking, where you cook your own steaks and seafood at the table, a great social experience. But it's not all steak; the restaurant also offers seafood, duck and lamb dishes.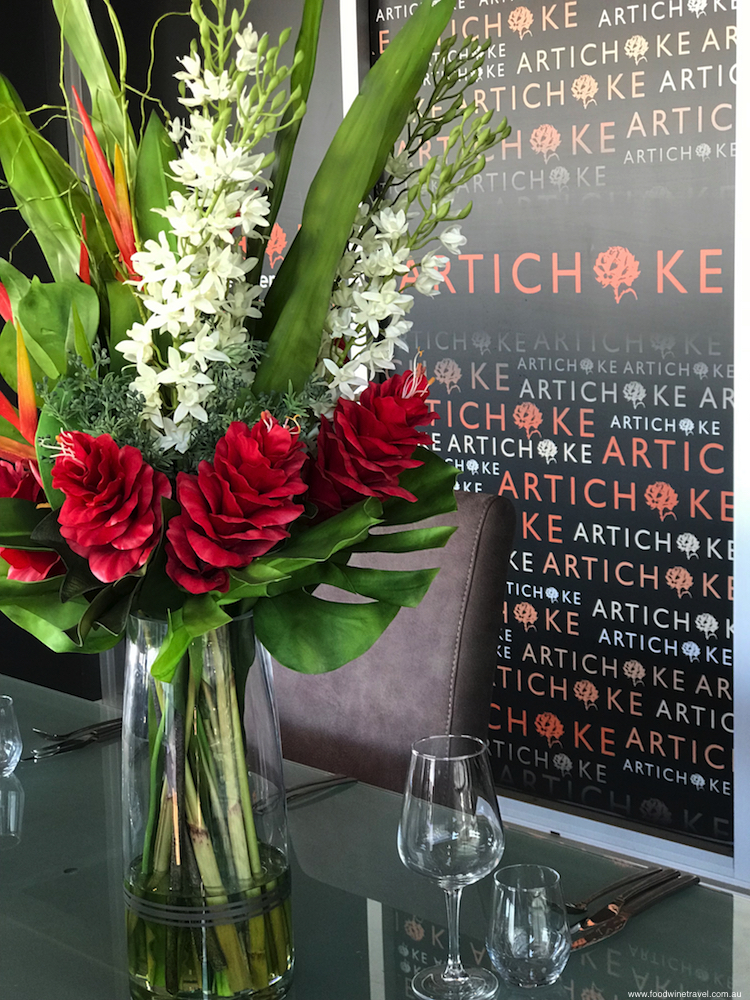 There were more great views from Artichoke Restaurant & Bar, which looks out over another part of the marina, opening up to gentle breezes. A stylish restaurant with gorgeous floral arrangements, cloth covered tables and a cool bar, it has an eclectic international menu with dishes such as saltbush lamb, braised vindaloo goat, 17-hour slow cooked beef, 180-day aged fillet with truffle spinach and cabernet shiraz, and some very appealing seafood dishes.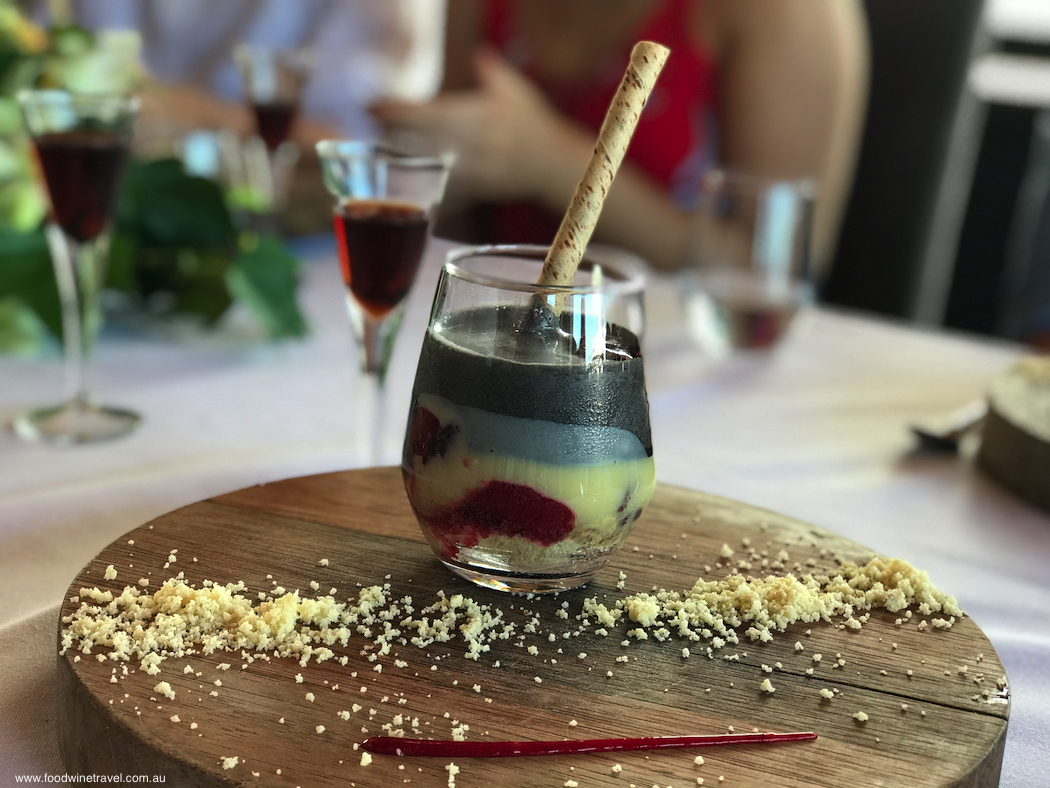 Alas, we weren't sampling the mains, only dessert, but that's okay, it was a terrific dessert, innovative and attractively presented in a glass. Called River Dance, it had layers of red velvet cake with raspberry, vanilla bean and yoghurt cheesecake mousse; double white chocolate with Frangelico, vodka and black sapote icecream; and hazelnut, walnut and macadamia nut crumble. The black sapote icecream was a surprise as it has been a long time since I tasted this exotic tropical fruit. For those who are unfamiliar with it, it comes up a bit like chocolate mousse.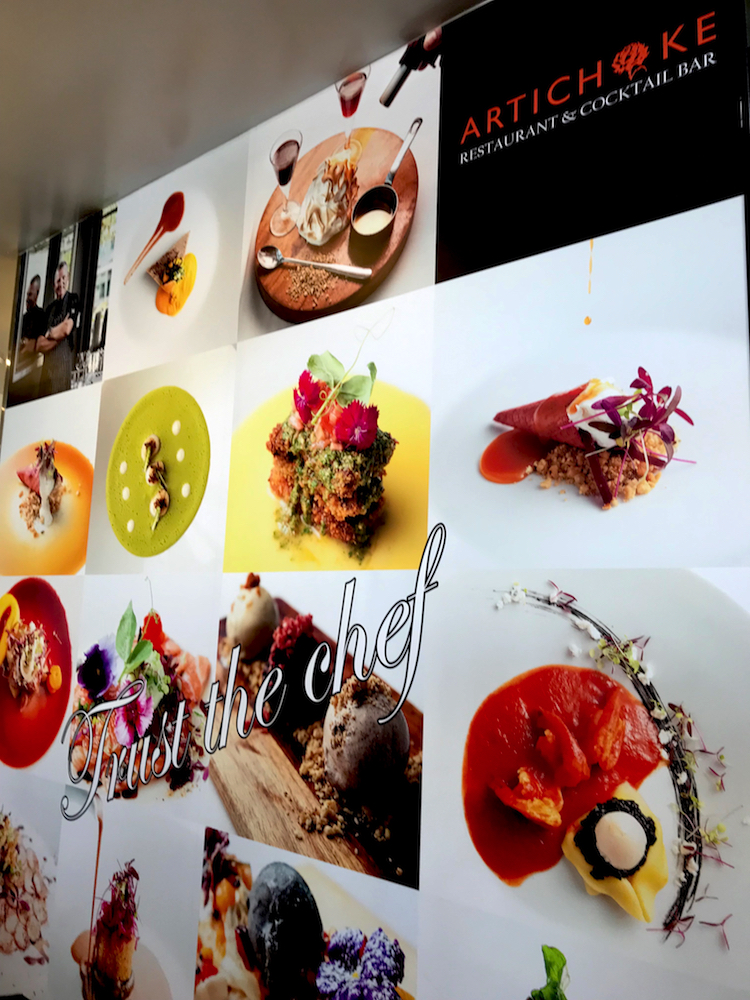 Lingering over glasses of Port (the real deal from Portugal) and locally roasted Merlo coffee, we vowed to return to check out more of the Sanctuary Cove dining options. If these four are anything to go by, there's much to look forward to.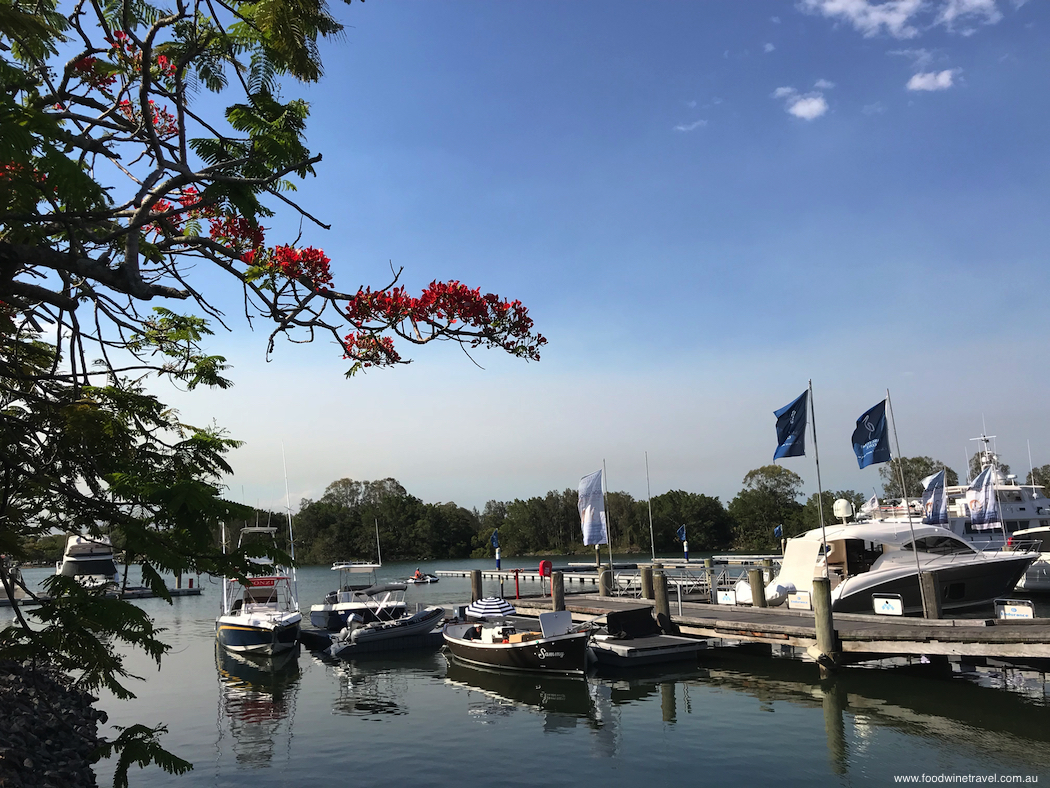 If you go:
The Marine Village
Masthead Way
Sanctuary Cove Qld 4212
Australia
Tel: +61 7 5577 6500
www.sanctuarycove.com
Thanks to Sanctuary Cove and Ruby Communications for hosting us at this lovely progressive lunch.