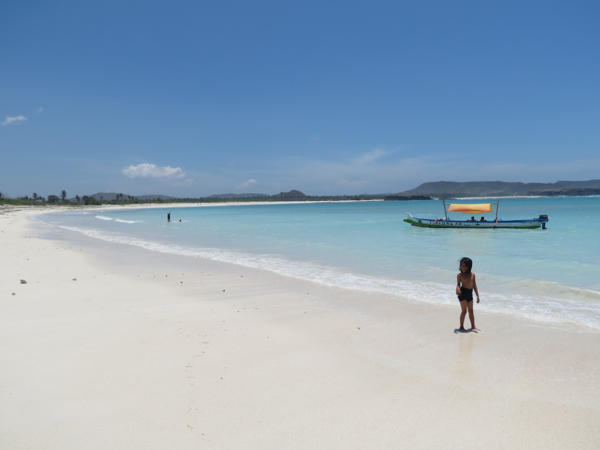 As a travel writer, I'm often asked what my favourite destination is. If truth be told, I don't really have a favourite – I know it's greedy, but I'd happily go (almost) anywhere in the world. The easiest way to answer the question is to say that my favourite destination is the one I visited last. So at the moment I'm madly in love with Lombok.
You're going to be hearing a lot about Lombok in the coming months. That's because the Australian Society of Travel Writers recently held its annual general meeting there, and about 100 writers and PRs took the opportunity to not only discuss the business of travel writing but also to relax and unwind in this beautiful part of the world.
It's often said that Lombok is like Bali was 30 years ago. I visited Bali for the first time only recently so I wouldn't know about that, but it's certainly like stepping into a time warp, with pony carts and crumbling colonial buildings in the cities and thatched-roof houses in rural areas.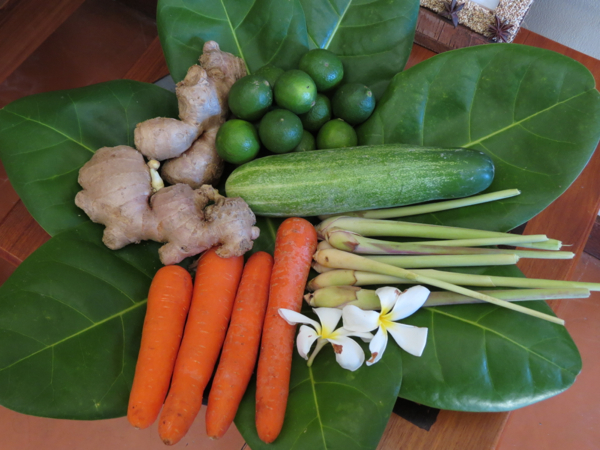 You won't find any terribly sophisticated shops or restaurants, although I enjoyed some brilliant meals that confirmed my love of Indonesian food. And although I stayed in a couple of really beautiful resorts, a lot of the accommodation is at the budget end of the market. There's plenty of scope for development and, not surprisingly, a lot of construction going on. Sadly, there's a lot of litter and a lack of infrastructure (many of the roads are abysmal).
But there are stunning beaches and glorious sunsets, lots of opportunities to experience the local culture, and an innocence and warmth about the people that we found really delightful.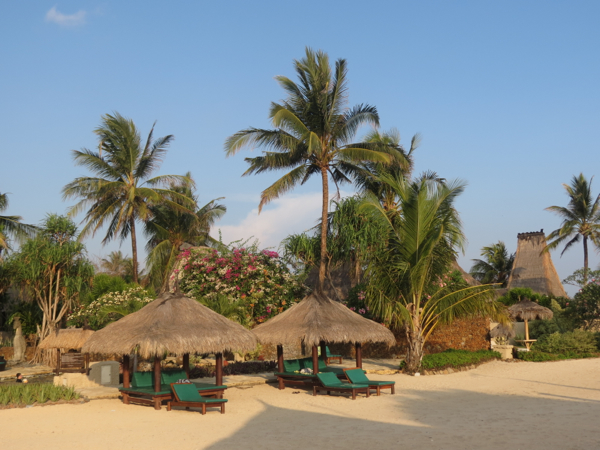 In one encounter, a group of teenage girls asked if they could take our photo and giggled shyly when we tried to engage them in conversation. And as we were leaving a pottery shop, the owner, Mr Mustakim, was so thrilled we had taken an interest in his work and bought some of his bowls that he embraced my partner warmly.
At both places we stayed – the Novotel Lombok (above) and Qunci Villas – we had some fabulous spa treatments that were not only very cheap but conducted with an air of gentility and attention to detail that was quite lovely.
And did I mention the food? At Qunci Villas, we had a satay sauce that is possibly the best I have ever tasted (beautifully presented in a 'bowl' made from a banana leaf) and a dish of blackened snapper that cost $10 and was one of the best meals I've had in a long time. At the Novotel, we had an egg curry that was to die for, and a fruit jelly that was a pure expression of the tropics. Brian, I want the recipes!
Garuda, one of the main sponsors of the event, delivered us there in comfort and had a customs official on board to process visas on the plane, ensuring a painless entry.
The Novotel provided a beautiful setting for the AGM with a cocktail party and a dinner held on the sand, under the stars, with stalls set up serving all manner of local delicacies.
The fabulous staff of the Novotel provided much of the entertainment and we created beautiful music on angklung – wooden instruments that were given to everyone who attended (or at least the music would have been beautiful if we'd paid attention to the instructions).
And Novotel GM Brian Townsend… What can I say about Brian, the GM who never sleeps, the man who makes things happen? He organised for one of his staff to take my partner and I on a six-hour island tour, wherever we wanted to go, for a flat rate.
Herman was a delightful and knowledgeable guide who picked up on the things we were interested in and took us to them. That was how we saw a mosque that had changed little in 1000 years and met the villagers who were making a new thatched roof for it.
Terima kasih (thank you). We loved Lombok and we'll be back.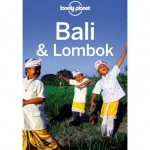 Related post: Lombok-style Egg Curry (and a fabulous dessert); Postcard of the Week.
I found the Lonely Planet guide to Bali/Lombok to be invaluable in planning my trip. It is available from Book Depository with free postage worldwide.