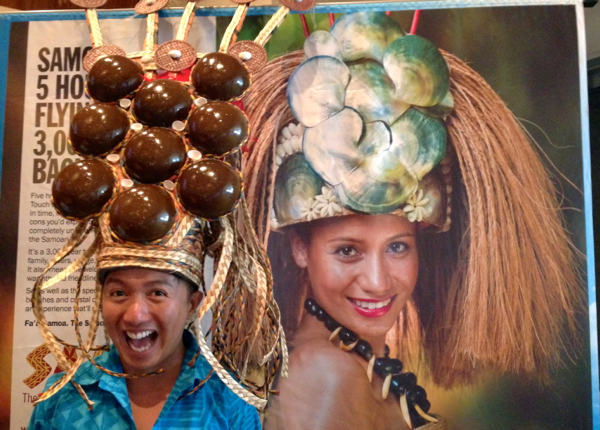 I've just come back from the Australian Society of Travel Writers Christmas party and am thrilled to report that I won one of the lucky door prizes. So it looks like I'll be experiencing the gorgeous Sinalei Reef Resort & Spa in Samoa some time next year!
My prize is for 3 nights' accommodation in what I've been told is one of the loveliest resorts in this South Pacific island paradise. I'll be sure to also check out Aggie Grey's iconic hotel, a place that has been on my wish list ever since I was a kid.
The Samoa Tourism Authority sponsored today's lunch at the Kirribilli Club in Sydney, giving writers a taste of Fa'a Samoa (the Samoan way) through graceful dances and the presentation of a special headdress to the authority's PR man Peter Sereno (pictured)
Ben Hazelwood performed his new single and we were among the first to hear it live – I have to confess I never watched The Voice (am I the only person in Australia who didn't?) but he can count me as a new fan.
The club put on some great food – including a beautifully cooked fish dish and a stunning dessert buffet – and we were regaled with images of picturesque Polynesian landscapes and happy, smiling people. I can't wait to go.
For information about Samoa, visit www.samoa.travel