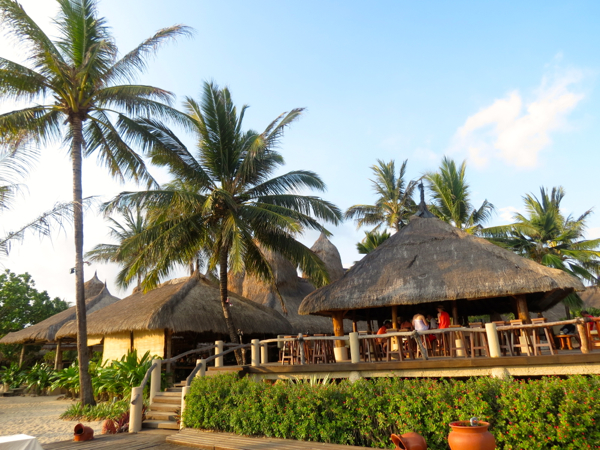 If you've been following my posts, you'll know that I recently spent a few days kicking back at the Novotel Lombok.
Designed by Bill Bensley and Lek Bunnag, a duo responsible for many of the most beautiful resorts in Asia, it's a unique resort that blends perfectly with the surrounding landscape.
Laid out like a traditional Sasak village with terracotta walls, soaring thatched roofs and lots of natural stone and timber, its beachfront bars and restaurants, Spice Market and the more upmarket, Vue, have sweeping views over Kuta Bay (no, not THAT Kuta … Lombok has a Kuta too).
I love Indonesian food and dutifully worked my way through a long list of local specialities. As readers of my earlier blog post know, one of my favourite dishes was a fantastic Egg Curry – or Telur Bumbu Taliwang as the locals call it, which sounds a whole lot more charming, don't you agree?
Another treat was a dessert jelly, redolent of lemongrass and tropical fruits (also quaintly named, Pudding Buah). I begged GM Brian Townsend for some recipes, and true to his word, our very genial host has forwarded the following.
I've yet to replicate these dishes at home so you'll have to bear with the recipes as supplied, but I guarantee they are worth it.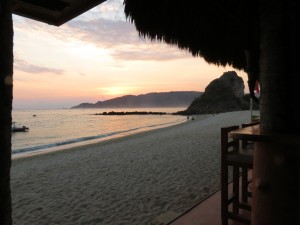 Fact file:
Novotel Lombok
Mandalika Resort Pantai Putri Nyale
Pujut Lombok Tengah
Indonesia
+62 (0) 370 615 3333
Related posts: Loving Lombok; Postcard of the Week.
TELUR BUMBU TALIWANG (Lombok-style Egg Curry)
5 hard-boiled eggs
100ml salad oil
20g dried red chilli
10g dried shrimp paste
100g shallots
20g garlic cloves
30g red chilli (large)
10g kencur root (lesser galangal)
50g brown sugar
50g candlenut
20g red hot chilli
25ml vegetable oil
20g small kaffir lime leaves
50g lemongrass
10g dried bay leaves
400ml coconut milk
Deep fried shallots for garnish
Salt and pepper                                                                                            –
Boil the eggs until well cooked. Peel and deep fry then set aside.
To make the bumbu taliwang (curry paste):
Boil 20g dried red chili, then put in a blender and blend until it becomes a smooth paste. Set aside.
Put the rest of the ingredients (except kaffir lime, lemongrass, bay leaves and coconut milk) into the food processor. Blend together with some oil until it becomes a very smooth paste.
Transfer the paste into the pan with some oil, add the kaffir lime leaves, lemongrass, bay leaves and dried red chilli paste.
Cook over a medium heat, add the coconut milk and egg, and continue to cook for 5 minutes. Check the seasoning; add salt and pepper to taste. Finish with deep fried shallots and serve.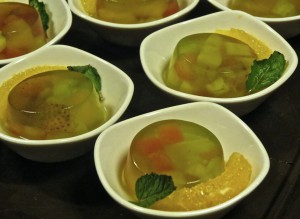 PUDDING BUAH
1 litre water
10 grams agar agar powder (jelly powder)
250g caster sugar (granulated sugar)
150g lemongrass
10g pandan leaf
250g diced mixed fruit (such as strawberry, kiwi, rockmelon, watermelon, orange)
Put water, agar agar powder, sugar, lemongrass and pandan leaf into a saucepan and cook over a medium heat.
Gently stir until boiling. When it boils, remove the lemongrass and pandan leaf and pour the mixture into jelly moulds. Allow to cool.
When jelly is cool, put the diced mixed fruits into the jelly moulds. Put in the refrigerator and allow to set for 15 minutes.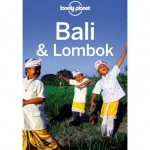 I found the Lonely Planet guide to Bali/Lombok to be invaluable in planning my trip. It is available from Book Depository with free postage worldwide.