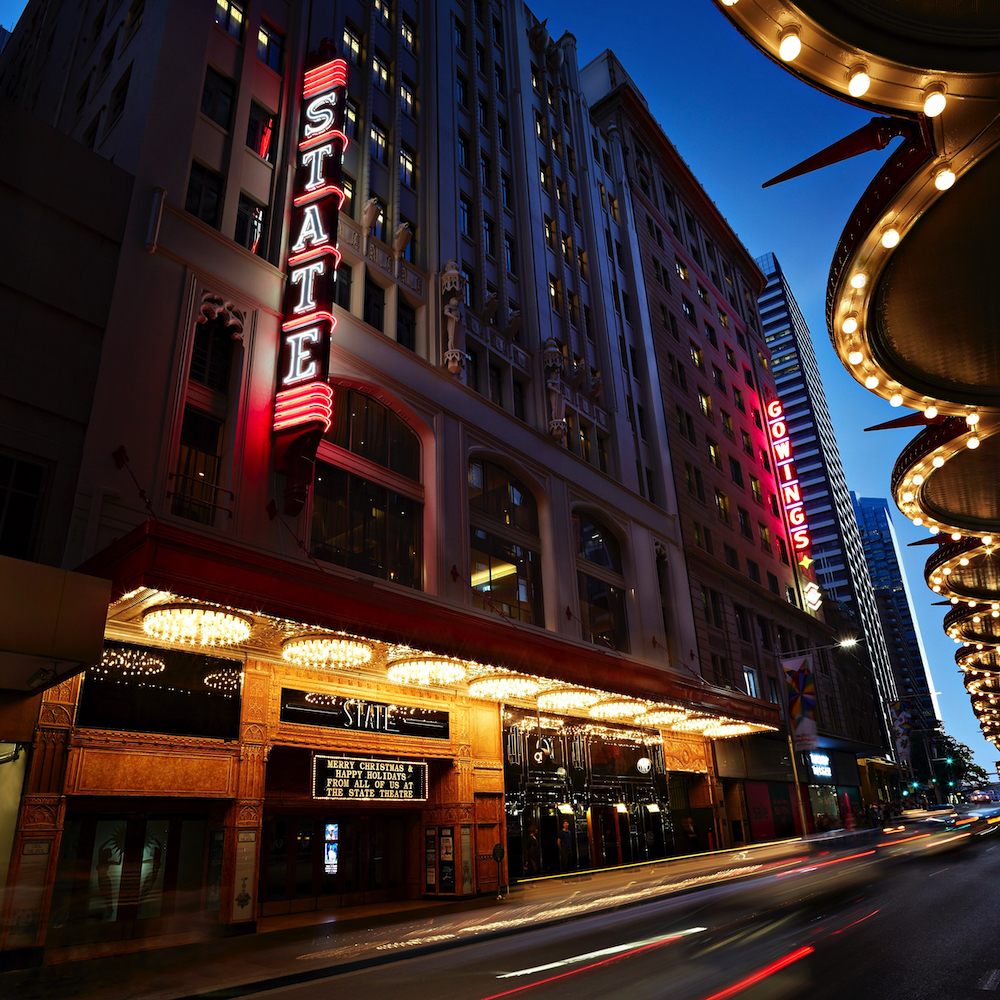 It would be hard to find a more theatrical welcome than the one at QT Sydney Hotel. The bellhops in their jaunty outfits emerge seemingly from nowhere on the crowded footpath before greeting us enthusiastically, offering to take our bags and directing us to the lift which takes us up to the foyer.
This is a hotel that really has the wow factor, even before the staff turn on the charm offensive. Spread across the upper floors of the State Theatre and the former Gowings department store, it retains its heritage façade and historic elements such as its timber floors, tiled staircases, gargoyles and old Gowings signage.
The eaves over the footpath dazzle with dozens of globes lit up like a star's dressing room mirror. It adds to the showbiz glamour, heightened by the hotel's location next door to the beautiful old State Theatre. Next to the hotel entrance on the ground floor is the history-laden Parlour, with its original glass shop cabinets and beautiful mosaic tiled floors. The café transforms into an aperitivo wine bar in the late afternoon.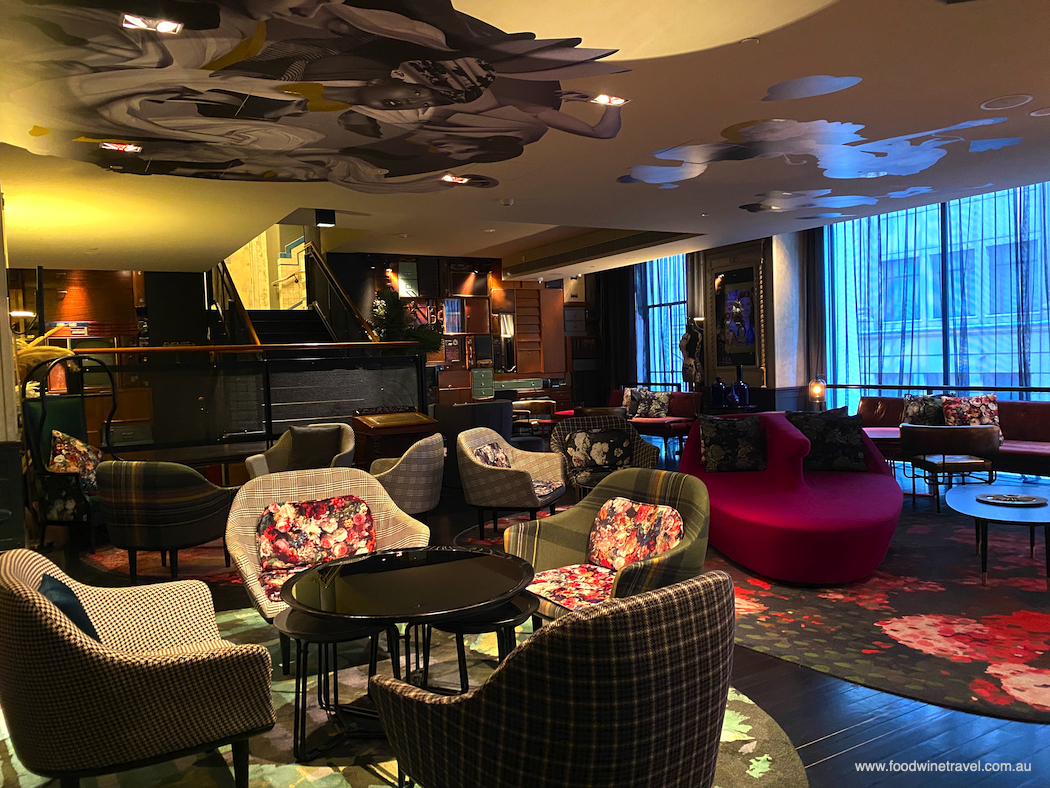 Built in 1929, the theatre and former State Shopping Block (Australia's first vertical shopping centre) are two of Sydney's grandest historical buildings, their eclectic architecture combining cinema baroque with elements of Gothic and art deco design. When it opened as the QT in September 2012, it was the first 5-star hotel to open in Sydney's CBD in more than a decade.
QT Hotels & Resorts has a philosophy of 'expect the unexpected', each of its properties having its own local character combined with QT's signature quirkiness. And quirky the QT Sydney is, at every turn, the old department store shell setting the scene for a little decadence and much frivolity.
From bowler hats used as light shades, to cutting-edge art, there's an eclectic mix of unique artefacts and bespoke furniture, and a daring use of colour and art. In the foyer, an installation by Swedish artist Michael Johansson catches our eye. The 'luggage wall' he created is an entire wall of objects — doors, desktops, window frames, lockers and signage elements — all sourced from within a three-kilometre radius of the hotel.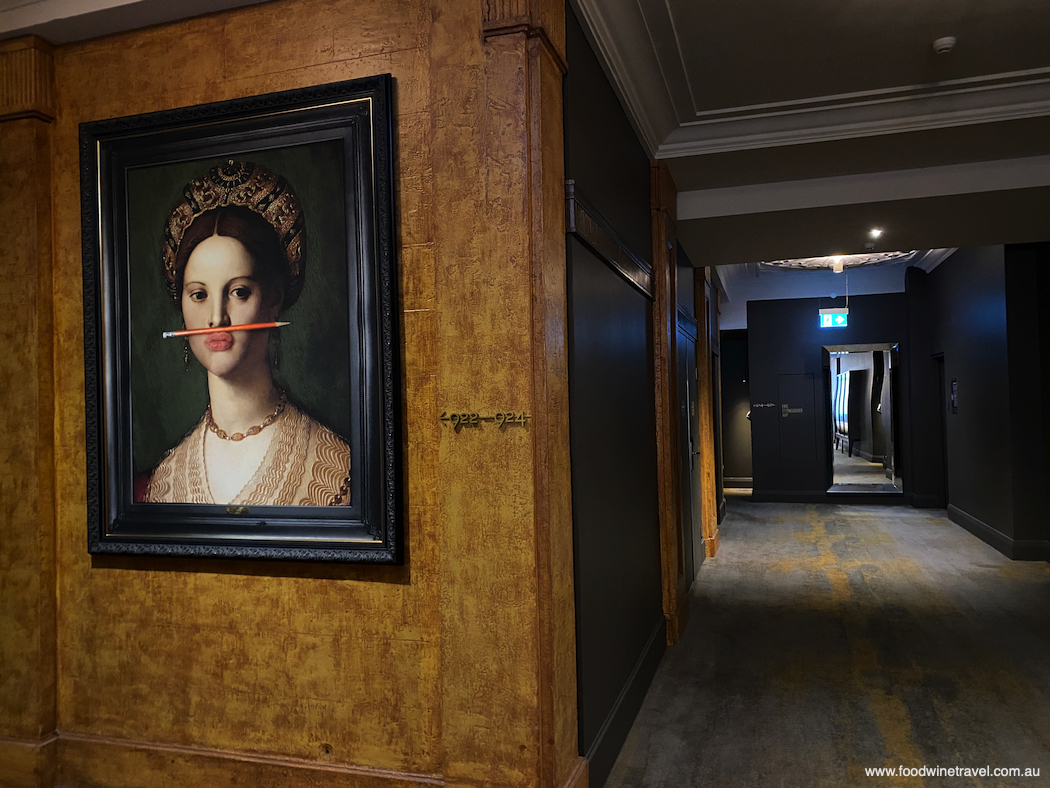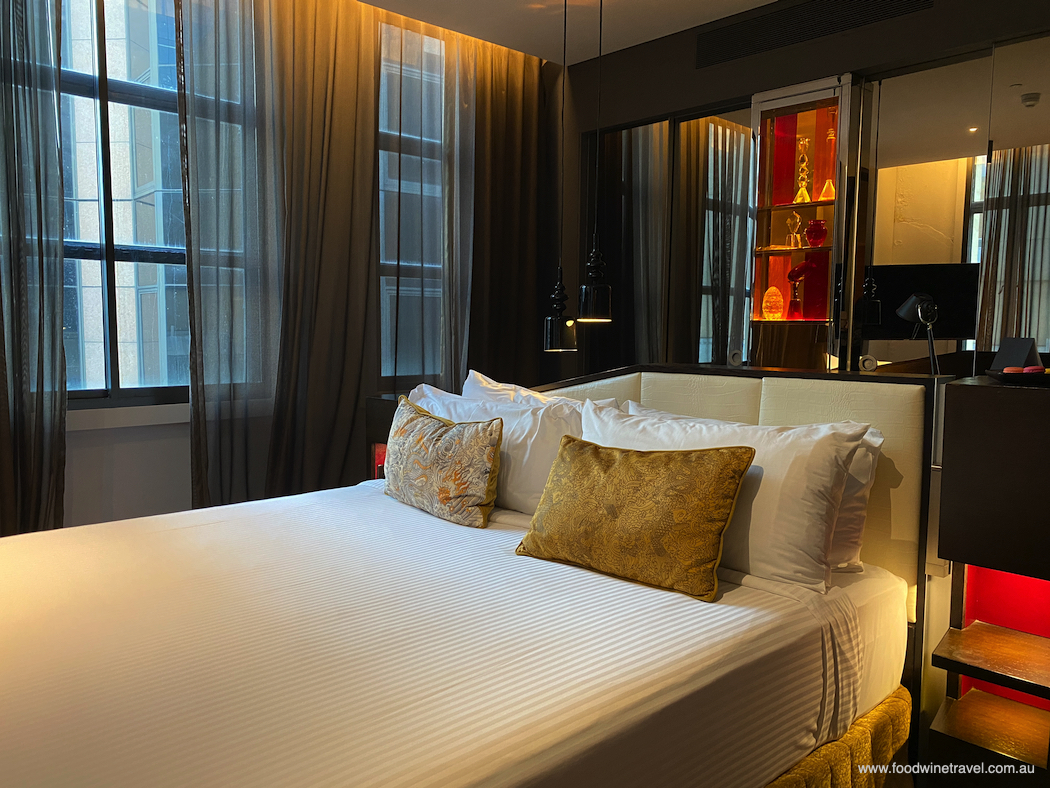 The guest rooms on each floor are individually designed and styled: you could stay here more than a dozen times and always have a different style of room. The décor is luxurious, moody and edgy, with quirky collectables and decorative pieces providing pops of colour.
Our executive king room overlooking Market Street is a corner room with windows on two sides, offering a great view of Centrepoint Tower. I open the door on what I think is a wardrobe and realize it opens a window to the bathroom, allowing light to stream into what would otherwise have been a very dark space (it's all about dramatic black backdrops here). As well as a walk-in shower, the bathroom has an enormous round bathtub that you could have a small party in. (Jokes. We were very well behaved!)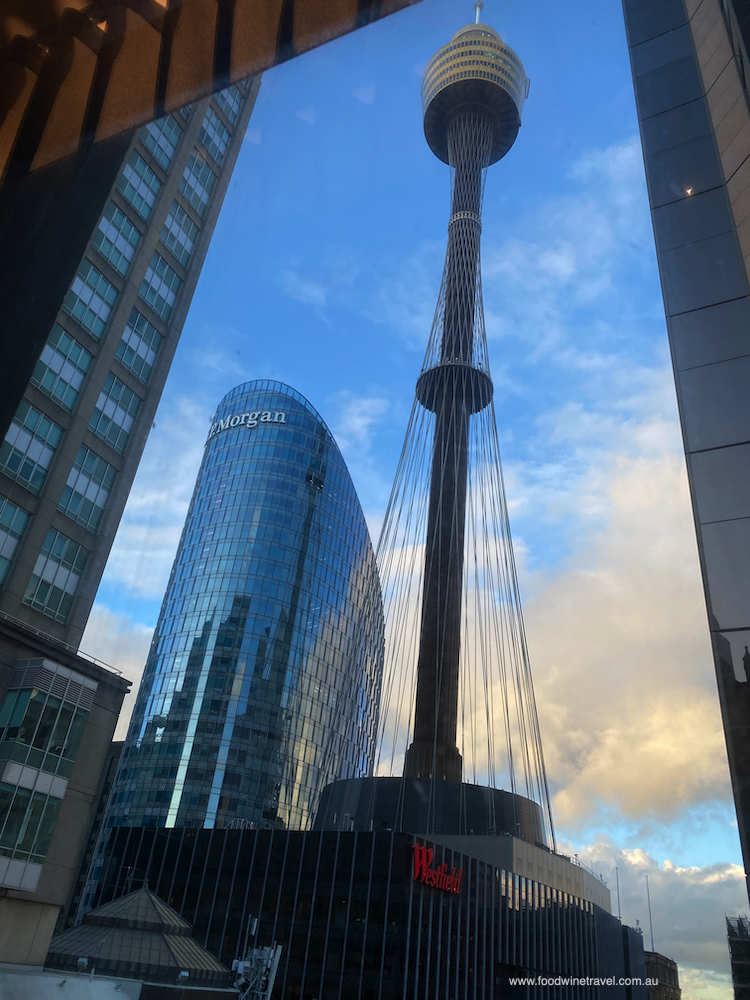 In the mini bar, a coffee machine is provided for a caffeine hit, and there are ingredients for pouring a cocktail, but instead we head to the bar. It's Tuesday evening but Gowings Bar and Grill is pumping with what appears to be numerous large corporate groups. The restaurant staff are jauntily dressed in 1920s braces, continuing the theme from check-in. You can read all about the restaurant in our separate post.
The QT Sydney is at the corner of George Street and Market Street, a prime location near the Queen Victoria Building. The light rail runs along George Street, offering convenient access to Circular Quay and all parts of the city.
The effusive welcome we received on arrival at this uber-cool hotel was not a one-off; the farewell was equally cheery.
If you go:
QT Sydney Hotel
49 Market Street,
Sydney NSW 2000
Australia
Tel: +61 (0)2 8262 0000
www.qthotels.com
With thanks to the QT Sydney for hosting us for a night at this beautiful hotel. We stayed in room 924. Make sure you read our separate post on the QT's fabulous Gowings Bar & Grill.