New hotels have blossomed in Brisbane over the last few years, each with their own distinctive style. The Adina Apartment Hotel Brisbane's point of difference is in its stunning heritage bones and the way in which its stylish and contemporary apartments integrate so seamlessly into the design.
The heritage-listed building at the corner of George and Elizabeth Streets is one of those grand old bank buildings the likes of which we'll never see again. Originally housing the Queensland Government Savings Bank, it was the city's first high rise government office building and one of the tallest buildings in Brisbane when it opened in 1922.
It was considered exceptional, especially the ground-floor banking chamber with its immense size, lavish columns, ornate ceiling, detailed cornices and marble finishes. It's still exceptional. Although dwarfed today by modern high rises, the building still takes the breath away with its opulence and elegance.
Step inside the former banking chamber, now the hotel reception, and you are taken straight back to the Art Deco era, with its original timber panelled walls and decorative high ceilings with ornate ceiling roses and chandeliers. Follow the marble chequerboard floors and china blue walls with striking murals to the elegant lifts and you'll further appreciate how artfully this beautiful building has been restored.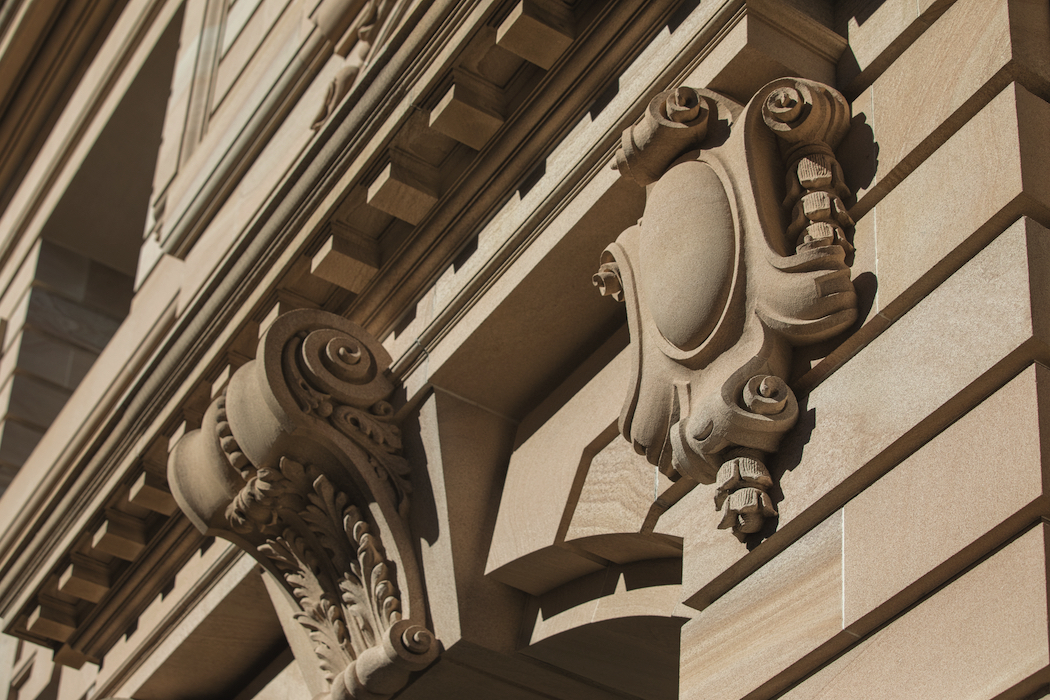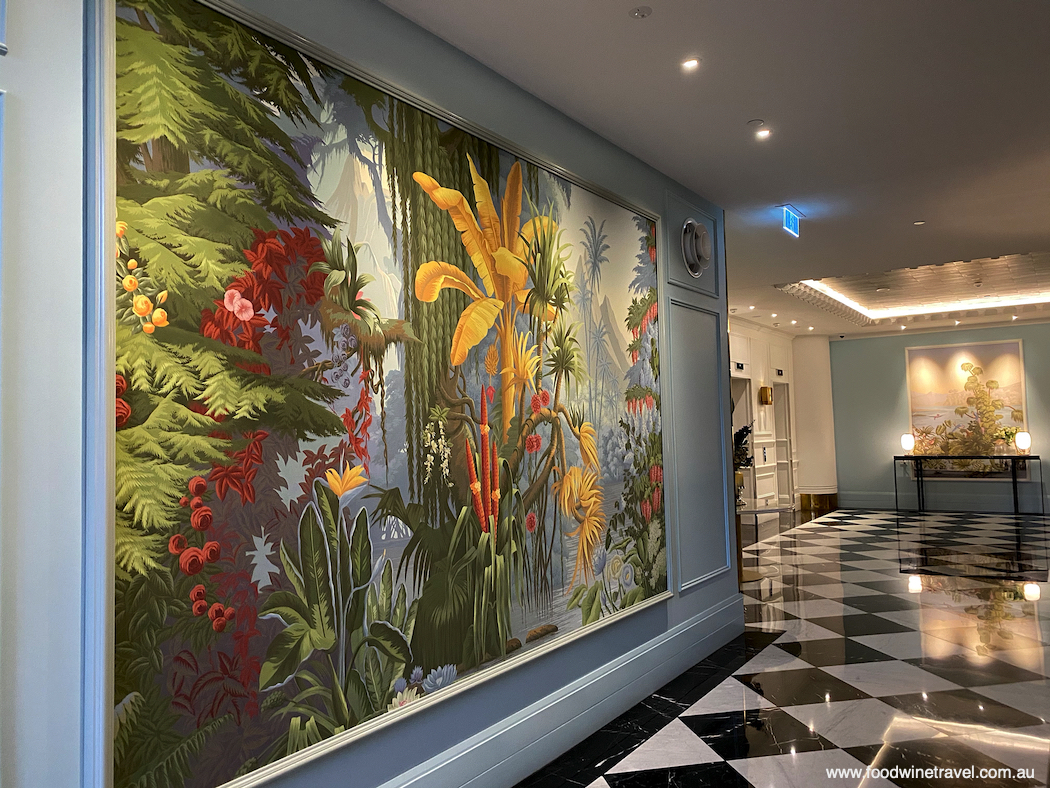 The hotel has 220 rooms and suites, with a choice of studio, one-, two- and three-bedroom apartments, contemporary in their décor and all equipped with kitchen and laundry facilities. Herein lies the appeal of TFE's Adina Apartment Hotels, which provide the facilities of home alongside full hotel services including 24-hour reception, free wi-fi, fully equipped gym and heated swimming pool.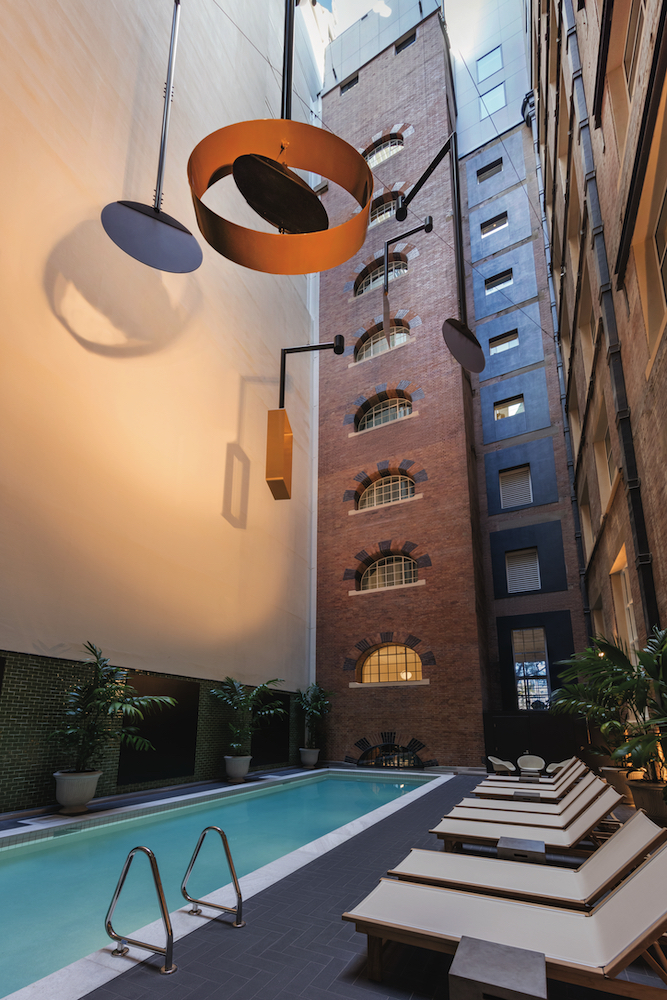 We were surprised to find when stepping out of the lift on the 11th floor that we were in a completely new part of the property. When the building was restored, five floors were plonked on top, and these of course are the ones with the balconies and expansive views. Even a dismal wet day couldn't dampen our spirits considering our view of the Brisbane River and across to Southbank.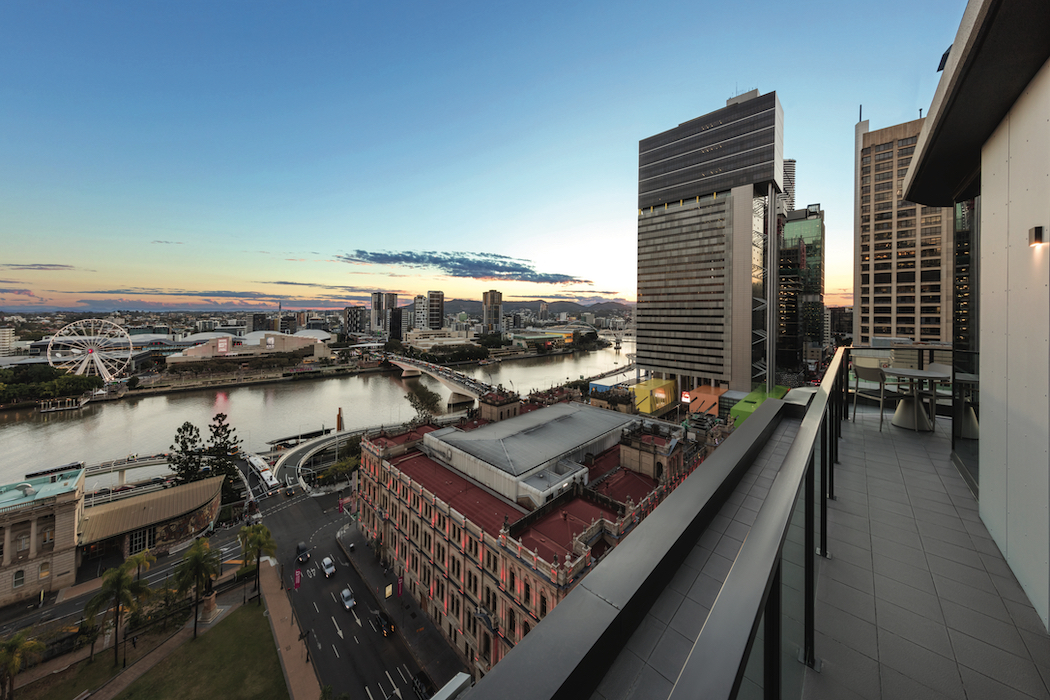 Our one-bedroom apartment had a separate living area and kitchenette with full-sized fridge, elegant bathroom with washing machine and clothes dryer, and queen-sized bedroom with Dreamcatcher bed. Supremely comfortable sleep guaranteed!
The hotel is ideally located for both business and leisure stays. It's an easy walk to the Brisbane Convention and Exhibition Centre, the Queensland Performing Arts Centre and restaurants in Southbank, and the Queen Street Mall. It's also very handy to the CityCat ferry terminal.
Despite having parked in the hotel carpark, we braved the rain and took the ferry across the river to a fabulous jam session at the Brisbane Jazz Club. Adina encourages its guests to "live like a local" and explore the local neighbourhood, and we certainly took the opportunity to do that, rain not withstanding.
On the ground floor of the Adina Apartment Hotel Brisbane is the very stylish Donna Chang, which we've dined at previously. It's one of our favourite Brisbane restaurants with its exquisite Cantonese cuisine and gentle nod to Sichuan flavours.
We stayed before the Covid-19 lockdown but TFE Hotels has since rolled out its Clean Touch safety and hygiene program to give you peace of mind when you stay.
If you go:
Adina Apartment Hotel Brisbane
171 George Street,
Brisbane QLD 4000
Australia
Tel: +61 (0)7 3155 1000
www.adinahotels.com
We stayed in Room 1104. With thanks to TFE Hotels for hosting our one-night stay. Photos by Food Wine Travel where indicated. Other photos supplied by TFE Hotels.