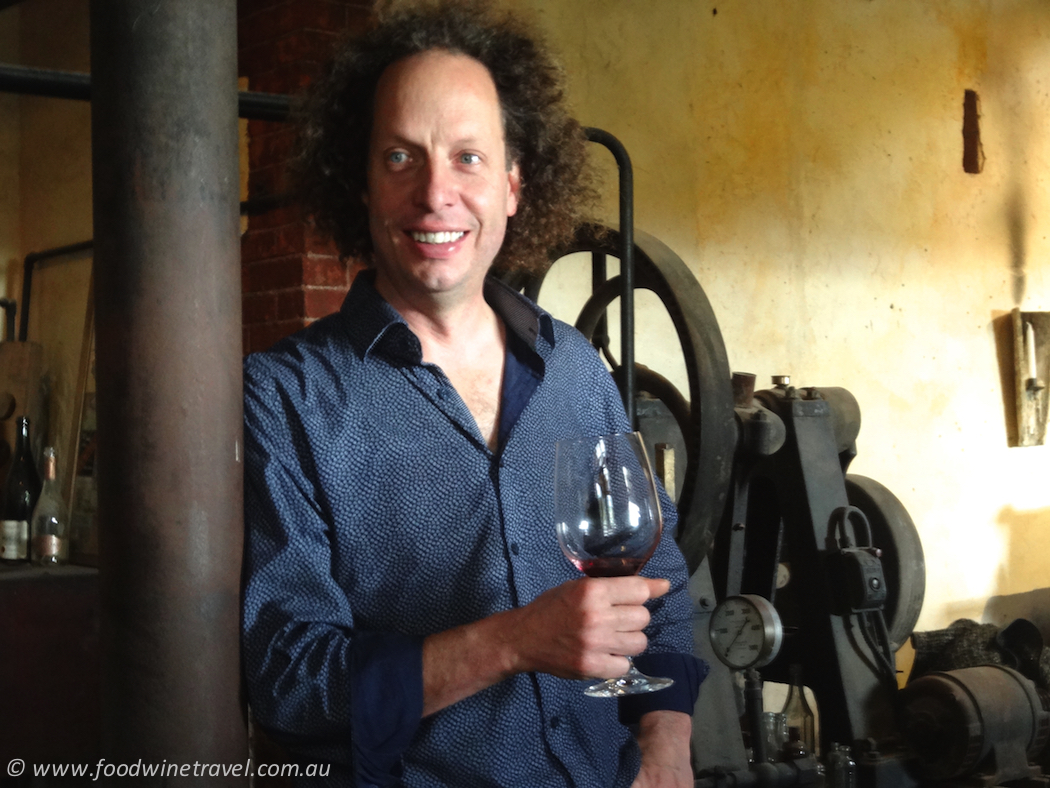 "You can canoodle on the couch," says Justin McNamee as he welcomes us to his warm and cosy cellar door, located in a 19th century stone barn overlooking the rugged landscape of Onkaparinga River National Park.
McNamee established Samuel's Gorge in 2003 and describes himself as the "booze plumber". Standing in front of a roaring fire with his dog, Pascoe, reclining on the lounge, McNamee tells us about his experience filming Plonk.
"All wine movies tend to be pretty dull. I'm used to serious tech talk. I fully understood what the filmmakers were trying to achieve with Plonk," he said. "Wine is just a small part of the South Australian experience. I love it when people communicate wine the way they want to be spoken to."
Despite his enthusiasm for more approachable wine speak, McNamee is earnest when relaying his thoughts on the wine show system, corks (he still uses them) and how he makes his reds with traditional methods such as open slate fermenters and a basket press.
He sticks to making reds because he works "in a province that makes rustic reds well" and he is very much guided by a sense of place. Specialising in four key varietals, Grenache, Shiraz, Mourvedre and Tempranillo, he sources fruit from a range of sites and soils in order to achieve the depth and complexity of flavour he is after.
"Ultimately we present wines that are great to drink and yet have structural support to ensure that they cellar well," he said.
I'm impressed with the Samuel's Gorge 2013 Grenache, the 2013 Tempranillo and the somewhat sleepy 2014 Graciano, but the Kaleidescope Horizons 2011 Grenache Tempranillo is the one that really hits the spot. Made only in select years when the fruit is truly outstanding, it is rich and textural with a beautiful sweet spice.
"Our mantra is to make wines that sing," said McNamee. "I think at the end of the day it's an industry of romance."
Fact File:
Samuel's Gorge
Chaffeys Road
McLaren Vale SA
Australia
+61 8 8323 8651
www.gorge.com.au
Thanks to the South Australian Tourism Commission for hosting FoodWineTravel on the #roadtoplonk