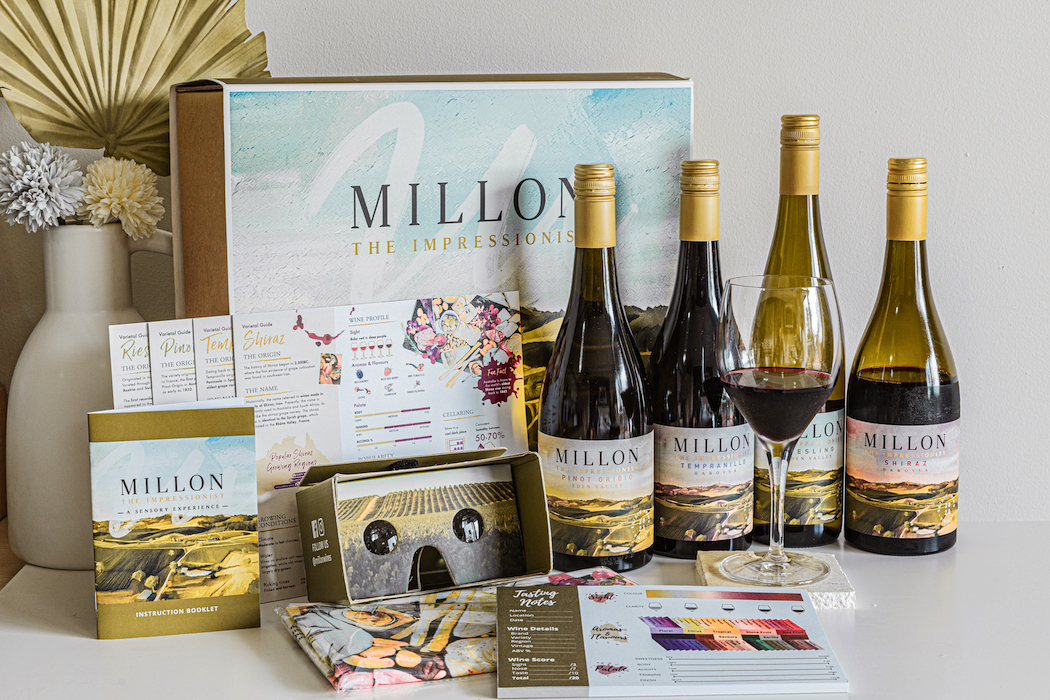 For someone starting out on their wine journey, here's a great idea for introducing them to a few different varieties and enhancing their knowledge. Millon Wines has put together a Christmas gift pack which includes four varietals from their range, 'The Impressionist'. The Eden Valley Pinot Grigio, Eden Valley Riesling, Barossa Tempranillo and Barossa Shiraz boast new labels illustrating Millon's picturesque South Australian vineyards.
The family-owned winery takes its name from the Spanish word for million, millón, a nod to the traditional values of old-world winemaking and the millions of hours that have gone into creating these new-world wines. (They're also hoping to inspire millions of toasts during the festive season!)
The Christmas gift pack costs $85 and includes fun accessories such as a VR headset and video to view the vineyards, a 'cheeseboard' tea towel by Burbia, educational guides and pairing tips. The four wines in the pack are stylish, easy-drinking and vegan-friendly. You'll have a lot of fun gathering together a group of friends to enjoy them with the foods suggested in the notes that come with the pack. A Spotify playlist is provided for each wine.
2021 'The Impressionist' Eden Valley Pinot Grigio: Beautifully aromatic with flavours of pear, lychee and lime juice, finishing with a crisp, refreshing acidity.
2021 'The Impressionist' Eden Valley Riesling: Delicate floral aromas give way to an elegant, restrained wine with notes of citrus and apple and a lingering minerality typical of Riesling from one of Australia's finest Riesling-producing regions.
2020 'The Impressionist' Barossa Tempranillo: With a Spanish name, Millon, it's fitting that there should be a Spanish varietal in the line-up. This one is medium-bodied and bright with flavours of plums and red berries, and a touch of spice. The tannins are fine and silky, and it all goes down a treat with tapas and charcuterie.
2020 'The Impressionist' Barossa Shiraz: From the Eden Valley sub-region of the Barossa, a higher-altitude, cooler area that produces elegant wines with great purity, in this case flavours of plums and ripe red berries, with hints of spice and chocolate.
The wines are priced at $18 if bought individually. The limited-edition gift pack at $85 is a fun and affordable gift for someone or could be the basis for a fun afternoon/evening when entertaining over the festive season. More information on the Millon Wines website.