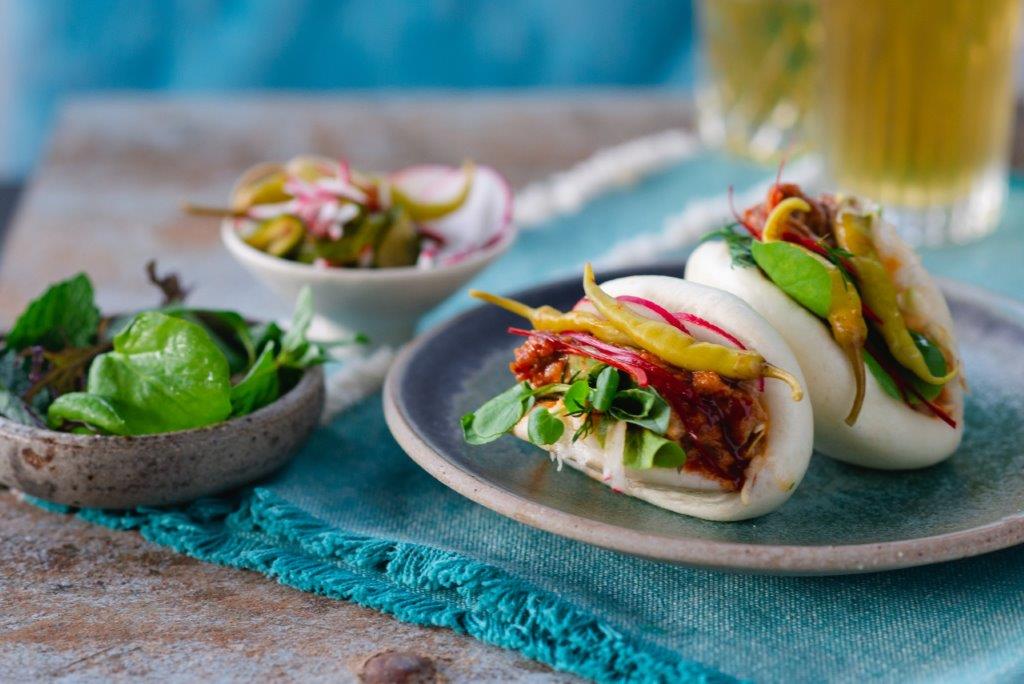 It can be hard to find a good restaurant open in Brisbane on a Monday night, which makes the Monday Bao & Bowls evening at Spicers Balfour Hotel doubly attractive. This gorgeous boutique hotel in New Farm is a favourite of ours … it's quintessentially Brisbane, set as it is in and around a lovely old Queenslander house, with views of rusty roofs and the Story Bridge from the rooftop bar, and lush tropical foliage in the front courtyard. We've dined on the veranda of Spicers Balfour a number of times and never tire of the beautiful setting.
Head chef Nick Stapleton oversees a modern Asian menu, inspired mainly by Vietnamese cuisine but also drawing on traditional French techniques. We think he's onto a winner with his concept for drawing people in on a Monday night, when many venues typically close. The Monday night Bao & Bowls menu costs $49 for three courses (Bao + Bowl + Dessert), making it a very reasonably priced way of experiencing this lovely restaurant. Better still is that you can BYO wine on Monday nights, making it even more attractive price-wise.
Having said that, a full beverage list is also available. You can enjoy before or after dinner drinks (or both) under the frangipanis in the courtyard or in the rooftop bar. We opted for the latter and it was quite magical as the sun was setting over the Story Bridge. The cocktail list is imaginative and we both enjoyed our chosen cocktails: The Convict ($20, a refreshing blend of rum, Amaro Montenegro, cinnamon and lemon) and The Evolutionist ($18, a tangy blend of Four Pillars Gin, yellow Chartreuse, lemon and lemon myrtle, with a scoop of lemon myrtle sorbet floating in it).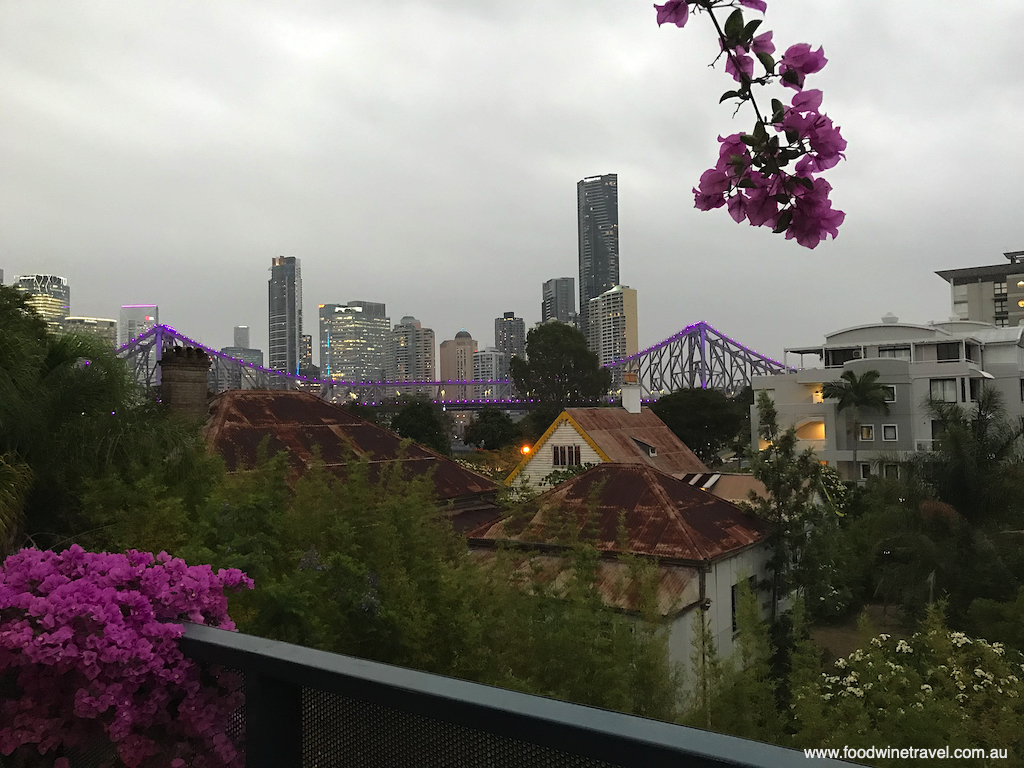 The Bao & Bowls menu kicks off with a shared platter of ingredients and four fluffy buns so that you can build your own bao using ingredients including pulled pork, tamari mushrooms, fried prawns, pickles, sriracha slaw, 10 spice, hot & sweet sauce and tamarind dressing.
There's a choice of bowls, each boasting robust Asian flavours and served with rice: Twice-cooked beef in Aunty 5's sauce on shaved cabbage with Asian herb salad; Vietnamese curry of tofu, baby corn and broccolini; and the Chef's special bowl ($8 supplement) which changes weekly.
A couple of options can be added to the bowls: thrice-cooked chats with sriracha mayo ($10) and truffled prawn crackers ($8), but we honestly couldn't have eaten one more thing.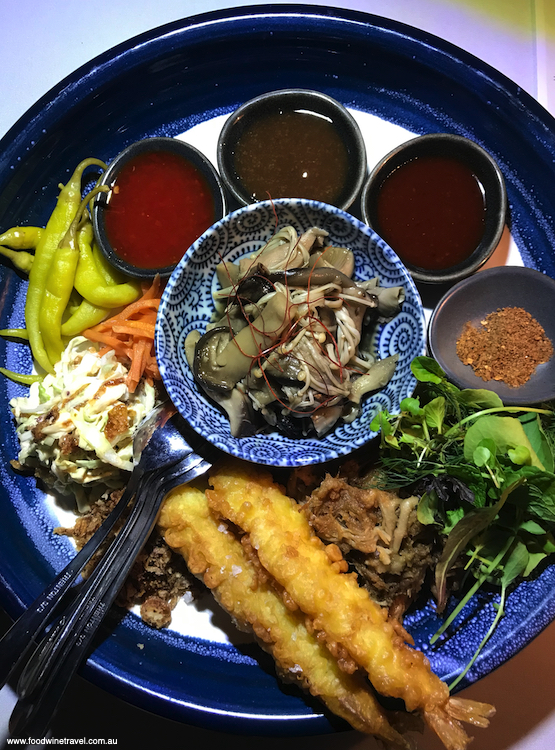 The "I scream for ice cream" dessert consists of two scoops of icecream made from condensed milk and cinnamon, topped with crunchy chocolate "pearls".
The menu is proving popular with locals, hospitality staff and those who love a touch of Asian informality. Chef Nick Stapleton says it was inspired by how he loves to eat at home "on a summer evening, with a couple of beers, when friends pop in … Also, traditionally, for hospitality staff who mostly call Mondays their weekend, it can be challenging to find restaurants open."
We think it's perfect for a catch-up with friends or family on a summer's evening. Those with furry friends will be interested to know that dogs are welcome in the courtyard dining area.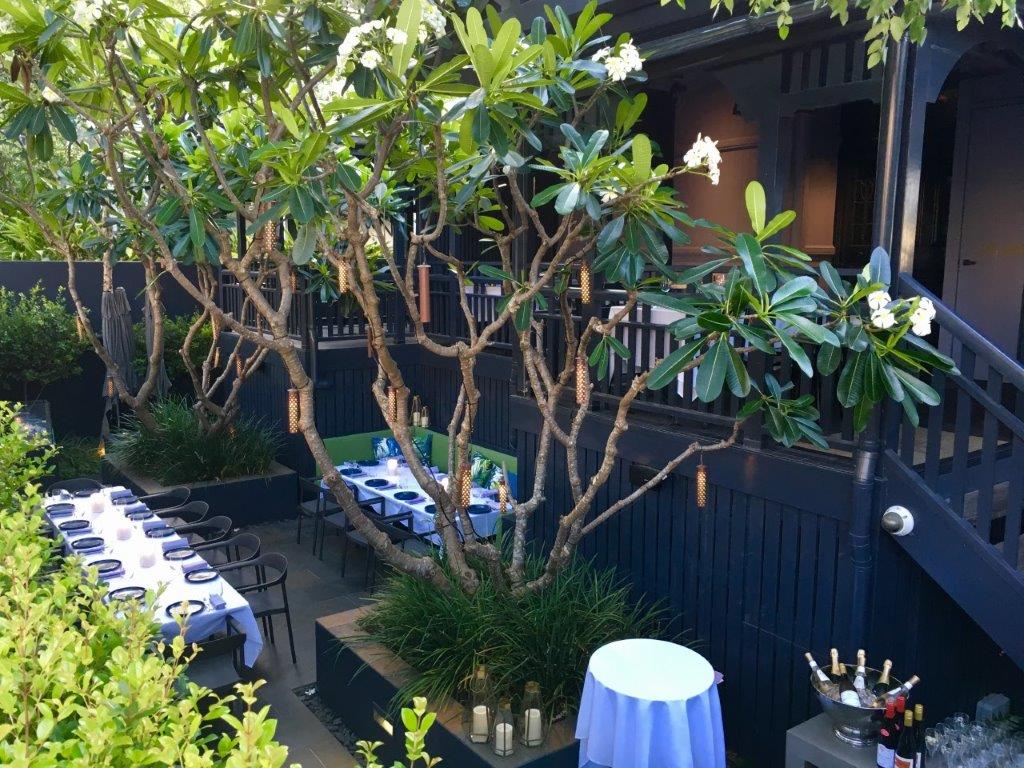 If you go:
The Balfour Kitchen
Spicers Balfour Hotel
37 Balfour Street
New Farm Qld 4005
Australia
Reservations: +61 (0)7 3358 8888
www.spicersretreats.com
Bao & Bowls costs $49 p.p. and is available Monday nights only from 5.30pm to 9.30pm.
Christine and Maurie dined as guests of Spicers Balfour Hotel. First and last photos supplied by Elaine Millar & Associates; others are our own.