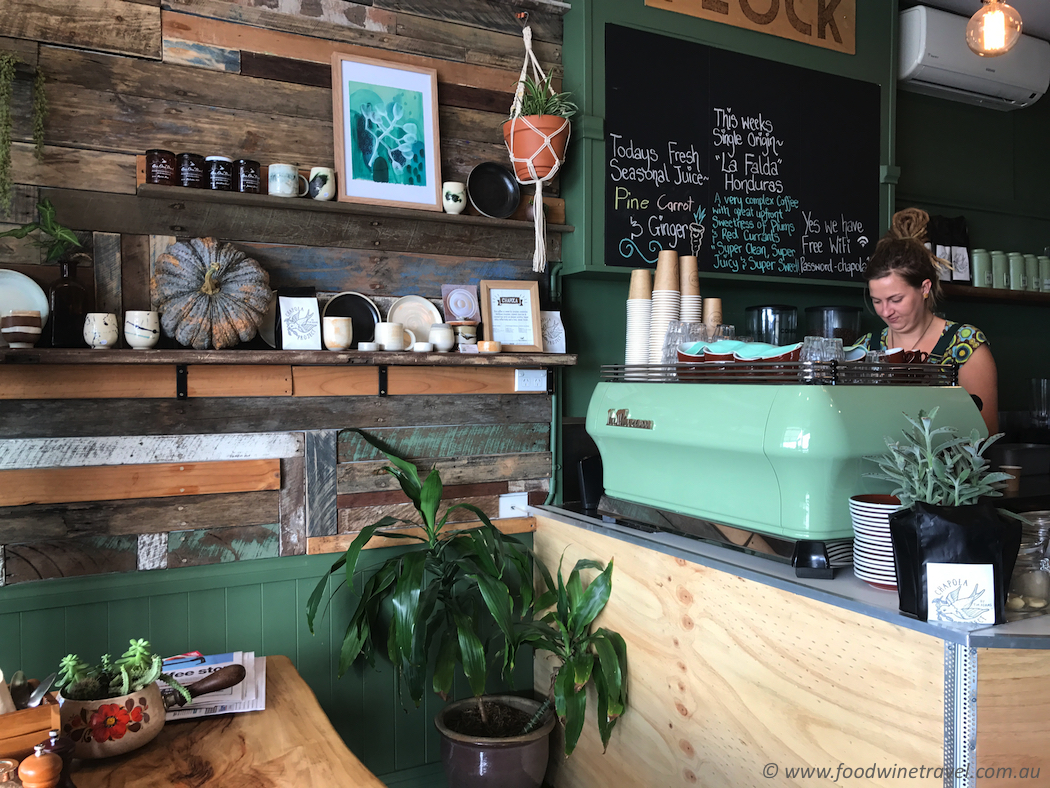 The space occupied by Flock has been taken by three different owners in the few years we've been living in Redcliffe. Hopefully the new owners have found their groove because this is just the sort of café we'd like to see on the Parade – serving honest food, good coffee, and with a little bit of urban cool that's not too OTT for modest Redcliffe.
It's a small café with a handful of tables inside, including one made from a gorgeous big slab of timber. Most of the seating is outside, with a good view of the water – actually a better view than most of the cafés on the Parade have. It's all very relaxed, with an 'earthy' feel thanks to touches such as the recycled timber feature wall, twigs decorating the hanging lights, and the funky ceramic plates (more about those later).
I wondered why the new owners bothered to paint the café façade green when the blue that it was previously looked perfectly fine. But now I understand, as it all falls into place with the ethos of sustainability that they are trying to project.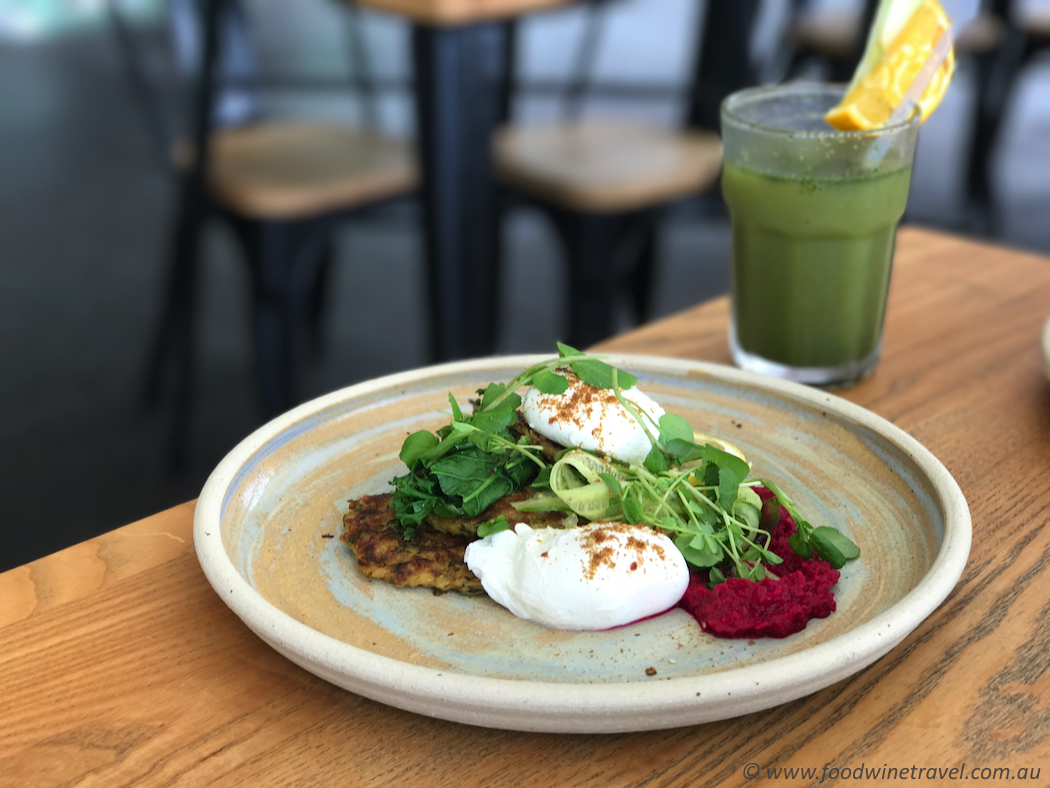 Owner and head chef, Geoff Abel, formerly of Jam 4012 in Nundah, is aiming for a farm-to-plate style experience with all the food made in-house using seasonal produce. Most of the ingredients on the menu are produced within 400 km of the café.
The café is part of a 'closed loop' system, with all their scraps and organic waste such as egg shells and coffee grinds, going to a farm in Samford, from where they source all their greens. As well as being dedicated to using high-quality local produce, the owners believe in supporting local crafts people and small business owners like themselves.
Hence the neighbourhood honey by @beeonethird that they are they are selling in the café and using on their menu, the art works by @lex_loves_ and the ceramics by @redraku. The wheel-thrown redraku pottery made by Ally at Margate adds a wonderful, personal touch and you can buy some of her pieces if you feel inclined to take the dinnerware home.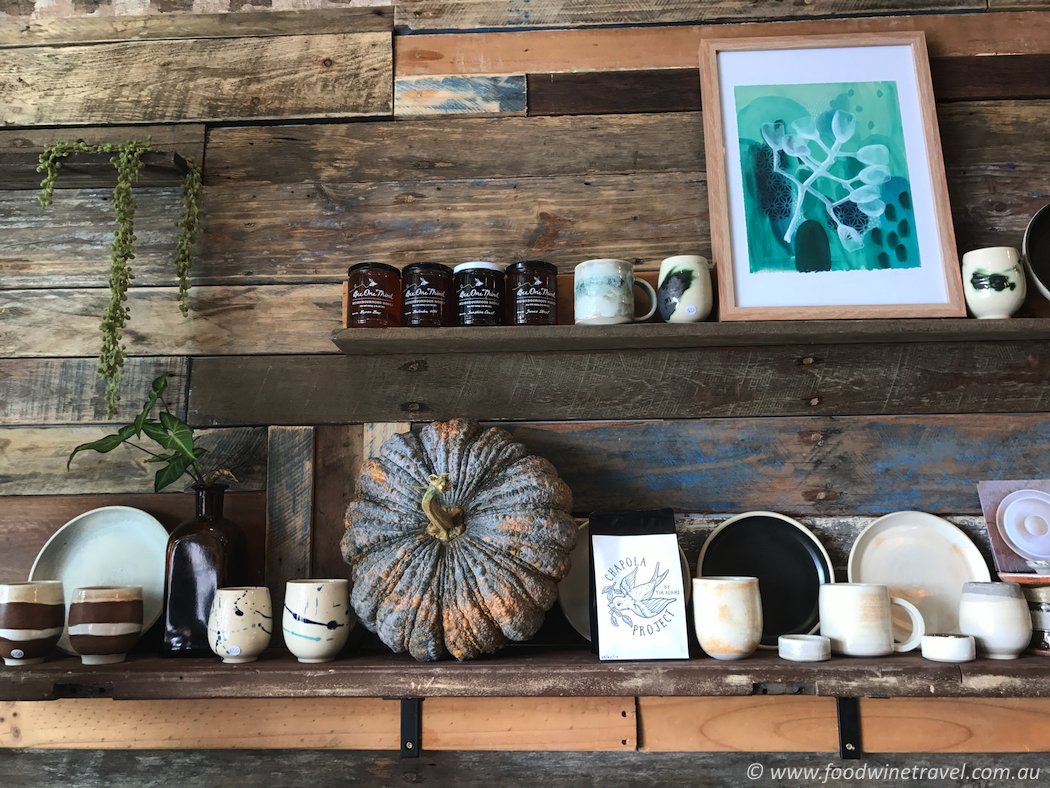 Breakfast and brunch is served all day with the usual range of eggs, granola, smashed avo, and French toast on offer. Maurie enjoyed his eggs benny ($17.50) made with sourdough, seasonal greens, bacon, poached eggs and Hollandaise (the bacon could be swapped for haloumi, mushrooms or maple smoked tofu).
I opted for the zucchini fritters ($16.50) which came with beetroot hummus, poached eggs, dukkah, sautéed kale and cucumber ribbons. All lovely fresh food, full of goodness and flavour. The eggs could have been cooked just a touch less for our liking. We also had cold-pressed juices ($7.50), a blend of apple, kale, cucumber, ginger, made on the spot and a great kick-starter for the day.
The Loop bowl using organic veg from Phil and Alice's farm at Samford looks interesting, and there's a lunch menu with a free-range chicken burger, open sandwiches, kimchi bowl, pulled pork bun, and roast pumpkin salad. The approach, it seems, is keep it simple but good – necessitated not just by the café's dainty size but also because it's a philosophy that works.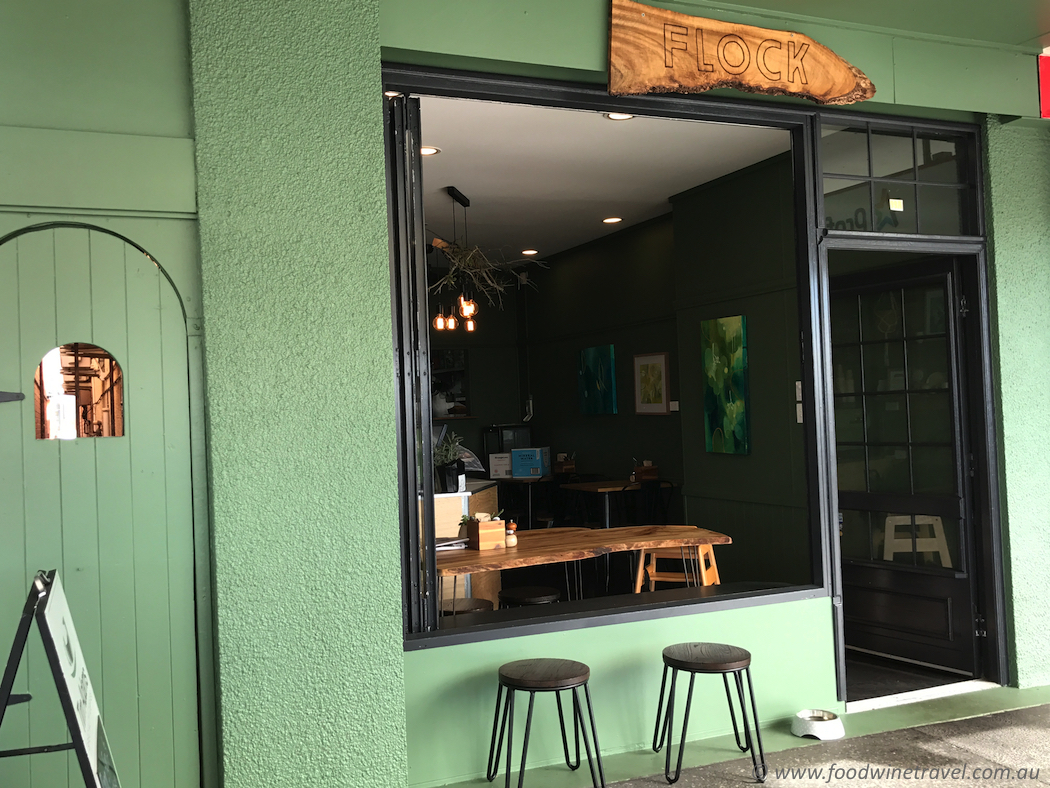 Flock gets its coffee from @timadamsspecialtycoffee, using Tim Adams' Chapola for its house blend. This blend of Ethiopia Shakiso, Brazil Fazenda California and Colombia Gran Galope beans is described as "sweet and complex, combing Valrhona chocolate, stewed cherries and cranberries with an elegant acidity. Super silky toffee body and a long, sweet finish."
We really enjoyed this house blend, which Flock generally uses in its flat whites and cappuccinos. There's also a single-origin bean that changes weekly and is usually used for espresso and coffees without milk.
We like what these guys are doing and would love to see them doing dinner. Redcliffe needs an evening venue like this.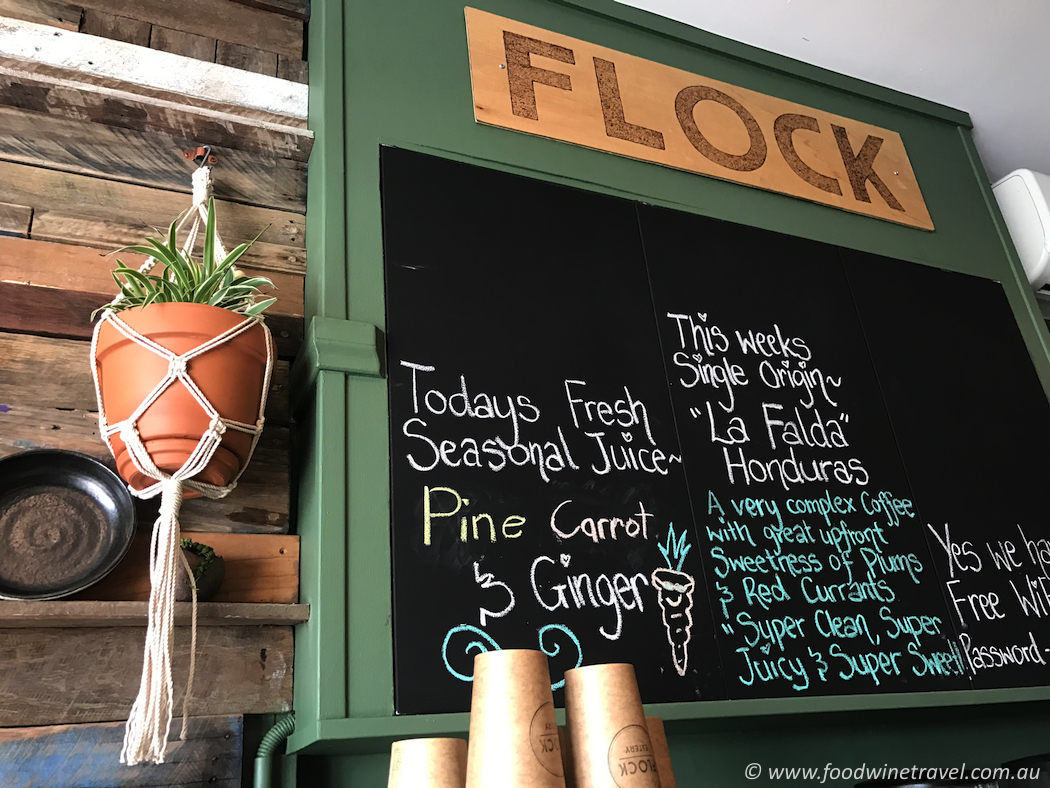 If you go:
Flock Eatery
99A Redcliffe Parade
(07) 3283 6647
www.flockeatery.com