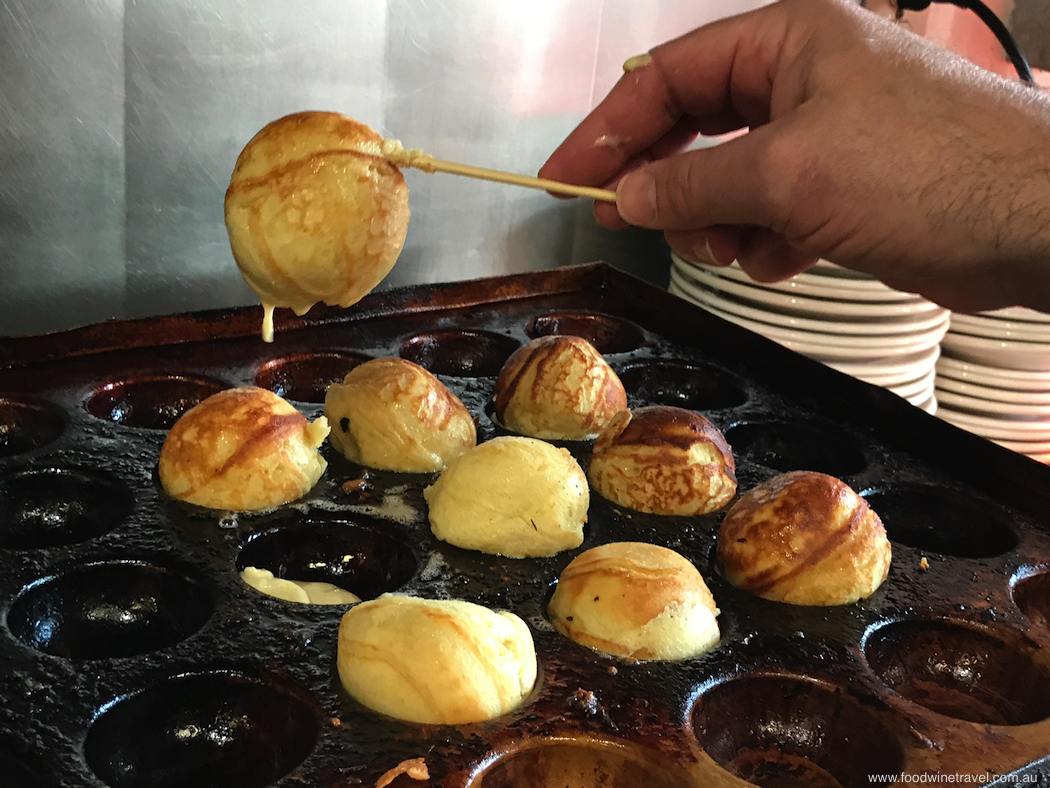 In Denmark, aebleskiver is a Christmas specialty, but in Solvang, USA, these light, fluffy pancake balls are on the menu every day of the week. Legend has it that aebleskiver originated with the Vikings, but whatever their origins, the Danes have embraced them in a big way. And with Solvang being a little slice of Denmark in the California sun, it's not surprising that aebleskiver is embraced with as much gusto as everything else that is Danish.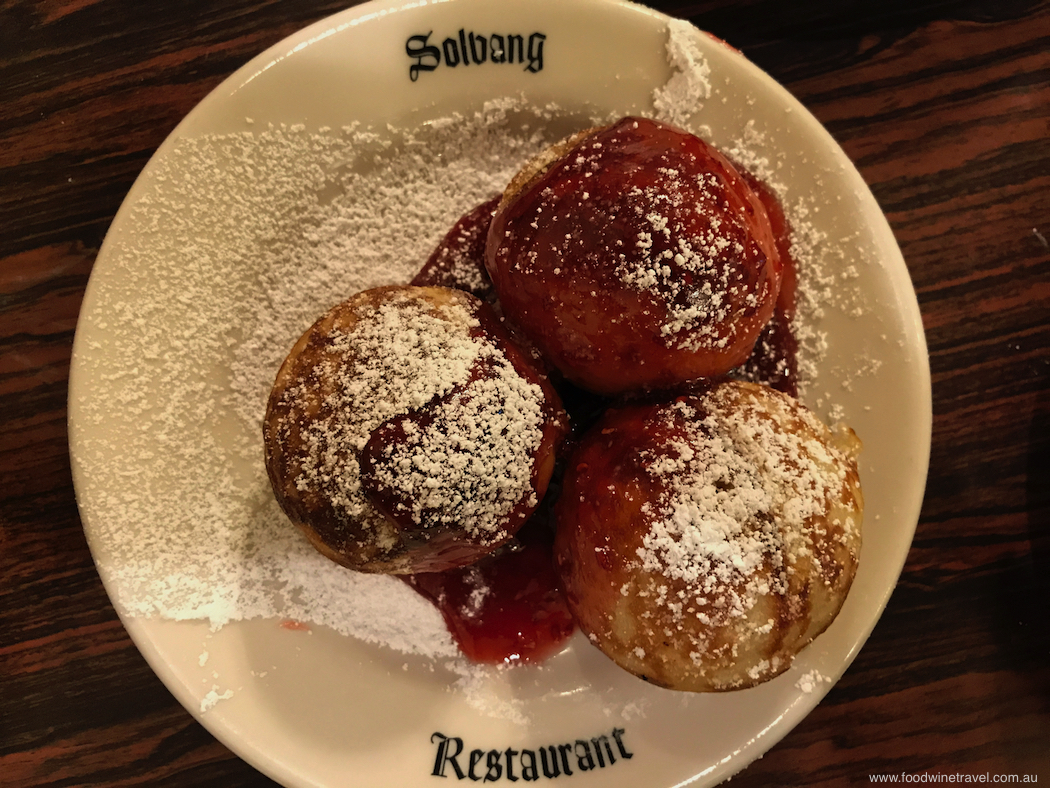 As we wrote in our earlier post on Solvang, the town was founded in 1911 by a group of Danes who settled there from the Midwest and who were determined to maintain their Danish heritage. Today at least eight restaurants in Solvang make aebleskiver. During Danish Days, the annual festival in September when Solvang celebrates its Danish heritage, the Solvang Restaurant serves 3000 of them each day of the festival weekend.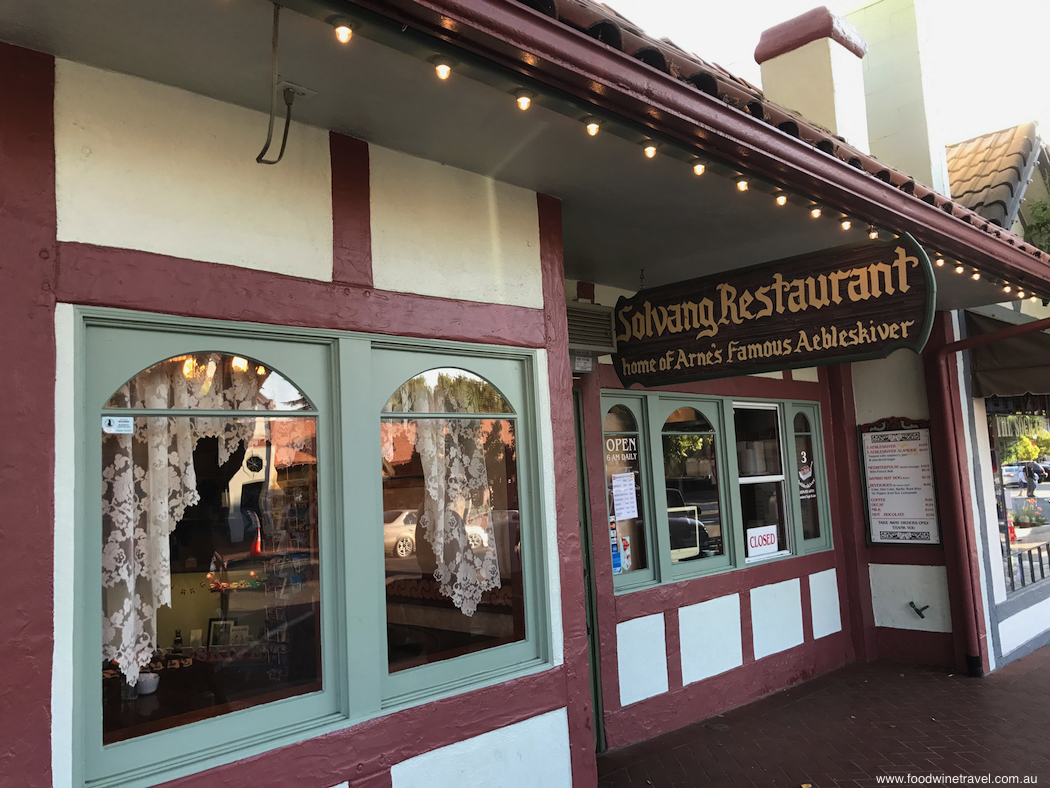 People queue at the window of the restaurant in Copenhagen Drive for them, not giving up until they have had their fill. Made from flour, eggs, sugar and buttermilk, the balls are cooked in a special pan and served with jam and powdered sugar. In the Solvang Restaurant raspberry jam is used, but in Denmark they would be served with lingonberry. That's not the only difference. The name aebleskiver actually translates as "apple slices" but the Solvang Restaurant doesn't use apple.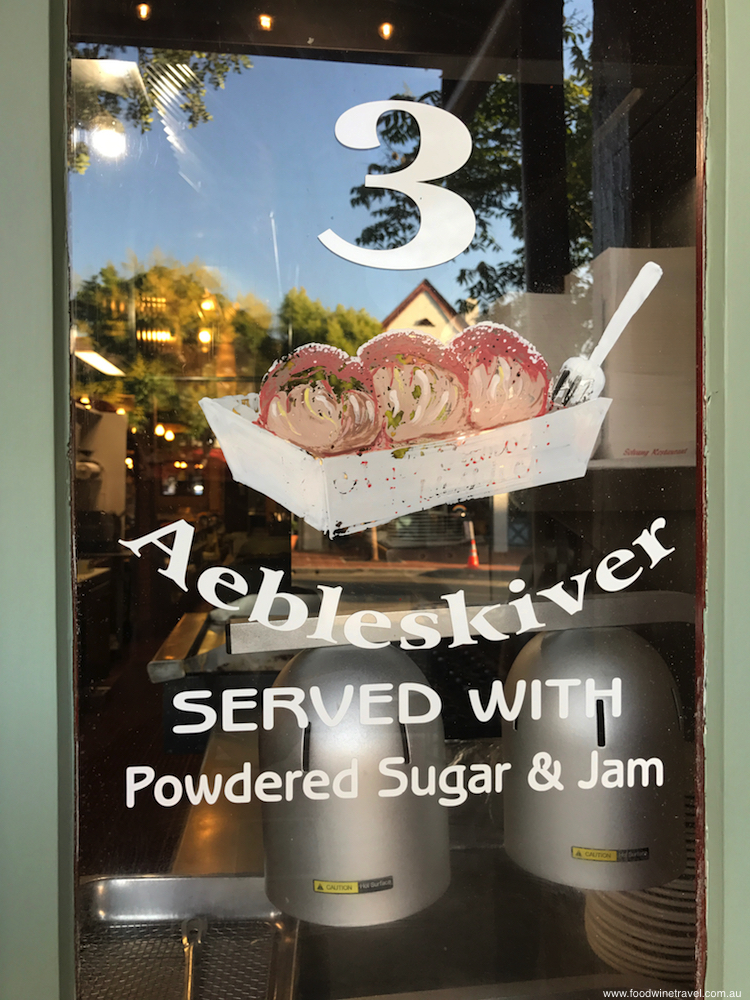 "The sugar content would leak out and my pan would stick if I used apple," says restaurant owner Jeff Paaske. The copper pans each hold 50 aebleskiver which are turned four times in the 7 minutes it takes to cook them. They are always served in threes. The Solvang Restaurant also sells the pans, mix and jam so that people can make them at home.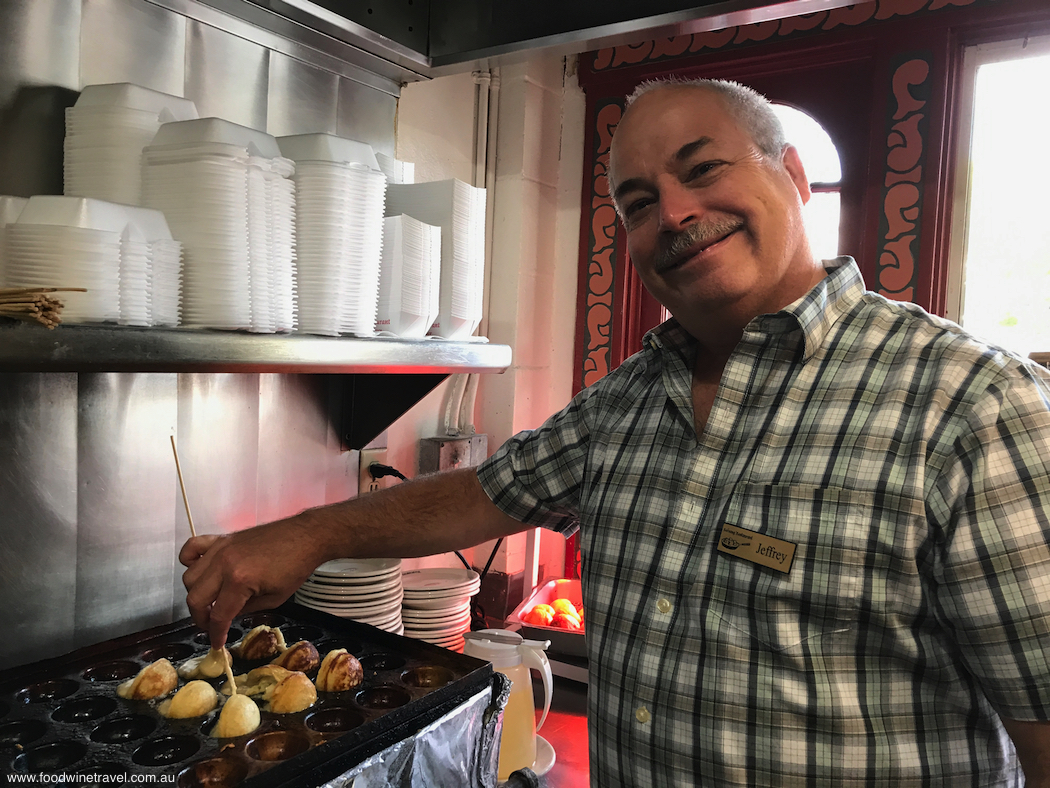 Jeff, a fourth-generation resident of Solvang, took over the restaurant from his father, who had owned it since the 1960s. Arne Hansen was the original owner. Jeff's father was an architect, a mortician, owned a furniture store and drove the local ambulance. When he came back from World War 2, Solvang "looked like Main Street USA" (in Jeff's words) and Paaske senior set about giving the town its Danish appearance.
The walls of the Solvang Restaurant are decorated with handpainted murals of scenes from Hans Christian Andersen fairytales, as well as exquisite carvings that were crafted by the late Fred Sorensen in 1972. (Sorensen was also responsible for one of the town's windmills.) The shields are from towns in Denmark.
"Everything in here has a story or a meaning," says Jeff. "Only the carpet gets changed (in the décor). There's a lot of heart in here."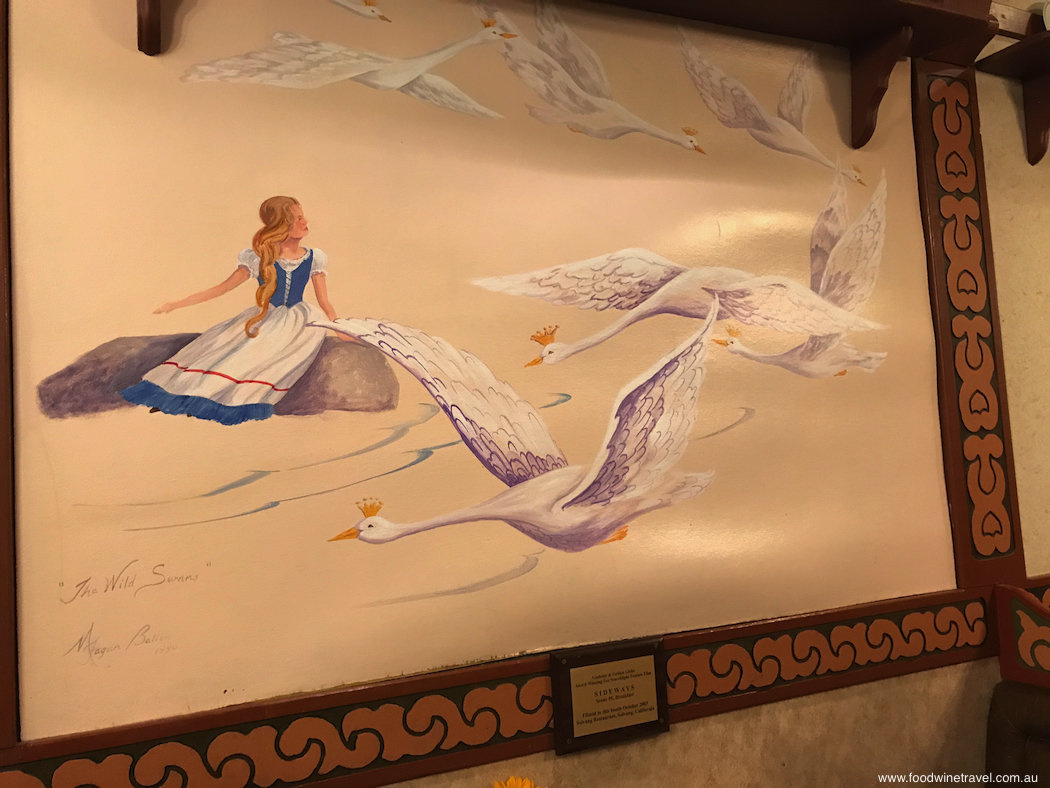 Just as Solvang was going through a downturn, the release of the movie Sideways in 2004 put the town and the surrounding wine region on the map. The Solvang Restaurant has a small plaque on the booth where Miles and Jack had breakfast in the movie. Paaske was paid to close his restaurant for a day while the filming took place: "It took a whole day of filming for 45 seconds of footage."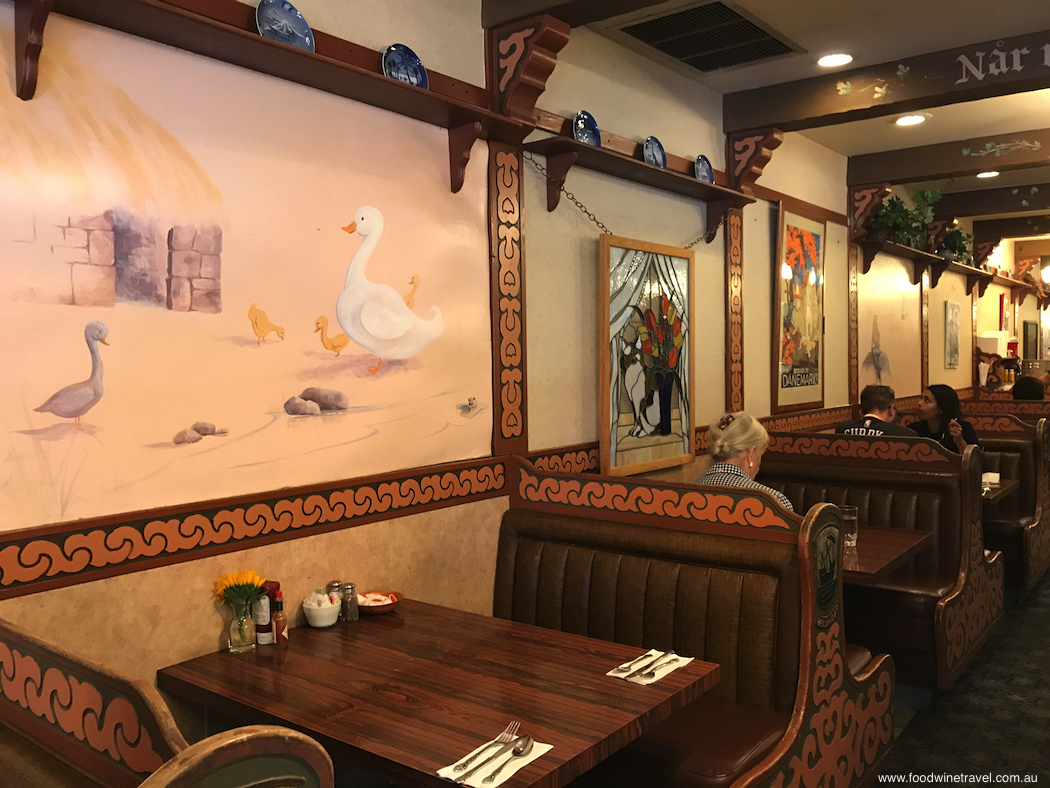 As well as aebleskiver, the restaurant serves sandwiches, hot dogs, creamed herring, fried chicken, and sausages. The pork sausages are made locally and we can vouch for their deliciousness. They are served with mustard, made according to Jeff's mother's recipe.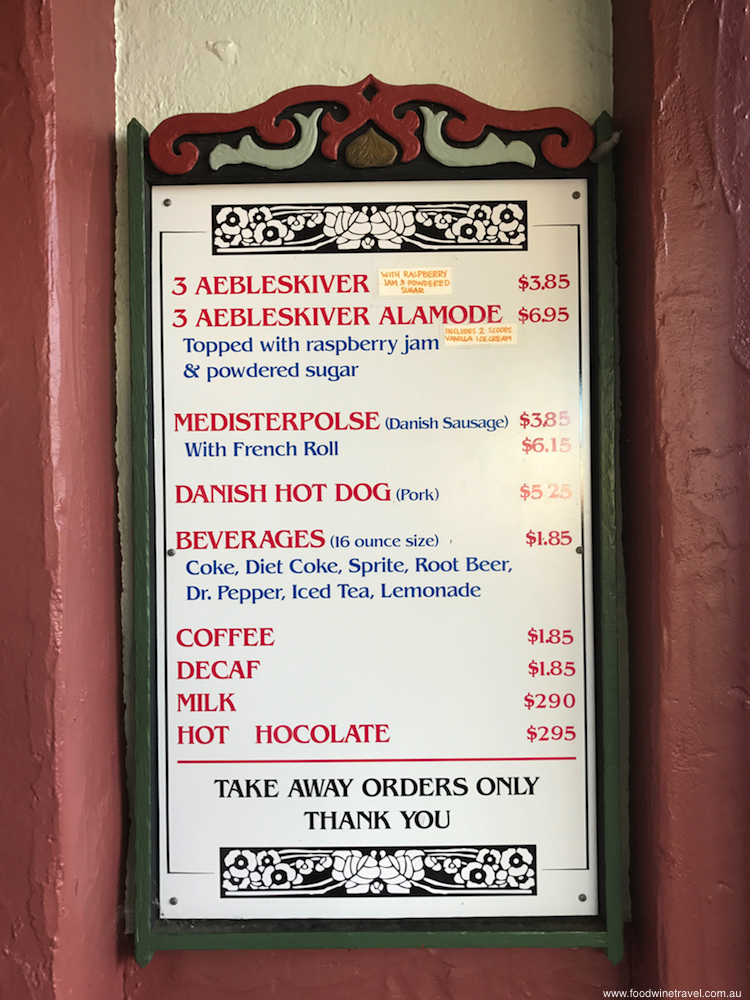 Jeff was raised on aebleskiver but these days never eats them because he is diabetic. He says they are popular with visiting Danes, who appreciate that Solvang's bakeries are run by old families who bake everything themselves. He visits Denmark annually for travel trade shows and says they've lost that there. He is proud to have been honoured by the King Christian IV Guild as an ambassador for Danish heritage in the US.
"The ties (with Denmark) are very strong," says Laura Kath, media relations director for the Solvang Conference & Visitors Bureau. Of the devotion to aebleskiver, she says: "It's fun. It's one more of those things that make us unique."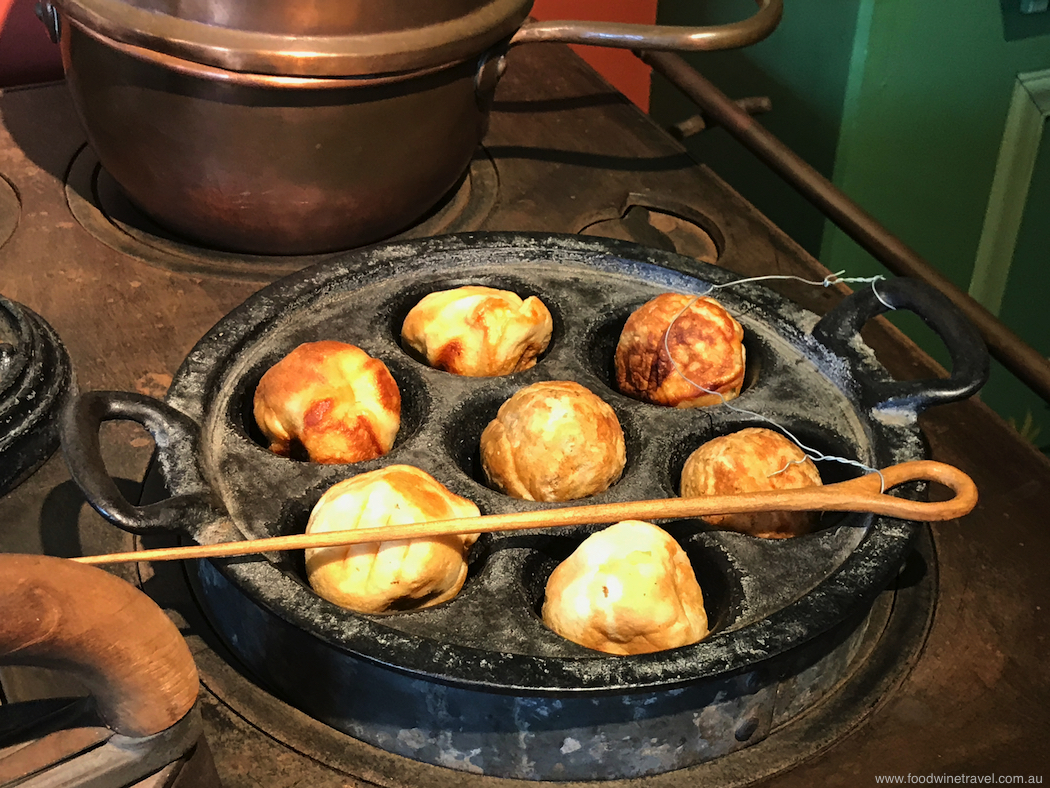 If you go:
The Solvang Restaurant
1672 Copenhagen Drive
Solvang, California, USA
Tel: +1 805 688 4645
RECIPE FOR AEBLESKIVER
1 cup flour
¼ tsp salt
1 cup milk
2 eggs, separated
2 teaspoons baking powder
Separate eggs and beat the whites stiff. Sift dry ingredients. Add egg yolks and milk to dry ingredients and beat until smooth. Fold in egg whites.
Put about one teaspoon shortening into the bottom of each aebleskiver pan hole and heat. Fill holes completely with batter and as soon as they get bubbly around the edge, turn quickly. A knitting needle or fork may be used for turning. Continue cooking, turning the balls to keep from burning. The fork or needle will come out clean from the centre when done. Serve hot with syrup, jam or sugar. Makes 18.