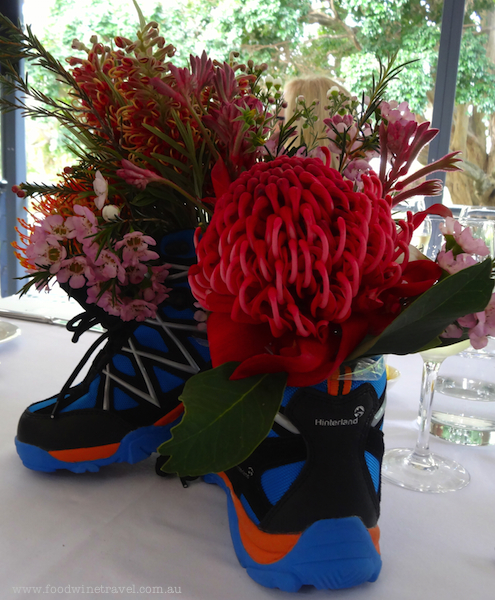 Thousands of Australians head overseas each year to do iconic walks such as the Inca Trail, Milford Track and Camino de Santiago. Yet despite Australia's abundance of outstanding natural attractions, no Australian walks rate amongst the iconic walks of the world.
That's a situation Tourism Australia hopes to rectify with its Great Walks of Australia, a promotional initiative that shines the spotlight on seven amazing walks that deserve to be up there with the world's best.
Tourism Australia is also promoting Ultimate Winery Experiences, with the aim of highlighting some of the outstanding cellar door experiences in Australia's top vineyard regions.
And don't they dovetail nicely? As the executive officer for Ultimate Winery Experiences, Brigid Kennedy, told the Australian Society of Travel Writers last week: "Walks and wine are a great combination."
Kennedy and representatives of the seven great Australian walks got together to sell their message at a lunch at the Botanic Gardens Restaurant in Sydney.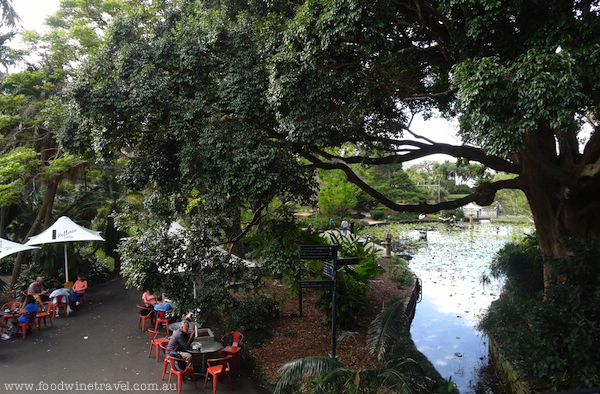 It was a great choice of location, nestled in amongst the trees, redolent of the Australian bush. On the tables were the most beautiful floral centerpieces of native Australian flowers, artfully arranged in colourful walking shoes!
To tie in with the theme, there was fine wine from three of the wineries in the Ultimate Winery Experiences portfolio: Moorilla Estate sparkling wine from Tasmania, Audrey Wilkinson Semillon from the Hunter Valley, and Montalto Pinot Noir from Mornington Peninsula.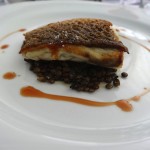 With two mains and two desserts served alternately, I had the Roasted barramundi with sautéed spec, French green lentils and cavalo nero, a lovely light dish.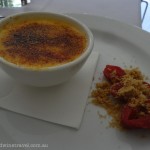 The Crème fraiche tart dessert with mandarin and caramelised white chocolate was less successful – rice bubbles scattered on top were a curious addition, detracting from the dish rather than adding to it, in my humble opinion.
I envied my colleague's Strawberry and vanilla bean Crème Catalan (pictured above left).
I had the pleasure of sitting next to Ian Johnstone, founder of Tasmania's Maria Island Walk, a soft adventure that blends extraordinary wildlife with convict heritage and elegant accommodation on a World Heritage site.
Other walks in the line-up include the Bay of Fires, Cradle Mountain Huts and Freycinet (Tasmania), Arkaba (Flinders Ranges, SA), Great Ocean Walk (Victoria) and the Larapinta Trail (Northern Territory).
So, check out these websites and get walking!
www.greatwalksofaustralia.com.au; www.ultimatewineryexperiences.com.au
A huge thank-you to TravMedia for sponsoring my attendance at the lunch.
Related post: Royal Botanic Garden Sydney.