India has a huge repertoire of vegetarian dishes, and many Indians are vegetarian for religious or other reasons. The Indian Vegetarian Cookbook reflects the incredible diversity of meatless dishes across the country, in a vibrant collection of easy to follow recipes that highlight how simple it is to produce delicious Indian dishes at home.
Author Pushpesh Pant, a university professor and prolific cookbook author in India, produced Phaidon's widely acclaimed India The Cookbook in 2010. This latest one, also published by Phaidon, draws inspiration from India's myriad regions and culinary traditions, as well as the author's family's home cooking.
Pant was born in Mukteshwar to a mother who was vegetarian and who excelled in transforming ordinary ingredients into the exotic. "Her collection of vegetarian recipes was constantly growing, and she would invite those who had shared their recipes to sample her dishes until the desired approval ratings were achieved," he writes in the introduction to the book.
Making vegetables exciting
"This was when I fell in love with multiple vegetables at the same time. A previously 'boring' vegetable suddenly became sparkling and seductive in a recipe from a different region."
Pant gives a succinct account of how India's geography has shaped its cuisine, while introductions to many of the recipes provide interesting insights into the history of the particular dish. Accompanied by beautiful photos, the recipes range from breakfasts and salads to vegetables and pulses, grains and chutneys, drinks and desserts.
Favourites such as chapatis, halwa, dal and the Pea and Potato Samosas featured here can be found alongside less well-known dishes such as Mixed Vegetable and Tamarind Curry, Jackfruit Biryani and Indian Bread Pudding. For anyone interested in reducing their meat consumption, finding out more about Indian cuisine, or both, The Indian Vegetarian Cookbook is a comprehensive reference.
Buy your copy of The Indian Vegetarian Cookbook from Book Depository now, with free delivery worldwide
PEA AND POTATO SAMOSAS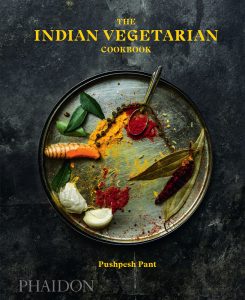 Makes: 8 to 10
2 cups (9 oz/250 g) all purpose (plain) flour
1 tablespoon oil
9 oz/250 g potatoes, boiled and mashed (about 1 generous cup mashed potato)
scant 2 cups (9 oz/250 g) peas, shelled if fresh, or frozen, boiled
1 teaspoon ground cumin (ideally freshly roasted)
½ teaspoon amchoor (mango powder)
½ teaspoon Kashmiri red chili powder
¼ teaspoon black rock salt
2 fresh green chillies, de-seeded
vegetable oil, for deep-frying
salt, to taste
Sift the flour with a pinch of salt into a large mixing bowl. Slowly mix in 1 tablespoon of oil and a little water and knead to form a semi-hard dough. Set aside for 30 minutes.
Meanwhile, combine the remaining ingredients, except the oil, in a large mixing bowl.
Knead the dough a little and divide into 8 to 10 portions. Shape into small balls, then roll out into discs about 5 to 6 inches (13 to 15 cm) in diameter. Cut each disc into half-moons with a sharp knife and gently fold over to form a triangle with a hollow pocket.
Place a portion of the spiced filling in the pocket, lightly moisten the edges with a little water and press all around to seal.
Heat the oil in a kadhai or deep fryer to 350 °F/180°C, or until a cube of bread browns in 30 seconds. Deep-fry the samosas in batches for 10 to 12 minutes, until golden. Remove with a slotted spoon and set aside to drain on paper towels.
Recipe and images from The Indian Vegetarian Cookbook, by Pushpesh Pant. Photography by Liz and Max Haarala Hamilton. Published by Phaidon and reproduced with the publisher's permission.
This story originally appeared in PS News online.