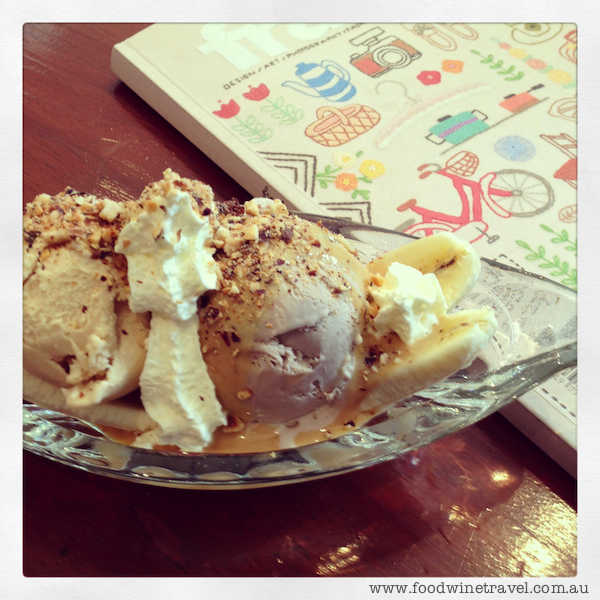 I've been a wee bit stressed over the past few days. Maurie is seriously ill in a hospital that is stretched to the limits. The joys of getting sick on an Easter long weekend… I've been at his bedside most of the day and night, surviving on limited sleep, and yesterday I just had to get out for a bit.
I'd been promising my daughter for some time that we'd visit Stripey Sunday, a cute little icecream shop that opened in Gold Creek Village in October. And so yesterday when I desperately needed a break, we popped in there for a treat. Loved seeing all the autumn colours on the way in. Ah, Canberra, you are a picture at this time of year!
Yvette McKay runs the cafe and was pretty stretched, I have to say. I'm glad she is busy. She has made a real commitment to using quality products including John Marshall's locally made Frugii icecream, Bateman's Bay nuts and organic Fair Trade coffee roasted locally by Wagonga Coffee.
That sort of commitment isn't always appreciated by customers in a touristy area, so it was heartening to see her run off her feet!
We settled back into two sofas to enjoy our treats, but there are also white farmhouse-style tables and chairs set against blue and white striped walls and cheery homemade bunting. The blackboard menu includes sundaes, banana splits, milkshakes, smoothies, tea, coffee, chai latte and affogato. We're long-time supporters of Frugii and think John's icecream is divine.
Alise had a scoop of her favourite cookies & cream and a scoop of gingerbread icecream with her banana split, which was drizzled with caramel fudge. My hazelnut sundae had a scoop of salted butter caramel, a scoop of vanilla, crushed roasted hazelnuts and also a drizzle of caramel.
The icecream menu changes with the seasons but might include flavours such as dark chocolate, lemon sorbet, roasted hazelnut, nectarine sorbet and candied orange. There was a yummy hot cross bun flavour for Easter this weekend.
While it hasn't been the Easter we hoped for this year, our visit to Stripey Sundae was a nice diversion from the four walls of a hospital room.
Fact file:
Stripey Sundae
11 O'Hanlon Place
Gold Creek
Canberra, ACT, Australia
Open Thursday to Sunday 10am to 5pm.
Visit the Stripey Sundae website.