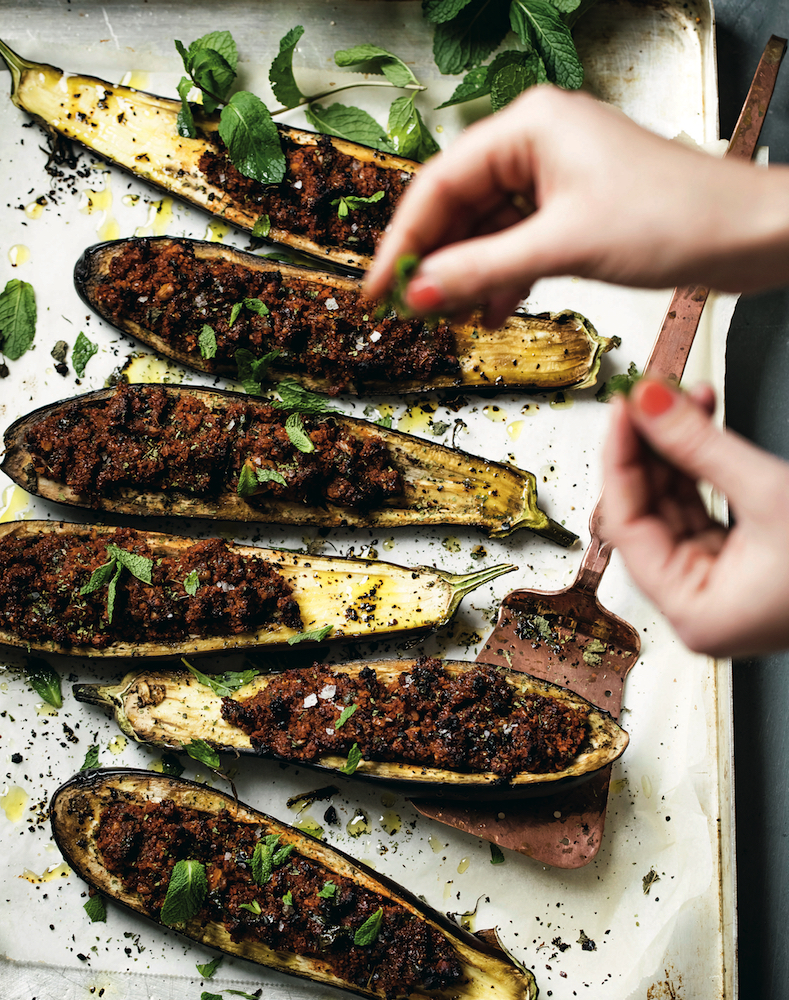 The word mezze is thought to come from the Arabic tamazzaza, which means to "taste in small bites" – in other words, taking the time to fully enjoy all the smells, colours, aromas and flavours of dishes. A mezze table is complete when many warm and cold dishes are presented together, as a meal in itself.  In their beautifully photographed book, Souk: Feasting At The Mezze Table, published by Smith Street Books, Nadia Zerouali and Merijn Tol present more than 100 recipes to fill the table with their version of a mezze feast.
The authors have travelled extensively throughout southern Europe, the Maghreb and the Middle East, cooking with local women and tasting the influence of Arabic cuisine. As well as the delicious recipes they offer in Souk, they delve into personal stories and reminiscences about families and friends they have met along the way. Mezzanic culture originated in the Ottoman Empire and can be found throughout the Levantian Mediterranean, including Greece, Cyprus, Turkey, Palestine, Jordan and Syria. But according to the authors, it is in Lebanon that the richest, most untouched and sophisticated mezzanic culture can be found.
Birthplace of mezze
"Mezze really took off in the 1920s in the town of Zahle, and today mezze restaurants still line either side of the Berdawni River. Lebanese people see this as the birthplace of mezze. Mezze is a real restaurant culture," they write in the book's introduction. "It's not just about the food but the whole experience – getting dressed up, going out, the location with a beautiful view, the food, the décor, the beautiful music. It's also all about seeing and being seen."
The recipes in Souk are traditional but with a contemporary twist – their approach, they say, is to make creative mezze that has respect for tradition and that uses ingredients from their region of origin. Alongside hummus, kibbeh balls, tabbouleh, za'atar flatbread and fattoush, you'll find dishes such as potato and egg salad with argan oil and hazelnuts; roasted whole cauliflower with tahini, nuts and mint; artichokes in fresh tomato sauce with turmeric and preserved lemon; and carrots in tamarind, pomegranate and coffee sauce.
The stuffed eggplant dish here would make a fantastic centrepiece to the mezze table.
Buy your copy of Souk: Feasting at the Mezze Table from Book Depository now, with free delivery worldwide
STUFFED EGGPLANT WITH BULGHUR, WALNUTS AND MINT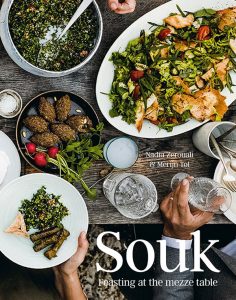 Serves 4 to 6
2 white onions
75g (2¾ oz) walnuts
½ bunch fresh mint leaves picked, plus extra to serve
100g (3½ oz) fine bulghur
65g (2¼ oz) tomato paste
1 tablespoon dried mint
1 to 2 teaspoons Turkish red pepper flakes (pul biber or Aleppo pepper)
salt
mild-tasting olive oil
3 firm eggplants (aubergines)
Turkish yoghurt
Chop the onions, walnuts and mint leaves very finely and combine in a bowl with the bulghur, tomato paste, dried mint, red pepper flakes and salt to taste. Mix in a large spoonful of olive oil.
Preheat the oven to the highest setting. Cut the eggplants in half lengthways and scoop out some of the flesh (keep it for soup or a dip). Place the eggplants on a baking tray and fill them with the bulghur mixture. Drizzle with some oil and sprinkle with a little more salt and red pepper. Cook the eggplants in the middle of the hot oven until golden brown and cooked through.
Serve drizzled with olive oil and sprinkled with some fresh mint leaves, and with some creamy yoghurt on the side.
Recipe and images from Souk: Feasting at the Mezze Table, by Nadia Zerouali and Tol Merijn. Published by Smith Street Books and reproduced with the publisher's permission.
This story originally appeared in PS News online.